Calendar for Windows Phone 8.1 update brings new agenda view, more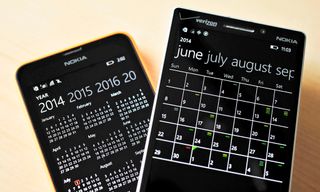 The default Calendar app for Windows Phone has nabbed an update today, and it brings a couple of new features to the table. Now, upon opening the app, you'll be greeted to and agenda view, as well as new settings to customize the way dates are displayed.
Here's the breakdown of what's new from the changelog:
Agenda view – Know your schedule at a quick glance. See a concise list of sequential events for the day or the week.
Calendar World Readiness – Show the week number for day, week, or month. Set the first day of the year by: January 1, first 4-day week, or first full week. Set which day to be the first day of the week.
Be sure to hit up that store link below to grab the update for yourself. Happy updating!
Thanks to the crazy number of you, the Windows Central faithful, who sent this in!
Download Calendar for Windows Phone 8.1
Dan Thorp-Lancaster is the former Editor-in-Chief of Windows Central. He began working with Windows Central, Android Central, and iMore as a news writer in 2014 and is obsessed with tech of all sorts. You can follow Dan on Twitter @DthorpL and Instagram @heyitsdtl.
A much needed update indeed

Okay I take that back. There is no indication whatsoever that an agenda view is included. The week numbers are there though.,

Select day or week view, then get the menu "..." and select "show agenda".

Certain years show 53 weeks lol.

That's reality, man. Because the first week of the year is actually the one with at least 4 days. But you can change it in the settings to the week with the 1st of January.

Well, even if the settings are changed to show week one as the one containing Jan 1st, 2017 actually HAS 53 weeks, because Jan 1st is a Sunday like Dec 31st (2017, obv) so this may happen both ways

How did you find the week numbers without seeing the agenda link?

I found the week number before agenda view because if you have month view (my default view) there is no option for agenda view, you need to have week or day view.

I had the same problem. My default view is month. Thanks for clearing that up.

No agenda view on my Lumia 720 either. Week numbers, yes; agenda view, no.
EDIT: Goddamnit! I didn't read this comment before posting: http://www.windowscentral.com/calendar-windows-phone-81-update-brings-ne... I have agenda view. I repeat: agenda view is a go!


Microsoft calendar sucks. Am I the only one who wants Landscape? Am I the only one who does things, has appointments every other week? My Daily Planner has these two functions and you can read them in the month view

It's limited, but the Windows 10 version is coming. If you have a Gmail account to use with this calendar, which I do, you can enter every other week appointments on your Gmail calendar and they sync just fine to this calendar. Just check how long between syncs under sync settings.

Try VsysCalendar 365. It doesn't do landscape mode, but it should cover your other requests. Plus it's only 99 cents to purchase in the states.

Please understand Windows 10 is comming, and they can´t change verything now, only minor things. It´s a great update for the calendar, but I agree - it could be a bit smarter.

Appointments every other week? Wow you are sooo busy how do you do it?

Many of us have recurring appointments, and some are every other week. My son's council is ever other, as is a men's meeting, numerous customers service contacts, etc.

If you hit the 3 dots it is at the bottom of that list. Improvements welcome but I just tried out chronos calendar + and honestly MS has a long way to go

Chronos Calendar + is a beast, especially the live tile which shows more than the next event. And the whole thing is so customizable and beautiful. Absolutely great. Ah, and the dev is very communicative and listens to his customers very much indeed. Edit: I just re-read what I wrote: I sound just like a fanboy. Which is good, because here is the cradle of fanboys. I fit.

Ohhh, i am going to check that app then, I need an actually usable calendar

I agree much needed indeed.

i agree, chronos + is one of the best calendar apps out there... only thing negative, it doesnt have a transparent tile

I also noticed, when you go to type in a location in your calendar event, it now knows your recent and nearby places to fill it in for you!

Where did you get that changelog :o

Looks like directly from the app page in the store. Go figure.

Does landscape mode work?

Nice indeed! Wish I could ser it on the live tile as well, also with more lines of daily agenda. Please add 24h format and light theme.

Light theme is available only when u chose light theme to ur phone. Under settings, start+theme

24h time format is set system-wide in Settings > date + time. Calendar respects your seeing there.

Maybe if you're in the US it does. It does not work for me either. It's a well known issue that came bundled with the offset times for events in the day view and some other bug that I can't remember right now.

Been waiting for this ever since I got rid of my iPhone.

I'm still hoping they will allow pin to start of todo list.

Or you know, more than one item at a time on the live tile. It's retarded how gimped and rudimentary their calendar app is.

Especially compared to wm6.5

Never understood why the tile couldn't just flip over to show all day events...or why the font couldn't be just a bit bigger so it can be seen better (especially with all that blank space).

I guess if the Tile shows too much info you would never enter the app, and that is needed from time to time for it to work. Live Tiles stops working after a while if you never enter the apps, maybe that has been fixed now but thats how it worked before IIRC.

This. I am using WeekView 8.1 which does that. But seriously, why can't MS have this built in?

Wunderlist lets you pin any list and works as live tile.

Yes, please update the todo list to allow pinning to desktop! And filter by category or priority! And allow drag to prioritize!

windows 10 maybe they are implementing in it. so lets wait

Remember, in the Insider program they encourage you to leave feedback about Windows 10. You can tell Microsoft all your wishes and if they like what you tell them, you might have a chance to get it implemented. Since it is free and, like I just said, encouraged at this point, feedback is worth submitting because they will at least read your ideas. I mean, normally when you send feedback in, they might be busy doing something else, but now they are lined up to listen to the public, the users. My recommendation is, see if there is a feedback button or menu in the Windows 10 Calendar app. Then post the ideas from there. Either that, or get the message out while logged in as an Insider in the Insider Hub, perhaps.

Good point. But we are talking about calendar in windows phone 8.1 not 10.

I'm also hoping that they would add that feature to pin a live tile for Tasks. Preferably, that live tile should display the most urgent tasks. And tapping that live tile should launch the Calendar app and go directly to Tasks.

Create a to-do list in OneNote. Then pin to start for quick access. You still have to open that tile each time, and it's not a live-tile, but...

You can create tasks in Cortana and it'll show up and sync in your calendar.

What is the use of this when we get a totally new calendar app with w10?

Well sir, W10 hasn't quite arrived yet. Hence, this update. To allow us to use it while we wait.

And the time format is still broken. Showing AM and PM instead of 24 hour format.

Not with me (in Belgium) and it never was broken.

You don't use cortana I guess

If i choose English US in Language settings it will show AM and PM, but if i choose English UK, i have the 24 hours format. And for me also this was never broken, Calendar was working perfectly when i was on WP8 GDR3 and now with the new Calendar app on WP8.1.1 (no PfD)

The annoying thing is that the calendar uses the language and not the time setting the phone uses. I have English US and 11:00 on my phone but the calendar must show 11AM and no way to change it.

Have you tried to go to Settings>date+time and check 24-hours clock and then check the callendar time? just a suggestion.

Of course I've tried. Trust me I know every setting in WP. When you put US region for cortana it always takes AM and PM. When you use UK region the time format in the calendar is fixed but other things are annoying (forgot what) so I'll stick with the US region.

are you complaining because you can't read the time on am pm? wow... what a great feedback /s i want to be like you.... complaining about not having a format, like if the time changed if it's 12 or 24 hours format or 96 hours format. it's the same. but yeah, it's too broken we can't use Calendar app /s also it's your settings... but I am sure you never tried it. we know it, but yeah too broken.

Oh as long as something is not completely unusable it is good? Great thinking! It's not my settings, its fundamentally broken. It is annoying and inconsistent.

Emi, have a beer :) chill

Well, isn't life wonderful? People complaining about app updates. Not because the update is bad or broken or buggy. You're complaining because there is an update. You're intrigued by the fact an update happened. Congratulations, my friend. Your life must be awesome.

Well imo they waited too long. They are kinda lazy updating their apps. And now 2 weeks before we can get w10 they update lol.

Yah because 90% of WP users will get 10 in the next few weeks....

Maybe because average users will not see WM10 till October/December?...

Uh....is it just me or did the live tile stop working? Mine used to show the next appointment, now its just the calendar icon. (medium live tile)

I still cant add my school timetable to it -_-

Where is your school time table stored?

Well I have it as both pdf and excell sheets. I want to be able to add it manually to the calendar as weekly events.

Then add it manually. Those aren't even standard calendar formats. How would you expect them to infer calendar items from a format that would be impossible to interpret as a calendar. *sigh*

I would have long added them manually & wouldn't have had to download a 3rd party app if the calendar had met my needs. I'm not aware of any calendar formats

Oh, just found out how to do it

I thought about this too, maybe it will happen eventually. Not manually though..

Sacrilege I know but create a google account, add your school calendar there then add that account to your phone....i just had to do that for my work calendar... smh that MS is so far behind on this

You can do that without resorting to Google. Go to https://calendar.live.com/calendar/import.aspx, select cSubscribe, and go from there. Your subscribed calendar will show up n your phone in minutes.

Last week I manually created a 2 re-occurring calendar events for school every Monday & Wednesday online FROM A DESKTOP/LAPTOP/TABLET on Live's calendar. Even put my school's address in the location area so Cortana will make sure I'm not late for school by notifying me when I have to leave, as well as updating her tile showing how long it'll take to get to class.

Yeah exactly! It is like people forget they have a Microsoft ID for apps. In my case at least, the ID started as an e-mail account back in the Hotmail days ( I signed up before Microsoft purchased the Hotmail company!! Those were the days ;-) ). I bet some people here on WindowsCentral were not even born then. However, for a very long time, the account has included an Outlook Calendar online, as well as Contacts and such. You don't have to enter calendar events tediously on your phone if you have a long list of items to enter. Just use a computer and let it sync to your phone's calendar through the Microsoft account.

I miss the proper Agenda View (not limited to a specific range), but we finally have week numbers!

Strange. I downloaded the update but still only see the four views previously available (day, week, month, year).

Select day or week view, then get the menu "..." and select "show agenda".

Go into calendar settings, scroll way down and tick week numbers.

Unintuitively, 'agenda view' isn't in the views setting, along with the other 'views'. It's been added as a toggle from the ... menu, either 'show agenda' or 'show calendar'. I know it's an update, yay, but this is dumb UI.

I see. So they did actually add both daily and weekly agenda views. Pretty clever actually if not immediately obvious.

I'm with you, I see nothing. My default view is week view and I see no option for agenda. Actually I tried ask views and didn't see agenda anywhere.

Touch the three dots (toggle) and you will see it at the bottom... Once it is in agenda of you want calendar back do the same and touch month

I was just wondering about an update because earlier opening calendar crashed my phone smh

I have not used the default calender app for a while. The live tile used to just show the next appointment instead of the next serveral. Is that still the case?

Very sad to say but yes it is

Wonderful, update hit my mobile just minutes before article. Thanks for overview.

Sweet. Updates welcome MS.

Chronos calendar + is miles better

I just found it and am trying it right now so far looks good... $2.49 not bad, but to bad MS can't do the same....bare bones is not going to cut it if they want to get more market share

I agree 100%. Chronos + is THE BEST calendar app out there, in my opinion. The developer is amazing as well. Very responsive to feedback.

Even regular Chronos is great for my Calendar choice.

The calendar integration in Wp is about the only thing keeping me on board with WP. Don't think I could live without it. Glad to see there updating it.

An okay update, however still can't set an end date for recurring entries lol. For example going to the gym every Tuesday for 6 months... Setting it every Tuesday treats it as an perpetual entry therefore throws an error.

If you create the event online thru your Live MS account, you can make it reoccurring (with an end date), multi-day AND with a start and end time and date. Plus other features Phone calendar creation doesn't have. Syncs automatically to your phone calendar too. Reoccurring too.

You have to think to business users with exchange. They must now add a full sync option for all time. It can't be, that you can't go back more then two weeks and forward more than six months! I know a lot of users who says: If there no change in this way I'll go to iPhone ore android, because in the business that's a no go!!! And I agree, but not will not change the system. But it's a BIG FAULT by Microsoft in this way...

Yes, this is a huge fault and such an easy fix, along with a search function within the calendar. Google does both of these very well & if I switch to Android, this will be the reason. Please MS, I'm begging you to keep me on WP with simple and very basic features!

Live Tile needs to show more items...

Still... The App "Pocal" is/looks 10x better than that. Just try it!!!

Bro, i owe you a beer for the app suggestion :) I just download the app, looks very promising :) Oh and the swipe left gesture for Overview and swipe right to regular View is awesome :)

Does it have more than one item showing on the live tile?

Dunno, it's the same design of the live tile as for the stock calendar, but at the moment i have only 1 appointment showing for tomorrow and don't have any other in the next week, so i can't tell if can show more than 1 item on the live tile.

Thank you for getting back to me, I appreciate it.

the fact that it still has such a useless live tile is crazy. It is thier own app. How can simple calender be THAT much better. It is a shame

So, now we can have Sunday be the first day in week view? GOOD!

Would be nice though if I could Edit my google cal. Says you can. But it goes right back to old schedule

I missed something. Did they break the Calendar into it's own app in the App Store with Windows Pone 8.0 or 8.1?

Yes, they did with 8.1, if i remember

What do people use week numbers for? What purpose, may I ask?

In Norway week number is often shown in timetables and weekly "customer newspaper". In school we often had some classes that changed depending on the week, so if the week number was an even number we would have class A and if the week number was an odd number we would have class B. Vacation may also show as a week number since they usually last whole weeks. Sometimes it's easier to use one number than a range of dates.

In my company week numbers are used as deadlines for some projects to be completed.

Easy way to divide the calendar. If 365 is to big to scroll through, and 12 to few. How about 52? Company's and School's use it OFTEN. Its something you will encounter alot sometimes and sometime not hear about it for awhile. But in work life you should get used to it.

I even didn't know they could update just the Calendar.

And knowing is half the battle.

Sad thing is it has taken them so long. Live tile needs a rework too..

I hope the W10 version will look more like this rather than the Christmas tree mess of colors it had in Joe B."s demo...

LMAO you know it will ;-)

That color mess is how you differentiate between calendars... One color for each calendar, makes it easier if more than one thing pops up to decide which is more important, at least for me

I agree with you, but I like the dash system of color that is in the calendar app now (for phone). What was previewed by J.B. Was too colorful and had excessive amounts of white space. I hope, at least, they have an option to use a dark theme.

It looks, to you, as a "Christmas tree" because it will finally allow users to take advantage of the "Categories"... something that Outlook users have enjoyed for years. You do not like it, do not use it. Simple as that.

Agenda view is just what I was looking for. Can we have it show the current day at the top instead of Sunday/Monday or whatever you have for the first day of the week? I no longer care what happend on Monday when its Tuesday. I know complain, complain. :-)

If you change to day view and have agenda view you will only see the current day. Swipe left or right to go to next day or previous day.

Agree, frustrating to scroll down everytime you open the calendar. Could set to Day, but then you loose the overview of tomorrow. Nice update, though. Like the week number. don't understand why this have to be configurable. Shouldn't this be something tied to the culture? Maybe I'm missing something

I don't like the view of agenda. It's little bit messy for me.

Bummer. New Year's Eve falls on a weeknight at the end of the century.

Sooo happy to get agenda view... Just wish the would add a default reminder setting so I don't have to manually change it everytime I enter an event...

nice to see native app updated. Tried it out, but for daily use I still find myself going back to Chronos.

Very nice. I sent in my tip a little late it seems. And like others, there was no change log when I initially went to update....hmmm....

So they didn't break it this time? Perfy

Please show more than one event on the live tile. All I want from this app.

Live tile is STILL showing only one item. STILL FAIL IMO.

I really wish I could pin the task (todo list)

Nice. Would be better if tasks were displayed in the Agenda view too. Maybe in the new Outlook.

I heard a couple comments at the Windows 10 event that makes me believe that Microsoft is going to make Outlook part of Windows and not part of Office. Meaning Outlook will take the place of seperate apps for calandar and email. Did anyone else get that same thought?

Did they fix how the Facebook events? It shows invited only. If I toggle invited off it shows nothing.

Retarded. I want Cortana, 24h clock and fucking celcius. Ever heard of fucking Europe, Microsoft?

You think they will listen to feedback delivered like that?

I was in a bad mood at the time :P Problem is you cant combine Cortana, 24h clock and celsius. Or maybe you can. But last time I choose UK or Canada I had trouble with using my current payment options. Maybe I should give it another try.

24 h clock is already there, celcius as well. But I agree, Microsoft should have figured out by now that they are a world player and they should tailor their products to that. Missing the basics for other parts of the world does not help sales. Even odder considering most WP users live outside the USA.

Yeah. If you choose UK. 24h (and celsius)can not be chosen when using US settings.

Agreed (though I'd like to say it politely). I'm a bit tired of seeing products demoed using an obsolete temperature scale used in one country only, but assuming we want it just because we set the phone to English is ridiculous. This needs to be a universal preference - along with date and time format. I like US English fine but want 24 h, Celsius, and D-M-Y or ISO Y-M-D and NOT Fahrenheit, AM/PM, and M-D-Y. Having said that, the week numbers are definitely a step in the right direction. Thanks, Microsoft!