Call of Duty: Black Ops III and Elite: Dangerous get stand-alone multiplayer PC games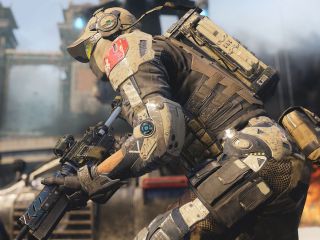 The trend towards multiplayer-only games has taken a big turn today. Not one, but two big PC titles, Call of Duty: Black Ops III and Elite: Dangerous, are now offering stand-alone versions that just have online multiplayer modes that cost less than the main games.
The Call of Duty: Black Ops III Starter Pack contains all of the multiplayer content of Activision's recent first person shooter for the price of $14.99. It is available to purchase and download via Steam from now until Feb. 29. Activision says:
This version of the game does not contain Black Ops III's single player campaign mode, nor its Zombie modes. Players are capped to level 55 and cannot play in custom multiplayer games. It also doesn't support the upcoming mod tools for Black Ops III. If a person wants to purchase the full version of the game after checking out the Starter Pack, the $14.99 will be deducted from the full $59.99 price.
See the Call of Duty: Black Ops III Starter Pack on Steam
Frontier Developments has also released Elite Dangerous: Arena on Steam for $7.49. Unlike the Call of Duty: Black Ops III Starter Pack, Elite Dangerous: Arena will be available to purchase and download indefinitely. It includes all of the space fighter-based multiplayer content of Elite: Dangerous but does not contain the main game's exploration modes. The new game also allows players to enter the Close Quarter Combat Championships tournament and its $100,00 prize pool. Again, players who decide to purchase the main Elite: Dangerous game for $29.99 will get a discount equal to the price of Elite Dangerous: Arena.
See Elite Dangerous: Arena on Steam
There's no word yet on if Call of Duty: Black Ops III Starter Pack or Elite Dangerous: Arena will eventually be released for their Xbox One counterparts.
such a good idea, I much prefer playing multiplayer and rarely play single player. I havent even touched singleplayer in BF4 for instance.

Well you didn't miss much, 3 was better.

And Battlefield: Bad Company 2, was better than 3 :/

I really pine for a BC3, 2 was so much fun

I'd like to just buy the single player...

I'd like a discounted version with only single player. I've never cared much for multiplayer and since they're pouring so many resources into the multiplayer experience, I'll take a $30 campaign version on launch day please. Thanks!

I'd rather see games go the route of having 2 devs work on games like this. 1 for single player, one for multiplayer. release them at like $30 each, hell even $35, and give us some great experiences on both sides.

Well now the cost of rainbow six siege is easy too high.

Give me only single player Posted via the Windows Central App for Android

I would play Black Ops 3 if Zombies were removed from it. Zombies is what keeps me from ever buying a TreyArch or Sledgehammer CoD game again.

So you would pay the same price for less content?

Don't... Play... Zombies?

I would rather just the single player. Good idea to break them up.

I'm multiplayer only and never play the single player or zombie mode. This would be great going forward if they do the same thing for the console versions.

COD is garbage now complete garbage. Im waiting for BO2 to come out on backwards compatability.

I want this for the Xbox One.

If this came for Xbox I would probably buy COD Blops3.

Honestly, I'm surprised that more companies don't do this with their shooters. More often than not, the campaign storyline is predictable and filled with cliches anyway. Not to mention the fact that once you play the campaign, unless you're trying to get all of the achievements, you're only going to play through it once. The online multiplayer can be played and enjoyed for years.
Windows Central Newsletter
Get the best of Windows Central in in your inbox, every day!
Thank you for signing up to Windows Central. You will receive a verification email shortly.
There was a problem. Please refresh the page and try again.