Camera360 Sight update lets you call upon Cortana to take selfies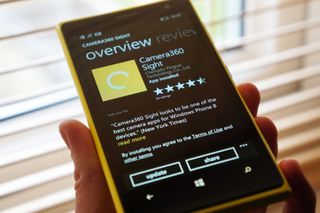 One of the most feature-filled camera apps on Windows Phone, Camera360 Sight, picked up an update today that introduces a neat trick if you're one to take a lot of selfies. The app now supports Cortana voice commands, which means that you can use the phrase "Cortana, take a selfie" from within the app to take a photo from the front-facing shooter (or the rear camera) automatically.
Along with Cortana integration, the update also adds a new filter pack as well as improvements to the noise reduction feature. Here's the official changelog for version 1.1.2.0:
Added "Storm" filter pack, re-familiarize yourself with everything you know.
Added "Noise Reduction" function to adjustments.
Added Cortana English start command: Cortana,take a selfie.
Fixed bugs and optimized functions and user experience.
Download the latest version of Camera360 Sight from the link below, and be sure to let us know how you like the new feature additions.
Download Camera360 Sight for Windows Phone (Free)
Thanks Neeraj, Ankit, Xal and Aman!
Windows Central Newsletter
Get the best of Windows Central in your inbox, every day!
Harish Jonnalagadda is a Senior Editor overseeing Asia for Android Central, Windows Central's sister site. When not reviewing phones, he's testing PC hardware, including video cards, motherboards, gaming accessories, and keyboards.
But my 630 does not have an FFC! ):

You can also use the feature on the main / rear camera :) try it out.

+525 cool feature man... Keep it up

You just ask cortana to take your picture while you holding your rear Camera facing you.

Buy a decent phone. Oh wait windows phones are all rubbish

Then why are you here? Go to Android Central. Fed up of these idiots.

Lol....as if android have anything as good or as smooth! Brilliant

Agree! Just like all iphone and Android phones. All smartphones are rubbish! Rejoice!

I hope a trash like you will die asap.

Best third party camera app for wp.

How to take selfie with Cortana?

No, you can't. Cortana isn't real, you can't take selfies with her.

LOL I see what you did there!

You have to select the microphone option from the timer on the top, then tap the Cortana icon at the bottom and get ready for the shot, when ready say the magic words and wham. You selfied.

The thing is, if I say hello or anything it take a picture.. Wasn't this supposed just to take a picture when you say "take picture"?

I guess they made it so that any word you wanna use shall do the the trick. As an what so ever you find convenient. However anyone talking in the room seems to trigger that.. A bug maybe?

I was coughing and it took a picture :/ that is stupid and it shouldn't work like that :(

Agree. It should be linked natively to Cortana like windows central app is. Maybe in next update

Camera 360 sight wow nice updates. Please add face detection, and brust mode.

Fast to snap a shot. Slow to launch. Nice filters. Nice timer. Nice nice nice nice

Yay.. Got my name in the article for the 1st time.. :P

This app is getting better and better.

Do you have to launch the Camera360 app for this to work, because I've tried it launching Cortana and it didn't work for me?

Yes you do, select the timer from the top of the app and tap the breathing icon of Cortana that appears then when you're ready say the words and the pic shall be taken.

Needs data as usual for cortana?

No Cortana does not need data like it doesn't for basic tasks such as playing music on command and setting alarms and reminders etc. :)

Um, you have the phone in your hand with buttons well within reach.... Does one really need to unlock their phone, activate Cortana, then ask to take a selfie, wait for her to compute and then load up the camera, front facing and then take the pic??? Would it not be faster the old fashion way?

Used along the timer and phones without a hardware camera button, it is pretty useful also giver you time to straighten yourself first before taking the pic. :)

It's an in-app feature. Useful for those who don't have FFC and dedicated camera key and use main camera for selfies.

I don't really understand the point of using Cortana to take a picture. If you have to trigger the voice recognition with a long press on the search button anyway, why can't you just press the camera button yourself?

You don't trigger it with the search button, but from within the app, what it helps for is when you activate her, it buys you enough time to settle yourself straight before having the pic taken. Also if for some as myself using the phone on a tripod for a group pic or something it is very convenient than a timer and buys me enough time. Also cause it works with the main camera as well.

I love Cortana and that is a brilliant use of Cortana by a developer right there.

You use the feature from within the Camera360 app. Useful for those using main camera for selfies without dedicated camera key (on the side of the phone).

But first let me take a selfie! Cortana...

You don't necessarily have to say "Cortana, take a selfie". Just say anything and it clicks the selfie. Don't know if it's a bug or is it by design.
PS: It also works with the main camera. For those who don't have FFC.

Don't get it... Tapped the microphone, then what? If I then tap the Cortana circle at the bottom it instantly snaps a photo?

That's unusual, did you try saying the phrase directly without tapping the Cortana icon?

Yeah tried everything I can think of!

Reinstall the app and before lunching restart your phone.

Probably a bug preferably you should reinstall it and check if it persists.

Why can't I assign this app as my default camera app?

I guess preference of Microsoft apps. Maybe it will change in the future updates then again.

I really like the camera 360sight and proshot,but i dont why the picture quality isnt par with my HTC8X stock camera app!:(

I wish the cortana feature could lunch the app and take a selfie automatically.it should detect if your phone has FFC lunch FFC if not lunch the main camera

Possible maybe with the o.s allowing such permissions I think they would prefer their own for instance Lumia Camera to be the camera that is launched to take the selfie upon command.

I've heard that windows 10 for phones will allows third party apps to send message.I wish they do this with camera apps and browser too.Because Lumia camera is great and there should be no fear of loosing battle against third parties.Even I still like the stock camera app on windows phone 8.1

Currently It only does allow you to select the stock Microsoft Camera app or the Lumia Camera app. They should give us the option to select other apps, just to give the whole thing a bit more of sense of customizations and personalizing and such.

I think a better command will be " Hey, Cortana, cheese....."

At the moment, anything you say works so. Use what so ever you find tempting ;)

It would be nice if I could set this app as my default camera.

This app is a serious hidden gem.

Guys what happened to original camera360 app.. Can't find it in the store

They removed it from the store replaced it with Camera 360 Sight. I know it lacks quiet alot of features that the feature rich original Camera 360 had but maybe we shall see them arrive with future updates.

Thanks for this update :)

Literally it takes pic even if you are just breathing loudly.