Cancelled Halo Mega Bloks game footage supposedly leaked online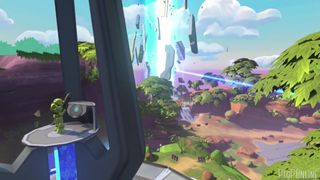 As one of Microsoft's biggest video game franchises, the Halo series has seen its fair share of spin-offs and merchandise. One of the more prevalent examples of this is Halo's Mega Bloks line, shaping the first-person shooter franchise to a plastic brick form. It now appears that footage of an unreleased Halo Mega Bloks game has surfaced online, giving a glimpse of the project's potential.
Posted on the channel of video game archivist, Andrew Borman, the twelve-minute video supposedly breaks down a vertical slice of the game put together for demonstration purposes. Featuring a single campaign mission, the demo shows the game's similarities to the main series, alongside reworked gameplay to fit the Mega Bloks style.
With its official name never decided, the Halo Mega Bloks project was simply referred to as 'Haggar' by the game's developer, n-Space. Following an established presence with Nintendo DS and Nintendo Wii titles, the Halo Mega Bloks game was one of the company's few games ever intended for an Xbox release.
However, with the project supposedly being cancelled and n-Space's closure in 2016, Haggar has evidently been left as an unforgotten relic of Halo history. Although the above gameplay shows a polished slice of the project, the game likely still had a long way to go before completion.
Seemingly in production for the Xbox 360 for a majority of 2013, Haggar was likely abandoned for a variety of factors. Taking a step in a childish direction, a Halo Mega Bloks title would've been a huge diversion from the core Halo formula. With uncertain appeal and the Xbox One's launch on the horizon, the game possibly struggled to find its place in the market. Whether hidden away in Halo's past or influencing future titles, the footage is still an interesting look into what the project could have been.
What do you think of the leaked Halo Mega Bloks footage? Would have you been interested in such a game? Make sure to let us know in the comments!
Windows Central Newsletter
Get the best of Windows Central in your inbox, every day!
Matt Brown was formerly a Windows Central's Senior Editor, Xbox & PC, at Future. Following over seven years of professional consumer technology and gaming coverage, he's focused on the world of Microsoft's gaming efforts. You can follow him on Twitter @mattjbrown.
I think this would have been a hit (or would still be a hit) if it was real and actually released. Halo in third person, wow!! :-)

Halo in third person would definitely be a different experience. I enjoyed the top-down Halo games. Most likely would have added it to my collection.

This game looks awesome and I would of bought this! Hopefully they'll make it eventually.

Need to have the Halo community petition for this to come as a Xbox Play Anywhere game.

naaah, looks like a LEGO Halo wars. Not good enough

How does this look like Halo Wars?

I would have totally bought this. It looks awesome and fun!!!! Kids would love it too!!! Hopefully it still works out.

Have to say, watching this vid brought a little smile to my face as I could picture myself playing this with my kids. They love the Lego series and this would/could be a great intro to Halo universe.

i would buy this. GET ON THAT HALO MINECRAFT EDITION!!!

Cancelled by Satya Nadella of course.

Nadella didn't become CEO until 2014, this project was cancelled in 2013.

Global warming is caused by Nadella as well..

I know these get downvoted, but I'm starting to love these comments. They're like the new 'Thanks, Obama'.

That game looks sweet! I wish it was a uwp app. Play anywhere style!

Developed by n-Space, who created Geist on the GameCube. I enjoyed that game more than expected back in the day.

Same although I never finished it

Ditto, i got to a boss fight and just couldn't hear it.

Yeah! I still play Geist from time to time :) An awesome game actually. ;)

What a shame, this game looks great. I'm sure MS would have gone through with it if it was developed with the then future nextgen Xbox One in mind. Looks pretty fun.

A few years ago, there was actually an April Fools Joke about a Lego Halo game, in the style of Lego Star Wars and the many other Lego platformers. Since Megablocks is a cheap Lego knock-off, turns out they weren't so far off...

Just me or does this actually look great and should be released?

Well this is a vertical slice, meaning it's a highly polished (like a final product) snippet of the overall game. Used for demos/a proof of concept.

This is a shame, I think they completely misjudged the lack of appeal. Half the reason the Lego games and physical sets are so popular is because ADULTS purchase the higher end sets or find them appealing, ending with a purchase for the kids. Halo was a MAJOR revenue source for Mega Bloks, the audience was built in. There's no reason this wouldn't have been able to coexist with the grown up side of the franchise. I under standtand trying to push a new console but port it to the xbox one on the cheap or push things back for a couple months. This was a golden opportunity everyone missed out on. Microsoft misjudged, probably once again in arrogance...

I would have really loved this.

Thank god this wasn't released. That would have destroyed the Halo properties image. They could have done it with a new IP.

That game play looks rad! I would have absolutely picked this up to play with my kids.

Lego star wars works well, and is a big seller. I would definitely buy a Lego halo game.

This would have been the perfect entry game for younger halo players

It would have been probably cool but not sure I like halo going the kiddie route this much. Already halo 5 is more.kid friendly than previous releases.

This looks like fun. I think it would have done well for the younger audience as well as the older.

that hunter assassination...why arnt those in the main series?