Can't set an alarm with Cortana? You are not alone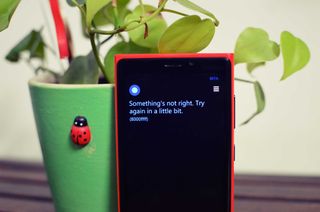 Of course I'm guilty of almost abusing Cortana, the new personal digital assistant introduced in the Windows Phone 8.1. She's managing my calendar, search queries, reminders, and lot of other things I'm discovering each time I fire the app.
While all is well between us, Cortana fails to set up alarms on my Windows Phone device. A little shout out around, and I realized I wasn't alone. Lot of our readers have also reported the issue on Windows Phone Central Forums.
For lot of people who've updated their phones to the Windows Phone 8.1 Preview for Developers, any alarm instruction like 'wake me up at 10' or 'set alarm for 7 am', does not work. Each time, Cortana returns the following error – Something's not right. Try again a little bit. (8000ffff).
Some random suggestions like soft reset or hard reset popped up here and there, and I tried both on my Nokia Lumia 920. But no go. Sam Sabri also teased me that it's because I'm using Cortana in an unsupported country (here's our guide how you can do that as well). However, as I explored the issue, I realized some folks in the US are also experiencing the same issue.
Have you experienced this issue as well? Has any trick or hack worked for you? Tell us in the comments, but be sure to add your region, phone model and any other relevant information.
Get the Windows Central Newsletter
All the latest news, reviews, and guides for Windows and Xbox diehards.
Used it a couple if times, no issues

Chiming in to say I had the problem on my Lumia 920 locked to Rogers network in Canada. It was resolved by turning off a third party app 6.27AM that I was using which had active preset alarms. Just turning off those preset alarms resolved the problem and now Cortana works!

Thanks! 62.7AM was the culprit for me - turning off preset alarms allowed Cortana to set alarms!

627AM was the culprit for me, too!
Thanks for the tip.

Working fine with my Lumia 1320 from India

thank you sir. 927 am was causing the alarm block on Cortana for me too.

Thank you so much this fixed it for me.

Thank You so much for the info...i tried this and alas it did not work for me...its so frustrating...I have since removed 6.27am, tinydo, indigo and Slate Calender ..all of which have preset alarms ...and still having the issue...I dont know what to do ...but this was great advise...thank you

She only seems to turn on existing alarms that are not set to repeat. Just tested "Turn on my 10 AM alarm" and it worked. It would be cool to be able to preset your own choice of a default alarm tone for new alarms though.

If you tell her "set an alarm for ____" she'll create a non-repeating one for that time the next day, pretty sure "set an alarm for ____ every day (on ___day)" would work too

Works fine on my Lumia 1020

Just chiming in to say no problems setting up an alarm here. In the US on an unlocked Rogers 920.

Yup, Nokia 1520. No issues whatsoever. Used it to wake up this morning and set an alarm reminder to call my wife. Yancy

Works flawlessly Lumia 1020 Rogers Canada

No issue Lumia 920..my question is how to I change the tone that plays for her alarms? Soo soft for me and I don't hear it

Same here on 1520, just checked, no problems. PA USA

No issue. Lumia 1020. Switzerland

Works for me. Both "Cortana, wake me up in 20 minutes" and "Cortana, will you wake me up tomorrow morning at 8am?"

Same here with Lumia 1520

Same just tries on my 920 works like a charm

I've also had no problems on my 625.

Tried a few times and each one worked...L928

I just tried it. I said, "Wake me up at 4:30 am tomorrow" She responded by letting me know she set the alarm for 4:30 am. It works just fine

Works on my Lumia 1020 (AT&T). These all worked: "Wake me up in twenty minutes" "Set an alarm for one-ten PM" "Wake me up at 6" (alarm gets set for 6 AM)

No problem here, works perfectly. 1020 uk

no issue at all, she woke me up for two days already.

Told Cortana to "Wake me up at 6AM" and it worked just fine! Lumia 920 in southern california.

No problem for me. 920 in Big D.

Works for me too on the 920. Malaysia.

Might be just cuz its in an unsupported country. works fine on the 521

Works fine for me. Those with issues:
Make sure you set "speech" to English United States and install the language update that follows said change in speech language.

The only problem I'm having with Cortana is that she needs internet connection everytime I ask her to do something that is not necessary to use the internet. If I want to set up an alarm, she says she "can't talk to the internet right now". If I want to send a text message (which is via carrier's network) she says that "she's feeling disconnected". I don't understand that. Things that don't require internet connection should be easy to use when you're disconnected. I think I'm missing something.

Because it doesn't recognize "wildcard" words. If you use the legacy commands, they still work offline.

Worked for me, Lumia 920, Australia.

Works fine on 1520, South Africa

Just tried on Lumia 1520 32GB. Set and cancelled an alarm for 9pm. "set an alarm for 9pm." "cancel alarm for 9pm.", US

It working pefect on my phone. Lumia 925

Works for me... seems faster as well :P

Same here no problems for me either...

Sets correctly ... No errrors..

920 - No Issues.... However my morning alarm does not break Quite time. THought I expect that is by design.

Works fine for me! One thing Cortana doesn't respond to yet though is "What time is it?" I hope she gets that command soon.

I'm not sure why you need her telling you that though? lol That's like asking "Cortana, where's my phone?" Your time is on your glance screen, your time is on your Lock screen and the time is in the status bar ;)

Maybe if they wanted to know what time it was in a different time zone???

Or through a headset while skydiving.

"By the time I finish telling you the time, your thoughts would be more distracted by my sexy voice than the imminent danger you've now put yourself in. Goodbye" - Cortana/GLADOS

Yes, she needs to learn that. I asked her what time it was in Brazil and all she came back with was a Bing search.

Ask Cortana "What time is it in China?" It gives a Bing result.

Maybe though his earpiece

930 and Icon don't have glance. Besides, the point would be so that you can keep your eyes on your task, press and hold and ask the Q, and have her tell you.

What if you are wearing your earphones and the phones in your pocket or to hand?

When the phone is in my pocket via headset. She works great for all other commands. But that's a very basic command I'd love to ask her when I'm going for a jog for example and dont want to pull out my phone.

While you make a valid point, Cortana should be able to tell you the time.

Yes, but I should be able to ask an AI assistant the time without pulling over on my bike shouldn't I?

Pretty sure Siri does it. The point is for it to be more personable/conversational as well as useful. Not necessarily mutually exclusive either. Cortana has a little way to go still but she's a good start

obviously so Cortana can respond, "Hammer Time"

I want her to understand inside jokes, lol. Me: "Who's the prettiest woman?" Cortana: "Eric's mom" Me: "You're gay" Cortana: "Go F*** yourself"

I suffered the same issue. Why shouldn't she know the time?

What's the difference in pressing a button for cortana and swiping the action center down? In fact one would think it would be easier to pull it down since you don't need to speak.

Just asked her "What time is it in London?" And got the answer. Not spoken, but still the correct answer. I wonder if you need to specify a city? Alarms work as well. Lumia 925 on T-Mobile.

The problem isn't that we don't know how to check the time, its that siri cant answer that simple questions. She's a personal assistant after all; you never asked an assistant the time?

I agree, this feature is quite useful when you have headphones and you start cortana with headphones and want to control music or just in this case check time somewhere in the world without looking at screen... for example I'm biking to work on a quite shrort time margin so I want to know what time is it during driving but don't want to waste time to take phone out ... to look at the asnwer...

I haven't yet but I will post here after messing around with it some more. So far all alarms work perfectly.

Works fine for me. UK user, Lumia 520.

OK...for me, I have set an alarm for 10-30 minutes in the future via cortana with zero issue. the issue I have is recurring alarms NOT working! I have an alarm set for 6:20am and 8am and they have not gone off at all.

Works 100% for me... but then I'm in the supported country :p

In a unuported country, (Canada) and it's working...

Working fine here in Norway,

No issues on Nokia Lumia 1020. "wake me up..." And "don't wake me up..." Both work

So, i'm guessing it's too hard to set the alarm by hand these days? :) LOL

Eh, it's kinda nice that you can tell her "Wake me up in 30 minutes" when you feel like taking a nap, rather than doing it all by hand.

Agreed. It's a pain in the ass to open the alarms app, press "+", set time and repeats, press save and exit the app when you can just tap and hold the search button and tell her "wake me up tomorrow at 6am"...Love it!

Kinda nice!?!?! It's bloody brilliant and about time I can do this with my 920 :)

No issues here. Lumia 1520

This is the only thing I have used Cortana for so far (other than her jokes) and it has worked flawlessly for me.

Ask her what the best cellphone is.

Haha nice catch on that one!

No issues with it. Yet...
In the U.S.

Working here. Also 920 at&t

Worked fine on my L520 with no issues. Haven't put 8.1 on my L920 yet.

It works for me, but I can't set it to work every monday or somethin like that. If I say, wake me up at 6:30 on Mondays, or every Monday, she just sets it for one time.

She's able to set alarm for me ,i haven't found any issue with it

Works for me. Lumia 1020, in Costa Rica.

Works for me, so far... in Seattle

Yep, I have faced the same issue, I'm from India and I faced this for first time when I changed the region to US, I changed back it to India and then again to US , surprisingly issue has been resolved and alarm commands are working fine now

Alarm works fine for me but Cortana doesn't work when I'm on home Wi-Fi.

Works fine on my Lumia 925. I'm in south America.

Try with Set alarm, Cortana will ask you about time.

For the longest time Cortana wouldn't talk to me (since I updated at 9am on Monday) but instead of hard reset like most people I just waited and now she is talking "witty" responses...i tired seeing an alarm so I think it's a big that will figure itself out? Hope this helps.

Works 100% for me too, although I've set it to US.

works fine for me from unsupported Germany

Yes works fine on my 1520 too in Germany!

Hmm, seems to work for me. Just set one for 7 PM.

I have a problem with Cortana. I can't add my interests. It says "i am not turning up any suggestions. Try back later".
Lumia 920. I'm living in Azerbaijan, but i set up region to US.

Yup, had the same problem since install. Not alone, either. There are quite a few cases on Msdn forums.

She works fine for me am in Dubai.. Lumia 1020 user

Works fine for me except that if I say "wake me up at 4pm" she always sets it to 4am. I'm working night shift. But I can say "alarm at 4pm" and its fine.

Say "set an alarm for 4pm". It works for me. Maybe when you say wake me up, it tries to be smart and think it will be am.

Yeah "set an alarm" works great but not "wake me up". But as you said, i guess she's trying to be smart. After all, it is Cortana.

Fine for me. It turned on my already saved alarm.

Cortana also won't convert currency. She will link me to the right page but I want her to do it

That's weird, she does it for me

Working fine for me. Lumia 920, USA.

Probably stupid question but are you at the maximum amount of alarms?

I have an issue with Cortana responding to requests that worked day one. A question like.. How far am i from the airport would give me a travel time and directions. Now questions seem to flash from the screen id expect (without a result) to a Bing search instead...i am in Australia...

Works fine for me here in Brazil. Lumia 1020.

I'm in the UK using the Lumia 925 and have no issues.. It just works. I use it everyday..

Setting an alarm works fine for me. But what consistently DOESN'T work for me is to make a location based reminder. Like saying "Remind me to buy nails when I'm at Home Depot". It finds me the closes home depot, displays it's address, and when I try to confirm/finalize it, it says "Sorry, I couldn't locate that on the map. You can choose another place." Despite finding the location for me, and displaying the address right on the reminder screen. WTF?

Put your Home Depot info into Places, Cortana's Notebook? Also, try this: next time you go to the Depot, use your GPS (HERE) to go there, even knowing how to. Then, from within your GPS, press and hold search and say the command "Remind me to buy nails when I'm at Home Depot". Some apps must be on the run to integrate with her I believe. Worked with me, but I turned GPS off before arrival, sorry to say that, but that was to save my battery life.

Works fine on my at&t Nokia Lumia 920 but Cortana is not letting me ask the funny stuff like "what is halo?" Or "tell a joke"

"What is Halo" doesn't work for me either, but "Tell me a story" does.

What is halo works for me :-)

Works fine for me using the same methods as in the article. Nokia Icon on Verizon

M facing a problem with getin Cortana to read the weather out loud. She was working fine yesterday after I installed WP8.1 but a few hours whn I checked again, Coratna just displays the weather page. I tried a soft and hard reset but it did not solve the problem. The worst part is after the Hard reset the only thing that was auto backed up were my message. Everything else I had to install from scratch. Not a single app was auto installed. Anyone else facing these issues?

Try a whole and short command like "weather in celsius" (even if you already have this setup in celsius). Worked for me. I also think connection plays a big role here. Your connection should be perfect to get her working without glitches. Cheers!

its wkrin now, I guess u were right, it is a connection problem. However I still cant understand why none of my apps were installed automatically after the hard reset.

I experienced this when i tried right after the set-up process. I went out back to the start screen, hit the search button and tried again and it worked. I said exactly "set alarm for 7 am on weekdays" my alarm was set up. So i had the issue right after cortana was set-up, after backing out and going back in, it worked.

Works like a charm for me..

I was cooking and said remind me in 20 minutes and she did. "Ok I'll remind you of chicken stew in 20 minutes."

Cortana Works perfectly for me.. also the alarms. The only issues i have is that Cortana is not localized yet ( and that is af course very logical) Sometimes i have to manually assign adresses, or pinpoint locations on the maps before i can voice tell cortana to take me somewhere. After a few hours of programming i more or less assigned all my favorite places with Cortana, make Logical nicknames for all of them. Now i only have to ask cortana for traffic, or if i need a coat, or if she want's to take me there.. it works FLAWLESS..

This! And also ask her from within the apps, like on the run with GPS. It's kind of all integrated and works really nicely as you say.

Sorry but it works flawlessly for me in Spain, I just did it before posting...

Tried seeing alarms with Cortana for the first time last night. Just gave me errors too.

I'm also in the US on a L928

Once I uninstalled Due and TinyDo, all was well. Now I just want Cortana to be able to update a single calendar event when there is a recurrence.

Seemed to work for me the one time I tried it a couple nights ago. Lumia 925 (RM-893, TMo-US) I have been able to create an alarm, turn off/turn on/delete a specific alarm. Could have sworn I could ask to delete all alarms before, but now getting web search results for that.

Works perfectly for me on 1020. Fast and simple, haven't tried that one yet. Reminders are awesome though, been using them a lot.

No problem with Cortana setting alarms for me here...

No issues currently on my ATT 920.

I am having that issue on my Lumia 810, the US

Just tried it and got the same error. I am using an HTC 8X on Verizon. :( My reminder requests work perfectly, though, so I just create a reminder for a certain time. Works great!

Not having that problem. The problem I am having is that my L920 will now lock up and reboot without warning. Happened once immediately following the upgrade to 8.1 and then a few minutes ago when I was typing a message. Bit worrying considering the Developers Preview is the RTM code. :s

No problem here... India ...L625

It's working good round here. I'm in Portugal, with region in the US. Lagy sometimes, doesn't understands me in others, but in general working pretty fine. Remember guys: It's a BETA!

Works all the time for me (UK)

I have issues setting calendar event time. She doesn't understand time. Will I am in India

Southend, Essex UK - No problems for me on my 925. I use the command 'Can you wake me at 7am tomorrow?' and it works fine.

It wasn't working for me last night on my 920 but it seems to be working now.

No problems with alarms, telling me who Cortana is or a joke on a L928.

just checked and its work like charm

Just set an alarm and it wet off at the requested time, no problems, right before adding this comment. Lumia 1520 USA. :)

First thing I did with Cortana, worked perfectly for me.

I just tried after reading the headlines and it worked flawlessly with me. I even got her to cancel it afterwards. (925)

Worked fine to set the alarm. It was a pain to delete it. You have to say the exact time. When you set the time yourself you may remember. When you set it "in 30 minutes" you're out of luck.

I'm in the us and I have no problems on my 1520

Might it be related to date or time format? Not the region, just the displayed format.. (unsupported country, haven't introduce myself to Cortana yet)

It. not she. Especially given your f first sentence...

Works perfectly. Lumia 920, UK

Alarm works for me and I am from India. But suddenly weather has stopped working. Cortana goes to bing search instead of showing the forecast. Worked fine till yesterday. Not any more

Works fine on Verizon 928. Asked her to do "in 20 minutes." "at 5:00am" and "zero four, zero one, two thousand sixteen"

Updated mine in Israel (Nokia Lumia 620), everything works fine, even Cortana. But the phone is a little bit (actually quite a lot sometimes) laggy. Anyone got this problem too? Do they have a fix for this?

Asked Cortana to "wake me at 6a.m. and she reminded me I had an alarm already set. Seems fine on my Samsung Odyssey. :-)

i am having this problem on my L925. I immediately thought it was an issue with my Indigo so I removed it...and tried again and still the same problem...although when I re-installed indigo it still did not work. Indigo can set my alarms though...i did a soft reset and eventually a hard reset...didnt help..interesting enough as you said dan i can open alarms with no problem...I tried also deleting all my existing alarms and then tried setting up an alarm ...still the same error...I also tried googling the error and looks and other people outside WPCentral are having the same issue when they upgraded to 8.1... a post has been added to the microsoft MSDN forums too so hopefully a fix soon...should I find anything to correct this...will post

I was able to set an alarm using Cortana, but I haven't been able to use the chitchat features like "tell me a joke" or "sing me a song" on any internet connection on my Lumia 1520.

my Cortana is working perfectly fine with with almost all commands related to alarm, in my indian accent. most of the time, i cant get the Cortana word property though.

Mine is working fine (Portugal, Samsung ATIV S)

I get this error in my lumia 920 if i try to do something like setting up an alarm or appointment in cortana without wifi or data connection

Setting alarm on my L920 was fine. Also, "cancel my alarm for 5:30 PM" worked like a charm.

Yeah, it has worked fine on my 928!

Mine works just fine. However, I still have a question. When I set an alarm through Cortana, it is always set with default alarm tone. Is there any way to have Cortana automatically setup an alarm with a tone of my own choice?

Works perfectly fine on my 920 and I've got a British accent

My only issue with Cortana is that I can't have an intelligent conversation with her.

I just tried it, works fine for me. Tmo925. US.

Alarms seem to be working fine on my Lumia 920. I can set up an alarm as well as cancel it. It all fairness, I did a hard reset earlier today to correct the issue with Cortana always providing web search results rather thn verbally responding to the question such as, "Tell me a joke".

Has been working great for me, Nokia Lumia 1020 AT&T unlocked on Rogers in Canada.

I just say "Alarm clock, 6 am" and it worked fine on my 920.

No problems on my 925 Cortana rules

So this article has been made so you can get more attention to your problem vs just making a post on the forum? lol

Oh no. I have the problem too.

No issues at all... I can set and disable alarms without having to repeat myself twice. Cortana loves me! ;)

But has anyone also experienced faster battery drain? And gmail mails being sluggish? NL920

I was, but then I blocked some apps from running in the background and now battery life is great again

No issues 1520 USA. By the way 64gb SD card transcend class 10 is flawless. I do miss wireless charging. Battery is a beast though.

Working great here, turn on or turn off the alarm for a specific time. Lumia 720, Vodafone Romania.

It works fine on my L920.

I've set a couple and all good on my 920

No problems here in the UK :) loving Cortana, my girlfriend who owns an iPhone was already on the fence about getting a windows phone, but after this update she can't wait till her current contract ends!

My girlfriend had this and solved (she is a tester). Every time she tried to set an alarm via Cortana she had the error "Somenthing went wrong". Se remember that she had installed other alarm app in the phone. Se then removed the other app and the phone had only the original alarm app. And then it works. Hope it helps you. G.

No issue here and I just tipped ya on it as well with a screen shot ( elphracko ) Lumia 1020 AT&T in MA USA

No issues at all in Sweden. Cortana works flawlessly.

I'm in Swe and have the problem on the 925. I'm afraid it is not regional thingy, likely a glitch in code or smth.

Yep can't set an alarm. I'm in the U.S. on a 920. In fact, just the word "alarm" triggers the error.

Disable any 3rd party alarm app.

She sets mine just fine on my 920 here in the U.S.

Working fine for me on the Icon.

I have no problem with setting an alarm with Cortana.

Works for me as well both for the alarm and reminders

Can't you press an extra button to set the alarm ? Works perfectly on my 920

I set an alarm using Cortana on my HTC 8X just last night, and it worked with no problems. What I would love is for Cortana to convince my boss to let me sleep in!

Works great on my Lumia 625, Italy

Per Gustavo's post, I do have a 3rd party alarm. So I deactivated it and rebooted. Cortana will now set an alarm. So it seems active 3rd party alarm apps caused the bug.

Just chiming in to add another "no problem for me." Earlier today I said, "Wake me up in an hour and a half" and she set an alarm just fine. I wonder what causes these issues for some devices, but not others?

Tried it by using text input, works... Germany.

Works for me. Lumia 1520. UK.

Cortana sets an alarm for me..... I said "Set an alarm at 5:30 tonight"...... No problem.

But I have trouble to get playlists played by Cortana...

No issue for my Nokia Lumia 925

Works fine for me Nokia Lumia 1020, AT&T, California.

I wish i even had the goddamn 8.1... How long we need to wait here in Finland?

Works great on my 1520, in the US

Lumia 520 - works perfect, no problems, no issues, just fine, btw its not lagging or anything. I'm surprised with Cortana - Lumia 520, Croatia Osijek

I've used it once with no issue.

No problems here in Chicago on 1020 or 920

No problem here... But I thing that Cortana is draining my battery... Im doing a test: She is disable for now... Lets see what happens

Ok, got it fixed! I had installed the 6.27AM app - which is fantastic, but it somehow kills Cortana's ability to set the regular alarm. I didn't even uninstall it - merely set all of the alarms off, and Cortana started working again. I had a daily alarm set in the 6.27AM app.

I was getting the error as well and also had the 6.27AM application with active alarms set. Turned them all off and Cortana started to immediately start working. Thanks for the tip.

Worked fine on my HTX 8X in Milwaukee.

Works ok. Also asked her to remove the same alarm and she turned it off.

I am using Cortana in Greece and she is wonderful. No issues with reminders, but... 1. Why on Earth isn't she replying on time questions? 2. When I ask her to convert money units, she tells me the answer. When I ask her to convert measure units (meters to feet etc) she presents me the answer but doen't tell it to me. 3. I asked her to give me directions (to drive me there) to one of my contacts (I have her address sved in that contact) by telling her "Drive me to "Contact name here"". Instead she gave me directions to a beach that happened to have the same name as my contact. 4. How do you compose a mail using Cortana? 5. (Not Cortana related) Since yesterday, I updated "Games" and now it doesn't load any of my ganmes. Instead, under "Collection" I get the message "Couldn't open that. Try again." 6. (Also not Cortana related) Since this morning, IE decided to load the mobile versions of various sites like FB or imdb.com while I have set it to use the desktop versions.

I've been getting mobile versions as well but mine started as soon as I updated. Kinda bumming me out! Also, I agree with point #1 about how Cortana can't tell time. So strange!

No issues here, Lumia 928

Just worked for me in the UK 1020

No issues so far. I always say "set an alarm for (insert time here)". I'm on México using a Lumia 520.

Works fine for me on a Sprint HTC 8XT, when it isn't refusing to connect to the wireless network. I have been using the construct "Remind me" rather than "Set an alarm"

Aha! there you go, I did the same thing to test and it works. But i wont be using reminders to set an alarm for me to get up.

I set an alarm last t and it worked fine for me this morning

What's the difference between a soft reset and a hard reset?

Alarm works fine .. Lumia 720 .. Syria

I just say "wake me up"...and she says "what time do you want me to set the alarm for"...and I say " 7 pm"....and bamm!!! ...she says "I set your alarm for 7 PM"...lumia icon...US region

Used it two times no problems.

No problems on a AT&T 920

No problems setting or canceling alarms here. Ativ S Neo on Sprint

Works like a charm on my icon

I can't view the weather and the nearest restaurant... Location based command

It means you have installed another alarm programs e.g Design Me etc. Uninstall then should works flawlessly.

I used cortana for an hour. She was great and fun to be with. But I uninstalled her and turned off location services. She and her location service was battery juicer. In reality Cortana and location services are for 3,000 - 4,000 mah battery only.

Using the 820 in the Uk and Cortana sets my alarm without a problem

Just tried and worked flawlessly. L1020.

I have seen the comments about setting a future alarm for another day that isn't for tomorrow, or weekly one. I am using a Lumia 820. I think this will get ironed out but the whole point is to get used to the idea of using voice activation for setting alarms. I agree that it shouldn't be difficult to have to set for a morning time on a Saturday when u asked Cortana on Wednesday to do that. Baby steps, but I enjoy using it.

I've used it with great success on my 920.

If you have an App called 627am installed uninstall it and restart your phone this worked for me
Nokia Lumia 925 T-Mobile USA

Yep. That worked for me too.

I am unable to set an alarm on my Nokia Lumia 1520 - NY, USA Same Error as listed above. Already did a hard reset last night because the camera and photo app wouldn't work correctly until I did so.

Like some people have stated. If you have another third party alarm app that has preset alarms active it causes the problem. Turn off all active alarms in those apps and Cortana should start working.

No problems here..... 920 USA Posted via the WPC App for Android!

Working just fine for me on Lumia 720, India.

Lumia 1020 - I asked politely demanded that she set an alarm for 7 am. I already had a pre-made alarm there. I change all my alarms to a different sound that default. She turned on my alarm that used the not default sound (like I was hoping). I'm thinking she can only turn on pre-made ones at the moment.

Working fine on my L820 (Australia)

Cortana sets my alarms right every time!...Very impressed with her so far.

I was facing the same exact issue. But I had some <b>3rd party Alarm apps</b> installed in my phone. I uninstalled all of them and this seems to have done the trick. Hope it helps! :)

Check your time and date.

I'm from the dominican republic and I'm using cortana on my lumia 920. Cortana can set the alarm without problems.

Mine works perfectly. 1520. Actually a bunch of apps that didn't work before all work better (Kik)

Works for me on Lumia 920

Cortana stopped working and just gives me bing results for everything. It works off and on. It does stupid things like what happened earlier today: I said "How old are you?" and the real-time speech recognition got it correct. Then Cortana says "OK, calling [contact]" and I had to quickly push cancel before it called him. So be ready to supervise Cortana in case you ask for the weather and it decides to call your ex or something.

Works perfectly for me. ???

Do you have another alarm app? That problem happened to me and I deleted the other alarm app. Now it works fine

Just tried it on my Lumia 1520 here in Saudi Arabia and no issues whatsoever.

No issue for me. On a Lumia 925.

It was not working until I uninstalled 627.AM. now it works perfectly :)

She sets my alarms, but she can't recognize when I want her to talk to me vs do a Bing search. When i ask her my name,,or to tell me a joke, she does a Bing search. Any tips on how to fix that?

No problem for me in US with L1520.

920 and europe region with us settings.working just fine.but i cannot delete old alarms :D

Sort of related: I set a reminder just fine, it showed it as being in there. But I don't think I was ever reminded of anything????

Lumia920 in the US and I read able to get her to turn on and off alarms, but oddly my alarms didn't actually make any sound until I rebooted.

Works perfectly on both my wife's L920 & my NL925 .... Jamaica

Does not work for me no matter what I do. US Lumia 920

Been using it since update, I told her to wake me up 30 minutes later and she did.

Thanks to some suggestions above, I deleted the 3rd party alarm apps like 627. That fixed the problem. I'm glad that it was a simple fix!

I seem to be ok, was able to have Cortana wake me up tomorrow at 5am....

Working fine for me on my 1020, via voice and text. I pity those whom it's not working for, it's a really content feature.
Hopefully Microsoft fixes it soon. Using a black AT&T 1020, US.

in Turkey, it works fine on my l920

It search only when i speak. Not same many clips t saw

Same issue like you, Lumia 520 - Vietnam

Works like a charm, I'm setting alarms all the time.

Had no problem last night on t-mobile USA.

Lots of people using 6.27AM.... I remember when that was first featured :-) I had it and it was great, but I needed the space :(

I haven't had any issues with setting or clearing alarms via Cortana.

I installed the Developer Preview on my gf's HTC 8x, she's in love with it, she told me how she set alarm with Cortana among many other suff, no issues for her, I'm due to get my Lumia 1020 within 2 weeks time, can't wait!

No problem for me..
I can set alarms via Cortana

Working well in Lumia 520, no trick or hack, just 'wake me up at X hour'.

i cant get cortana..even after changing region...can anyone help me

Browse the forums for a solution :)

Working well in India on my L520.

Just set my alarms....no problems....1520

Just uninstalled 627am and it works now

Thanks people, I deleted Due and TinyDo and alarms are working no problem with Cortana

No problem here in Singapore

Here is working properly on my Lumia 920 (Brazil). I'm able to set an alarm or cancel

Worked for me fine "Remind me to do X at X:XXpm"

Try updating your calendar

I had the same problem until I uninstalled 6.27AM app. I'm suspecting the problem is if you have multiple apps that can set alarm, Cortana gets confused and doesn't know which app she should use. Removing all but the stock alarm app might be the answer for some people (that's what did the trick for me).

Works neatly for me in India, on 720..

I am using Cortana outside the US and on my Lumia 920 and I have no similar problem

I have mo problems using Cortana to set an alarm.

Works great on my Lumia 720 India...

tried 5 or 6 times right now...worked wothout problems .... say cortana and then the message...might just work....i had a problem wen she was searching do you like clippy den i said cortana do u likr clippy n she replied

Worked for me in the U.S. on a Lumia 928 on Verizon

Works fine on my 1520 unlocked from Att running on T-mobile

Nope works fine on 925 unlocked in AUS ;)

Had problem the first time, but after that working perfectly

Wasn't working for me until I uninstalled AlarmMe (which wasn't working well anyway...)
Lumia 1020 in Brazil.

Works perfectly,California :)

Yeah same thing happened in my Lumia 920 ( Egypt )

All I did to bypass this error message was remove the 3rd party apps that were setting alarms for me. After removing them Cortana was able to control setting alarms.

I can set alarms. But she fails when I ask to remind me something.
"sorry, I can't add that reminder while battery saver is on."
Same happens when battery saver is off!

Didn't worked for me until 1 clock app alarms were switched off.

Wait. You fired cortana? Why would you do that?

I'm using my Nokia 920 with no issues in using Cortana to set alarms...

I have l920 on At&t in USA and I do have the issue. I have deleted the alarms I had on the native alarm app and also the 1 clock app. The problem persists

Told her to wake me when she needs me, worked like a charm

Well, when i asked her "where am i", it shows bing search, but yesterday she can show me the map. Weird.

no issues in India too.. tell her to wake u up in # hours # mins

yah...he woke me up exactly at that time....

I have been able to set three alarms...just say "Set alarm for (time here)" or "Wake me up at (time)". No problem. :)

For everyone that is commenting, don't forget that setting a "reminder" is not the same thing as setting an "alarm". Just so you know.

No issues with alarm. Using in India with usa region on my Lumia 820, jus tell cortana oj what time u wanna wake up she automatically sets and alarm. No issues
You just tell her that 'wake me up in 10 mins' she sets the alarm

I've only tried it once but worked fine for me. 920 - UK

Nope. Not facing any such issue on Lumia 520. From India.

I can set alarms but suddenly the music recognition icon has disappeared from the top and I can't see music in Cortana's notebook also Posted via the WPC App for Android!

Does anyone know if it works to use a bluetooth keyboard in update 8.1? Anyone tested it out?

Works flawlessly on my 520. Would be good if it guessed my alarm tone from my previously set alarms.

In Canada Lumia 1030 just said wake me up at 10 am and she set an alarm.

Working for me in Australia, Nokia Lumia 1020. Alarm sets everytime!

It works for me without any problems. I use a Lumia 920 in el Salvador in central America.

No issues at alll... Its is just gud , listens all my commands and executes them...

Working fine ... Lumia 520 in Oman

works for me in UK on L920

used it to wake me up this morning and everything worked perfectly Lumia 820

Well the comment list was long so dont know if someone tried this already, but I made cortana do something similar in a different way. I asked Cortana - "Remind me to Wake Up at 4.30 PM today" :P and well, bingo! She set a reminder. Sure it is not an alarm, but if you set your reminder tone to alarm this might just save your day... err.. might not try that actually but still, interesting isnt it?

I have the same problem. From Malaysia

I'm using Lumia 520 in India and I used Cortana to set a few alarms... without any glitches!

I m using l520 in india...i cant get the app even after changing region....can any one pplease help me

Can anyone help me with the flights thing, did anyone got anything from cortana about his upcoming flights, as if tickets were sent to his email. Not working for me at all. Would love to get a reply.

This! I'm trying to understand this too. Also, I would like to know how to get her to alert me when to leave home at certain time in order to make to places in time. If this would work with Commute (HERE) turned on or what, because it certainly would drain battery a lot (GPS signal inside house would also be a problem probably. Maybe Waze handles this?). Tried yesterday using calendar and didn't work. Didn't try with Commute thogh because of GPS signal loss (used HERE which I prefer). Commute did work for me with geofencing stuff already. It's great. So I'm looking forward to keep trying from within opened apps, multitasking with Cortana.

Simple stuff like "how is traffic on my way to work" works flawlessly already for me and it is faster than opening an app and wait for connection.

No problems, have set alarms from day one. L920.

Doesn't work for me. I'm on an international 1520(Hong Kong) but my service is with T-Mobile in the states. I had to switch the region to US again after 8.1 install to see Cortana. Anyway, I don't have any other alarm apps aside from the stock app.

Nevermind. It seems to work occasionally

Maybe you should try saying 'Please' ;-). Works fine for me... Lumia 920

I only have this issue when I'm not connected to an Internet source such as Wifi or 3G/4G network.

Works for me on L920 in Germany with country set to US and regional format UK

No issues too! Lumia 520.

works fine on my lumia 1520...set any alarm and any time is working for me

Works like a charm for me. Lumia 1520,US. I asked her to set an alarm,and she did. Asked her to cancel my alarm,and she did. Said thank you,and she replied, "Anytime Chief".. :)

Works well on my Lumia 520..... No issues at all....

No issue on my Lumia 620 with alarms.

Really? this article exists? Your complaining about a command on a beta digital assistant running on a developers preview os that isnt out yet?

I have no problem setting the alarm with cortana. i have the lumia 920 and im in the us. Or adding events with her to my calender.

I turned off Cortana, resent, turned Cortana back on, resent again, and now it's working and am able to set alarms.

Guys.. I am using an Indian handset. All settings are according to US location.. But Cortana is unable to respond to my speech.. Before it used to respond. But suddenly all stopped..
Now she just responds to the text. I have tried hard reset.. But still the problem exist. Any help I can get from you guys would mean a lot to me... Thanks

It works for me. So not entirely sure what the actual problem is.

Well iv got a Lumia 920 and i live to Canada Quebec and the alarm/wake me up thing work perfectly and fast !!!

Cortana just set an alarm for me an add cancelled my standards one. Works in Belgium on my 920.