CES 2011: Steve Ballmer delivers Microsoft's Keynote Address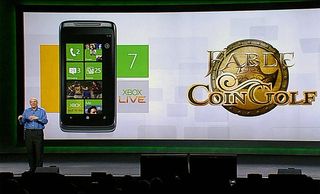 Steve Ballmer has just wrapped up his 2011 International Consumer Electronics Show Keynote Address. He addressed three key components for Microsoft; Xbox 360, Windows 7, and Windows Phone 7.
Discussing how productive 2010 has been for Microsoft, Ballmer described it as a year filled with new experiences for consumers. Ballmer touched on the success of the Windows Phone Marketplace that now has over 5,500 apps and 20,000+ developers on board. On average, Windows Phone users are seeing 100 apps a day introduced to the Marketplace.
The success is being reflected by consumer confidence in that 9 out of 10 AT&T customers would recommend Windows Phone 7 to a friend. It was clear that Microsoft was pleased with the two month impact Windows Phone 7 has had and Ballmer continued to voice a strong commitment to the new phones.
Here are a few points from Ballmer's keynote on what we can expect in 2011 for Windows Phone 7.
OS Updates: Ballmer phrased it: "Over the next few months we will be delivering a series of platform improvements that show we are taking feedback to heart in an effort to continue to enhance the products we release. The updates will be released automatically and will include a few changes". No time frame was set but Ballmer did mention these updates will bring Copy/Paste to Windows Phone 7 as well as "significant improvement in performance when loading or switching between applications".
Sprint and Verizon: During the first half of 2011, Sprint and Verizon will join the Windows Phone family. While there was no mention of which phones are headed where, indications remain that the HTC Trophy is headed to Verizon and the HTC 7 Pro will be Sprint's Windows Phone device.
Games: One of the strengths of Windows Phone 7 is the Xbox Live integration. Windows Phone users will see a series of new Xbox Live games heading to the platform including a version of the popular console game, Fable.
Fable Coin Golf (we're assuming it's a golf themed game) will allow any coins earned on the Windows Phone, carry over to the Xbox Live version of the game. You also have Pro Evolution Soccer 2011 heading to the Windows Phone as well as the much anticipated Zombies!!!.
Apps: We saw a few new apps that caught our interests. There will be an http://Amazon.com?tag=hawk-future-20&ascsubtag=UUwpUdUnU5821 app and a Bank of America app that will allow you to take care of your shopping and banking needs. Hopefully, this will break the ice for more online retailers and financial institutions to bring their apps to Windows Phone 7.
It looks like 2011 is shaping up to be another year filled with new experiences for Microsoft consumers.
Update: See the entire video presentation after the break (grab a coffee, you'll need it, but it's worth it)
Windows Central Newsletter
Get the best of Windows Central in in your inbox, every day!
George is the Reviews Editor at Windows Central, concentrating on Windows 10 PC and Mobile apps. He's been a supporter of the platform since the days of Windows CE and uses his current Windows 10 Mobile phone daily to keep up with life and enjoy a game during down time.
When the annoying lady was talking, she had some live tiles displaying what looked like twitter or facebook status updates. What app does this? The current twitter and facebook apps don't utilize live tiles.Pretty disappointing how little attention WP7 got though.

I agree I was disappointed as well but, we have to remember that in the on coming days we may be hearing more information. As for the apps, she is running a new version of the OS (which is how she was able to show us copy/paste) so who knows what APP versions she has as well.

"Pretty disappointing how little attention WP7 got though." It's for a reason and it is next month: Mobile World Congress. That's where they announced and showed WP7 last year and you can expect more, we bet a lot more, at that time. And yes, WPCentral will be there to cover it ;-)

What's the date for MWC Daniel? Last year I think it was the 15th.

facebook has a live tile status update i have seen this on my own phone

Well then you are a lucky one. My facebook does not have a live tile status update either.

its not the Facebook/people tile it works on, its when you pin a Facebook friend to the start screen

Disappointed as wellcome on ! first half of 2011 for verizon and sprint ?and I'm sure they are not going to be 4G phones ! what is the hold up ... is Microsoft a Union Shop?also no real tablet solutions ? no windows embeded tabs no windows phone 7 tabs like we knew and really no windows tabs..I really love microsot and have backed balmer for quite some time now but its time I think he should go now ..I wold like to see the creative mind man Mre Belfure I'm sure I hacked his name but I like his thinking and I think he would have the direction of a windows CE Tab and also on top of all that I think we saw over the last 3 days what 10 new android phone and how many android tablets?MS is getting there buts kicked and we need them to turn it around..

"...9 out of 10 AT&T customers would recommend Windows Phone 7 to a friend..."Really? I wonder what orifice these figures were pulled out of. I'm an AT&T customer, have been for a while now, and don't recall any sort of survey ever being conducted.Their product would have a better chance if they'd represent it accurately. First, trying to represent sales to retailers as sales to consumers, and now making up customer survey results...Can't see the forest through the trees ;)

Oh, so because YOU didn't get the survey, it's false? Surveys only need to be 1,000 people to be reliable (and that's on the high end, 500 would be enough for a satisfaction survey). Not every person who bought a WP7 device on AT&T needs to be asked. And you honestly don't believe that companies as big as Microsoft don't higher firms to get collect user satisfaction data, do you? Second, quoting from Microsoft's press release: "[1.5 million] Windows Phone 7s sold by phone manufacturers in the first six weeks after launch". So not sales to retailers but sales BY manufactures. Where's the misrepresentation? Get your facts straight before you post.

is that amazon app only available in the US???? cant find it in the uk marketplace

Hasn't been released yet, anywhere.

Meh, nothing good, nothing bad. I saw another article saying that MS will be doing the updates, like apple. I keep seeing conflicting reports. Does anyone know the actual way the updates will release to end users.

Microsoft has said a couple times that the updates will happen as follows:Microsoft develops update, tests it internally, then pushes it to mobile carriers.It will then be up to the mobile carriers to test it internally and/or approve it for release to their subscribers.Once approved by the carrier, the update will be pushed from Microsoft's servers (not the carrier's servers) to the phones through the Zune desktop software.This differs somewhat from Apple's approach, in that theoretically a carrier could block an update from being released to subscribers (or delay it). However, AT&T apparently tests each update from Apple as well, and always approves them pretty quickly.This differs from Android as well. We see with Android that many phones can't upgrade to the latest versions, causing fragmentation in that you have many models of phones running many different versions. I'm just going off the top of my head from reading a couple articles, but I believe with Android, hardware manufacturers can block updates. Since the hardware companies can make so many changes with Android (where they can't with WP7), updates can easily break these changes. But this means you have all sorts of different people that need to approve a single update, and sometimes subscribers with certain phones on a certain network will get left behind in updates. Microsoft believes this sort of thing will not happen with WP7, as there theoretically should be no reason to block or delay an update.So, to sum up, it won't be quite like Apple's way of doing updates, and some carriers may approve updates sooner than others, but there shouldn't be any reason for a carrier to intentionally delay the release of an update, so theoretically everyone should get the updates around the same time.Hope that helps.
Windows Central Newsletter
Thank you for signing up to Windows Central. You will receive a verification email shortly.
There was a problem. Please refresh the page and try again.