Children's Games Roundup: Mazoocard, Toy Xylophone, and Simon Cow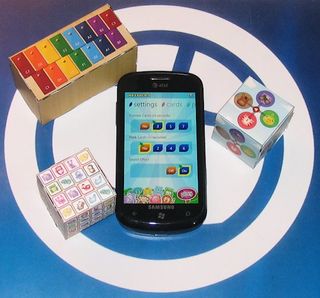 Anyone who has small kids knows that they are fascinated by both phones and videogames. Handing off a phone to your child while in the car or at a restaurant can be a great way to keep the little one occupied. Indie developer Ganlok Studios has produced three fine kids' games for Windows Phones: Mazoocard, Toy Xylophone, and Simon Cow. Each title offers clean, attractive graphics, simple gameplay, and a great user interface.
Head past the break for our full three-game review.
Mazoo Card
Mazoocard is probably Ganlok's most fleshed-out title. It is an animal-themed memory card game. You know how it works: flip over two cards and hope for a match. If they don't match, try to remember what they were and then pick a new card to see if it matches the ones you've seen before.
Mazoocard excels mainly due to its copious set of options. Before playing, players can switch between five different sets of options by tapping the menu names at the top of the screen.
Cards: The default starting screen. Choose to play with 9 different quantities of cards, from 6 (easiest) to 48 (hardest).
Players: Mazoocard supports head-to-head play on a single device. Players are instructed to turn the phone to landscape mode, with each person playing from opposite ends of the phone. Play alternates from one gamer to another. If a match is made, the player gets another try; if not, the other person gets a turn. This is a great way to enjoy the game with your child or friends.
Foreground: Select from four sets of cards: animals, numbers, colors, and letters. The cute animal art is the default, and I like it best.
Background: Choose from six colorful wallpapers.
Settings: Here you can allow players to preview all the cards for 3, 5, or 7 seconds at the beginning of the game; peek at cards for 2, 4, or 6 seconds during multiplayer turns, or toggle sound effects on or off. Unfortunately the game has no music, but I doubt kids will mind.
Mazoocard has everything you could want in a memory card game. While there are several other games of this type on the Marketplace, Mazoo's options and art style outdo the competition.
Rating: 8.
Toy Xylophone
Toy Xylophone is classified as a game, but it's really more of a musical learning tool. Real xylophones are percussion instruments consisting of a row of wooden bars, also known as keys. Ganlok's xylophone divides its 15 keys into two rows so that each key is large and easy to tap. It sounds realistic and supports multi-touch – it's easy to hit two keys simultaneously just as one would on a real instrument. Players can toggle between colored keys or a uniform wooden appearance by tapping the gear icon at the top of the screen.
The feature that really gives Toy Xylophone some staying power is its Song Book. Press the music note icon at the top of the screen and a list of 72 songs pops up. The list includes many childhood favorites such as ABC, If You're Happy and You Know it, Twinkle Twinkle Little Star, and even the Elmo Song. Songs that originate from other countries like Day-O (Jamaica) and Momotaro (Japan) are clearly differentiated by their countries' flags. Select a song and it plays on the in-game xylophone, each key highlighting as it's struck.
Simply listening to each song is fun enough, but Toy Xylophone has a few learning tools too. A tempo slider makes it easy to see just what notes a song contains as it plays out. The Mute button cancels the automatic sounds as a song plays out. But striking the keys still produces notes, so users can play along as the keys light up and only hear the ones they're hitting.
Toy Xylophone is a great app for young music fans and even adults with a casual interest in the instrument. A few additions would increase the app's appeal to the older crowd, such as an Advanced menu in which users could record their own songs, plus additional playback options for the Song Book like Repeat and Continuous Play. Thankfully the recording option is planned for a future update.
Rating: 8.5.
Simon Cow
Just as Mazoocard is based on the card game Memory, Simon Cow draws inspiration from the electronic game Simon. A group of colors (or animals in this case) form a circle on the screen. A sequence of colors plays out which the player must then repeat. The sequence starts with a single color but adds an additional step each turn, until finally the player makes a mistake and the game ends.
Simon Cow crams a bunch of options onto a single screen before the game begins:
Number: Select from 3, 4 (default), 5, 6, or 8 different colors to keep track of during play.
Sounds: Animal sounds, chimes, or no sounds
Play rotation: This option adds some challenge by rotating the wheel of colors prior to the start of each sequence. The sequence itself is unaffected, but the rotation serves as a distraction.
Answer timer: As you might expect, this limits the amount of time the player has to repeat the original sequence.
New sequence: If you really want to make the game hard, try having it start a new sequence every turn instead of building one long sequence.
No animals: By default, each colored circle has an animal face on it. Turn them off to play with transparent colored circles instead.
High scores: This game keeps a local score board. It even tracks what options scores were achieved under - is a nice touch.
I didn't enjoy Simon Cow as much as Ganlok's other titles mainly because I've never liked Simon. I don't just mean people named Simon (jerks, all of them), but the game itself. Even as a kid, I would rather have received socks as a gift than the electronic Simon game. But there are surely people out there who don't feel the same way, and they would probably get a kick out of the options this version throws into the mix. My other complaint is Simon Cow's art style – the animals are kind of ugly. Perhaps the developer should swap them out with Mazoocard's animal drawings instead.
Rating: 6.
Overall Impression
Each of Ganlok's games is likely to be a hit with kids. They all focus on a single thing – memory cards, xylophone music, and Simon says – and do it really well. My preschool-age daughter likes Mazoocard the best and Simon Cow the least, mirroring my own tastes exactly. Parents are also bound to love the games' prices: Mazoocard has both a full paid version and a slightly trimmed-down but free Lite version; Toy Xylophone both come in Paid and ad-supported Free versions; and Simon Cow is just free.
Mazoocard comes in $.99 and free varieties. Grab the full version here or the Lite version here (Zune links) on the Marketplace.
Toy Xylophone also costs $.99 or zero cents, depending on which version you buy. You can find the paid version here and the free version here.
Simon Cow is free – pick it up for the kids right here.
Get the Windows Central Newsletter
All the latest news, reviews, and guides for Windows and Xbox diehards.
Paul Acevedo is the Games Editor at Windows Central. A lifelong gamer, he has written about videogames for over 15 years and reviewed over 350 games for our site. Follow him on Twitter @PaulRAcevedo. Don't hate. Appreciate!