Chinese HTC 8S phones being bricked after firmware update, HTC offering compensation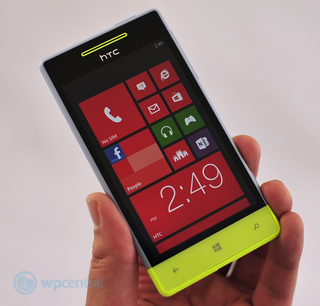 Good news for Chinese HTC 8S owners: there's a firmware update over the air. Bad news: the update may just kill your phone. On March 21st, owners of HTC 8S in China started to get a firmware update, and a fair portion of them were permanently stuck on the start up screen after the installation and reboot. HTC and Microsoft are trying to figure out what exactly is wrong with the firmware. Meanwhile the OTA update has been suspended.
Today the Taiwanese phone maker announced a compensation policy for those affected by the faulty firmware:
Bring bricked 8S to any nearby HTC service center to perform a firmware restoration for free.
If firmware restoration is not possible, the motherboard of the phone will be replaced, again for free.
Each owner of bricked 8S gets 3 months of extra warranty, plus a pair of earplugs.
We don't know what kind of earplugs HTC is giving away. Would be nice if they are those expensive Beats branded ones. And apparently HTC hasn't informed its own service staff of this yet. There are Chinese users complaining on the web, saying that HTC service centers giving them neither free service nor free earplugs. Hopefully HTC gets the mess fixed sooner.
Source: WPDang
Windows Central Newsletter
Get the best of Windows Central in in your inbox, every day!
Problems with the mandatory spyware.

Thank god there are Lumias!

true - they never get bricked, right :P

That's coz Nokia Lumia is already like a brick. :P ;)

Yes, the better brick of the world.

No, just the random shutdowns... :P

The main thing is (when the serivce centre staff get informed) HTC are repairing them for free but this Should nothave happened i fear the update wasnt tested properly,
Lets hope they identify the issue before consumers start blaming Windows Phone for the problem even though this is a Maunufactur Fault, but a lot of people wont see it that way sadly

And its plaguing in my opinion the prettiest phone.

well - the chinese know how to handle complaints

Have to say that phone does look very nice.

Reminds me of the whole pre-Nodo update debacle.

On a side note that color combo on the 8S is just whacky :p

On a side note that color combo on the 8S is just whacky :p

The color shown in the pictures is REALLY neat looking.
There's an employee edition of the 8X for Verizon with the same colors - I refer to it as "new balance" as it reminds me of their sneaker.
It's got a insanely clean looking gray wiht 'limelight' accents - i think it's really neat because it's different - i wish they used more color options on other devices

Please wait, your Fail is almost ready...

Sounds like an expensive fix for HTC.
At least they are admitting to and taking responsibility for the issue. Many of you will not remember this but wayyyyyyyyyyyy back when we had Zip Drives Iomega released a firmware update that killed probably several hundred thousand of the drives.
Iomega publically stated it was not there fault even though it was easily reproducable (ie: You ran the update and your drive was dead).
Of course the consequences were severe for Iomega. Last time I heard they had been bought up and renamed half a dozen times.

I wonder if the issue is related to the restore issue I have with my L920 where if I try to restore from the phone it gets stuck in an endless loop...

Earplugs? Not ear buds? Lol

The earplugs are for the employees. xp

they're the same thing - cultural differences and an American/Canadian Marketed site posting news on Asian market... at least they're offering in support they would send you the carrier - only to have the carrier send you away to the manufacturer - just irritating the customers more. its a whole different ball game over there

1. i don't always buy a htc windows phone, when i do, it is make it bricked
2. one does not simply buy a windows phone from HTC.
wakakak,


Am I the only one who thought HTC should have given then a free bag of cement? :)
Seriously though, that's a huge screwup to let pass QC. At least they are compensating, although if my guess as to the locations of service centres is anything to go by they should be offering refunds on postage.

What a shame. My wife has the 8S and its really a very nice and light phone!
However it was already sent to repair, as the on/off button sometimes does not switch the phone on from standby.
Also sometimes the touch screen does not react to input after waking up, you have to wait a couple of seconds.
Needless to say it came back from service center without informing what was done, and those 2 issues are still there...

Quality control is a major part of customer satisfaction... There are sooo many ppl who had to replace their Lumias multiple times as well. However, this should have never happened. Perhaps, there was a flaw in the code language that when translated to Chinese, everything crashed. This is a major lesson for all manufacturers to test products in all available languages and regions and to test for simple design flaws (dust, proximity issues, etc.) It just makes sense....

That's why you don't update the minute an OS update is pushed ! Learned the lesson from Samsung, while I wasn't personally affected, a lot of people in Both Android Central & WP were

So HTC is spending their last remaining budget on compensation.
Windows Central Newsletter
Thank you for signing up to Windows Central. You will receive a verification email shortly.
There was a problem. Please refresh the page and try again.