Could a Windows Phone 8 device by Chinese OEM OPPO be coming soon?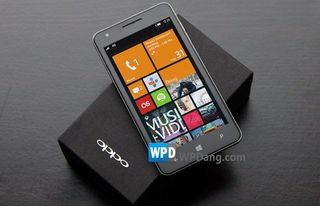 Almost exactly a year ago, Chinese device manufacturer OPPO was rumored to be working on a Windows Phone 8 device that was slated for a 2013 release. If recent images that were posted on Sina Weibo (Twitter's Chinese counterpart) by OPPO's Social Marketing Director Li Ying Ming are to be believed, then the rumors could be close to coming to fruition. The pictures show what appears to be a mockup (translation: not a real) of OPPO's Android-powered Find 5 running Windows Phone 8.
The fact that the alleged Windows Phone is sporting Nokia-exclusive apps, like Angry Birds Roost, on its start screen tells us that these are renderings. However, they are enough to also tell us that an OPPO Windows Phone 8 device could be a reality.
It could be that OPPO will base its design on the Find 5, or at least incorporate some of the same features. If that is the case, it is likely that, like the Find 5, the phone would have a display with 1080p resolution, a feature that will not be available for Windows Phone 8 until the General Distribution Release (GDR3) update. That would mean that consumers would not see OPPO's Windows Phone on shelves until Fall 2013 at the earliest.
We think that it's a positive sign that another OEM may be entering the Windows Phone arena. It helps build the brand and raise awareness amongst consumers. While Nokia, has far and away seen the most success with Windows Phone, Samsung and HTC have committed to Windows Phone on varying levels and continued to produce consistently. Huawei hit the ground running with the Ascend W1 and Ascend W2 and has also seen a positive response.
But what do you think of another manufacturer entering the fray? Would you be interested in an OPPO Windows Phone 8 device?
Get the Windows Central Newsletter
All the latest news, reviews, and guides for Windows and Xbox diehards.
Looks slick, anything to capture that Chinese market and get more mindshare.

It has a classy look, I have to give that much. But I've never heard of that OEM before.

Personally the Oppo 5 was one of the best unknown Android device made.

That doesn't help them though lol

You don't know about their products. Oppo 5 is a great build phone. Some features very innovated. Do research before trying to knock it.

I hope you're not referring to Oppo surviving or selling more as a company. They sold over 7mill phones first half of this year, which is extremely good for such a low cost and small company. IMO

Exactly you can find the Oppo 5 on Amazon ~$500 with specs better than most popular branded phones.

Oppo makes the finest android phones on the market IMHO.

OPPO is best known for high end DVD or Blu-ray players at low prices. Let's hope their engineering might can challenge Nokia.

For the uninitiated to the fringe (from a Western POV) of the consumer electronics industry, Oppo is one bad mofo of an OEM. They have been making truly high end home electronics that outclass the efforts of Samsung, Sony, LG, Panasonic, etc., for quite some time now. Yet they manage to sell these high end beauties at rock bottom prices (by high end price scales), and have established quite a name for themselves in the audio and vidoephile communities all across the globe. Oppo DVD and blu-ray players tend to be some of the highest rated on the planet, and the Oppo 5, their recent foray into smartphones, looks to carry that tradition of excellence into the mobile space. I for one am extremely happy that Oppo is bringing their expertise to making Windows Phones devices. If Microsoft were smart, they'd get Oppo to design and manufacture their flagship Windows Phone, instead of HTC. Yes. Oppo is just that good.

The only other company that I would be just as excited to see start making Windows Phones would be Hisense - another Chinese OEM making a big name for themselves in the consumer electronics industry by making high quality electronics, and selling them at super affordable prices. Hisense specializes on HDTVs, but if their recently released Sero 7 Pro Android tablet is anything to go by, they have it in them to trounce the likes of Asus and Samsung in the mobile space. I'd be really happy to see them start supporting the Windows ecosystem with some low priced Windows 8.1 tablets, and a line of low priced WP8s to complement the low prices that Nokia has established with the Lumia 520/521. If between Nokia and Hisense we could start getting a decent amount of high quality, low priced Windows Phone 8 devices into price sensative markets around the world, then Windows Phone could really start to making some serious headway in global marketshare gains.

Oppo will hopefully help the Chinese WP market grow, it's easier for the average Chinese person to identify with a national brand than a Euro brand.

Oppo is amazing. They actually support there Android devices, and, given that, I suspect if they made a Windows Phone there "exclusive" apps selection would rival Nokia's because they actually care about there customers.

Yeah. And unlike Huawei, ZTE and other Chinese manufacturers, Oppo is the only one having business representation and quite massive ads for their products (specially Oppo Find 5) in my country. This can reassuring potential customers to buy their products since they know where they had to go if anything goes wrong. The same thing like Nokia, Samsung, Sony, Acer, Asus always done before.

I wouldn't buy it or a Huawei, but it's cool t see another option for China. Maybe Windows Phone 8 could someday dominate the growing Chinese market.

Ask Marcus Brownlee he knows all things oppo

Never heard of them, but that looks lush

Looks Like a Mixture of The ATIV S and the HTC 8X

Ha Michael beat me to the punch. Just sent tip. Beautiful hope its as nice as the Oppo 5. Suppose to support GDR3 1080 display. Hopefully IPS display

The phone looks nice, has an HTC look to it

Oppo makes magnificent products. Their blu ray disc players are generally considered to be the best on the market by audiophiles and videophiles. Stereophile, Home Theater Magazine, The Absolute Sound, Sound and Vision - all rank their BDPs as the best on the market. They use great component parts and high end DACs but manage to sell at great prices.
I would love to try one of their phones.

Yeah, Oppo BD players are real nice. Somehow I didn't put the two together, though. Well, they can't invest any less than Samsung has; the more the merrier.

Which one? I never see anny galaxy that resembles Oppo Find 5 in any way (-_-)a

I don't really care where my product is made, it's just the brand that matters to me and that's Nokia. It's fun looking at all of you Non-Nokia fans going all guns blazing at me, maybe this will add fuel to the fire. :)

I really am starting to dislike Nokia fanboyism. I think it can absolutely be the worse of any fanboyism I'm around. Support WP platform hate any other company that develops for it not Nokia. But then complains that no one wants to support the platform. Idiotic.

Best reply of the day award - congratulations!

I never complained that nobody supports the WP platform nor do I hate other vendor's making Windows Phone's. It's all good for the platform at the end of the day. This is just my perspective being a consumer. Stop making up stories and being paranoid!!!

Well to put in perspective, ones who yells Nokia all the way!!! leaves impressions of Nokia being the only product you ever care about. Not paranoid or making up stories, but rather concluding a presumption by a remark given. Wouldn't you conclude the only thing you care about is Nokia and nothing else would matter? Even if that's not what you meant. That's what happens when you make such a vague and really pointless comment w/o substance. Stories. No. Simply observation.

Well when Oppo competes with Nokia in terms of hardware and support (it seems they already do that for Android), I'm sure he'll come around. I think no other oem has given us much reason to chant their name and it has become the usual expectation. Fanboyism may be the reason for some, but for many others its purely the Nokia experience that no one else has been able to match...yet.

Exactly. I only care for which vendor comes out with what quality, innovation and support. If some other vendor offers me something better than Nokia, then I will certainly buy their product.

Nokia all the way yes, but also oppo too? Or would you follow Nokia's choice to build for Android?

Sure, why not, let them come out with their phones and release them in India and then I will decide based on their quality, innovation and support. But I am definitely not even going to bother looking at Android.

As long as they are serious about it and perhaps limit the markets in which they introduce the device to focus their advertising resources .. then I wholeheartly support them and wish them great success. Windows Phone needs more success stories like Nokia and hopefully will be true for Huawei as well.

I'd like to buy that. Isn't that the phone that on Windows Phones renderings everywhere?


Looks fantastic. Remind me of ATIV design which is good. Hope will be released soon. WP needs as many hardware vendors as possible.

I'm actually interested with that phone (OPPO Find 5). The only one thing that hold me back from buying that: the OS. If this rumour is a true, I maybe will considering this phone to substitute my mighty as hell L920, as a lot of my friends has already use 920 (I need exclusitivity, LOL)

Oppo makes cool looking thin devices. It would be good to see them do WP.

Can someone enlighten me please, is OPPO a Chinese manufacturer or the American blu ray player manufacturer or am I totally wrong??

It is a Chinese company. Oppo Digital in California is their US subsidiary, and I believe they service and sell the BD players in the US market through the US sub.

good design not sure if they are going to release it globally

It'll probably be available on Amazon but I don't believe they ever released the Oppo 5 officially outside the China market

Whatever the build quality in terms of design this is, in my opinion, way ahead of Samsung, Huawei and HTC. And best of all it doesnt look like a Lumia. Looks a bit like what I imagined a Sony Xperia WP would look like.

They could call it the Wind 5

I would totally buy this phone if it ran WP8.
The Find 5 is a beautiful handset. Check out their webpage... Stunning.
http://en.oppo.com/product/find5/
How is it that Android phones always manage to make hardware with minimal bezel? What are we missing here?

I hope oppo makes a phone with all the features Nokia is missing in their high end line... Sd card, big storage, really thin and light. It'll pressure Nokia to do better or else they'll die. Dont get me wrong tho, I've only bought Nokia phones but they seriously need a worthy competitor to push them more.

I hope to marry that phone with Nokia's camera, apps, and screen technology, would put any other phone to shame.

I hope they are going to release this globally. Oppo Find 5 is a beautifully built phone.

Check out the specs and price, wow, http://oppostyle.com/home/8-find-5-white.html, 1080p, 441 ppi, 2500 mAh battery, records video at 120 fps, this is the only phone that would make we want to go back to Android, and only because the phone looks so amazing. Insanely jealous.

Yep. Great build affordable pricing. Just like the Lenovo K900

I would be willing to ditch my nl920 for one, free case plus two NFC tags are a great deal.

Looking at design only, Oppo should be interesting enough to get my attention. Oppo Find 5 has great design. So if their WP based on that, then it would be great.
But if I thought about the whole ecosystem, Nokia definitely the first, ... Then it might be Oppo on might be second. I never consider HTC, Samsung and Huawei. They have same kind of lacking-support so it might be on par with Oppo, except Oppo has nice design. The story whould be changed though if HTC decided to make One based WP :)

Oppo updates their Android phones monthly, they would be a close second to Nokia. Told them on twitter I would ditch my current wp8 phone for an Oppo with #wp8