The Chinese Windows Phone Store's billing breaks, Microsoft working on a fix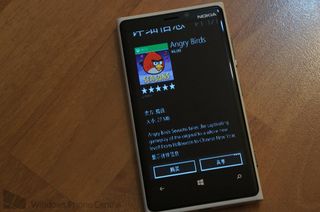 The Chinese side of the Windows Phone Store has had a bumpy time lately. For the last a few days, Chinese users have been experiencing problems when trying to purchase apps. Many found it impossible to download any paid app; you go through the payment process only to get an error message. The money gets accepted by the Windows Phone Store well enough, but the app license never comes. Some fairly persistent folks have tried repeatedly, paying $3 for Angry Bird Seasons in three shots. Yet they still failed to get the app at the end of the day.
This is pretty bad. Windows Phone Store hiccups at times, as we know. Normally it's not a huge problem, as app delivery failure always go hand in hand with billing failure. But Microsoft has seriouly riled a number of Chinese users with the unilateral app purchase failures this time.
Chinese site WPDang managed to get an official reply from Microsoft China earlier today:
It should be noted that because credit cards are not household items in China, Microsoft is working with AliPay (consider it "China's homegrown PayPal") to smooth out the app purchase problem in the Windows Phone Store. Therefore the refund process is going to be a bit complicated. Microsoft is now reaching out to affected users through email, phone calls, and its online support forum to process refunds case by case.
Source: WPDang
Windows Central Newsletter
Get the best of Windows Central in in your inbox, every day!
Shouldn't be this hard to purchase an app, odd how the money went through fine, not good.

i would venture to guess that they probably had a server that acts as a bridge between the store and AliPay which ultimately failed to retrieve the event that an app has been paid for

this happens sometimes at my work place, i think they need a couple more insurance servers up and running

Completely plausible, and entirely forseeable, I hope they get it up and running soon

It's baffling to see the number of problems that Windows Phone Store has on a regular basis.

My thoughts exactly. I have been trying to download Asphalt 7 on my HTC 8X for over a day now and at first it wouldn't let me install because it said there wasn't enough free storage space, which there was. Then it disappeared from the Store on my phone, but shows up online in the web store. Now, I am able to push it to my device from the web store and it takes forever (think over an hour for 878 MB) to download only to get about halfway and then throw up an 8000ffff error message telling me to try again later.
Seriously, how can MS be this bad at app stores?

It feels that Microsoft isn't even trying. Quite unfair, especially towards Nokia who has shown such great effort towards Windows Phone platform.

Why can't other countries use paypal. For me its wat easier than a creditcard as many of use use online banking.This bits a nerve with me.

Glad to hear official word on this. As the developer for ProShot (which is quite popular in China) and no word from Microsoft over the weekend....let's just say these last few days have been difficult.

I hate ads and i have bought the 9gag app ,the free version worked perfectly but the paid version is completely broken and is a separate app . I have paid for nothing ,i think a refund function would be great like on Google play store you have 15 min to test the app. 1.99 $ is not much money but is my money,and i want for what i paid.

Too bad, MS can't undo the bad app reviewes these frustrated Chinese users left on my app and anyone else's app.
Windows Central Newsletter
Thank you for signing up to Windows Central. You will receive a verification email shortly.
There was a problem. Please refresh the page and try again.