The gorgeous Chronos Calendar + arrives for Windows Phone 8.1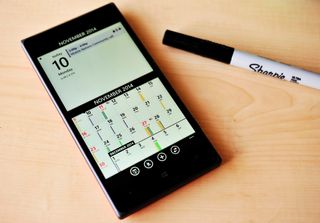 Chronos is one of our top third-party calendar apps for Windows Phone, which is why we are excited to see Chronos Calendar + being released. The original Chronos has an outstanding 4.4 (out of 5) rating on the Store to set precedent. The all new Chronos Calendar + has been rewritten from the ground up specifically for Windows Phone 8.1 devices, giving a boost in performance and fluidity.
Chronos Calendar + also supports the new WinRT/universal app mode, meaning you should expect an app for your Surface in the future.
That is the good news; the bad news is that this is not an update, meaning you will have to fork over some money if you want the all new build. However, between its usefulness, design, options and potential to be a universal app, we think it is worth it.
Chronos Calendar + features
Full read/write sync with all your connected accounts.
Supports all screen resolutions.
Live tile customization.
Calendar appearance customization.
Built-in holidays and other various special days for over 50 countries.
Many different calendar views.
Smart add feature. An attempt to make the creation of events a little faster now that it isn't possible to save directly to the phone calendar database due to restrictions in the operating system. You can turn it off if you don't like it of course.
Language support for many countries.
More tile themes.
New 2-dimensional way for selecting tile and appearance themes.
More performance improvements on the tile updater.
If you have never tried Chronos, you should give the app a shot with a free trial. The UI, fonts, and customization options are enough to make most people happy. Personally, we are really digging the new 'add appointment' function, which has a beautiful drop down window for quick adds.
Overall, Chronos is worthy of a download, especially if you rely on and need a more powerful calendar experience. You won't hear us gush much about calendar apps, but Chronos is the exception.
Thanks, John M., and Peter N., for the tips!
Get the Windows Central Newsletter
All the latest news, reviews, and guides for Windows and Xbox diehards.
Daniel Rubino is the Editor-in-chief of Windows Central, head reviewer, podcast co-host, and analyst. He has been covering Microsoft since 2007 when this site was called WMExperts (and later Windows Phone Central). His interests include Windows, laptops, next-gen computing, and for some reason, watches. Before all this tech stuff, he worked on a Ph.D. in linguistics, watched people sleep (for medical purposes!), and ran the projectors at movie theaters because it was fun.
omfg... i spend 1,99 dollar on chronos calendar and they making new and not going to update the old one -.- and they want to have more money for the same app -.- pfft they should of made a deal if someone had already bought the old one can get the new one for free or cheaper lol

It's two dollars. You spend more on a bag of chips or a coffee. I may buy it even if I don't end up using it, just to support WP devs. Question: does this support Cortana integration? Can you even change the default calendar in WP?

i dont drink coffee or tea neither i do buy any snacks but if the developer would let us have it cheaper then i would buy

Oh god. This is the problem we get when Microsoft decide "its all in the low and mid range!"...whats all in the low and midrange Microsoft? Money sure isn't!

Don't buy! You are not worth it.

No, to be clear, it's $1.99 and worth the new purchase. Some people need to stop thinking they should get something for nothing. We should support developers.

The old one works just fine on 8.1 so not sure why you need to get the new one if you're not willing to buy it. If the additional features would be enabled in a "pro version" and you would have to spend the same 1.99 to unlock them would you still complain? You have a perfectly functional app at the moment, you got what you paid for. Expecting a small dev to do a complete re-work for free is silly, its 1.99 for you and probably countless hours of work for the dev, work that they expect to get paid for, just like you would.

What deal do you want? 10 cents off? The money is well earned by the developpers, they have done an excellent job. It's not the ame app, it's hugely improved and one of the best calendars I have ever seen.

People seem to be jumping on TuanLVT for pointing out a pretty legitimate gripe: apps have the ability to be updated, and this is a calendar app, under the same basic name from the same developer with many of the same features. People who bought the original, such as myself (although I've since moved on because of its clunky design), surely expected to get updates that would improve it. But the "we should support the developers" warcry is flawed. You all seem to believe that this is a good thing, giving developers more money so they develop more Windows Phone apps. Fair, except this developer already developed a calendar app, which is also one of the few areas Windows Phone doesn't struggle for diversity. Figuratively speaking, you can't throw a rock in the marketplace without hitting a decent calendar app. But this is a bad precedent to set and tolerate, and one that undermines the WP ecosystem if developers decide that, instead of developing truly new apps, we can just stop updating the old one, add a plus sign to the end of the name and publish future updates as brand new apps to try to re-sell it to all the same people who bought the first. It will only frustrate users if this becomes a standard practice. Chronos has seemingly sold well, if the number of people preaching its praises is any indication. So if this is truly a new app, wouldn't the developers be better served to work on something new, something more useful, than a second calendar app under their banner?

It does look beautiful, but why can't any calendar support fortnightly reminders. If they updated it to include being able to set a reminder for every other Thursday, I would no longer use the built in calendar.

Looks cool, but I don't like that the dev put in border shadows.

Although I don't need and won't use it, it is always nice to see great apps are coming.

The term 'comming' doesn't exist in any dictionary. LOL

Oh no let the brimstone and locusts come because he misspelled coming

He may not noticed the red underline while writing with WP.

@borin srun: You may not have noticed that you left out the word "have" between not and noticed. Just saying.

Can you clarify that? Thanks in advance.

I find it humorous when people criticize others' spelling and/or grammar while making spelling/grammar errors themselves. Clear?

Completely unclear, this comment does not related to the one you wrote or asked earlier.

Oh, I see. I've become so used to people misspelling words or using the wrong ones, I overlook it.

Glad you pointed it out, it was mistake caused just by fast typing, but may improve my non-native English since it has been a while I've learning it in school. I'll edit my comment as soon as WC app offers that option. lol

You can edit....just press the pencil (in between the back arrow and the cross).

Nope, I don't have it. Just reply option. (replying to myself huh) EDIT: Now it's here. Hmmmm...

It's ok. Don't let people bother you. I respect that you are trying to learn. Furthermore, typing on a phone, much less a tap happy 1520, can cause alot of problems. Thank you.

@borin srun: Rewrite your comment, asap. You did not use punctuation!

I mean 'Rewrite your comment as soon as possible'. Is that wrong?

There, that's better. Now you can criticize other peoples' spelling and grammar with a clear conscience. Police away!

Wish this was on MyAppFree...

Its 2 bucks. I'd give you 2 bucks but your droid icon suggests you do a lot android side loading. lol.

They should have provided to orginal chronos calender buyers too bad.

Why? It's a completely different app, just made by the same programmer.

Well, it looks like it will be a universal app, meaning you get this and the Windows 8.1 one for free (or rather, it is part of the $1.99 you are paying), so I can understand the indie dev wanting to recoup costs. Also, rewriting the app from the ground up is nothing trivial (we are doing it now ourselves). It is worth it in the long run, but let's be clear this is not really an 'update' in the traditional sense.

Bought it, download it, loving it .... period! :) Guys, support the WP developers anyway you can. If you don't then stop complaining that devs are ignoring our platform :)

Agree 1000% to much moaning on these boards..support the devs$1.99 you smoke that in 2 minutes.

LOL, I know what you did there, hehe and you are wright :)

While I agree with you for the most part, I view this as an update to Chronos Calendar despite the fact they've rolled it out as a seperate app (maybe a name change would have negated this being an issue?). A limited time 50% discount to existing Chronos Calendar users would have been nice. Guess I'm shelling out $1.99 for this though.......

If you think this is the same app and need to be considered as "update" then, how come Windows Phone 7 was not an update to Windows Mobile 6.5.5? Because it was totally new os rewritten from zero-to-hero. This new Chronos is totally different app and can't be considred as an update cuz it has different code (code for universal apps), which previous Chronos was not, so it can't be updated with the new one. About the price? Well, even if it was 3$ i would still buy it. My finances are limited, but being ex windows mobile 6.x developer i know how hard work is developing. So instead of having one coffee today, i bought the app. :) Just to be clear Dos101, I have nothing against your opinion, that's yours and I respect that, just told you my way of seeing this :)

I totally get that, and not everyone is going to see things the same way here, but you can't compare an app to an OS update (especially when, for your example, there's technical reasons involved as to why that wasn't possible). Instead of trying to argue this, since I know I'm the minority here when it comes to users on the site, I bought the app (which I would have anyways). I still can't help but feel this should have been an in-app upgrade from the old app (for those on WP8.1 that is), as in the end, regular users could care less about all the code change etc. It looks similar to Chronos Calendar, it's been rolled out as a seperate app, and anyone who would have bought Chronos Calendar in the last month only to see this new app would probably feel a bit betrayed. I don't see this type of model being done by devs on iOS or Android, as I doubt their users would been very receptive to that. Ok, /rant. P.S. Yes, the new app is very very awesome. Good job done by the dev!

Yes i agree, and i agree with you that a simple name change of the app would spare them from comments like ours. I am sure that there are other ways so they can sold this awesome app, one of them you already mention above. After all, time will tell if the devs made a right decision. :)

See, people can disagree and be nice. Very good you two.

In my opinion, only civilized and open minded people can agree to disagree without getting into a stupid fight. :) The mistake others did is that they want their opinion to be valuated but they doesn't valuate others opinions. :)

Yo, Dos101...
http://m.youtube.com/watch?v=om7O0MFkmpw
:)

You might not have noticed that the 1.99 are already discounted by 50% from the original price tag which was 3.99. Are you purchasing discounts or products?

I agree sometimes people don't see the effort it takes to create an app especially good ones $1.99 is not a ton of money. Cheaper than a cup of coffee.

My coffee is exactly that 1.99 :)

My first reaction was damn, I already bought this....
But then I installed, and tried...
Yeah its a totally different app, great and just bought again

+920 have had original Chronos since day one

Whatever. It's the best Calendar app at 1/3 the price of a Venti Latte'. I'm in.

While I agree, I'm not too mad about having to pay again. Its a great app with a lot of functionality. Worth $1.99 in a heart beat, with the upcoming app for Surface an added bonus.

I feel it to be kind of rough...
-Chronos user.

Can't buy any app on store
.. Store purchase doesn't work for SBI cards

Borin , is there a way to buy via SIM ?

Definitely, and it's one of the main reason that I bought Lumia. Just switch your region to where you live now and must toggle your cellular network on while attempting to buy any app, finally wait for a few second until the SIM card brand show up in the payment option (I don't know if it does work in your country but in my country, Cambodia, it works everytime I want it).

Those of us who have supported the Dev by having the original Chronos should at least get a discount.

Why? This is a totally different app that will also work on tablet and desktop. He re-wrote it from scratch. You got the original and got full use out of it. You did support the dev by buying the app in the beginning, but you didn't just donate the money, you got someting in return, so not sure why you think the dev owes you anyting aside from what he already provided. When you buy a Lumia do you expect a discount on the next Lumia you will buy?

Hold on now...discount on the next Lumia! You might be on to something!! :)

Really work in tablet surface and phone?

I couldn't agree with you more. The only time existing users should get a discount towards an upgraded application is if the one they've bought becomes non-functional (maybe due to server side upgrades) as a result. As long as the one you bought works exactly as it has been working then what's the complaint? People have become entirely too entitled.

he did not start from scratch, he used the tamplates from the old application, all the comments and corrections from the old application users etc

You must be fun at parties. Did you push the glasses up the bridge of your nose when you wrote that? The point is he put in a lot of time and effort into it.

no one has denied the point that time and effort was spent, but you cannot run away from the fact that he used the old application some how. just imagine if it was some one else who had developed this new application exactly as it is, do you think the original developer would not cry foul?

Still kinda ugly... Would love to see a more modern, not so cream-coloured appearance. Looks like an android app

You can change all of the colors/fonts

Pretty sure you can change the page color, you can in the original app for sure

Yeah... I'm really not understanding the "gorgeous" comment. I think the standard 8.1 calendar looks much better than this. I do miss the agenda for dearly though...

If you like the standard calendar, you can keep it!

This is brilliant, I love the UI and more than happy to pay the NZ$2.25. Thanks for the update! ☺

For me, native calendar app is enough!

LOL you deleted my comment, even if that was about Windows and more specifically Windows Phone 10... I made a CONCEPT of how could the Windows Phone 10 Action Center work... But ty for the support.

Well, don't be an ass and highjack comments with your off-topic 'concept' blah blah. We have forums for that. This is not your playground, sorry.

Love the older version. Will definitely buy this one.

I have Chronos Calendar and I think it's great, but I'm slightly put off by having to pay full price again. I understand that a lot of work has gone into the new version, but I'm not sure that cutting all of your current fans loose is the best idea either. I'm now also wondering whether they'll be a new version for Windows 10 that I'll also have to pay for.

Nobody is being cut loose, however, the original version is still in the store and still supported. You can still use it to your hearts content. This was done on purpose to not cut loose those who need functions available on the original version,, that are not currently possible due to WP 8.1 APIs

Considering that the old version works just fine on 8.1, not sure what makes you think you "have to pay" for this version.

You don't have to pay for the new version. Did your old one stop working? I bought an app for 1.99 and two months later they released a new version for 9.99. I chose not to buy the new one and guess what...the old app has worked fine for me for the last 6 months. Unless the dev stops supporting the old version or it suddenly stops working all together who's forcing you to buy the new one? Either pay for it if you want the new one or don't. You don't get to feel entitled to it.

Bought the first version... Not welling to purchase again for basically the same thing at the moment

I actually like the standard WP81 calendar pretty much. It's lacking week numbers and limited info on the live tile are not enough reason to use a third party app. Besides that I don't like the look of Chronos which is very unlike the metro style.

Used the original on wp7. It was better than the stock calendar. I'm happy with the one in 8.1 now.

Does the app support appointments in different time zones? Biggest missing feature for me.

Hopefully, he will get back to more full control of the way appointments appear soon. But, though this is nuts to say, this new version opens waaaay faster! But, the Live Tile Doesn't flip. So this feels very incomplete - albeit faster. And looking forward to having it on my Surface Pro soon...

Chronos Calendar 1 is enough for me, thanks.

Looking good, I like the classic look, it's just fine to relax your eyes from all the new "Clean" look, however I still support new way of design.. Art must move on. But yeah got my interest.

I live by this app! Not really but I really love the first one and now this looks even better! Downloading now

Live tile deactivated. Any ideas?

Do you have the beta installed? Mine would not activate while the Beta was active.

WOW! That looks so freaking pretty!!!

How do I make the live tile transparent? Thanks.

Now these are what I call developers. Chronos devs are amazing. And take my money, again!

How do you activate the flipping live tile guys?

Can anyone confirm that the live tile will update appointments without having to open the app and sync? I love the live tile showing the next 4 appointments, and rarely have to open the app except to sync things i've added/deleted from outlook.com or the Win8 calendar app. If this is fixed it would be totally worth buying again

I'm using the new one and there's no need to open the app to update the tile. It updates itself and very quickly too

Honestly that calendar looks awesome, but I'm addicted to the native calendar we have...

Change log from a few days ago with last update to earlier version indicated an issue with syncing to Google calendar. Is that resolved in version for 8.1?

In the new version you set the sync up through the native account, settings.....email and accounts.,
so yes it should sync flawlessly

After uninstalling the app and downloading it direct from the store the live tile is now activated.

I still like Windows calendar

If you like the Windows calendar, you may keep it.

It's certainly faster... Than writing in a stone tablet.

Doesn't look much different than the old one. Any other advantage besides the universal app(which I don't need)?

Reinstalled, but live tile is still deactivated.

Same here. Live tile still deactivated.

I wanna try it but how long does that last? Will there be ads?

It looks like there is a 5 day trial period before you have to buy it.

Have been using original app for over a year and am an avid fan. Currently on DP 8.1. Will look at the new one to see what I'm missing. The original is a killer app!

I'm too addicted to having the weather forecast on my 8.1 Calendar.

You can also display weather in Chronos.

Fantastic upgrade, well worth the price. Needs ability to suppress all-day appointments in live tile, though.

Question on the WinRT/universal aspect. Does this mean it will (eventually) run as an app on Win RT (like the Surface), or also Windows 8.1?

Great new look and feel... My instant wanted feature is for the live tile to have s show details option so you can see the notes as well. Also the live tile used to flip and show more days but doesn't do that anymore... The developer is Great so I know he will add more stuff...i have bought it and await the improvements. Great app.

Important to read! https://www.facebook.com/ChronosCalendar

By far the best third party calendar app, in my opinion. The developer is amazing. I messaged him a couple of comments about a half hour ago, and he alread replied to me. He is super interested in making this the best calendar app. That, right there, is worth the $1.99.

IMO, much better then the native app...I like the ability to see my upcoming appointments, as apposed to an utterly useless blank tile that just has the date & "Calendar" on it.

I think Chronos is a great calendar app, but I prefer the minimalist design of the stock calendar.

+Icon
It looks like a great calendar app. I really like the native calendar app because it's what I'm used to, but I will definitely try this and probably will buy it, if anything just to support a great Windows Phone developer.
Who knows, I may even like it better if I take the time to learn it.

What is the "Smart Add" feature. The inability to create events for Exchange calendar is a non starter that Microsoft should have fixed long ago

The inabilty to create events for Exchange is a huge Fu@$ up by Microsoft, and has been the primary reason I haven't been using third party Calendar Apps, just too much of a headache. But finally, someone has fixed it for them! Basically, when you want to create a new Calendar event in This App, you give the info, and it then launches the built in calendar App and autofils the fields for you based on what you gave it. You can then fine tune anything you wish and tap the button and the event is created. Its more than enough of an improvement to Chronos and all the other Calendar Apps Ive seen that I'm buying into this one! I can't image much more that the Dev could have done give the OS limitations. Bottom line, it fixes the problem nicely.

Sadly, I had to stop using the old one with 8.1 because it kept putting week-old events up on my lock screen. And Microsoft has mostly fixed the problems with the built-in app that made me get Chronos in the first place.

Just Buy ,Its one of the best app in Windows RT Platform .Support the developer for Rewrite from scratch .

its not really from scratch but he used templates from the old version, in order not to upset his first suppoters, he should have charged the application something more like 2.99 then give a discount of 1.00 to those with old application, no one would have complained. he would have still got his 1.99.

Great App - well worth the $1.99.

Wow this is a beautiful and functional app and the customisation options are really awesome! Well worth the $1.99!

No tile flip in this version?

Two bucks well spent even if you spent two bucks on the previous version. If there's a better Windows phone calendar I don't know about it.

I find the stock calendar app to be just fine....

Beautiful app...love every bit of it, except I can't figure out how to get the Live Tile to show anything. Never mind not flipping, all I can see is the logo. I've fiddled with the Live Tile settings for all sizes, still just see the logo on my start screen. Uninstalled and re-installed, still nothing just the logo. Anyone? (ETA: Did a soft reset and all is well. Move along...nothing to see here )

I've been using Chronos Calendar since the beginning for WP7 on my HD7. I was rewarded by the dev a free WP8 version. As my token of appreciation, I just buy the plus version. It's as good as advertised. Thanks Dev.

Gorgeous and rich app indeed. Considering buying it. Is there a way to add a Task just like I do from the original WP8 Calendar app ? Someone mentioned the possibility to show weather too : where is that option ? is it in the paid version maybe ?

I would like to be able to change the color of the highlighted day.
I tried to look for a way to contact the dev but its only through Facebook and I'm not using that.
Maybe they'll see this suggestion. They do regular updates and all other features on the calendar can be color changed except the highlighted day.

Do people know how to contact the dev, other than FB? I have some questions/issues and would like to know if it's me/my phone or a bug ;-) p.s. late to the party on this thread.. I know.. Hopefully one will reply.