Moviegoers rejoice, Cinemark comes to Windows Phone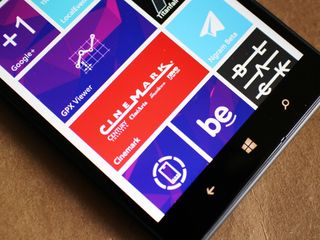 Feel like seeing the new X-Men movie this weekend? Then you're in luck if you're a Windows Phone fan near a Cinemark movie theatre. An official Cinemark Theatres app has just hit Windows Phone! Cinemark is the third largest cinema brand (Cinemark, Century Theatres, Tinseltown USA, CineArts and Rave Cinemas) in the United States and has over 334 theatres in 40 states. Let's check out Cinemark for Windows Phone.
This is a brand new app that just came out today. You'll notice version 1.0 of Cinemark (cinemark.com) sitting in the Windows Phone Store with the following features:
Find theaters and buy tickets:
Find Cinemark theatre locations via GPS
Search for your preferred Cinemark theatre location
Access your My Cinemark favorite theatres
Purchase movie tickets securely
View your gift card balance
View ticket purchase history
CineMode Rewards:
The Cinemark App now features CineMode - an exclusive and interactive way to earn Cinemark Rewards while being courteous during the show
From within the Cinemark app, start CineMode when your movie begins
Your phone's screen will dim automatically, and you will be prompted to set volume to vibrate
Stay in CineMode for the duration of the movie
To ensure you receive your Reward, be sure to not use your phone at all when in CineMode. Hitting the "home" button will stop CineMode and you will not receive your Reward.
Earn Rewards each and every time you see a movie at Cinemark!
You'll also be able to search and view:
Search for movies Coming Soon
Search for movies Now Playing
View movie trailers
Rating, Synopsis, Cast and more…
Get information for the films you want to see!
Stay Social:
Share showtimes via email, text, Facebook or Twitter
Share theatre locations via email, text, Facebook or Twitter
Share movie info via email, text, Facebook or Twitter
We actually don't have any Cinemark theatres around to go and try out some of the features of the app, but we did play around with it. The app itself is very slick and responsive. Seems like a really well put together app for those that will frequent Cinemark.
Go to a Cinemark movie theatre often? Download the app and let us know what you think! Don't have a Cinemark? Just let us know what movie you're seeing this weekend!
Thanks for the tip SoloXCRacer!
Windows Central Newsletter
Get the best of Windows Central in your inbox, every day!
What's a Cinemark? None here SoCal that I've heard of.

There aren't any Cinemarks in the bay area that I know of, but there are Century Theaters which is the same company. I've been waiting for this app.

I am in northern la county. Many cinemarks!

In LA we do have Rave. I think the theater down by Staples and Nokia Live is a a Rave.

Lol. No Cinemarks anywhere in Burbank....AMC and Pacific mainly. But the app looks cool. Glad to have official AMC app!

Cinemark, Rave, Century (west coast), Tinseltown... all the same company. The app works for all of them.

ooops, I was wrong about downtown LA. That is a REGAL which is not owned by Cinemark. I think Regal is owned by AMC. The Los Angeles area had a couple of Rave locations, but they've been rebranded to Cinemark. There are a few in the area, but none are close to me in West Hollywood. This is pretty much AMC territory with The Grove (Pacific), The Chinese (Independent) & Arclight (Pacific) filing in the gaps.

From what I know about American entertainment business, there are 3 big players in the movie theatre business- Regal, AMC and Cinemarks. All 3 are separate entities.

Rave Cinema is 2 miles away only problem it's not showing any near me.

Which rave theater? What city? Thanks

Rave Cinemas Festival Plaza 16, Montgomery.

I'll take a look tomorrow thank you for the information.

Hey Jim, Cinemark owns about a third of the old Rave theatres, unfortunately that particular Rave is not owned by Cinemark so it won't show up in the app. Sorry.

Is cinemark anything to do with cineworld in the UK, they seem to share a logo

Brazil has a Cinemark app since WP7.5... :)

Cool. Do you use the app often?

Well I do. Since WP 7.5 version was an basic app. You see last movie list, find some theather around you and you have an link to watch trailers. Last Nokia/Microsoft event in São Paulo, was promissed that we would able to purchase tickets. I don't know that would be the same version. But today the apps are different versions.

Yes Sam. But is a pretty simple app here. They recently promised an WP8.1 update where you will can buy tickets directly inside the app. Ah, they said that in the Lumia 630 announcement. Also stated that here in Brazil the WP is where most of their app downloads are. :)

great. I am surrounded by them, lowes and AMC

I am and have a Cinemark Theatre 7 blocks away from my house.

FINALLY! I've been wanting to try out cinemode for forever.

Too bad Despicable Me 2 is no longer in theaters.

Yeah... that made no sense.

Wow, wasn't expecting this.

Me too. Me and my Homies just saw XMEN last night at Cinemark Boca Raton in South Florida. We always buy tickets via our phones but I was always left out :(
Let me go explore this.

Cool, Century theaters are pretty common up in the Sacramento, CA area and I always see them talk about the Cinemark app before the movies start. Glad it's now available. Cinemode for rewards points could be useful.

Oh yeah! I saw Wall-E at a Cinemark up in Sactown.

Sam, everytime you have a new post someone asks you for that wallpaper. Are you ever going to share it? :)

Century and Cinemark are indeed the same. Can't wait to try this out tonight when I go see X-Men: Days of future past!

I just use Cortana to find showtimes etc.

I have been waiting for this app! My girlfriend and I are avid moviegoers so this good news!

Yeah, I don't know how much rewards I'll get but it was always annoying that they advertised this so much and it was never available. Now let's just hope they change their on-screen ad to include the WP logo! It is often left out even when a product DOES have an app for WP. It's needed to raise awareness.

Yes! Lol. I'm tempted to yell "and it's available on WP!" But it would def be nice to see it on the big screen.

There will be an update but since this is a new platform we wanted to get some feedback on the app first. Please if you have any feedback or encounter bugs email sitesupport@cinemark.com. We would love a chance to fix any issues before you rate us poorly. The more detail the better. Thank you!

Moviegoers' need an updated IMDB app. Long overdue. :/

never heard about it..need hbo instead with Games of Thrones:) for wp

Awesome. I'll try it out when I go see Maleficent.

What is that google+ app??

It's called gPlus. So far, it's the only G+ app I found with community support. I really like it. Check it out: http://www.windowsphone.com/en-us/store/app/gplus/48cb93e3-f416-4670-8f40-cde56a463af8

Great going to see the new X-Men movie this weekend. Anybody watch it yet?

There is one it in Redlands I believe.

Hey everyone, I hope you enjoy the app. We have some more surprises coming your way but in the meantime if you see any errors/bugs please report them to sitesupport@cinemark.com. I want to make this app a great experience for my fellow Windows Phone users and my goal of course is five stars. We'll see how that goes. :) We will be pushing a small update out in the next few hours to address a few launch issues. Thank you WP community.

Thanks for your support :)

Thanks for the support if this is a real user for the app!

I know its been said, but thank you for supporting Windows Phone!

My thanks to you as well. As previously stated, I was envious of not having an app. I appreciate your time to our community.

It has always been funny seeing all of these WP commercials in Cinemark theaters, then an advert for Cinemode rewards, then no app available :(

Great to have.. We have Cinemark,and AMC theaters amongst several others..

It's about time!!!!!!! It better be excellent!!!!!!!

There are a couple of Cinemark theatres in Honduras, but the APP doesn't list them :( Cinepolis App does list all it's movie theatres! Shame on you Cinemark!

Like the app, nice layout, etc., but even though I am signed in, I have to re-enter name, address, etc. as well as credit card information. Is this intentional? I have tried uninstalling, re-installing, but always have to re-enter even though it says I am signed in. Pretty much makes the app useless, unless this changes.