Citrix: Receiver coming early next month, announces Windows Phone support for XenMobile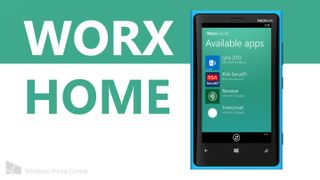 Windows Phone has somewhat lagged in features and apps that enterprise users need. Earlier today we learned that Microsoft announced an enterprise feature pack that would come to Windows Phone 8 early next year. Now, enterprise software giant Citrix has announced some pretty cool stuff for the IT/Enterprise readers – XenMobile and Citrix Receiver.
XenMobile is a tool that a lot of companies use to manage all the devices that individuals are bringing to the work place. Employees can bring their own personal devices to work and still access sensitive company data. In the old days you were usually supplied a device from your employer, but these days with the exploding number of choices in both smartphones and tablets you might want something they don't offer. Here's a quick video to give a primer to all you folks not in enterprise.
By using XenMobile, IT departments can nuke their sensitive data, apps, and more off your device if they need to. Without impacting your own private apps, games, and data. And Citrix has announced that XenMobile 8.5 will allow some neat things for folks who want to bring their Windows Phone 8 devices to work. Here's what you can do.
Configure Exchange email accounts
Install enterprise certificates
Set device passcode and storage policies when enrolling their device
It will also include Worx Home, an enterprise app store that will have the apps, settings, and policies already configured for the particular employees role.
In the comment section of the Cirtix blog we also learn that they have plans to release Citrix Receiver early next month to the Windows Phone Store. Citrix Receiver is a universal software client for accessing desktop apps and IT services. It's one of those apps a lot of you have been wanting since Windows Phone 7! Looks like we're a few short weeks away from getting that.
How many of you have been looking forward to this? Sound off below!
Source: Citrix; Thanks for the tip bpmurr!
Get the Windows Central Newsletter
All the latest news, reviews, and guides for Windows and Xbox diehards.
And if you're the kind of chap that likes this stuff or works with this stuff.. get a head start by reading Managing Windows Phone 8 Configuration for all this Citrix stuff.

Damn, Sam got "First!". I think its rigged.

Sam's just excited for tomorrow that's all. XD

Great news.
They originally stated a July release, but I'll take August

Thanks Sam, any word if any articles about LG and Micromax looking to introduce wp8 phones?

Amazing!!!! My company uses this, i will finally be fully in sync with personal and work on my phone.

yeah, this is pretty sweet news.

Desire for Citrix support seems to come up quite often. It's great that WP is filling that gap. Man, WP has really been rocking the house lately!

Yeah I use Citrix a lot for various work applications, definitely great news to see this.

Glad to see some focus on the business side.

This is exactly what I've been waiting for.

Finally! Thank the lord. We've finally made it.

I was issued an iPhone so they could use this. Now Windows is on board wonder if I can give their phone back?!?!?!?!?!

Awesome news. Only if now Cisco can hear this...oh forget WP, they done even have vpn support for RT...

Great news for a lot of enterprises that are Citrix houses. There are a lot around.

Can't wait! I've been missing the ability to access train schedules for work like I could with my android/iphone.

VMWARE needs to wake up. No horizon pcoip client on WP or rt. Sadness.

What's VMware? We're a full hyper-v shop ;)

Very much looking forward to this!

This is awesome news! Although I don't currently implement or manage Citrix services, I may have to in the future with our hospital's electronic medical records rollout this year. It's good to know that Citrix is finally on board with Windows platforms.

Now I just need VMware and Cisco to follow suit and pull their collective heads out of their sphincters.

We use XenMobile as the MDM solution at the company I work for. We're in the process of approving Windows Phone 8 use for BYOD. While Windows Phone 8's MDM management capabilties aren't as robust as iOS it's moving in the right direction.

We need WebEx for Windows Phone and RT now!

About time...I hate Citrix but this will be useful!

We use MobileIron where I work and even though the latest version supports WP8, the exchange pimps won't hear of it. We do use Citrix though. Not that it would matter.

On a side note, in the video, whats up with the hair dryer? lol

You would think being an Exchange shop they'd have no problem with WP8.

Citrix Reciever has been out for a while on Windows 8, but nice to see Windows Phone support too.

This is good for windows phone we must keep improving non stop can't just let these android and apple fan boys get all the good apps for themselves only thanks for the upcoming app!

I already have Good and Lync installed for email, chat but good to know Citrix is coming to wp8 !!

Is it coming early next year, or early next month❔

Oh yes, I've been waiting for Citrix Receiver for a while. It won't come to windows phone 7.x though...

Atlast now can promote my windows phone to my users after deploying xenapp, im the one nit able to access it because of the absent of citrix receiver.

about time. been waiting for this ever since Citrix announed they were working on Receiver for WP8......1 less app that I was looking for on WP8.
Now, where and when can i do profiles on WP8 (profiles in the sense of setting ringers on/off, volume settings per location or time). I had this on Windows Mobile 6.5 and is the only items I am truely missing from WP8 a this time.
Dont mean to high jack the thread.

http://www.windowsphone.com/en-us/store/app/citrix-receiver/4c65ca09-5d9a-4a02-ae70-e999f243a7da
It's so close I can taste it!