Cityglance, the social networking app for commuters, arrives in the US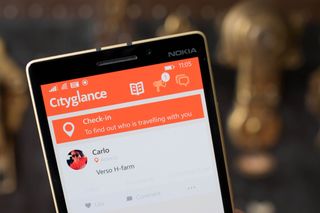 When I visit San Francisco, I always look forward to riding its BART subway system. In my experience, the subway goes pretty close to wherever a gaming journalist might need to visit. It's fast, safe, and best of all, affordable – quite the treat for someone whose hometown has only rudimentary public transportation.
One thing about the subway, though: most everybody keeps to themselves. The team at Cityglance and publisher 505 Games (makers of Terraria) intend to change that a little with their Cityglance social network and mobile app for Windows Phone, Android, and iOS. Already successful in Europe, Cityglance has just extended its reach to the United States as well. They call it the world's first social app designed for commuters, and it promises to make your trip better anywhere. And hey, it's free.
Make a profile and find friends
Upon launching the Cityglance app for the first time, users can opt to login with Facebook or create an account. The Facebook login gives you the option to prevent Cityglance from posting to your timeline, so don't worry about the app spamming your friends without permission.
Next you're encouraged to complete your profile by specifying hair color and length, eye color, build, and height. The app pulls your age from Facebook if connected. The idea is to allow Cityglancers to find people they have seen on previous commutes and connect with them. You could also just look for someone whose appearance floats your boat.
To find those specific people you've traveled with or passed by, you'll use the app's "Somatic Search" function. Indicate the gender, physical features, age range, the day you saw him or her, and the method of transportation (train, bus, or tram). Cityglance will then search its records and try to find that person.
The somatic search is an interesting idea, although the other person needs to use Cityglance as well for the search to actually be affective. Privacy and security concerns also spring to mind. Thankfully, the app never allows people to check or find out where you are. It's really just for finding people who have already traveled together.
Users can also add their Facebook friends or directly invite people to become Cityglance friends. Once you do, you can write messages to each other.
Making trips social
After setting up your Cityglance profile, the next step is to "Check in" when you use a public transportation system. Let the app ping your device's GPS to get your current position and then input the address or intersection of your destination.
With your destination set, you can now share thoughts, photos, and transport notifications in real time. Users can also report delays, malfunctions, etc. to help other travelers out.
The Cityglance service now supports more than 400 cities in Europe and the United States. The only question: which cities? The website and app don't list supported areas, so users will have to find out for themselves. In my experience, Cityglance sees my closest major city (Houston) but not my small city (which admittedly has almost no public transit). The service definitely supports New York City, and I wouldn't be surprised if it tracked San Francisco as well.
Cityglance aims to help travelers connect with each other and help improve the public transportation experience. If you want to make your daily ride a little more social, give it a try.
Download Cityglance for Windows Phone (free)
Paul Acevedo is the Games Editor at Windows Central. A lifelong gamer, he has written about videogames for over 15 years and reviewed over 350 games for our site. Follow him on Twitter @PaulRAcevedo. Don't hate. Appreciate!
Everytime, Me: "Why I never had this idea?"

Now I can offer candy to children without looking like a creep

Lol. How old are you, 'Bob'..?? :D

Watch out Bob sarim_xyz is a cop. Lol

I'm just,......not that social.

Great, no way to hide the fact that I'm 29 from the college freshman and sophomore girls. I drive now anyway but I used to take public transit everywhere from the mid 00s to early 10s so I can still relate.

Heh. One of the last things I need during my commutes is making forced conversation with strangers.

So its like foursquare for transport? Neat.

Now im going to camp at commuters searching for female lol

Pretty useless in the US, as public transport is rubbish, and most people use cars. At least large city dwellers might benefit from this. Sad I'm stuck in shitty ass Detroit, or America for that matter of fact :(

No one's forcing you to stay.

Detroit is basically Canada anyway, not that far of a walk. Unless you really did mean America.... Then the only option really is a long swim. Atlantic is the shortest route. ;)

On the East Coast, for starters, New York and Washington DC plus probably Boston and Philly have enough critical mass for this.

What do you mean? In Detroit you have the People Mover, which is either the best-named or worst-named public transportation system in the world!

I'm sure with that attitude, you'd be miserable wherever you were. Public transport here in Los Angeles is sparse, but I find occasion to use it. If I'm headed downtown to a sports event or whatever, I'll sometimes opt to take the train vs. driving and parking. This could be a fun incentive to skip Uber! :) Of course, this IS Los Angeles, so most people I know don't bother with trains or busses. I wonder if they could partner with HERE or another service that plots public transport directions. They'd get more exposure and likely more use.

In what way is this a bogus app?

Not sure if this will work on a BART train during regular commute hours as all train cars during this time are crammed with smelly people and you can't even move.

The social features might be nice, but I'm interested in the ability to warn other commuters of traffic accidents, etc. So is this sort of like Waze?
Windows Central Newsletter
Thank you for signing up to Windows Central. You will receive a verification email shortly.
There was a problem. Please refresh the page and try again.