Client for YouTube on Windows 10 has a bad name, but great features — and it's coming to Xbox!
Google hates Windows 10, that much we know. Thankfully, third-party developers have stepped in to fill in parts of the app void.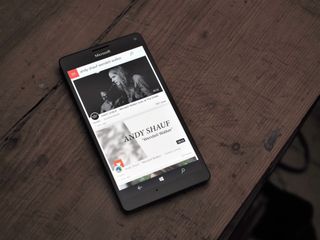 Say hi to Client for YouTube. Client for YouTube has a humble title, but it's one of the most fully-featured clients on the Windows 10 Store for both PC and Mobile, and it's also coming to Xbox One and Project Scorpio.
Client for YouTube allows you to sign in to your account, browse your subscriptions, sync videos for offline viewing, and much, much more!
Client for YouTube is one of the few apps where a hamburger menu makes sense. Via the hamburger menu, you get access to your subscriptions, your playlists, your liked videos, your watch history, and your favorites. Additionally, Client for YouTube lists out all your subscriptions beneath, allowing you to rearrange them at will, while also displaying the number of new videos attached to those channels. You can even collapse this menu to gain quick access to YouTube's own curated trending lists for Music, Sports and so on. The way the menu is presented is incredibly intuitive, and very closely matches the YouTube website itself.
Client for YouTube has a rich settings menu too. From here, you can disable advertising with a reasonable in-app purchase, switch your home page between subscriptions and YouTube-style recommendations, enable a Live Tile which cycles through most recent subscription updates, and fully control notifications.
Speaking of notifications, you can select to be notified about every video that gets uploaded, but this might be counter-intuitive (or battery murdering) if you have lots of subscriptions. Instead, you can enable notifications per channel, turning them on via a relevant video or channel page.
Client for YouTube also allows you to download videos for offline playback. You can set the default download locations via the settings menu. Downloads are initiated via the video player itself, by hitting the download icon next to the like and dislike buttons. You can set the download resolution, but also you can tell it to rip audio only, which is useful for podcasts and audiobooks. Unlike other YouTube download services, Client for YouTube makes sure the audio and video are downloaded together as a single file.
Speaking of the video player, Client for YouTube very closely mimicks YouTube's own website layout, albeit with a few tweaks. On YouTube, you have to scroll below the video to read the comments, but Client for YouTube aligns them to the right on the desktop, allowing you to browse suggestions, playlists, other videos from the selected channel, and also YouTube's comment system. This ensures the video is always front-and-center, and you can even navigate away from the video player, as Client for YouTube supports picture-in-picture video and background audio.
On mobile and touch, the app is easily browsed using swipes, and the app conforms well to all sorts of screen sizes.
One of the only downsides with Client for YouTube is that age-gated videos don't work. Some other apps, such as MyTube! have figured out ways to beat YouTube's age-gating system, but at least for now, you'll have to jump across to YouTube.com in a browser to check out videos with a "mature" rating if you opt for this app.
Over all, Client for YouTube is one of the best YouTube apps available for Windows 10 devices right now, and with Xbox One support on the way, I suspect this could supersede the official app for many.
What's your favorite YouTube app for Windows 10 / Mobile? Let us know in the comments!
Download Client for YouTube from the Windows Store (opens in new tab)
Jez Corden is the Managing Editor for Windows Central, focusing primarily on all things Xbox and gaming. Jez is known for breaking exclusive news and analysis as relates to the Microsoft ecosystem while being powered by caffeine. Follow on Twitter @JezCorden and listen to his Xbox Two podcast, all about, you guessed it, Xbox!
For WP8 it's MetroTube, W10 UWP it's PerfectTube. Both are great.

It's still in the store... but it only goes to 720p. And out of all of the YouTube client apps, I think it would be the most legal since it downloads to the app- can only access it in-app unlike like all the other ones where you can access it via the videos folder.

You mean when somebody wants to download a video, it works in such a way that the user can only access it within the app? That's how most of them work. Including myTube which I use. Plus, I don't see why would that be illegal to download videos into a folder, you can do that by plenty of YouTube/Video downloaders out there.

actually mytube downloads to video folder. you can still watch the videos in the app but once the res is lower than 1080p you can find them in video folder. same for tuecast.

Interesting to know, didn't know that. :)

I think that 720p limitation is on Google. I don't know of any 3rd party YouTube app that outputs over 720p.

No, it's the app- PerfectTube outputs the max res for the video

Awesome Tube does 1080p, 1440p and even 4K well :D

Maybe it's time for me to try PerfectTube again. Didn't know that they updated the app.

I like it- at times a bit rough on mobile, but overall it's a great app

I am using MetroTube.A good alternative.

I used Tubecast on both platforms. I had issues with MetroTube "deleting" my downloaded videos. The app wouldn't display the videos, but the storage settings showed that the videos were still downloaded. Reinstalling the app was the only solution I found.

i used metro tube tube cast and mytube all of which from 2016 onwards broke down on a weekly basis and only got back sometimes after 3-5 days, add that to pay pal, ebay leaving and no windows phone it was time to leave. i now use ogtube on android cause adverts got stupid on you tube in the last month. i miss metro tuber just shame it could never cast.

myTube is a nice app. The best thing about this app is that it does not look like a website.

I completely agree! I also use myTube, and I was asking myself how it comes that nobody is mentioning myTube.

MyTube is definitely the best youtube app in the store in my opinion. It works flawlessly even with my old Lumia 920 (Redstone1). Such an amazing app!

Any competition is good, but I'll continue to use the regular YouTube box app. It works great for me.

Loll. Someone hasn't factory reset their phone yet.

I restored my phone 2 days before the latest Release Preview update. If you're referring to the garbage YouTube app, then yes I do not have that. I uninstalled it ages ago when it went back to a YouTube mobile site link. I think that was a WP8.1 app and never came to W10M.

Yeah, I've no idea what that means either, I googled YouTube Box app but nothing, maybe a typo?

The web wrapper app Microsoft put out.
Its no longer in the store.
He hasn't noticed but he will when he resets the phone

No I won't. I restored my phone 2 days before the latest update, and I do not have it. I also do not want it.

No I won't. I restored my phone 2 days before the latest update, and I do not have it. I also do not want it.

He was referring to the original poster in this sub-thread that your were the 1st responder to.

I have been using MyTube and metro tube. A few minutes with this and I am already sold.

This is the same app that used to be called Explorer for YouTube right? Also, the only gripe I have with this app is that it doesn't have a full-window mode for videos, like Hyper. It's either full screen or video within the window with too much chrome. This doesn't play well with screen snapping.

Yes, it is Explorer. Google identifies it as such when you go to authorize your acccount

Quote: "Client for YouTube is one of the few apps where a hamburger menu makes sense." Jez, this strikes me as kind of a random editorial comment in an otherwise straightforward feature piece. More neutral, but still conveying your appreciation, might be: "Client for YouTube is an app where the hamburger menu actually makes sense." The editorializing here is at least directed at apps, rather than at hamburger menus generally.

It's a comment on how hamburgers were practically mandated in the first wave of UWP apps, whether they made sense or not. Noted, but stand by my comment :P

Tubecast is a WP8.1 app that never really worked all that well on W10M. Plus, 480p, 1080P and 720p60 always loaded incredibly slow and were very error prone compared to 360p and 720p.

Even though Windows 10, mobile and PC, have access to it, it's good to hear that it's moving forward, rather moving on.

I like tubecast a lot. UI, Cast, support from developers, everything is amazing.

I downloaded this once but it crashes so often. I am using Tubecast, btw.

Me too, but i came back to it.. It never crashes anymore! It truly has become the greatest player.. It just makes youtube so easy to browse! :)

I predict this app will disappear or at least get renamed (again?) once Alphabet's lawyers learn that their trademark is part of this app's name.

This app looks like a website wrapper. Tube cast is better just that it's not UWP.

I'm curious about this statement. How is it a wrapper when it doesn't even have the same layout for comments as the site and it can display videos in a different way as well?

Read well, I said it "LOOKS" not it "IS".

Ok. Sorry if I offended you. I was trying to make a polite inquiry into your statement. I guess then to be more precise, how does it look like a wrapper when the layout is different?

Client for YouTube would be great if it hides mouse pointer in full screen mode and if it goes to fullscreen automatically (can be enabled in settings on Perfect Tube ).. Right now i am sticking with Perfect Tube..

In Client for youtube i cant add videos to my playlists. This is not usefull.

I use Awesome Tube, Imo it's the best, just need some bugs that have been nagging me for a while fixed.

Fantastic App... I Just Can't Seem To Find The Option To Remove The Ads

Settings > Remove advertising. You have to pay $4 first though.

Looks great, I'm missing a transparent tile option though for W10 Mobile

Tubecast for super fast casting and 360 video support,
mytube for video and audio downloading and beautiful design, and darkmode!

I have Explorer for youtube and both look exact copy of each other :/ Edit: Saw on the about page that the developer is same for both apps. Also this app was previously called hypertube then renamed and re-released as explorer for youtube and now renamed AND RE-Released to Client For Youtube!! This type of cr ap is trending on store. Earlier it was media player ultra/ media player gold!!!!!! And due to re-release you are forced to buy the app again to get updates and use the new one! Lets wait for Client for Youtube developer's comment ......

These YouTube clients don't stream the videos well. Rewinding, forwarding and changing the quality "breaks" the video.

MyTube is my favorite. Tried PerfectTube, but I still think MyTube is better.

Tubecast is also great! The cast option is perfect to cast youtube to a wifi TV, and even the only app that works with my car's older Bluetooth system, thrue "Cast" option...

What are age-gated videos?

Those are mature rated videos, they require the viewer to be +18 in order to be able to watch them.

Looks great but no Dutch version. I'll wait.

I am using Perfect tube, it has great UI... However if u want Live Channel Support & Download the videos go for "Awesome Tube" but UI is not that great.. but I have seen Live channel working only in this app....

Still rocking myTube! here..

I've been using Tubecast on my phone for the past year, but I have an annoying issue where I tap a video and it pulls up a random video way down the list I was just looking at (whether it be from my subscriptions, a search, or a specific channel). If I use the back button, It shows that I'm now about 30 videos down on the list. I just downloaded this Client for YouTube. Once logged in, it defaults to my subscriptions from most recent. There doesn't seem to be a fluid way to get to the popular videos. All I can see is that you have to open the hamburger menu and scroll down past the personalized options (subscriptions, uploads, favorites, etc.), then past the the channel subscriptions before finally seeing the YouTube categories of Popular, Music, Gaming, Sports, etc.

I tried many YouTube third party apps, such as Perfect Tube, MyTube, MetroTube, OneTube, and Client for YouTube. So far, "Client for YouTube" and "MyTube" are the best in my opinion.

Anyone remember or use AwewomeTube? That one is actually already on Xbox. 🎮

Really? I have not seen any YouTube apps in the store. Been waiting for my tube.

It was Explorer for YouTube before !! I still have the old app :)

If this app can't play age gated videos then why does it have a mature rating in store?

I have an app "Explorer for YouTube" it's a feature rich app works pretty well. I installed it before a year i think. It's not available in the store for now. But still working..

most importantly, does this app support adjusting the playback speed? i usually watch on the website and set the playback speed to 1.25 or 1.5 if i don't have that much time to finish a video. are there any youtube apps that support adjusting playback speed?

myTube! app has that playback speed feature. I can't live without it. Unless it's entertainment I almost never watch YouTube videos at 1x.

Mytube allows it. And is a nice app. The developer is constantly letting people know about what's coming and issues he's working on.

Does this support auto-full screen when the phone is rotated? So far, I have to manually tap the full screen option when I turn my phone horizontally.

This is a good client app. I like it.

I feel this is some sort of conditioning article considering how many times the name Client for YouTube was repeated.

Wonder how it compares to Hyper for YouTube...

Perfect tube has upload, but not in background able..

Great App.. Needs Live And Transparent Tile Support
Update: It has live tile, but it doesn't seem to be working on my Lumia 950xl

So many people are still using tubecast, that it's unbelievable. That app is left out in the dark. Not even a uwp app yet, and can't play livestreams :D I moved on to Awesome Tube, and love it :D Chococode became one of the big players on the Windows dev field ;)

The only one working cast!

Hmmmm, is there any YouTube app for the Xbox 1 that let's you read comments? I read comments alot. And that's one thing that's been keeping me from using YouTube on my Xbox.

This looks nice. I use MyTube on my tablet. The repeat videos and audio mode works great in connected standby.

Nope..this lags compared to myTube..and doesn't have the 'watch this' page. Home page is the same with subscriptions page.

I have been using this app for months on my 950XL and Surface. So far its been my favorite YouTube client app.

That app was called before "Explorer for YouTube".

Been using it for a while, works great to me

Excellent APP, I'm just missing the upload function.

Hei Andre, which is your current Windows Phone? Lumia 950 or 950XL? Can you tell me where you buy it? I also live in Brazil...

No use... Live TV is not working. Perfect Tube is better than this, it is very fast.... this app ads r irritating

anyone knows what happened to Client for Hangouts ?

I'll have to give this a try again. I've been pretty comfortable with tubecast pro for the longest time, but some of the ui is broken on the insider preview and has been since basically day one of the current insider cycle.

Somebody talk me down. I'm about to pull the trigger on this app. It really good. I mean real good. What am I missing? One thing I like about this app is that is isn't side scrolling. I could never get used to the way MyTube did that. MyTube is nice, but the side scrolling feels unnatural to me. But this app, similar to PerfectTube feels more natural to me.

Nevermind, I got the full version. Very Nice app.

Well client for YouTube is awesome I prefer it to other third party YouTube app out there though yes the ads are pretty annoying its cool, for me to download and find it in my gallery now that's just super and the video you watch as its level of pixels from 240p - 1440p some 4k

I paid to get rid of the ads. Much better but I'm now finding it has some odd behaviors I hope some updates will fix. Overall though, I like this app.

This app has been removed now. I only found out when I reset my phone. Doesn't show on my purchase history either. :(
Windows Central Newsletter
Thank you for signing up to Windows Central. You will receive a verification email shortly.
There was a problem. Please refresh the page and try again.