Compass Deluxe for Windows Phone offers free 3D map navigation and more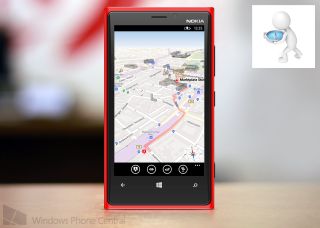 The out-of-box experience for Windows Phone is by far one of the best around compared to other mobile platforms. That doesn't mean it can't be improved, which is exactly what some third party apps do on the platform. We've got a handful of calendar apps that run circles in features compared to the default calendar app.
Compass Deluxe is a fairly new app the platform that adds some functionality to your Windows Phone that otherwise isn't built in. Let's check it out.
Don't let the name fool you, Compass Deluxe isn't just another compass app for your Windows Phone. It's so much more than a compass app. So what do you do with Compass Deluxe? Some pretty interesting stuff, but the main purpose is to provide you with 3D map navigation. Here are all the features you get in Compass Deluxe:
Four different cartographic modes
Compass
Tap and route for driving or walking directions
Landmarks and pedestrian features
Track friends
Much more
Compass Deluxe really shines in new cities or when you're traveling with a group of friends and plan on separating for parts of the trip. Let's say you're in Paris, you can see the Eiffel Tower as a 3D landmark using Compass Deluxe. Long press the Eiffel Tower and you'll be able to get walking or driving directions using the app.
Another fun feature is the ability to share your location with friends and track them. Again, pretend you're in a new city with a group of friends, but you want to go to two different museums. Compass Deluxe allows you to create a profile and track those you want. A handy way to know where someone is without texting or calling them.
Compass Deluxe is constantly picking up new features, so download the app and give the developer some feedback. It's an app that has a lot of potential right now that can be improved with community feedback.
The best part of Compass Deluxe? It's free with no ads in the app. You'll need Windows Phone 8 to take advantage of this app. Grab it in the Windows Phone Store, use the QR code, or swipe to the right in our app.
Not available for Windows Phone 7 :/

If you can't add a 20 to your username, at least subtract 380. It'll make you a lot happier.

It'll be great if I can add at least 120 to my username :|

Haven't seen this comment in a while. Sorry bud. Maybe a phone app to tunnel another phone os...

He actually posted this comment a few days ago.

And I commented again because this app ain't available for WP7

So, when are you eligible for a upgrade❔

As a suggestion to avoid this scenario.. Would it be possible to add a badge or some other table/chart to your app reviews to mark which apps work on what OS ? This might avoid the frustration of your readers with W7 phones thinking "cool, i'll try that" and then going through the process of heading to the store to find the bad news. Avoiding that frustration might avoid some of the comments?

We usually put Windows Phone 8 in the title or intro paragraph - Lance still makes those repetitive comments on articles that advertise the OS requirement. In my own articles, I always mention specifically which OS versiosn the game or app is compatible with next to the Store link. A built-in table would be really cool though. Maybe someday...

Not available for Windows Mobile 6.5 either. Shesh.

I have a working WCE 2.0 device, with a phone modem! Thing is awesome!

That was a good one.. Lol❕

Get a Lumia 52x and fix that problem...

That's what we told him a few days ago. But if he gets one, then he'll complain every time an app comes out that is only for 1gb RAM devices.

No, the app won't work on 52X. I am getting motion API not supported on my 521.
It is a cool app, though.

Being an early adopter sucks, always. I'm glad nearly every manufacturer in my country acted like wp7 didn't exist and waited till wp8. Outrage would have been huge.

I was an early adopter, had WP7 for 2 years, was happy and then moved to WP8. People that got WP7 towards the end of its life should really have spent a bit more time investigating it, as it was well known to be going obsolete. Still, I do sympathise a little although I don't understand why they couldn't try out a 520 in the meantime.

Maps, nav, Latitude analog, free, no ads. Where's the catch?

I imagine it might go to a pay app once it catches on, not sure tho. No complaints for sure.

I may have found. They may invent in-app service like storing tracks. Like Followmee. For now it's not yet as good as either Latitude or Followmee in means of friends tracking.

I believe it is still in beta. Thus, free.

its kinda useless but its cool :D

Well for people who get out of the house, its pretty useful. I can see using it when I go to Ireland next year.

This app uses google map API which is suck. Some places in my country have been obscured for a long time. Bing Map doesn't have this issue and it's better than Google Map. One of the apps that uses Bing map is Compass by Hani Atassi.

Yes, but the Compass your speaking of only supports 7.5 hasn't been updated in 2 yrs. Nice app only wish Hani would of updated.

So essentially this is a map app?

Who here has ever wished that you could reply to user reviews in the store❔

Ohhh so many times! I also wish reviews that are plain wrong could be reported and/or removed..

Absolutely. A lot of store reviews are frustratingly just plain wrong.

Sure, I sometimes "wish" that, but it's entirely unrealistic. Would you want to see huge strings of replies like you do here. It would without a doubt turn into that.

Exactly.. That wouldn't be good.. But, what if the replies were hidden? They could be behind a replies button.. Doesn't att website do this?

Always. Especially if they have problems or miss a setting, instead of mailing me, they put it in the review. Ahhhh.

Here's another question.. Do you have a Lumia device with wireless charging❔ If so, have you noticed that after update 2 the phone will sound the charging alarm periodically.. I'm not sure, but is it saying that its fully charged❔

No mention of data use? Pretty critical if you're in a foreign country with expensive roaming charges.

Two problems First, are the maps offline? If not then be prepared for some nice roaming charges. Second is same problem, now you need all your friends to take the roaming charges too, so you all can track each other. Better to use offline Here maps and just call each other... Will cost a lot less. I'm not saying that this app is bad, just that the roaming charges when you travel are killing good apps like this.

This is one of the advantages of living in the EU....regulated roaming charges... I can take my normal plan to any EU country for a £3 a day

More than happy with Nokias software

So there is a download and update map tab within the app but it cannot be used while the app is running? Are these the same maps that Here Maps use? That I already have? Maybe not since I had to wait a while for it to load.
Anyway, this looks pretty good! :)

Paris isnt a new city. :P

Same maps and usable offline! I like the combination of the compass and the GPS. I miss the ability to save a location...

I think it uses the Here Map database. Meaning whatever you have downloaded will be available offline

Yeah it looks like Here Maps too. The occasional 3D building and the font of the roads/landmarks are similar to that of the Here Maps app.

This will be a great tool for planning bike routes

Why so many negative comments? Sure there are other navigation apps out there and the here services on nokia devices but i don't know any other app that works so good together with the gyro and rotates and tilts the map so fast. Very nice and helpful for pedestrian navigation.
Windows Central Newsletter
Thank you for signing up to Windows Central. You will receive a verification email shortly.
There was a problem. Please refresh the page and try again.