Congrats to the Folks Behind Our Store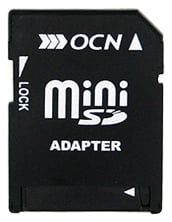 Our parent company, Smartphone Experts is in the news today - they/we ranked #37 in the Inc 500 list of fastest growing private companies in the US and #1 (Number ONE BABY) in the retail category.
In case you're wondering, we always have and always will keep a strict firewall between our writers and our online stores, but I'll break it just a tiny bit now and say that the folks that run the e-commerce here are simply awesome. I'm sorely tempted to start naming names here, but I'm pretty sure I'd be end up writing about everybody in the company.
So I'll just say kudos and congratulations to everybody on the store side. I can't take any credit for the list (though I'm 2 for 3 when it comes to working for privately-held companies that make the inc ;) ), but I'm incredibly lucky to be associated with such fine folk.
I'll also say that, from personal experience, buying accessories from our WMExperts Store is better than most online stores I've dealt with (Yep-- I pay for stuff too when I need to). Oh, and there's a new corporate site at http://www.smartphoneexperts.com , too, complete with a not-horrendous picture of yours truly.
Get the Windows Central Newsletter
All the latest news, reviews, and guides for Windows and Xbox diehards.