A consistent Windows Phone experience is the unique selling proposition of budget Lumia devices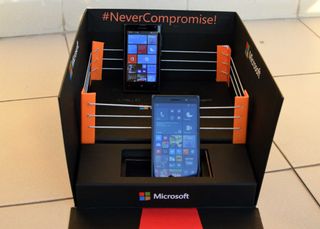 One of the highlights of the current crop of budget Lumia devices is that they offer Windows Phone experience consistent with the more expensive and flagship Windows Phone devices. Of course, they differ in the internals and hardware capabilities, but the platform experience is pretty much the same.
I used a Lumia 532, the latest budget smartphone from Microsoft, for a few weeks as my daily driver and in the following video, I see how it fares against the Lumia 830 I've been using since a while.
Let's look at the Windows Phone experience right away. Whether you use the budget Lumia 532, a flagship Lumia like the 930, or the mid-range Lumia 830, the OS experience is consistent across the board. You have the same apps, almost the same capabilities, and the user experience is pretty much the same.
The email and messaging experience is the same. There's of course Skype and Office built right in, out of the box on all Lumia devices, free and with full functionality across the range of devices. The personal digital assistant, Cortana, is available on Lumia 532 just as it is on the 830 or other Windows Phone devices.
Let's look at gaming. While casual games are a breeze, the Lumia 532 also allows you to play a graphic-intensive game like the Asphalt 8 without any frame drops or lags. It's surprising really. Of course, the graphics aren't too great, but then, you get what you pay for.
Two of my favorite signature Lumia features are the Glance screen and double tap to wake up. These might seem trivial on paper, but are nifty features in everyday usage. Surprisingly for a budget device, the Lumia 532 features these two. There's also the proximity sensor and the ambient sensor, allowing you the same experience as with a more expensive phone.
It goes without saying that even the budget Lumia devices feature solid build quality and feel great in the hand. Microsoft pretty much carries the Nokia's design tradition and employs it in the affordable smartphone category as well.
The Lumia 532 is one of the most affordable Windows Phone device in the market right now. All in all, if you're buying one, you're not compromising on features broadly. Of course, there are compromises in camera, internals, display, but that's a fair bargain against the price that you're paying. And remember, the Lumia 532 and other budget Lumia devices are also Windows 10 ready!
And yet Microsoft does not promote this in their ads instead they have a Spanish song playing in the background while showing off the f different colours of the phones on their tv commercial in India

Yeah. Most people don't get that song either.

Where do I get that boxing ring?!

Check eBay in a couple weeks.

Maybe somewhere on Earth.

How exactly does this differ from other platforms?

Android phones very between phone makes and models. The Lg interface of Android is different then Samsungs interface, even though the both running Android.

Those are manufacturer skins. The base OS and ability is all basically the same. Low end (NEW) Android devices can't play Asphalt 8?! Can't send messages?! That's basically what he is praising about the 532.

(most) low end devices can't even install some games...

Low end Android devices are worse. Their feel is too shaggy.... They lag while running the OS itself. You need all sort of ram or memory cleaners to keep your device up and keep going.... You need antiviruses.... These are the enough demerits of a low end android devices to reject it.

The LG interface is different from Samsung primarily because Android can be customised like that, it's open source, giving customers more freedom. There are Android OEMs who are also keen on giving stock Android and a consistent experience, just look at Motorola. The Moto E(recently released) has a lot of features from it's high end brothers, like shaking the phone to open the camera. Android is similar to Linux, I'm sure you know what that is. Posted via the Windows Central App for Android

Precisely! Lagdroid will be slow with dropped frame rates across the board regardless of it being a budget phone or flagship. LOL at least from my experience

So you've used a 2015 low end Android device? Probably not...

Not true I have and use a $130.00 unlocked no contract Blu Studio X and it has never had Lag of any kind!!

Android is just terrible on budget devices. Lag lag lag. You have to have a flagship to run that shi/t

But, when was the last time you used Android❓

Don't even. Despite Google's best efforts to make the OS more efficient Android lag is still very much a thing especially on mid range devices. The phones just get slower & slower as time goes by & don't get me started about the chronic app crashes. Even the brand new S6, which probably has the most powerful processor available in a smartphone still has the occasional hiccup when doing basic things like launching the app drawer or opening the multi-tasking view. I mean it has 3GB of DDR4 ram and you still get pop up notifications every now and then saying " app xxxx has stopped working". Same goes for the M9 so it's not a Touchwiz issue. Android is still too heavy on resources.

I actually used an LG G3 Vigor.... Two months in and out does indeed feature a very noticeable lag. I have two Galaxy S5 that are a year in and demonstrating some frustrating errors. And compared to my Ativ S Neo... I'm happy I stick to my Neo, imperfect as it is.

What phones we talking about here, cause my 520 on 8.1 does the exact same thing. It slowly becomes unusable.

520 can't be compared to S6, and a a 512MB WP will "lag" only if you are changing form app to app a lot of times.

If you have recently installed an update, then try a soft reset. Press and hold the volume down button and power button until your phone restarts. This won't lose data.
If the lag is still there, then backup and factory reset your phone (also known as hard reset)

You are an idiot...
Android runs better on budget devices. C'mon you gotta face it
MS need some effort here

Hahaha you are a fool, my friend's mid range Sony xperia Sp 1gb ram,1.7Ghz started to hang and lag after 6 months, so he changed to Lumia 625 512Mb ram,1 Ghz dual core..... Even high end lagdroids hang, and lag some times don't come here saying mid range lagdroids don't hang or lag,I have experienced while using lagdroid Samsung grand 2...

Try Moto e(2015) or Xperia E4....compare it to Lumia 640 and then come here

Around 5 friends have Moto e, 2 of them have their Moto e prob such as, sudden restarting, advertising problems... Even resetting is not making them work properly... Other than this Moto e is good budget phone.

Everday I have to use that shitty platform.... Because my secondary phone is an android. Though I'm willing to sell that one ASAP.

So you've used a low end Android device from 2015?

I did, an LG L80 (actualli 2014), and it don't feel as fluid like a similar WP (1GB of ram, etc).

Alot of bloatware, google apps you can't delete, alot google tasks running in the background. overwrought system and customization options. alot of digging around just to the find the mp3 music or photo you just downloaded because there's alot folders where they could be located at. the top portion where icons for wifi, connection, etc, is oversaturated. Icons are stagnant and stale. Positive note, the apps and features make Android and iOS wanted and loved. Wp is way behind on these two fronts. Office and live tiles isn't gonna cut it. Example, dual screen as found on the galaxy note, swipe bottom up on iOS to access simple options as mute, music, volume, and brightness sliders. And guess what, wp10 have destroyed what made wp great in order to adopt universal. Features and apps will make wp win but the way wp10 going so, I have doubts.

Sounds about right... Well said.

I'm not comfortable with the direction W10 on phones is going, either. Microsoft, if you're listening: Just think why users are on WP when they have more apps and features on other platforms. Surprise, surprise! UI and UX. Don't fix what ain't broke.

That's true.... Nevertheless, the beta apps do look nice... They may take some getting used to, but it still feels like Windows...
.......
We can't afford to let ourselves be resistant to change, or we'll hold the platform back....
Just think.... The design of WP7.0-8.1 is 6 years old.... What we're used to, and seems like heaven, the average consumer is not, and could give a monkeys armpit about.. We gotta give it a chance...

I will give MS till the end of the year. Two things: If no true 920, 1020, and 1520 successors and inconsistent/incoherent UI, I'm moving to Apple. I love how Apple incorporated the swipe up feature to access music, volume and brightness sliders. I also love the dual screens on galaxy note. Difference is, Apple has always consistent with iOS ui since day one only adding features to make it better. I can't say the same for WP. Always struggling to add features WP users bitch for. We have to bitch at Bilfiore just to get them? He needs to canned big time!

I don't think you can really call the iOS7+ UI "consistent".

Call me old school or resistant to change, but the grass is looking pretty greener on the Apple side. Guess what the new design looks like for WhatsApp on Android? Tabs/pivots. If I've to use both hands, why not use all the apps available as well.

WhatsApp looks great on Android now with that Material Design update yesterday.

Microsoft are listening, but probably to the 95% of the world that aren't using WP.

This was pretty much all the thing I hated when I had Android devices (tablets and phones).. Also don't forget the most used and beloved application for Android users... the task killer!

If your going to get Android there are two things you need to know.
1) Uninstall or disable the bloatware
2) Actively seek and flash more stable ROMs.
As a bonus you should note that task killers do the opposite of what you desire. They will make the phone run slower.

I just bought a Galaxy S6 Edge and even the shiny new Android powerhouse is showing some choppy behavior, lag, and has frozen a couple of times over the past week that I've owned it. I had some issues with the 1020 since it came out but the OS itself has rarely had any issues and rebooting it to solve a problem is hardly ever required. The GS6 is my first Android phone in 5 years and if nothing else it's an example of how well MS has done with design of Windows Phone. People are heaping praise on Samsung for the GS6 Edge and while it is a really nice phone (I like it) Android is not as consistent as Windows Phone.

Android L then, now 5.0, was announced, and I was 100% sure that they would finally do something about the laginess and choppiness of the OS. But as it turned out, they just tried to hide the problem with fancy annimations and really clean visuals. The fact is, below the shinning presentation, Android is a total mess. Having devices with blazing fast SOCs and 3gb+ ram unable to cope with the Android bugs, is really disappointing. Sometimes I'm thinking that this is not a disabillity from google to clean the core of the OS but a well played game, making consumers to buy each year the shinning new phone with the now ''buttery smooth'' OS. In this regard, I think mobile hardware componets won't be so advanced in this day and age if the realisation of Android was never happened.

If you're running 5.0.2, no wonder. There's been a memory leak since 5.0 and its apparently (partially) fixed in 5.1, finally. My Nexus 7 2013 has been smooth as silk since I got it, until 5.0.2. I need 5.1 bad.

Yep, I've heard 5.1 fixes a lot of things.

It's not really the same experience tho. The resuming on low end hardware with 512 Mb is horrendous. They should have never made phones with less than a GB of RAM.
If they don't get this right than its really no different from Android which also suffers on the low end. It's for this reason why I kind of miss the minimal hardware requirements WP had in the beginning. It really made sure the experience was top notch. My Trophy is still an admirable performer.

I don't think we should consider 512mb phones a part of the current Lumia Lineup anymore. Think Microsoft thinks so too Microsoft even gave the L635 got a 1gb upgrade

Yes, MS appears to be done with 512mb..... Unless they go lower.... 3xx 2xx 1xx.. That's possible.

Hey, if you are talking about this phone (Lumia 532) then let me tell you that it has a 1GB RAM. (And sorry if I misunderstood you).

You can entirely blame Nokia for phones with 512mb.

That's great & all but is pointless when the Microsoft experiance is better on competing platforms..... They need their apps on IOS & Android but the experiance using the apps should be equal to or better on Windows Phone & currerntly it's not. I was a doubter until a friend showed me all the Microsoft apps that he uses on his HTC M8 & as much as it pains me to admit, the apps looked & functioned better on his phone. Many apps had several feature that are even available yet on the Windows Phone version. I know WP10 is coming & they are going to update everything & it will bring parity to the platform, they better knock it out of the park or that's all she wrote .

but is pointless when the Microsoft experiance is better on competing platforms

It is because the Windows 8.x API, most apps can't do the same than iOS or Android version because the API. They are working hard with Windows 10 for a better API.

Yeah, 10 should bring the best mobile Office suite ever to Windows.

I disagree, L630 running very nippy for me....i can play great games plus more! Very impressive little phone ( my opinion).

Your opinion is ignored for the benefit of this article...

So many magic 512mb devices around. I've used a ton and have never run into this magical smooth and fast low end WP being described

Actually, my Lumia 635 is very impressive. Between it and my Ativ S Neo, I'm torn.

Leaving out things like hands free voice activation, 4k recording, RAW format pictures, and the overall better experience you get from a higher specced device doesn't tell the whole story. Just because its not terrible doesn't mean it compares to a high end experience, there's no substitute for buying quality.

TBH, the only noticeable difference between my previous 1530 and my current 830 (excepting the screen, obviously) has been the camera. The camera on the 830 is great, but you do notice the difference when editing.

Think you've missed the point. It's not that one phone can record 4k and another can't, its that the platform brings the same recording experience.. Device internals are obviously going to change the quality of that experience..

Features like 4k define the experience at the high end. Restricting to just core OS features is always going to be similar, even on android despite the proclamations of lag by fans on this site. Whole article seems to be trying to say going high end isn't worth it, which is not the reality.

Agree and disagree, for the average Joe blogs the device is the start and end point for.. 'stuff'. So look at it from a device only point (which I think is what the article is about), what good is 4k recording if your devices screen cant even display that (currently all WP's)? You can argue the difference between 720v1080 screens but they're pretty small differences on the platform experience on the device. Yes a high end device is worth it when your going to go beyond the platform/device, but for most, a low end phone will compare.

Win10 will be the same for all phones (ex. low-end, high-end, phablets, whatever) or will there be differences? Between all of this information I am getting confused

There's always slight differences.... For example, supposedly the movable keyboard is for larger device... Nevertheless, that could change.

Doesn't matter how good you are if nobody knows about it....
.......
If marketing is horrible, and MS can't sell devices, then what's the point❓ It's gonna be hard to convince the average consumer of this when they can't even get a BOA app....
....................................
This article holds some truth, but lets not give any false praise here.... The fact is that for whatever single problem iDroid has, WP has two. So lets stay humble.

Cock A Doodle Doo long time Windows Phone customers. The days of kick-arse flagship devices and competition crushing phone features are in our rear view mirror. Like PT Barnum learned and quoted years ago; "There is a sucker born every minute!". Unfortunately, Microsoft has learned the same with their $50 disposable phones. The Android and iPhone competition is clearly too much from a high end Windows Phone device standpoint. We are over a year without a flagship device from Microsoft Lumia. With Microsoft caving in at the APPS level to Android APPS, one must resolve themselves to the fact that Microsoft has already caved in to making devices like the 1020 or other works of art. Begging the Surface Team to engage is useless. Lumia Flagship devices ended with the ICON/930. Perhaps the high end devices are being left to Samsung and HTC to create and distribute? The WM10 Preview shows that the best Microsoft had to offer in terms of a Windows Phone OS capped out with Version 8.1. WM10 is "meh" at best. And when run on the $50 Microsoft disposable device – it is a perfect selling combination for the low end 3% US market space that is ALL MICROSOFT. After all, it is raining dollar bills in that piece of the pie – so why not take people's money? Good luck with the "exclusive carriers". Good luck getting your OS updates out of those carriers on a timely basis. As Verizon has shown over and over – US Carriers could care less about the Windows Phone. Good luck navigating the APP gap. Maybe we will see Android APPS on the Windows Phone and maybe a US judge will force Google to keep those APPS available while Google and Microsoft battle it out in court. And when your Windows Phone contract ends, I hope that there are some high end WP devices somewhere from somebody to upgrade to. It looks more and more like Microsoft isn't that player.

Well, said.... And, you didn't even touch on marketing... Lets hear your opinion on that. GO❗

Sorry Brother. Just a long time Windows Phone customer who has seen enough. BTW, the only thing that Microsoft and Marketing have in common is that they both start with the letter "M". It's most sad when you have to resort to essentially lying about your product to get people to look at your ads. (see: "All the NEW Windows Phone apps.") Today's ad on twitter was the ad FEATURING the new National Park Maps APP. Um, yea. That's pretty close to Snapchat or MLB15. SMH.

Yep... We would be so much further along had seriously invested in EXTRAORDINARY marketing the past 5 years.
...........
The only reason you don't invest in something is because you don't see value, or have faith, in it... That should tell us something.

Sadly we don't see any new WP marketing here in the U.S. anymore because MS doesn't have anything new or cool to brag about. The last commercial I remember seeing was the Verizon one for the Icon. Last year's short lived flagship. Blame carrier lack of interest for that. But I have read here from others that the WP marketing is actually good in other countries. Hope to see some advertisements for the 640 series soon. If not then MS better ramp it up once the Windows 10 flagships are announced!

I'm in the US as well, and that is extremely hard to hear..... SMDH.

The 1020 on AT&T is really the only marketing I can remember from a Windows Phone. :o. Those camera commercials. Pretty good marketing, though. When I got my 1020 everyone atleast recognized it as the phone with "that camera".

Yes, those ads were directed by Roman Coppala... Very catchy stuff.... The problem with WP is whatever momentum it picks up is quickly lost due to lack of effort...
........
There is absolutely no reason MS/Nokia couldn't of had a high end device for 2014.... Do you think Samsung is going to skip an entire year because they can't get a system to work❓ Who does that❓..... Where's the plan B❓.... Microsoft constantly, relentlessly, and almost intentionally, shoots itself in the foot with WP........
........
The blunders over the past five years are impossibly ridiculous for a company of this statue, so they have to be done intentionally.... As many negative things that are out of MS's control you would think they would take advantage of every given opportunity to do their absolute best.... It's mind boggling.

When a company does not advertise and does not explain their lack of product(s) in the marketplace, it is the customer - who is usually dissatisified - that does the talking for them. I am sure that Microsoft is using WM10 as a reason not to release a new flagship. So what was the excuse for not having a flagship for the 2014 holidays? No flagship since Verizon dropped the ICON in late Summer of 2014? All I have seen are disposable phones. When and if Microsoft comes out with a flagship for WM10, what kind of hardware can we expect? Today, Microsoft seems to think these disposable phones are top end technology. In reality, they are a 2015 phone with 2013 hardware components. Will it compete with the S6? Will it be a phablet as good as the next Note 5? How about this new Sony Xperia Z4 Ultra? And if the new WM10 flagship is "kinda close", Microsoft has screwed up these exclusive carrier deals so bad that the chances are high that you won't find the phone you want on your carrier. Take it from an ICON owner who spent $500 to have his backside burned time and time again by both Verizon and Microsoft. They could learn a thing or two from Samsung, HTC, Sony and Apple. Manage a few devices and make them available on all carriers. And fix your app problem without relying on Android or Apple. Cuz once you have the app, you might as well have the device (especially if it's better than Microsoft can ever dream of making available).

Microsoft IS doing great in Europe. My employer is a Microsoft Partner and we develop HR, Timekeeping and Payroll applications for mobile devices. We have just started making APPS for the Windows Phone specifically because of the European saturation. I want to say that it is between 5 and 7% in some areas.

Wow, that's great..... Will you move to Texas❔

The was a huge att/Lumia 830 ad in the center of a massive mall in my county and the Microsoft store had Kinect just dance right outside of it on a giant bright colorful screen surrounded by little girls while the walls were all glass so you could see inside to all the gorgeous surface devices (surface 3 is phenomenal btw). It had 1/4th of the people that were in the apple store but there were a good hundred or two in there so not bad. I think they refrain from advertising because they are missing key apps that many many teens can't live without (SNAP CHAT). Well see what w10 brings us. Im sticking with Windows phone because I really believe that is the future of phones if they'd just get some darn app support.

So, you're saying overall WP marketing is sufficient❓

He is saying that the bigger problem is the apps. Which I agree with. You can bring a horse to water but you can't force it to drink. I stopped recommending Lumias to anyone two years ago. The app situation is very bad. The eternal betas and lack of updates is the death of this OS. And I don't see how W10 universal apps will change anything. None of the developers caste for Windows. Why should they when spending more time improving your IOS or Android apps will yield larger results and revenue? Windows phone is dead.

The opposite actually. Windows phone would not only be the 2% if it had all the first party social media apps and some of the most popular games on iOS and Android. It would most definitely be a good third. But nobody really wants to sacrifice Snapchat, and many people do not like using a third party instagram app (no matter how nice I think it is) especially when it has ads and no video unless you pay. Let's face it, this app problem has dragged MS into a hole that they desperately should get out of if they want to survive. First Snapchat, then the rest. Snapchat honestly I think is the most important, along with an updated Instagram app.

I agree with what you're saying, but an issue even bigger than that is marketing, and awareness.... Even if WP had every app that iDroid has it still would continue to fail if nobody IN THE U.S. knows, or cares....
.............
With proper marketing ALONE WP market share could increase much higher than with all the needed apps, and little to no marketing.... I guarantee it.... And, marketing brings apps before market share even increases.... The awareness, and hype about WP when commercials like the recital ad air, have always led to a spike in new developers, and apps... It's true❗ The problem is that WP marketing isn't consistent, and the public literally forgets about it.... No, I don't believe in that sorry old ass chicken/egg excuse... There is a root cause, and it's marketing. Marketing no doubt... It just simply has to be as strong as Samsung and Apples marketing, and maybe even stronger.. It can't EVER die down, or let up... The budget has to be no object,, no excuses.... This is the kind of attitude MS must have to succeed or they simply will not..... End of story.

Windows Phone has always relied on word of mouth advertising from their customers. Ability is not a question if you compare Surface advertising to Windows Phone advertising. Perhaps if Microsoft came out with a Surface Windows Phone, some of that Surface Marketing could be directed at the device and WM10 features? I am a Microsoft Partner. I attend Convergence with the Accounting / Dynamics Partners every year and the World Partner Conferences. Even at those events, Windows Phone exposure and promotions are minimal compared to Surface and Xbox. Apps would go a long way. Their own APPS and not Android's. Is it really that hard to find developers at any of the Microsoft locations to create standard apps like Android and Apple offer? Reducing the number of devices would make the advertising easier too. As we have seen for years, the exclusive carrier BS kills the Windows Phone marketing as you don't have Verizon, AT&T, T-Mobile and Sprint all advertising the same devices like they do with Samsung, HTC and Apple. But not the case with the Surface. Good software (Windows) with good hardware goes a long way. Microsoft really needs WM10 AND a full APP offereing to go with these new WM10 devices this Fall or they/we will never see the success of the Surface and may very well see the Windows Phone go away.

Sounds good.. I agree...
........
Now, this sounds a little out there, and I'm sure you've heard it before, or maybe even though about it yourself, but want if MS bought it's own carrier❓ Or, partnered with a carrier, kinda like Sprint, and Radio Shack, did.... Imagine a store that not only had all Windows mobile products, but also offered the same type plans as Verizon, and at&t do... I'm serious.. MS would literally own spectrum, or piggy back of another carrier...
..........
There's a few reasons why this would be good...
1. Franchise carriers
2. End biased associates habits
3. Superior product placement
4. Service
5. Customer relation opportunities
6. Tons of marketing opportunities
7..... The list goes on.
I bet you if MS doesn't do this, Apple will..

Yeah, it's marketing, apps, and carrier exclusivity BS. However, here's the problem. NO carrier will want to carry a WP unless it's exclusive. This is because there is little incentive for a carrier to offer a phone that belongs to the 2%. Marketing may get the phones in people's hands, but without the apps, they won't stay there long enough. Apps need to be the first problem solved (pay devs to just create a base app for WP, just so we can say we have them). After that, they advertize, and people start buying them, growth to about 9-10% of the world. Here, carriers will then agree to carry one universal phone, the Microsoft Lumia 940, or if Microsoft wants to start on a clean slate, Microsoft Lumia 9000 (or something new and refreshing). Then, growth to about 15-20%. After that, it's all growth, since WP freaking rules and is a much better experience than either of the leading OSs and for less!

No.. No, the problem with that is that MS already tried that, and it doesn't always work... MS even offers to build the app themselves...
Marketing is the only solution, and you're right, some people might not like WP, but MS can't worry about that because even Apple can't please everyone... There's well over enough people out there that don't even know what Snapchat is, less known than care, that would enjoy what WP currently has to offer, and stick with it... That's the targeted audience for now... Sorry, nothing will ever convince me that WP's root problem is marketing, and marketing will set WP on the right track....
Nevertheless, you do raise some good points that are fact, and I do agree with.

You're right. If I'm not mistaken, MS paid Instagram to create an Instagram app for WP, and look how that's doing :(. You're right. It's definitely marketing. And maybe a surface windows phone should come out.

As someone who has been a WP user from 7 on until 8.1 I'm done for now. I liked it but it's just not the yet. My wife switched from WP to iPhone. Now we both switched to Android. We've always have gotten older phones. Im using an 822, she had an iPhone 5. Finally upgraded to current Gen phones. Tired of being that one windows phone user. I tell people what I'm using its a windows phone. oh you mean Android, no I meant windows. Does it have "X" app.. No but it has third party "x" app. I've heard this over and over. I'll see where MS goes with WP maybe in 2017 I might be back (contract ends then). I was a supporter back when they went from 7-7.8, to 8-8.1. I'm done with WPs for now I'll keep watch and see what happens from the Android side of the fence.

Funny I am switching to Android because of inconsistent performance of WP.

Well, that's not really a solution to the problem...
WP has horrible marketing, is lacking in apps, but the OS has shaped up to be pretty tight, and actually very consistent, considering that Microsoft releases more than 2 devices a year...
.......
What are you hoping to accomplish buy switching to Android❓..... Well, besides getting apps, and high end devices:-\

Lol any Android below 500 (minus the one plus one) is inconsistent. Even flagships lag when you pull down the notification drawer. Buy a flagship Android get the performance of a lower midrange Lumia.

Which flagship are you using? I own both Nokia and Samsung flagships. My Android devices don't have lag. Neither do they have bloatware. Nor do they have resuming issues. When people complain about high end androids I really wonder if they actually own them at all.

I have a Moto G2,and it doesn't lag at all (Maybe because of my usage pattern)...but my Lumia 630 only knows to resume,load,force close...and it does take a lot of time sometimes for the notification shade to come down.

Funnily enough using my parents 60 buck lumia 521 felt like using my own phone, except for the resuming screens, and quite a lag when pulling down the notification drawer when there are over 5-6 notifications. It's amazing the difference between Win 8 with 512mb ram and 1gb of ram is. 1gb is miles smoother. 512 just isn't enough. The ones I mean are the Galaxy S4 (I know, shitty example but it was still abysmal), Galaxy S5 (Samsung trend here), Nexus 6 (believe it or not I used it at a T-Mo store and the thing lagged when I pulled down the drawer because it had quite a few notifications in the drawer). HTC M8 is mostly smooth. I love HTC (as you can tell lol) and would use an M8 Android OR Windows Phone any day. And that new M9... mmmm. Seriously though, the M8 just doesn't lag. I think it's the screen remaining at 1080p while all the other carriers stupidly jump to 1440p which is absurd on a phone.

Can you be more specific?

My partner owns an SG4 and I own a 920 We have both owned them for a considerable amount of time. In just about every department her phone is quicker and has less lag. The l internet send the same but she does not have that lovely back button that intermittently kicks you back to the home screen. I find my OS more logical and user friendly. But camera aside her phone is faster
....Loading
...Loading...Resuming

I hated the loading.. Resuming screens. Had enough of WPs for awhile might be back if it seems better by 2016 (contract is up then). Wife also switched from WP to iPhone. Then noticed how bad battery life was on her phone. Both switched to Android now. I enjoyed my 822. I'll see where Microsoft will go with WPs.

Glance and double tap to wake are my favorite features too. And wireless charging. That's why I love the 920 and now 830. Not sure which phone or flagship I'll be using this time next year, but I refuse to give these features up!

Did the Lumia 520 ship with double tap to wake??

Yes. Find it in the setting. I forgot where exactly though

Cos I could do that before I broke my screen .after changing the screen and touch, that feature no longer works.

Wow such bitterness. People still believe that android and ios are better but they are not. I have had high end devices from both to bitter disappointment. The iphone 4s that failed to work properly after ios 8.1.2 crippled it completely. The Galaxy Note 2 with broken microphone and charging point that has needed replacing twice in leas than two years. The S3 that never properly worked as an actual telephone despite three repairs. The lag and the sd card issues. The sheer clunkiness of android apps and they clatter around the high end devices. The MacBook pro that would never run on Mavericks or Snow Lion (was that the right name for the OS) even though it came on my 2011 machine costing £1000. The iPad 1 that never upgraded beyond ios 5 even though it cost me £500. I am more than happy with my Lumia 925. Even tested win10 on it. Quality of the handset is brilliant. Love my daughter's 535. For £100 she gets a premium experience and all the apps she needs at 14. Oh and our bank NatWest has always had an app and updates it even before the ios and android versions some times. I am happy to upgrade to a 640xl in next couple of days. I know it is not a flagship phone but it will be well made, solid, fast and do the job I am paying for at this price point. I am not flush. In fact we have very little money so ai am grateful for a premium experience on a budget. It means I can get the amazing sim free deal from BT unlimited calls and texts and 20GB of 4G data. Just £20/mth. Can't get that on a contract. We need to stop griping and looking longingly at what we think others have. I don't care about a BOA app. I am not in America, but if I were I would make a web app myself online just like I did for BT and AmEx.

The Note 2 was a great phone, ahead of it's time, I know, I owned one and used it till it died with a broken screen and camera. As to clunky apps, I have no idea of what you are talking about. Every app I ran and still run work with few issues. Most issues with Android are more easily fixed than with any Windows phone since everything can be changed and with multiple apps launchers or custom roms. If you don't like something, change it to what you want... That is Androids sole IOS well I've never been a huge fan of it but I do know that what is being offered now is solid and the present is where we live. My 2014 Imac runs smoothly both with Yosemite and 8.1.The ipad I never cared for and am saving up for a new Surface. My 1520 had some issues and went with a htc m8 Android.. but I still hope to see a Surface flagship phone with a great camera.... and I know many others do too WP will live and breath by Microsofts will and theirs alone but until a worthy flagship phone is released saying that it isn't necessary is not true regardless of how much some want to believe it. Just as the article said... You get what you pay for... Its as simple as that.

The average user has no interest in flashing roms. For then Android sucks lucky for Google they don't realize that's not good it should be.

You've got jokes I see. You're here to tell us Android and IOS don't run well on devices from 2012? Shocker!

That's the point of this article. The 520 still runs the latest version of windows phone perfectly fine.

Doube tap to wake have a huge impact on me. When someone gives to me his device, I am subconciously taping the screen and waiting to turn on :P

I like this article! I like the point it's making, and I believe it's right. Look, I'm already fully convinced about Windows Phone as a platform qua platform, the OS/UI, and the handset hardware itself... ...what I'm NOT convinced about though, is the app support. It's the one and only thing that would keep me from WP were I in the position to buy a new phone today. Hopefully that will all change by summer 2016 when I really am up for a new phone. Posted via the Windows Phone Central App for Android

Once Microsoft shoves the phone out the door, you are at the mercy of your deadbeat US carrier. Half-baked disposable phones from Microsoft are the issue at hand. It may improve, but if it does, you are again at the mercy of some greed-driven exclusive relationship that Microsoft strikes up with that deadbeat US carrier. Take the 1020 and 1520. ONLY on AT&T. Take the ICON. ONLY at Verizon. They just aren't sold everywhere like the S6, M9, Note or even the iPhone 6. Apps have capped out. They are now going away. Vine? Snapchat? MLB15? Bank of America? Chase? Microsoft is desperate and desperate companies do desprate things. Like selling your soul to the competition. Apps on Android? Why not own the S6 or Note? More phones by Summer 2016 is one thing. Having them at your carrier is another. Having your carrier provide OS updates within 3 to 6 months of Microsoft releasing them is ALSO another thing. US Carriers simply disrespect Windows Phones.

I think it's better to go with lumia 532 rather than lumia 535 as it works charm like the old 520 with acceptable screen clarity and touch experience and Microsoft should rethink about 535 as it is really a poor device. I have used a few and i didn't like anyone of them. Hated the screen clarity and touch experience. 4'' device looks sweet, small and pocket friendly.. :D

Well. I just wanted to sound off here just for the sake of doing it. I've had many windows phones over the years, statring with wp7 all the way to wp8.1. I've had a number of different devices: Omnia 7, HTC 8X, Lumia 920, Lumia 1520 and now Lumia 535. The succession might suprise you (towards the end especially). I have been very unlucky though with all my phones. My omnia drained the battery like mad, my 8X was plagued with different problems (it just died on me one day and the lousy after sales service did a great job of ruining my device instead of fixing it, half the screen was flickering), my 920 had battery and signal problems. I upgraded to 1520 after a lot of thought. I weighted its size, price other devices (eg 930). I finally got it for a very good price at the time (355 euro, not too shaby). And then after approximately two months it stuck on a reboot loop. I had to send it to be fixed for one month (they sent it abroad). I finally got it back and almost right off the bat I started having phantom touches, the screen still had the discoloration right where the camera module was and on top of it all the proximity sensor was not fixed either. At that point though I had already resold my 920 and was phoneless. I decided to buy a 535 just to pass the month until I got my 1520 back. Oh boy was I in for a surprise! After some initial albeit heavy phantom touch problems - which shortly after an update got fixed - everything smoothed out! This little phone might just be the best windows phone I have used to date. I'm not crazy about the screen and touch sometimes feels just a wee bit unresponsive but heck! I gotta say this phone is really worth the 98 euro I got it for!

That's disingenuous. Budget phones do not offer the same punch as flagship phones. If they did, flagship phones wouldn't be needed. Why?Budget phones are mostly the bare minimum and suggesting that a comparison exists between the two is just absurd.
....
And Microsoft isn't the only company that does this. You're implying there is a distinction where there isn't one.
....
Being a loyal Windows consumer means pointing out the negative as well as the bad qualities. If all you do is cheerleading when criticism is deserved doesn't make you loyal but a placating chump. A good company needs both praise as well as criticism.

He just said that he is happy with what he got for the price! He is not comparing the two phones and also he did admit that the phone has touch issues and specially they are at the corners of the screen. The first few things i will notice in a phone will be the design, touch and screen clarity and if they can't satisfy me, that is not a good deal at all.

Thanks. The phone did have touch issues when I first got it. After the update though it's almost flawless. And for the record, the phantom touch issue on 1520 is a design flaw. So yes in that respect maybe the 535 is actually better. 1520 was and is a hell of a phone. But the fact remains that many people face the same issues as me. And that in and of itself is unacceptable in such a flagship device.

I've had the 920 and currently own the 1520. Both phones are amazing and I wouldn't trade either for a low budget phone.

I did not trade it in. I'm with the 535 until my 1520 gets fixed. Although I have to tell you I'm tempted.

Microsofts luke warm interest in Windows phone before 8.1 coupled with Nokias high-end only strategy have created a disastrous,dismal failure of a platform. At least with 8.1 features have been added that have been taken for granted on other platforms for years like the action center. Now the platform is being made available to a whole new world of people thru the mid-range and low end. Microsoft has deep pockets so maybe this will pull a rabbit out of th hat. When you high- enders get a new flag next fall what are you gonna cry about then. You'll find somethimg im guessing.

"high-end only"? What are you smoking?! We've been crying out for high-end devices and all we get is budget or mid-range.

I don't think Microsoft must look over the android high-ends and release something similar as the OS itself does not require such specifications. Better work for a good configuration that will just satisfy the user in every sense and with most of the additions like the best with camera, speakers, mics, signal reception, noise cancellation, bluetooth, nfc, 4G, better audio processing for good music experience and more output to headphones/IME, glance screen, good display, sufficiently large battery that can stand atleast a day easily for a normal user, memory card slot+32/64GB internal memory, supports wireless charging, best touch experience and most of all an impressive phone design. I won't suggest going for 4K display, as it just useless in a phone and drains battery. Full HD is fine and work on low power consuming screen. Work on designing a good package that won't cost fortune to the consumer. Work on something that we can say is practical not a beast phone!

In the mid-range and low end they are already doing it. I'm waiting to see what they will do with the high end.

Too true. I think right now MS is doing all the right moves. It really shows why they had to buy Nokia. The availability of their services now is much improved from the days of 920. It was released at least a year after it was announced at least in Greece.

This is something that I think only Lumia has.

The only real issue is the build quality. A friend of mine got the 640. After a light drop it has some serious damages. He never had such issues with other Lumia / Nokia devices

Oh, that's not good...I hope they haven't changed the way they do things to much. Durability was one of Lumia's major side effects. =[

An even more consistent Windows Phone experience would be to have support for the "Hey Cortana" feature and Glance Screen across all devices... Those should be core features of the OS and not limited to specific devices. Microsoft still needs to step up to the plate to provide a level of consistency to mach or beat iOS and Android. Please don't let us down with Windows 10 for phones.

If we are going to compare OS IOS runs on ipads with 512 RAM easily and also the apps.
I don't see why MS should not do the same. and as for games on WP just take Asphalt 8 running on low end phones as you call it. I will not compare Android here because well... i do not think this OS is comparable in terms of performance with IOS or WP.

A consistent Windows Phone experience is the unique selling proposition of budget Lumia devices "unless you have windows 10.!!"

PEOPLE, apps on mobile devices are supposed to close/crash if they're is any issue and could possibly affect the device. It's a feature, not a flaw... You'd rather you're phones hang and drag trying to keep a program app open or you just want it to work in general and open the little app again because it's quicker? Be SENSIBLE. SHEESH! =/
Windows Central Newsletter
Get the best of Windows Central in in your inbox, every day!
Thank you for signing up to Windows Central. You will receive a verification email shortly.
There was a problem. Please refresh the page and try again.