Cortana for Android public beta now available to download in the US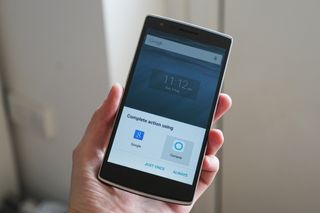 The Cortana digital assistant for Android, which was released as a private beta by Microsoft in July, is now available as a public beta release for US users.
Microsoft stated:
New users will have to go to this link on the Google Play Store (opens in new tab) and agree to the terms of the testing program before they can download the Cortana public beta.
Source: Microsoft
Windows Central Newsletter
Get the best of Windows Central in in your inbox, every day!
They should work on providing more language support to Cortana rather than working for an app for other OS. I am done with Microsoft. They have poor attitude towards their own platform. Why would I or anybody be interested in Microsoft phones.

But you do realize that getting feedbacks from 85% of all global smartphone users will certainly make Cortana better... right?

sroychowdhury has got it. It takes a LOT more work to properly localize Cortana for a new region than it does to translate the existing service (Which mostly exists in the form of HTML 5 and can be updated server-side at almost any time, remember, which is why Cortana gains new features without OS updates) onto another OS. Seriously, these are completely different teams at work. Do you honestly think the same team studying the local culture, language and idioms of a region to best optimize Cortana for that place is the same team writing the code for her? I think not. So chill, this is doing nothing to slow down Cortana's progression to other regions, and if anything: It's speeding up her appearance, because Microsoft will have significantly more data to work with in their goal to localize Cortana.

ZzzzZzZzz Again these boring, childish comments.

For me, its not about the languages. I don't mind using Cortana in English, I'm used to her voice like that. ;) However, I would like to be able to use her in the Netherlands, even without all functions.
More on point: Good to see Microsoft bringing their services to other platforms. That's, in the end, good for us.

The more people that use Microsofts services, the more data Microsoft recieves. The more data they have, the more they can improve their services. That's part of why Google often has a leg-up against the competition. Half the planet is happily handing over data. This allows Google to fine tune their services to provide better results, with higher levels of accuracy. After all, which voice recognition software do you expect to be better, the one used by 100 people, or the one used by 1 million people? Personally, I would expect that the one being tuned after the most users will be better. To make a long point short, yes, it is good for "us" (Windows Users) in the long run.

Lol and yet bad foe the short term. Considering they need to find a way to make their own products appealing in the present. No point worrying about long term when you may not have a future :D

Consider it a safety procaution then. If WP/WM fails, and is shuttered, is it better to have a powerful service like Cortana, running cross-platform to provide a large volume of useful data for other projects, or to have nothing? Personally, I think they'd rather ensure the whole comapny doesn't fall apart, just because of WP/WM failing. Additionally, Cortana running on iOS and Android provides an opportuntiy to reach the vast majority of smartphone users. If you have a choice between a service that only works on your mobile device (i.e. Google Now or Siri), or one that works on your PC & mobile devices, which would be more appealing? Personally, I'd go with using one service everywhere, rather than one for each device or platform. And that's essentially what Microsoft is betting on here. If you use Cortana on your phone and PC, it's a much better expereicne than just using Siri or Google Now on your phone.

Oh no, Microsoft is putting their whole 5% marketshare (being generous) in jeopardy, they could lose everything! Yeah, long term > short term, especially since Cortana did little to increase Windows Phone sales. This is better for us in the long run, the more people using Cortana, the better she is for everyone.

@SwimSwim, exactly my point.

And again what happens when that 5% abandons them? And these are the same people who will leave not only phones but may then see the benefit in mac or chromebooks....so not only have you alienated your actual users in preferences of other mobile os, those same people have begun leaving windows entirely. The short term is just as important as the long term because Microsoft needs to do something that makes people want to continue sticking with them or run the risk of losing their dedicated users and not gaining new ones.

Cortana is their product associated with bing

You can't even use Cortana in English.

I can, thing is that I have to change my region, which makes it impossible to pay for things in the store/video/music app, which is okay for my phone, but not for my desktop or (in the future) my Xbox.

I wouldn't be surprised if the core Cortana experience is just built using HTML and Javascript and uses a web view control, with the OS specific features coded into the native app, so it could potentially be a slightly smaller task than you imagine. There is a video on YouTube discussing some of the things the Cortana team do when they bring the feature to a new region, and there's quite a bit involved in it. I'm in the UK so lucky to have had Cortana for a while now. Here's hoping the more users they have across more platforms, the more it will drive them to bring it to new markets.

I think that's exactly what it is though. She's very web-based, OS independent since she frequently gains new features on Windows Phone without any OS updates.

You know that Microsoft uses the data collected from cortana to improves speech recognition right? So if MS puts it in more peoples hands, they can get it working for more languages.

Personally I'm quite satisfied with US Cortana. I don't mind she come to Indonesia but I'm sure her voice, grammar are messed up. Why because in my place all technology things better stay in English language. Bring it to Indonesia Languages will messed up the vocabulary

Totally agree... Less and less reason to stay on WP... Almost everybody speak English... Why I can't use Cortana in my region but in English language?

There are still cultural differences. The same words can mean different things in English speaking countries. Some phrases don't translate well from/to English, it would just butcher it.

Who really has the poor attitude? Just a hint - it's not Microsoft Posted via the Windows Central App for Android

3..2..1 began your Anti-Google comments

Does Windows 10 Cortana share data with Windows Phone 8.1 Cortana now? My devices are on Windows 10 Mobile Preview so do sync, but a friend who upgraded to Windows 10 RTM was asking why it doesn't sync - I thought they would have resolved this by the RTM launch of Windows 10 for PC. Good to see the Android Beta coming out as publically available. I don't use any Android devices but will definitely be telling people to give Cortana a try. Pretty cool Cortana is coming to other devices, really want the iOS version to emerge soon so I can help my wife start making use of Cortana on her iPhone. She has an iPad 2 as well but wouldn't be surprised if Cortana is only for newer models, the iPad 2 is really old now (Does what she needs though)

No, Windows 10's Cortana for PC works just like an UWA, it syncs through all your Win10 devices

Windows Phone 8.1's Cortana still only syncs Interests and Favorite Places from the Notebook. Windows 10 (Mobile) is required to sync everything, including Reminders, Flight and Package Tracking, etc. (WP8.1 will technically sync your reminders, but only to re-add them. So a current location reminder will only appear on one device, not all of them, if that makes any sense).

the pc and tablet settings missing need hlep

Go ask your questions in the forums for fucks sake.

my touch screen does not work its called Lenovo c260
need help fixing this

Lol meanwhile on windows phone.....

Meanwhile on Windows Phone, Cortana is recieving quite a few improvements from WP8.1 to WM10. And will continue to do so.

Not really? So integration with PC, adding Movie recommendations based on interests and local availability, resteraunt recommendations not just based on location but prefferences (cost, atmosphere, types of food, diatary traits, etc.), isn't really adding improvements? Not to mention the enhanced control over some of the previous items? Plus, the ability to use basic functionality when data is dissabled (i.e. launching apps and setting reminders). Sure, it's not MASSIVE improvements, but still some pretty decent changes from when Cortana was first launched a year ago.

From what i understand there are many regions where windows is popular yet don't have Cortana. Somehow it is more pertinent to focus on android users than reaching those users on windows phone who have been supporting the platform vs those who may support it despite having a fully integrated system of their own with google now

We CAN'T use Cortana. Not on the desktop, not on the phone. It's completely unavailable. Even though English is taught from like the 4th grade to EVERYONE, we're not allowed to use Cortana in English.

And that is why I am against bringing this to android when people such as yourself can't have it.

A large portion of the region issue isn't due to Cortana, but actually the backend she ties to (Bing). However, I do agree that Cortana should be supported in more regions, at least in English (if not the native language). They do need to expand Bing globably, or switch the backend to somethign that's actually globally available (not gonna happen). On the one hand, the slow rollout makes sense, because Microsoft personalizes the voice, recommendations, and personality based on the regions (i.e. a British accent in the UK, and a different animation in China). On the other hand, it would be nice if they followed a more Google/Apple-esque appraoch, by making their services available at least in a basic form (i.e. Cortana could only launch apps, set reminders, and facilitate searches). So I get your frustration their, but still beleive that expanding their user base will help with this in the long run.

It works. Maybe substantiate your comment with a more complete thought.

Windows phone Cortana doesn't need update. They can can add any extra features in server side. Unlike android one which is an apps So don't complain

Yay, finally! I applied for the closed beta and never heard anything back so I have been using a version of the app that someone had uploaded to a cloud storage site. I wasn't getting the updates though. Now I can! Posted via the Windows Central App for Android

Why not use a service for those who innovate??(google now) and make them earn their hard fought for money?? Posted via the Windows Central App

Yes! Even tho I'm enjoying windows 10 mobile preview on my$79 Lumia 640 over my galaxy s6 edge running lollipop.

Good. Now, for God's sake, release it to the rest of the English-speaking countries. I know, localized search results won't be perfect. It never will for that matter. So, just do it.

I'm waiting for Cortana to be released for Windows 10 in India. Anyone who knows when it's gonna come?

I have it on my Lenovo S405.. You should have it as well.. Check in settings?

I don't know. Can you pls explain how?

At least now when's the beta program available in India.??☹

Does this add band support???? I would love to be able to start using it again. Posted via the Windows Central App for Android

Band is already supported on Android. You can download Microsoft Band companion app for Android..

Obviously i meant does this add cortana support for Android band. Since that's the topic. Posted via the Windows Central App for Android

But of course...this being Microsoft, it had to be US-first, US-only. Luckily one can simply get the apk and sideload it.

I'm not really sure why people are surprised by this... Posted via the Windows Central App for Android

Because he is anti Microsoft lol

I wouldn't say anti-Microsoft really, because he knows Microsoft's flaws

All he does is complaining. Whining really.

Sad thing is you can probably load it on an Android phone in Europe, with English of course, but it'll still run without having to change your entire phone + Store, unlike Windows Phone...

Yay!!! More Cortana everywhere!!!

My Android phone isn't compatible :( I'm running on lollipop, I wonder why... Posted via the Windows Central App for Android

Same thing with my 2nd gen Moto X running Anroid 5.1. How can that be not compatible?

Cortana on android and not even in many many Windows phones around the globe? Bumer

Cortana is released for US only in Beta.. And they are working to release Cortana across many other countries. You will need to have some patience

I can't wait for the article on "why get a windows phone when all Microsoft are available on iOS and android"

With Microsoft becoming platform agnostic, I am seriously considering using all the Microsoft services on the new BlackBerry, rumored to run Android. Might be the best of all possible worlds.

Lol it has long since been beginning with office on android and ios

Just installed it on my Note 5.. already better then Google Now. I've been struggling to get location based reminders to work on Now. Fired up Cortana, told her to remind me of something when I got to work and as I pulled into the driveway... BAM... she worked! If Verizon is going to screw me over on W10 phones, at least I can make my Note 5 as Microsoft as possible.

Good one! Here is hoping she is more helpful..

I wonder if Cortana for Android can read your texts over bluetooth in your car? The Android car kit sucks compared to WP. Yes, I am on an LG G4 right now. My One M8 WP gave out and I am going to wait to see how WM 10 goes before going Windows phone again. The developer preview left me thinking that WM 10 will not be much different than Android, just with tiles. Did not make me very happy. Microsoft seems to be killing everything that made WP great and unique for market share...

Ah, yes, another highly missed feature from wp. Posted via the Windows Central App for Android

Yep, WM 10 is a lot more like Lollipop than people realize. The tile UI and live tiles along with Cortana are about the only thing that separated it for me with the last build I tried. I was not too happy. It just made me sad for WP. WP 8 was and still is the best iteration in my opinion. It just needed Cortana and a few extra features, but it was spot on otherwise.

How do you make Cortana the default on android? Replacing Google now.

Long press of the home button should do it after installing. That's what I did on my Note 4

It was offered as an option on long press home. Posted via the Windows Central App for Android

It depends on the phone's model, not every single Android phone can replacing Google now

Looks like I got home too late for this one "At this time, the beta program has enough testers and isn't accepting more users."

Yeah I'm too late also. Ah oh well, Google now works just fine on my s5. On my 640 I hardly use cortana anyways except for music search lol. I can wait a little longer before it released to everyone. Posted via the Windows Central App for Android

Omfg they are developing it for Android yet i have the Lumia 640XL and I cant access it because I live in Ireland are u kidding me like!!

Is this new news for you? Its been in test for a few months now.

You didn't even read the first line of the write-up, did you?

Item not found... Well crap.

Hi guys, as my android phone is not supported, I need to sideload it via apk. Does that mean I can't get official update via Google playstore? Also, although I have link up Android Cortana to my MSFT acct. The notification reminder for WP does not show up in Android phone and vice versa. Is that normal? Posted via the Windows Central App for Android

It is rough on battery on my LG G4. For instance, looking at apps currently running location services it is listed as high usage compared to Google, Maps, etc. And yes, it can replace Google Now as the app that opens with a swipe of the home button, but Google Now still has to run in the background. Too many of Lollipop's functions depend on Google service integration. So both Cortana and Now run at the same time. I see no way around that. Currently Cortana uses too much juice to keep it running. It sucks because it is fast and efficent on my G4.
Windows Central Newsletter
Thank you for signing up to Windows Central. You will receive a verification email shortly.
There was a problem. Please refresh the page and try again.