Cortana asking for feedback to get better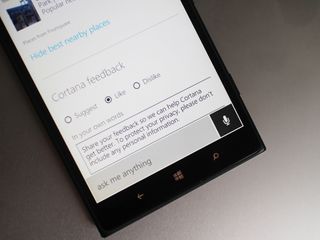 Cortana isn't a Windows Phone 8.1 feature that stays stagnant. It's one feature that Microsoft can continually update and improve on the backend without the user needing to update any software. Today we see reports of Microsoft soliciting feedback through Cortana.
Fire up Cortana and you might see a section called 'Cortana feedback.' Here's where you can suggest new Cortana features to Microsoft or tell them what you like and dislike. It's a great way to provide feedback directly to Microsoft. Especially for users who might not be tech savvy and go to the Cortana UserVoice page.
Do you see this message from Microsoft within Cortana? Sound off below.
Thanks for the tip Vinny and everyone else!
Windows Central Newsletter
Get the best of Windows Central in your inbox, every day!
Showed up on my devices, as well as the nearby places recommendations. Just sent in some feedback: + Cortana's live tile needs a slower refresh / flip rate. As it is now it's nearly impossible to read an entire headline shes recommending withough the tile flipping before I'm finished, which is frustrating. + Used the flight tracking service to pick someone up at the airport, which is awesome. Was updated on any flight changes and was notified when to leave the house to get there on time, showing any traffic along the way and estimated time that it would take to get there. Only problem was that when the flight was delayed, Cortana still recommended I leave at the original time and not the delayed time, which was a few hours later. Really enjoying discovering all the features of Cortana and how helpful she can truely be.

I don't like having to turn on Location when I want to use Cortana, so I never use it.

Oo. Then I suppose it's all depend on you. Me personally didn't turn off location since the beginning of owning Lumia phone. For me it's like somebody can find me if anything happens to me. ;)

Well, we have some fugitive WP fans... Fans of all sorts..

That's what I love about Microsoft. Most of their services and products have a UserVoice page. They listen to their customers! Windows and Office are still missing though.

Yes! I like this about it also. The WPCentral forums are a fun way to coordinate and submit feedback for features and apps also

I would love to see a Windows UserVoice to ask for a desktop icon pack revamp.

I'm pretty sure you can expect that for Windows 9. And Cortana of course.

I believe windows 9 will bring that icon revamp. Im talking about every single icon lol even the hidden ones in the event viewer pages for example. Its about time they unify metro and desktop with metro modern icons and everything! Radiobuttons, checklists, scrollbars, panels, tabbed panes... Lets hope!!!

I want Cortana to not just show me eating places close by, I want a list of all these who will deliver to my location.

I just saw that about 5 minutes ago, that's good.

I indeed saw this today when I opened Cortana. The thing that is missing the most is the ability to train Cortana with some basic information. For instance, my contact information, the name of my life partner, the names of my parents and siblings, and so on. Siri seemed to pick up on this information and retains a better contextual reference when using her. At least that is my experience so far.

You can set your parents etc...

Inner Circle. ;) Just add who you want to give nicknames to, give them their respective nicknames, and then you're good to go - even cross devices (for when you update to a new phone).

Thanks for the tip. Guess I just wish I could do it with a more unified contact like I did on the other platform that I shall not name here.

If I understand you correctly, you can do what you want to. Go in to the People Hub, tap a contact, tap the pencil to edit. Then tap the + next to their name. At the bottom of the list there is a "add Cortana nicknames" button. You can give any contact up to three different nicknames other than their contact name.
For example I can say "Call Lorena" "text the ball & chain" or "remind me to tell my wife the kids are over friends when she calls" and Cortana understands all those are the same person.

"ball and chain"... She does understand us British then lol

Also, she did ask me what relationship people with the same last name were to me.

I saw that, but here is where Cortana failed. I have a contact in there that is MY contact. Somehow, Cortana did not and does not associate that with me.

Ahh I see. That is kind if odd. Then again, what do you want her to with that contact. I could see how, if you have say, the significant other field filled, use information like that. Or maybe wish you happy birthday. That would be nice of her. Is that what you're getting at? If so, it would make a great suggestion.

I was just about to suggest, considering what this post is about, rather than saying "Cortana failed" and "what would be nice is...", why not send a suggestion then? I'll ask also, so long as I understand what you are suggesting.

I actually found this to be very cool because I never put in any nicknames and cortana knows all my relationships. For example, say "call my mom" and she will ask "ok, what is your mom's name?" Then simply give her the contact name once. She even knows the difference between text my sister and text my little sister (older and younger sisters, respectively). I like this method way more than adding it somewhere in a menu.

Just submitted feedback. Is Cortana recognizing shipping info from emails for anybody?

Not yet. I submitted the same thing. Package tracking

Install the developer preview then you can check..

Don't you have to pay for dev preview

Nope. Use an App Studio account to get it for free.

Nope not on my Lumia 925 uk yet. Would however like to have Cortana sit passively by until I ask her something rather than activate her by button.

All I want is a shortcut on my home screen that launches Cortana direct in voice mode. I know long press of search key does that but I would still like to see a direct shortcut without long press.

That is already a future Feature for Cortana. (Passive voice activation is what its called)

It's right there, plus they've added Places from Foursquare.

When is she coming to the UK?

This week if Microsoft wants to keep their promise.

I can't see it happening, there has been no publicity, nothing.

Microsoft doesn't understand what "couple weeks", "next week", "soon", "today" or "now" means They just use the phrases instead of "We Dunno"

Well a week last Friday they said "in less than two weeks", so I have my fingers crossed...

I just provided feedback on this but anyone else keep getting logged out of facebook in Cortana's settings?

I saw a phone with this feature a week or two ago....

Queue the "I want it in my country" chorus.

I'm still waiting for Cortana to hit the UK. I've restored my 1020 back to UK settings now!

I'm not seeing it yet. Edit: I'm seeing it now. I just finally got the local apps and son new section called best nearby.

I just got all of those too. :)

Saw it a few days ago. I've submitted a couple things since then.

ever since wp 8.1, I've had microphone issues. mine stopped working a month ago. the headphone jack trick is no longer effective.

What's your phone? Mine's a Lumia 925, and behaves like that.

Yep got it yesterday in Aus ;)

Everybody send feedback to bring Bing vision back to search button near music button.

Is that Cortana feedback?

I think so. Since music search is there like it was in the previous interface. Should work like Xbox One: "Xbox, read a code".

Here's my feedback; Release it in other countries

Didn't take long to put the needle back on the broken record.

Nah, the broken record is MS constantly promising this and that then failing to provide anything

It's not even out in the original countries. Geesh. 98% of the people who have of are on the preview. Plus, complaining on every thread here doesn't do anything to help. It's a process and it takes time and effort. If they could wave a magic wand and make it just happen they would. If they put it out and it wasn't complete, you'd all still complain.

I've been playing around with Cortana a bit today,and I haven't noticed that feature until I read this article.. Yep it's there! And I can come up with quite a few great suggestions!! Thanks Microsoft!

It's been there since the update that added local events...

No feedback section whatsoever :/

Yes, like local events she finds for you is nice! But when she shows you a event like for me yesterday arts and crafts festival in August there is no way to add to your calendar.

That would be good feedback. I hope you sent it in!

Please Cortana don't made me wait so long. Come visit Australia.. I miss you.

Great for everyone else but since I have a HTC 8XT, I don't see JACK F**KIN DIDLEY SQUAT!

It's there! Two weeks ago =/

I am letting them have it with this feedback function ;)
But really though, I've sent about 5 suggestions as well as a positive 'Like' review. I hope some MS dev will end up reading at least one of them.

Most definitely saw it, she also offers recommendation of nearby places.

She put a bullet where she shoulda put a helmet.

I want her to tell me what I want to know and answer me by saying hi and then my name etc... If I want to know what 987 x 675 then tell me and not send me to the web search.

I saw this a week ago, but I thought it was already added and that I was just getting out late. Oh well, still awesome that Microsoft is actively accepting feedback to improve Cortana!

I noticed Cortana does a new bouncy animation (new for me, at least).

I have not seen this new feature .... however, being from New Mexico, USA, I'm used to no one giving a rip about what anyone in "fly over" country thinks about anything!!

Well, release Cortana first before I can tell if that message is there

When I saw it I sent feedback

yes it's there! And I can finally add "best nearby" and "local apps" to interest list. Cortana is just getting better and better... I'm most surprised when she asked if my home address is my home. And told me she knows cos I'm at the same place every night. Got to love her....

Yes me too got this to give feedback to Cortana and I gave!

I just added that Cortana should work with college sports, not just pro sports.

We should send feedback, "I like how I can send feedback" lol

Seriously though, I suggested that driving mode be more in control by Cortana. Text replies only to those in the inner circle, etc.

NATIVE LANGUAGE SUPPORT ON NR. 1 WISH LIST!

We need one astonishing feature to cortana from Microsoft. i.e.., It will take our name in the settings to greet. for ex: if my name is 'Bintu'. Once cotana is opened it greets like " Hi Bintu how can i help". similarly, it should recognize the User's voice even once after installing the Cortana app. It should ask for a voice recognization from the settings to recognize particularly the User's voice. So, some answers for some questions are quite related to the User itself. For instance, If i ask cortana "whose your boss..?" it will answer "that would be you". at the same time if my friend or Someone asks the same question to the Cortana in my phone. It will says the same answer "that would be you". So, whose the boss to the Cortana which is installed in my device.? There's no difference between User and some other person. If it took my voice initially after installing the app. it would reply to my friend that "That would be Bintu" instead of "that would be you". So, Microsoft please work on it worth having this Option. Thanks, Bintu.

Aside from any gimmick it would be useful for Cortana to recognise users by voice. That way, for example, I could have safe search enabled for my kids and Cortana could respond to web searches from my children accordingly. You could also limit certain apps to just the phone owner as well (say, banking applications). Would take some doing though, I guess. Just releasing it would be a good start.

i don't have WI-FI at home, so if there is a way of making Cortana NOT to turn on WI-FI at home but at my work place only.

Yes, you can tell Cortana "When I get to work, turn on WiFi" and when you leave work you can say "When I leave work, turn off WiFi".

I can't get that to work for me

Sorry, I was mistaken. She can only handle "remind me to turn on wifi when I get to work" My bad. :-(

It's there since a long... I have given my feedback. Hope they will take action on it.

guys i dont have cortana here. how can i get it any one help me plz

Change your country/region to U.S

I want to know if there is a way to change cortana's current location weather forecast? Help me guys please :(

Yes, I have it and I made the recommendation to have Cortana acquire voice activation while connected to Bluetooth in the car so we can initiate text messages and phone calls without having to push the button. It is not very convenient to have to grab the phone and push the button while driving. Not very safe either. A simple "Hello Cortana" and she will respond "Hello 'person', how can I help you?" Then you say text/call/etc. Sound like a good idea?

We need Cortan to be as interactive as this vision of the future for TellMe: http://www.wpcentral.com/future-microsoft-tellme-windows-phone

Don't know for sure, but I believe that is exactly where Cortana is heading.

According to the headline: Your feedback is not good enough for Cortana, and Cortana is asking you to make your feedback better. :-)

Cortana FOR MEXICO!! COME ON!!

i had it, but it diapeared. as did two other new catagories. is there a way to reset cortana so that i can start fresh?

All I saw in the notification was "Cortana want's you to make her better", my immediate thought was - oh dear is she ill? She will have no shortage of carers :P.