Cortana can help you settle decisions with a virtual coin toss or roll of the dice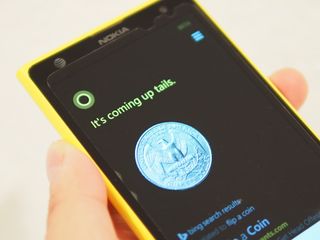 It appears that Cortana can help you make a quick decision on the go thanks to an update on Microsoft's side that brings with it the ability to flip a virtual coin or roll the virtual dice. You can now command Cortana to "flip a coin," "roll a die," or "roll the dice" with your voice. So the next time you're having a hard time deciding between pizza or burgers for lunch, you can settle the dispute with Cortana and have her flip a coin.
How do you intend on using the coin toss or dice roll with Cortana?
Thanks to Maen Maen for the tip.
Windows Central Newsletter
Get the best of Windows Central in your inbox, every day!
Chuong's passion for gadgets began with the humble PDA. Since then, he has covered a range of consumer and enterprise devices, raning from smartphones to tablets, laptops to desktops and everything in between for publications like Pocketnow, Digital Trends, Wareable, Paste Magazine, and TechRadar in the past before joining the awesome team at Windows Central. Based in the San Francisco Bay Area, when not working, he likes exploring the diverse and eclectic food scene, taking short jaunts to wine country, soaking in the sun along California's coast, consuming news, and finding new hiking trails.
This looks pretty good. No need for a Coin Toss app separately now. xD

Except the app can work offline.

When are you ever offline?

Not all users have data plans.

but i fly many planes.......

As a pilot you shouldn't make decisions with a coin toss. lol

He's say that is on a boat, and not that is the pilot of that boat. hahahahaha

I think he was answering to the guy who said "but i fly many planes......."

Hahaha :) good one ;) " flying - or stop flying " - cortana help me

"Ladies and Gentlemen, this is your pilot speaking. After consulting with my coin flip application, I've decided that we can indeed make it through the giant thunderhead ahead of us instead of around it. However, drink service will be suspended just in case it was wrong."

When you are in the wilderness after a plane crash and need to decide who to eat first, this would not be helpful :)

Last longer! No reception needed for that decision :D

Mark them from 1 to 6, and than roll the dice :D

When I'm going somewhere else

Hmm... A simple thing like this wouldn't take up too much data.

The idea is great however animation wouldn't hurt. For example... The Halo/Cortana becomes a coin or a die. IMO (similar to when she does an impersonation). Feels like they are getting lazy with these pictures.

I totally agree with you. Cortana should animate and turn into different stuff. C'mon Microsoft, make it happen.

Exactly, I would like cortana-lone minimalistic animations for dice and coin... also some offline features but... welll...

There's a suggestion section in the Cortana app at the very bottom. I say we do something about it.

well, it does.. i mean it shows a dice or a coin once you tell it to do it :)

Those animations can only be added with an update of the OS on the phone (they are local resources, not transferred individually), so all they can do on-the-fly by an only-server-side change is showing a static images. At least right now, perhaps this will be extended to dynamic animations with an upcoming update. ;)

If what you say is true then we have no other choice but to wait. We may not have the top market share but tonight, we will feast like kings!!!

Lmao! I like it bro! Let's feast!

Not true. It's all html5, from what I understand, and they could add an animated dice roll or coin flip if they wanted to.

I have the new iPhone and I asked Siri to flip a coin and roll the dice... There isn't even a picture. Cortana on my 925 at least has a pic. Also, I have noticed that siri's voice on new iPhone sounds different- less robot and more female.

We have higher expectations for Windows Phone (Surface Phone, Windows Mobile, MSN Phone or whatever Microsoft plans to rename it). Only because iPhone doesn't do it doesn't mean we should play the catch up game.

I was meaning I wish I had at least a picture on my iPhone like I do on my Lumia 925. I sell cell phones so I get a few per year. Me having an iPhone right now doesn't take away my appreciation and passion for windows phone. I've never had an iPhone so I decided to give it a go. I'm not disappointed yet. I have had WP since launch in 2010 w/ HD7. I'm just now fully grasping the lacking app and game complaint. I don't have any apps I want that I can't get on WP but there are so many enjoyable games that I am really enjoying on iOS.

I ever had to go back to another oS it would be an iPhone... Maybe

I find Siri to be more useful for day-to-day stuff. 90% of anything I do with Cortana comes back as a web search. I believe to be limitations of WP itself. An example: I say: Siri, setup a timer (or countdown) of 25 minutes, and it starts. Cortana returns a web search. Sometimes asking the time in a specific place (like: tell me the time in Santo Domingo, Dominican Republic) comes back with a web search result but Siri respond correctly. Now you can have Cortana speak all the Klingon you want, or having toss a coin. That is just novelty, nothing useful. If they are competing against Siri or Google now like this, I see how much WP will catch up. regards, a Lumia 930 / iPhone 5s user.

Weird. Timer would be nice but the same can still be accomplished with Cortana. "remind me in 25 minutes to _____" & I will get the time if I ask the same question however Cortana will not speak it. There's things that Cortana can do that Siri just cannot and vise versa. 90% just seems too high

I expected animation, too.

Great expectations my friend

Great idea. I've always been impressed with how she turned into random stuff. Using pictures looks kinda awkward and out of place.

I'm glad to hear I'm not the only one.

Wish i could say "roll a 20 sided die" or something similar -- she only rolls a 6 sided die :(

Go to the Cortana app and Suggest a 20 sided die/dice.

It should allow for all combinations. Like "roll 10d10" should actually get her to roll ten ten-sided dice. She should also make the results easily readable and allow settings for crit values that would refine the portrayal of the results.

except of the fact that the english cortana doesnt understand flip a coin.

Will the update be OTA?... AND when

Will we get it an OTA.... And when will it be available?

Pretty cool for small get together or spur of the moment situations.

Cool, the flip coin thing is pretty useful for me. :D I don't like options.

We are becoming mindless zombies enslaved by the ultimate AI :/ :D

I have Cortana call me "What are you doing Dave" lol

" roll 2 dices" doesn't work, lol

This isn't for the D&D crowd. She wont roll a d20 either. :( #Geekfail

"roll the dice" rolls two die

Roll the die = 1 roll the dice = 2

Indeed it works, but Cortana doesn't speak when rolling 2.

she did for me, maybe you got her angry?

This is totally useful for me, and will be used almost daily. I love that Cortana is updated on the fly all the time!

Kind of cool. On a side note, I never realized that Cortana recognizes holidays as dates to enter into the calendar.

Great!
So tomorrow I won't take fifteen minutes to choose my breakfast :)

Really frustrating seeing all this cool stuff Cortana can do, then trying it and it doesn't do it

It doesn't work for me either in Australia.

Yeah, the majority of the stuff that's been mentioned lately hasn't worked in Australia. Although I have noticed that with other ships when wpcentral mentions an update we tend to get it a day later, so perhaps the same applies here.

Also in Australia and also not working for me. Cortana still doesn't call me by name, either, at least not out loud.

Sure you folks don't have some trampled Australian bastardized name

It pushes things out in stages as opposed to all at once, so there can be a delay between when you get a new feature and when someone else does. Just hang it there!

Doesn't work for me either

So much missing from the UK Cortana too.

Awesome.... I hope the decision right..

If they add support for dice with 4, 8, 10, 12, and 20 sides it'll be much more useful.

How exactly would a 4 sided die work?

Easy, the sides are triangles. I too want to see this feature!

yes.. because every great decission has 4 8 10 12 and 20 options.

Useful for games like D&D that require dice rolls of various sides. D20 being the most common.

so thats why cortana should do that.. oh boy.. well .. that is really important.. analog role playing of dungeons and dragons.. yeas.. wonder why no one at microsoft thought of that.

That's not what I meant... How does a four sided die land on just one side... Unless it stops on its point, it is impossible.

Insteed of roll a dice, she made group of guys ... I still need some work on my pronunciation. lol

I believe you mean "spelling." And I believe you need more work than you think.

Spelling where you cut the word into letters,pronunciation is how you speak a word

I know my Englisch grammar is not perfect, but it is legible!
How good is your Dutch? :)

Considering the NFL is now using Surface devices on the sidelines, all refs could now be given Nokia 1520s to handle the coin toss. Would Fox Sports or ESPN be calling them iPhones?

Awesome but they shouldve done a Metro looking coin/ dice to match the UI.

That was my first thought, too.

Agreed. Same for other image responses too...

Same in Australia.. Not sure what's so hard about turning these features on in the ALPHA?. I've not seen any updates to what happens for the rest of us.

Cortana trying to flip a $2 coin and getting confused?

Nothing here.... 930 Aus :(

That's the point. Second class people always wait...

Doesn't work for me either. Canada.

Doesn't work in the UK either...

Yup. Said to her "Flip a coin." and it gave me web results on coin flipping. Awesome.

Going to need a 20 sided die added.

Seconded. But they should add dice with 4, 8, 10, and 12 sides as well if they add 20-sided dice to Cortana.

why would they .. give me one good reason..

Trust me, you don't want to know what some people have been doing with the poor innocent die/dice

"Roll two dice" would be cool to use when people think the Catan dice are rigged!

Roll the die for one. Roll the dice for two.

Awesome, this is really making windows phone a strong contender. This is excellent,

I love the frequent updates, I'm loving how windows phone is growing, I want a 930 so bad

I've got a roll of 'lucky number seven', having Cortana showing two dice for my 'roll the dice' command.

Dice is plural already. It's not dices its just dice. Die is singular.

Thanks, dude. LOL Didn't think about that when I was rushing to make the comment. Non-native English speaker right ->here

How did u would the question to get to work

Have you tried the suggested commands from the article?

Really see no reason for these things not to be enabled in Canada -_-

Maybe Cortana doesn't know that the Canadian federal government removed the prohibition on dice games back in 1999.

Jolly good show old bean.
Now wait for the pile of aluminum to arrive at your front door in a few hours. Have a good day/night and thank you for shopping the T-X store.

I assume his item assembles itself.

I was waiting for the big reveal too, sad British humour (note the British English spelling of humor)

Assembly not required, one time use. :3

It would be even better if there were an animation! :)

Doesn't work for me here in Canada.

I tried it but, not responding on Cortana Alfa.

Should I have sex with my friend's girlfriend? *Flips Coin*

How many times will you get shot by your friend when he finds out? *Rolls dice

Doesn't support "Roll 1d20". Less useful now.

i wish she replied faster

Kind of upset we can't say "Heads or Tails?"

Exactly... And, no animations... iOS, or Android definitely would've had animations... WP needs more flair.

Except that Siri has no image at all. Cortana already does more than Siri.

That's not the point, and always sticking up for WP isn't going to get the platform anywhere.. Save that talk for defending WP on other sites against trolls, and the uninformed... No need for you to toot MS's horn here... This is the place where we tell it like it is.. We shouldn't defend WP, makeup excuses, or sugar coat things here, because we have no one to impress in our own house.... The fact is that WP needs more flair.. If the competition has it, then it should be available for those who want it in WP as well...

Was thinking about this the other day. My gf has the S5 and her phone has all these additional animations for things that add extra "flair" as you say to the phone experience. Little things like when the phone is off and charging it shows a bottle filling up with bubbly liquid.. So many little things like this I notice on her phone that I wish WP had it's own version of.

Yeah, but some WP fans would say that they don't want this, or it would clutter the OS, and that it would drain battery power... So closed minded, while iDroid fans are enjoying everything..... I hate old, closed minded, WP7.0 thinking WP fans... This is almost 2015, and its time WP had everything to offer..

Sounds like an adult game to me.

Yet another feature not available in the UK.

I will use this to make all decisions in life... Uh oh...

Can we use cortana in casinos now? :)

U might be missing the live tiles specially.

Bing personalized predictions would be awesome.

Next up, Rock-Paper-Scissors? Then Rock-Paper-Scissors-Lizard-Spock!

The coin toss and single die worked for me but "roll the dice" seemed to cause Cortana to ponder endlessly.

Roll the dice worked for me

That's an ugly screen guard on the phone!

I would like a "shake to" option once the dice or coin is showing to "flip" or "roll" them

Yeah, good idea, or to begin another roll

How i can update Cortana?

Not working on Canadian Cortana.

This is because cortana in canada in in alpha version

Unfortunately Cortana cannot do anything at all for me as it apparently is not part of WP 8.1 & Lumia Cyan official version in Canada, for some mysterious reason that only MS knows. MS is SOOOO sloooow.

Cortana Beta or USA Alpha Only

Liked it but instead of giving this things MS should first give Cortana to as much all countries and give updates to alpha and make it well equal to beta US Cortana ...

And then she will become a mess like Siri

Release Cortana to everyone... This is just stupid.

We need a sticky post or a blog post about all of the miscellaneous thing Cortana can do. Or do we already have one?

Good idea, get started bitch

Cortana does everything but virtual assistant things

But it's a slightly quicker method of starting a bing search. Everytime. For everything. She's also useful for me as I'm constantly forgetting my name and where I am so having to type those things in several times each week is a good reminder ;)

Maybe they will update the uk one soon, roll the die, ok playing previous track. Cortana I'm ill, ohh if you had the us version of me I give you a response but not here in uk sorry!

That's cool for playing trading cards games like Yu-Gi-Oh

Seems like not available on alpha version

Okay, that's it, I'm going off Alpha X-(

I miss Windows Phone. Just got an LG G3 not impressed at all with android! T mobile needs a much bigger selection of high end Windows Phone devices. I want the lumia 1520 but i need to wait until later. I love the phone itself. Is there anyway to remove android completely and install Windows Phone 8.1 guys Posted via the Windows Phone Central App for Android

Lumia 1520.3 works fully on Tmoble. No need waiting. It's the unicorn version of Lumia 1520

Too bad Cortana uk can't do it yet

I got really excited about this cause I was hoping she would role a 20 sided die...

Kinda unreliable. Heads six times in a row... Couldn't believe it after three times and kept going.

I wouldn't call that 'unreliable', it's called random. I've flipped a physical coin 8 times with the same result. Try not to mock randomness ... its real

Would be better if it was animated enough..

Fun concept. Should def be animated.

I'm going to settle disagreement with my girlfriend

Hmm, US only? Not working in UK.

Not working in alpha version India..

Waiting for Cortana to get integrated with watsapp. We need that.

+1 but this is whatsapp's job to integrate it

Really been very long for windows phone update now. Watsapp is not crashing on my phone but sometimes it becomes very slow to open the app from the action centre. We need watsapp to be more optmized bcoz that's the main thing ppl buy smart phone here in India mainly for watsapp. A better watsapp with more integration is the backbone of WP.

WhatsApp lacks many features comparing the app on windows phone to IOS and android. It has been a while where no update for WhatsApp Available for adding important features.

And Cortana integration will separate features what others will have on their operating systems.

I'd settle for a decent personal assistant that won't just give me web searches or can only give me reminders with an alarm that is barely audible.

Dang! I need this... but it isn't on the Australian Alpha build yet. HoHum.

Nothing is on the Australia Alpha build, it is a bit poor.. Reckon it will be in Alpha for ages.

This is just amazing. Many of lifes most complex dilemmas can now be resolved by smartphones. Looking forward to the end of many wars, conflicts and political struggles. Plus we'll finally have an answer to that age old question of 'shall we have pizza or curry for dinner?'. Bless you Cortana and thank you Microsoft for another amazing feature that I as a UK user may never get to see once my contract runs out. [/sarcasticmode]

Kebab or burger? Cortana help!

You don't need Cortana to help there. The answer is 'both'. In similar situations the answer is always 'both'.

I want Cortana to have a Bing Getty images. Have to turn off Cortana for that.

Wish you would say if these are for usa or world wide

Hey sorry, I used the browser version couple of mins ago & when scrolling up accidently hit the report icon on yur comment. Apologises for that :)

This is all very nice, but when is Cortana going to be officially released and how log will it take to reach us when it is???

It doesn't work in alpha version :(

Doesn't work in Australia

Yep, pathetic. Apple and Google release their advances globally, Microsoft fails everytime. Getting sick of it and I'm always been a big supporter. Hmph.

... not at all, because Cortana does not exist in Sweden.

Nope does not work! All she seems to do is throw web pages at you. Outside USA cortana seems practically useless! No wonder MS gets a bad reputation

Your mothers got a bad reputation, but you still love her

US only? Getting pretty tired of this, unless Windows 10 amazes me, I'll be considering other ecosystems, if you can call windows an ecosystem right now. Cortana outside the US is pretty pathetic, doesn't even have voice acting, just terrible robot voices.

If only Cortana wasn't in beta..
.

Try alpha here. Apparently the metric system is too hard for the all american Microsoft. Gives them an excuse to give us half the features.

Please, just leave now. Why wait? Just go, get the fuck out

Wtf? No need for real coins any more? They can stop making them altogether!

Lucky you... I don't even have cortana yet cause TMobile is lagging is so bad. Lumia 925

Does not work in UK.....why not!!!

Second class citizens. Hell, our American ragtag group of farmers beat your asses. Remember 1776 bitch

Shame you can't run a country though with total public debt of $17.6 trillion or about 103% of Q1 2014 GDP.

I'm just playing guys/gals

article on flipkart sale?

Only for US so far, I'm guessing. In the UK and doesn't work. We don't have song lyrics either.

In the UK we can do a bing serach for "flip a coin", second link is an app that you can download to flip a virtual coin but it's not a windows phone app. What a steaming pile of **** this really is. Let's be clear unless you are living in China or the States Cortana is a TOTAL WASTE OF TIME!

Well, I don't live in the US, but use all the latest Cortana features by simply switching my region to US. You could try that, too.

Even I have done that. But they need to change things for other countries too.

I'm in the UK with UK settings and main Cortana functions work. Not too bothered by coins/dice not being available yet.

That tells me your standing in the world. Second, maybe third class behind Sierra Leon

Some say you Americans know of nothing outside of your backyard, and you prove them wrong with your enlightening comment above. God bless Americans.

Easy, I said I was playing. You are correct. Everyone gets their ass handed to them at some point

This is gonna come in handy for board game night or for the Pokemon TCG.

Does anyone know if Cortana is available in UK on O2? I still do not have it

If you have 8.1 and Cyan you can download Cortana and it will work.

How about rolling out to more countries and moving the UK/Australia etc to the beta level and then add more functions?

I'd much rather they focused on practical features that improved functionality like a countdown timer, unit converter, currency converter etc instead of gimmicks like these. Has anyone noticed that Windows Phone still doesn't have a fully functional countdown timer which works in the background and on the lock screen?

+1. How about it turning off the only alarm that is on without it asking "which one?".

Fixing the problem when I lose my Monopoly dice... But yeah, working offline will be pretty handy, because I sometime play Monopoly where the signal is not strong enough to get 3G (in my granparents village for example...)

Doesn't work in the UK. Cortana keeps Binging the shit out of every single voice command. Useless.

So... Rolling 1d6, that feature is even underdimensioned for monopoly. They don't have anyone at MS who has played a game made post-ludo?

But why is the screen protector like that???

can I please ask every time news on Cortana is released it is marked with the region it is available for? Every sodding time I get excited it doesn't work (us only)

I think my Cortana is broken. None of the cool stuff from the past few weeks has hit her yet. Sadface.

Lol, another "useful" update.

I wonder when uk version will catch up with the American version? Theres so many features I can access if I switch region to US but they don't work on UK version

Doesn't work for me, I'm in the UK:(

Tried this and it just done a search. Do these features only apply to particular regions? UK user here.

Well I'm gonna play parches with Cortana!!!

Flip a coin does not work.,stop telling readers that Cortana has all this added functionality. Every single time I read an article and test the supposed added functionality, it NEVER works.

I can confirm both working...yesterday. I've heard of this working for other users too.

Doesn't work in U.K. yet!

I just learned about this yesterday! I did not know of it was a new feature or not though :/. It's pretty cool though!

Cortana always gives me heads. It's supposedt o flip a coin. Not show the same head everytime. And Cortana doesn't understand when I say, "roll a dice".

Tired of hearing about what Cortana can do and not do. She couldn't do anything on my phone, Lumia 1020 in the UK, as she has not been........... Well you know what I'm going to say! WTFRU!!!????

100% agree... Have to admit I'm losing faith w/WP in general, seems like we're always in beta mode with devices and updates taking weeks/months to reach all (if they ever do), if this pattern continues I can see many moving on and I could very well be one of them.

If I can't tell her to roll 1d6....

I am unable to get the command, its searching instead

Wonder if they'll expand the die roll to cover D&D die sets :-)

Wow.. She sings and flips coins... This is what MS interviewed so many real life assistants for? :|

Microsoft just needs to put out some commercials positioning Cortana as the ultimate aid for gamblers.

I dont understand, it supposed to be universal, works on every phone in any region. It's Just like OTA uupdates, not everyone can get.

I dnt see how this helps on makin my life easy

Still waiting for Cortana over here, in this far and forgotten place we call Europe, so... No digital coin tossing for me.