Cortana chief Javier Soltero reportedly departing Microsoft
Soltero originally joined Microsoft in 2014 with the company's acquisition of Acompli.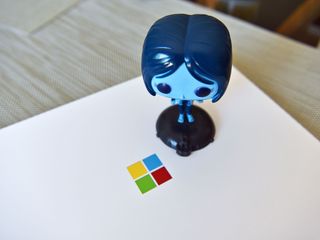 (Image credit: Windows Central)
As Microsoft continues to shake up its internal teams with a reorganization effort that began earlier this year, another executive may be on his way out: Javier Soltero. According to a report from ZDNet's Mary Jo Foley, Soltero, who currently leads Microsoft's Cortana efforts, is set to leave the company by the end of the year.
Soltero originally joined Microsoft with the company's 2014 acquisition of Acompli. After heading up Outlook for several years, Soltero was moved to lead the Cortana team earlier in 2018.
According to ZDNet, news of Soltero's departure has been announced internally. Foley reports that Soltero plans go "back to doing entrepreneurial activities" after he leaves Microsoft.
The move would appear to be a part of a bigger bit of shuffling Microsoft is doing around Cortana as a whole. In October, reports indicated that Cortana has moved under the purview of the Experiences & Devices and Office teams.
The reported reshuffling of Cortana management away from the AI + Research team aligns with what my colleague, Windows Central Senior Editor Zac Bowden, reported earlier in 2018. At the time, Bowden noted that Microsoft's view of Cortana has shifted as the assistant has lost ground to Amazon's Alexa and Google Assistant. Microsoft is said to be looking to repurpose much of the work it has done on Cortana, using its AI backbone across its services.
Dan Thorp-Lancaster is the Editor in Chief for Windows Central. He began working with Windows Central as a news writer in 2014 and is obsessed with tech of all sorts. You can follow Dan on Twitter @DthorpL and Instagram @heyitsdtl. Got a hot tip? Send it to daniel.thorp-lancaster@futurenet.com.
so Cortana will eventually get trashed, thanks to Nadella's amazing efforts on Mobile ... so wonderful /s , btw I still own a WM10 device, unfortunately whilst Microsoft's other departments are on the rise(which is a good thing), but certain small factors like this will kick in like cracks in the walls of a basement, cause right now, what we see is what happens when you don't have a hand held device that requires an AI help to make it more efficient/productive, since PC's don't really need this.. and it just keeps on becoming irrelevant while the competitors keep pushing up their mobile efforts.. included that google did their best to monopolize the market, enjoy that stale notch ..oh wait double notch, while the other guys ..they just keep making those screen larger and not changing much of anything ..are they now ? .. Welp

I still have my WM10 devices but moved on to a BlackBerry Key2. With first party apps paired with Microsoft offerings it blows WM out of the water. Sure the UI isn't as great but everything else overshadows it. Cortana sucked for XBOX and is terrible for my WM devices so I never missed it. I even keep it disabled for Windows 10. I'm actually happy to see a shake up because Cortana was the biggest disappointment for multiple years.

That's not a sign that Cortana is about to get trashed.
The guy was at this position for less than a year, the current direction of Cortana was already set.

It sounds like that direction has changed and they do not need him anymore.

Amazon doesn't have a mobile platform and seems to be doing more than fine with Alexa. Can't blame Windows Mobile for everything. Cortana was mismanaged from the start.

Yes, I said this before and will say it again. Alexa has the most market share right now and has no dedicated mobile device, so Windows Mobile was not at fault (This time) however announcing the Invoke then not releasing it for over a year, then killing Groove a week before Invokes launch, then not doing much to better integrate it with Xbox (No voice remote). They even had plans for a home hub before Amazon or Google yet never released it. This all did far more damage than not having their own mobile device. MS is most of the time its own worst enemy.

Agreed. It's starting to look like their business model is to help other companies succeed. What with the whole "oh look at this neat gadget idea, let's see if one of our competitors release it so we can move on to dreaming of other things."

If you go to Bing search, ask for technology news, MS doesn't even come up in one article... It's all, Google, Amazon, Apple, Facebook, Samsung, Google, Amazon, Apple, Facebook, Google, Amazon, Apple, Facebook Samsung.... 🤔🤔🤔

Someone, quick, check that guys pulse, he might have been dead for a year, seeing how Cortana was neglected...

Great, Cortana shouldn't be a separate app. It should have been integrated with Windows and Office long ago. It has been years since I commented that it is stupid to have Cortana as an assistant and a separate notifications pane as well. Much less should Cortana have duplicated functionality like Reminders. Reminders are to-dos. Msft To-Do should have Cortana skills. Move Msft, it all takes far too long and the competition is not leaning back, you have lost far too much ground in many things already.

Well when they first launched Cortana it was meant to be a standalone and would've competed with the likes of Google Assistant and Alexa. Unfortunately, that ship has sailed now, so they have no option but to make Cortana a clippy for Windows and Office.

Actually I can say that I'm not sad to see him go. I don't think his heart was into it and there seemed to be dearth of progress on his watch. Hopefully the new owner will breath new life into this product and bring her to where she needs to be.

Another consumer facing feature about to be turned toward the enterprise. Cortana is the next Kinect. Retired from the consumer sphere ahead of its time.
Relegated to Azure CNTK / ML / AI, just like Azure Kinect. JUST AS I SAID TO DANIEL RUBINO TWO YEARS AGO when he insisted it was here to stay.

RIP Cortana. Give us back Windows 7 like searching in Windows.

We do have Windows 7 like searching though ...

No we don't. Windows 10 search results are inconsistent.

What did Soltero so for Cortana? Please explain, because I think this was wasted money.

He was hamstrung I believe by "cost saving measures", just like the Surface team with the Surface Pro 6 hence no USB-C.

This will be the next MSFT abandoned product. As usual, MSFT is first out of the gate with innovative tech, only to let others take the lead. I am way into Alexa with all my devices and Cortana is an afterthought. Even my 11 y/o son doesn't even bother with Cortana on his XBox and prefers Alexa.

Cortana was no where near first in anything.

This is a very nice post. Thanks for sharing with us. Keep it up. Microsoft Helpline Phone Number | +1-877-353-1149 | Microsoft Help desk, Technical support is the need of each growing market for hours to solve the issues. Technical support is the need of each growing market for hours to solve the issues you're facing in mins. Microsoft products are the quality products of software market that dominated all other application to be had within the enterprise, any trouble related to Microsoft merchandise feel free to contact Microsoft helpline phone number guide telephone variety every time.
#microsofthelplinephonenumber #microsofthelplinenumber #microsoftcustomercarephonenumber #microsofttechnicalsupportphonenumber
Windows Central Newsletter
Get the best of Windows Central in in your inbox, every day!
Thank you for signing up to Windows Central. You will receive a verification email shortly.
There was a problem. Please refresh the page and try again.