Here's how Cortana will never let you miss a concert by your favorite bands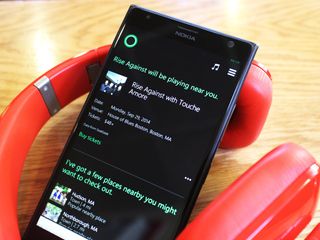 Cortana knows what music you like and is now giving you a heads up when favorite musicians are playing nearby. It's a new feature called 'Concert Watch' and is inside Cortana's Notebook. You might not see it yet, but it is starting to roll out to users.
Concert Watch will let you know when favorite artists are playing shows near you. It's a cool way to keep tabs on your favorite musicians without needing to check their tour schedule constantly.
You can find the feature by launching Cortana, going into Cortana's Notebook, select Interests and then click 'add'. You'll now see the various categories within Cortana's Notebook that you can customize. Among the lineup of Daily Routine, Finance and others you'll now see Music.
Add the Music interest to Cortana to get notified when favorite artists are playing shows in your neighborhood. You can even buy tickets for that show!
How Cortana knows what artists you like is beyond us at the moment. Maybe the 'heart' feature in Xbox Music was used for something after all. As of right now, you can't specify which artists to track in Concert Watch, it just automatically does it for you. Hopefully, we'll have the ability to select artists in the future.
Data for Concert Watch is coming in from SeatGeek (opens in new tab), a ticket search engine that has data for over 233,917 artists, 69,215 venues and over 140,000 events. SeatGeek is a recommendation engine that suggests upcoming events based on your personal tastes and musical interests.
For now check to see if you have the Music category in Cortana's Notebook. Don't see it yet? Don't worry, the Cortana team rolls out new features to smaller pools of users at first before rolling it out to everyone. Right now I don't see the Music category, but Daniel does. You'll also find him at that Rise Against show in Boston tonight.
Thanks for the tips everyone!
Windows Central Newsletter
Get the best of Windows Central in in your inbox, every day!
If you can put up with seeing weather reports in Fahrenheit, just switch your region to US and you'll get all the features. I use the Bing Weather app, which let's you configure it to use the worldwide temperature standard of Celsius, so it's no big deal to use the US region to be able to use all the great features of Cortana. Wish they let people choose between Fahrenheit and Celsius in Cortana though.

Downside to this is that you cannot download songs trhough Xbox music. Alao you cant buy any apps because it doesnt allow you to use Canadian payment methods. Unless there is something I am doing wrong...

You can download songs if you have an Xbox music subscription but you are correct otherwise. It's a PITA to switch back and forth so I just use the plain Canadian version of Cortana.

I was running the US version until the Canadian one was available and I figured out that you can buy apps via the website.

If I add them here, will I still get news like I do as if i'd added them to interests, or is this strictly for concerts?

Concerts only, and it picks and chooses artists (from your music tho), you cant select artists tho.

Only on dev preview sadly

I cant see the music interest in Cortana :-(

Yeah, me either. I'm not sure how long this rolling update should take to get, but I want it NOW!

Nice band for the picture, love Rise Against.

Sam, let me just say, great choice of music.

*edit. Read the post. Daniel has a great taste of music.

BUT I ALSO LIKE RISE AGAINST! GIVE ME SOME LOVE

I don't agree with all their political messages in their songs, but they are really great from a music standpoint.

I got this a few days ago in California.

I'm here in Los Angeles and I don't have it... Yet

Go to Cortana's interests and add it.

Not there. At least not 3hrs ago

This is the best thing ever. Very happy to see this!

W000t, this is a great feature, can't wait to use it. Right now I use a third party system which sucks.

Nokia Icon on Verizon, I'll get this feature in 2 years.

Cortana updates are not based on OS updates so you shouldn't have a problem getting it

I dont have half of the Cortana features wpcentral keeps teasing me with. How do you force update cortana. Also got a Lumia icon but it is unlocked and with a tmobile SIM card, in the uk

If i had to guess it's because you are in the UK; new features are released in the US first and slowly rolled out to the UK. But i am sure there is someone that is more qualified than me to answer this question.

Thanks. My region is all set to US so I get Cortana as I cannot get Cortana with UK settings, even though she's available in the UK.

Update 1...? Also, I use Cortana with US settings in Germany. I seem to be getting all the new things quite swiftly, including this one. (although reading the article a week late...)

Another feature in Music should be an alert egen new albums or videos are released.

Agreed. I don't understand how the Xbox Video live tile doesn't update to show when a new episode of a show you have a season pass when they become available.

Still waiting in Portugal! :-(

Too bad my favorite singers are dead

You can go for tribute bands :)

Waiting on this. AT&T Lumia 1520

Don't have it yet... Damn it!

Which phone is that in the pic?

Will Cortana buy me tickets?

If only Cortana could remember my wife's name. Every time I go through the process, she says "Ok, I'll remember that next time" only for Cortana to ask me again a few days later, "Ok, what's your wife's name?" 1020, Preview for Developers

Dunno if this will help or not but if you add your wife to your inner cicle and specify one of the nicknames as "Wife", that may fix it.

Thanks for the response! I've tried that before. For some reason, Cortana would always remove her from my inner circle over time (my brother always gets removed to). However, this time, I decided to put wife as her 1st, 2nd, and 3rd nicknames. We'll see how it goes!

Maybe Cortana's trying to tell you something

I wish Microsoft would stop it with this stupid rollout garbage. When I read about a new feature, i expect to use it NOW.

Agreed. And they wonder why they lose to Apple and Google. Need to get things done.

Come on! The only thing missing on Windows phone is better app support!

Waiting for Cortana to roll out here in the Netherlands. Will it be anytime soon I wonder... :)

I've had this feature for a couple weeks now but still haven't seen any concert updates. Wish I knew how to add musicians to follow

Still waiting for Microsoft to upgrade Cortana to beta status in Canada so I can actually, you know, do useful things.

Ha! Same situation in India

Only 2 categories in Australia, it may be Alpha but they haven't improved it st all since it launched...

I want the alpha version in India to convert currency and function as a world clock. And this as well. And do impressions.

This is a brilliant addition.

Can't wait for Beta in the Great White North! This and the transit info would be great.

Thanks . I still miss this feature..... I love u cortana

Awesome. Siri, "I can't do that."

I hope that means Cortana can hook into other apps like Rdio for this. I'm on a Nexus 5 right now but want to come back to WP, that would be an awesome feature to have.

What heart feature in Xbox music. I've never heard of such a thing!

No joy for Ohioans. Music is not an option.

I have no idea if Coldplay is even thinking of coming back to Brazil. Oh well, it can't hurt to dream...

Rise against! nice choice, great new feature as well.

Can't express how happy I am to be finally a part of these Cortana updates as of recent HTC phone update.

No joy here in Alabama on Cricket Wireless

The only interests I can select are news and weather.

This isn't showing up on my device yet...why?

I always think on Rage Against The Machine every time I read Rise Against...

I'm not seeing the music option in Interests. It's really not there. Using a Lumia 822 with WP 8.1 Update 1 Developer Preview (v 8.10.14176.243). As I understand, Cortana updates are done on the backend, so my specs probably don't matter in this case. I am in the US though. Would love to use this feature! Hopefully my area gets the backend update soon!

Boy, I sure could've used this feature FOUR FREAKING DAYS AGO! D:

But I asked for smartwatch

Wandering when will cortana will come to Malaysia.... Is she willing to come or not??? LoL!!!

I wonder if album release info will be coming next. They already HAVE that data, so I'm a bit surprised that wasn't included.

This is what I'm talking about. When we filter things through OS it makes WP much better and nite attractive. I wish they would have kept People and music hubs like this. This is great news.

Off topic: Anyone knows about sick voice feature guide?

When is cortana coming to South Africa m tired of using the US region

I'm guessing it'll work similar to Nokia recommendations by going off of what you listen to (in this case Xbox music, or any other music programs that utilize Cortana I guess).

Unfortunately we have no Cortana yet

Sadly.. Music Xbox doesn't work in our region..

So, is this feature only available on devices running the latest developer preview? If so, it might be wise to highlight this whenever a cool new devpre feature is highlighted.
Windows Central Newsletter
Thank you for signing up to Windows Central. You will receive a verification email shortly.
There was a problem. Please refresh the page and try again.