Here's how Cortana will never let you miss a concert by your favorite bands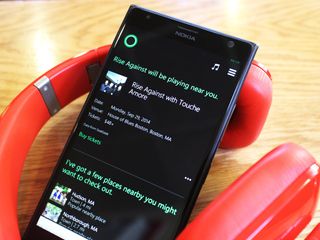 Cortana knows what music you like and is now giving you a heads up when favorite musicians are playing nearby. It's a new feature called 'Concert Watch' and is inside Cortana's Notebook. You might not see it yet, but it is starting to roll out to users.
Concert Watch will let you know when favorite artists are playing shows near you. It's a cool way to keep tabs on your favorite musicians without needing to check their tour schedule constantly.
You can find the feature by launching Cortana, going into Cortana's Notebook, select Interests and then click 'add'. You'll now see the various categories within Cortana's Notebook that you can customize. Among the lineup of Daily Routine, Finance and others you'll now see Music.
Add the Music interest to Cortana to get notified when favorite artists are playing shows in your neighborhood. You can even buy tickets for that show!
How Cortana knows what artists you like is beyond us at the moment. Maybe the 'heart' feature in Xbox Music was used for something after all. As of right now, you can't specify which artists to track in Concert Watch, it just automatically does it for you. Hopefully, we'll have the ability to select artists in the future.
Data for Concert Watch is coming in from SeatGeek, a ticket search engine that has data for over 233,917 artists, 69,215 venues and over 140,000 events. SeatGeek is a recommendation engine that suggests upcoming events based on your personal tastes and musical interests.
For now check to see if you have the Music category in Cortana's Notebook. Don't see it yet? Don't worry, the Cortana team rolls out new features to smaller pools of users at first before rolling it out to everyone. Right now I don't see the Music category, but Daniel does. You'll also find him at that Rise Against show in Boston tonight.
Thanks for the tips everyone!
Get the Windows Central Newsletter
All the latest news, reviews, and guides for Windows and Xbox diehards.