Cortana appears on The Tonight Show, Siri isn't happy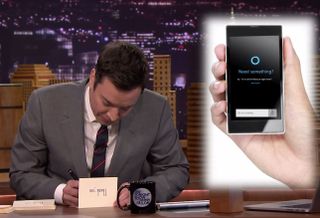 While it hasn't been made official by Microsoft yet, Cortana has been mentioned last Friday on the Tonight Show Starring Jimmy Fallon. The forthcoming intelligent personal assistant for Windows Phone 8.1 got a 'Thank You' note from the show's host. Watch the segment after the break.
Jimmy Fallon says:
It's still unclear if Cortana will be the official name or if it will be called something else when announced in April. In case you missed it, a leaked video of Cortana has already surfaced. We're really excited about Windows Phone's upcoming voice assistant, and we look forward to its official announcement.
Are you ready for Cortana? Sound off in the comments!
Thanks for the tip, SB5!
Windows Central Newsletter
Get the best of Windows Central in in your inbox, every day!
Oh wow lol. Jimmy Fallon is actually kind of funny to me.

He mentioned earlier in the week as well: http://winsource.com/2014/03/06/cortana-on-the-tonight-show/

Too bad the gold iPhone toting audience thought Cortana was the joke.

And what would give you that impression?

Hmmm... Did you click the link I responded too?
The crowd starts laughing when he mentions Cortana, long before the punch line.
Anyway, just watch the video.

I think you're pulling something out of nothing. I watched it when it aired and just watched it again and I think you're kind of full of it. Later in that video, they laughed before he made "The Bachelor" punch line, but that doesn't mean that everyone in the audience thought the joke was Juan Pablo. A few audience members laughing means nothing, especially considering the fact that you assume everyone there had a gold iPhone.
Anyways, stop being a drama queen.

Who pissed in your corn flakes?

*sigh* I guess discussions aren't your thing. Bye now.

Discussion? You about started crying because my observation didn't match yours.

Tanglewood, move along please.

Who died and put you in charge?

Well, I did "move along"... but since you decided to chime in, I think I'll respond some more.

So JAS provides a well-written, non-confrontational counterpoint to your statement, and you respond with a sarcastic remark? And then you claim he is the cry-baby? Hmmm ...

Yeah, name calling is real non-confrontational.
How do you like that sarcasm? Or wait, were you being sarcastic?

Jas said to "stop being a drama queen", which is in every way confrontational and in no way something you just slip into normal discussion.

I know someone who lives in a Tanglewood St :D

Maybe that's me... nah, its not.

You come across as an iTroll. Bye bye.

Maybe you should improve your reading comprehension.

Someone came over and just whipped out his penis and took a leak eh

They probably laughed at Microsoft for releasing it so late..or may be the idea of him thanking Microsoft was funny to them.. :D

They laughed because of the way he pronounced Cortana. If a comedian pronounces a name in a funny way, audience will always laugh.

They laugh when the signs facing the audience tells them to laugh.

Please don't bring common sense in here. We can't handle that sht.

John Travolta's joke will go on for some time after the Oscars.

THE NEXT BIG THING 2014: CORTANA vs APPLE's and SAMSUNG's MOVE ON HEALTH!!! http://forums.wpcentral.com/windows-phone-8-1/266878-next-big-thing-micr... Hey WPCentral dudes and dudettes(are you out there?) I started an interesting forum right here at our favorite WINDOW PHONE SITE. Listen, SAMSUNG and apparently APPLE are going ALL out with HEALTH and WELLNESS this year with thier devices and watches. Me, I think thier trying to make that THE NEXT BIG THING! Our favorite company Microsoft, well they have no horse in that race but they have CORTANA, which has been trending pretty hot and made it TWICE to the TONIGHT SHOW. So listen, the forums hot and ready for some dialogue, can MICROSOFT pull it off, can they introduce a REVOLUTIONARY AI digital assistant that not only knocks the socks off of WINDOWS PHONES fans, BUT EVERYBODY!!! Will it shut SIRI up and make Google Now, Google NOT!?! Can it rule the mobile dialogue in 2014 and actually be the IT feature that makes peoples of ALL TYPE and CLASSES say I WANT A WINDOWS PHONE?!? We haven't seen "her" in full action yet, but "she" looks/sounds promising! Can this finally be the very basic rudimentary seeds of what we recognize and hope for in digital assistant AI, like KITT! Look, head on over to the WPCentral forums, share you thoughts, will Microsoft's CORTANA be THE NEXT BIG THING?
http://forums.wpcentral.com/windows-phone-8-1/266878-next-big-thing-micr...

Why ARE random words IN capitols? IS YOUR keyboard BROKEN or something?

Hey elderjlward, I like that you discovered these wonderful things called forums. Typically, whether or not you know this, people will go in and read them if they sound interesting. There really isn't a need to hijack a comment thread to promote your forum thread. I get that this article is about cortana, but what you're doing is obnoxious. Thanks for your time.

I found it funny too and I usually hate American comedy.

What countrie's comedy do you find funny?

Please let it be called cortana such a great name

Totally agree. Don't fix it if it ain't broken MS.

Fixing something thats not broken is called "A Update", without updates we would be no where in the techonolgy world. So thank people next time they "Fix something thats not broken"...

I was referring to the name cortana. That's already imho perfect and has deep meaning to lots of people. Not sure if giving it another name would be as powerful.

@ least its not as bad as Rogers ivr Melanie

Actually it would be "an update."

No, "updates" just means changes. Can include fixes and/or additions. Can add do an update yet still not actually change anything.

If in doubt, check Chrome updates.

I get the significance behind the name. I personally would chose one that sort of gave the service its own identity. Not everyone (myself included) has any attachment to Halo.

It just seems to be a great name though. It has popularity that WP can use...and the whole meaning of Cortana in Halo being a smart and witty AI assistant is perfect!

I've never played Halo, but Cortana is one hell of a name

Never played Halo (never even owned an Xbox), but Cortana sounds like such a bad ass name. Plus, due to its association with the (very popular) Halo franchise: it could pull in massive amounts of free press and attention. You know: the kind Apple gets, due to all the buzz any time they release something new. So full speed ahead with Cortana, I say. Besides, it's been rumored that, in addition to changing what Cortana calls you: you can change what you call Cortana (I.E: Jarvis).

Cortana could do just that. For those who haven't heard of Halo, Cortana will just be the witty name for Microsoft's assistant. For those who play Halo, it will be familiar. It'll be well known for its uniqueness, whether you play halo or not.

I was hoping, and suggested, they call it MAISIE... Microsoft Artificial Intelligence on Internet Explorer Posted via the WPC App for Android!

Where the "S" in that acronym description?

Yeah,I feel like my 1520 is out of date, lacking, and old, since 8.1 came out EDIT.. Was leaked... I want a real WP device!.. I need this update NOW!❕❕❕

Wait, what? your 1520? Old? Ok help me on this... i still dont understand fully how Nokia numbers their products... What phone SPECIFICALLY, are you talking about? Becuase I have a a Lumia 1020, its like brand new is it not? Well, one of the new ones... so why are you saying your phone is older? Or, is there a "non Lumia" version of the phones, and your talking about a older version of the phones when they where NOT in the Lumia state? Please help me on this.. im lost lol Thanks

He's not talking about the phone itself but about the OS.

So whats stopping him from updating? Cant the 1520 Update to the most recent updates? My 1020 Can, why woudnt his?

Gosh... He's talking about WP 8.1!

It's a joke, dude!!!!... Lol! I just want the update.. I was being totally sarcastic.. No, I do not think my 1520 is old at all.. It's got higher overall specs then some top of the line Android phones that have yet to be released..

Do u know that Windows Phone 8 that is currently on ur brand new Lumia 1020 is kinda beta version of the OS? He means he wants the WP8.1 update, which will be available between April-June.

Lol❕❕.. I was being facetious, my friend... It's just that WP8.1 makes WP8 look like childs play.. Get it??❓

I think that some people woke up grumpy today e.e

Thanks, and everyone... I GET IT... I just recently moved to Nokia and Windows Phones, and thought there was some older version of that phone.

Moved from Android, iOS, or feature??❔❔❓❓

Welcome to the club, hope you would remain loyal and faithful to Lumia family and the Windows Phone clan. Rodney will baptize and indoctrinate you in due course.:-)

Nice to see someone on board :)

you are rich Rodney , do send me your outdated lumia 1520 after windows phone 8.1 new devices are available in stores :D

Sure... I'm on at&t's next plan.. You can have it in December when I get my new device,, the 6.5" Lumia 1530❕❕❕❕❕

That's funny! Tell another one!

Wow at the level of exposure. Another reason why the name Cortana was the best thing MS could have named their PA.

You mean private investigator? Lol just joking

Wow satya nadella commenting on wpcentral.

MS is pumping billions into this. There are so many programs out there sponsored by the surface or WP, but most people still don't seem to have any idea of what it is.

Billions? What is your source?

No source, just observation. Most large corporations spend billions on advertising, and with MS being one of the richest, they do as well. I've personally noticed an major increase in MS advertising the past few years, and it's because they are attempting a major change in their image.

The TV show Arrow is one giant Microsoft commercial. But that is DC so that is to be expected.

My opinion of Fallon just went up a bit. He clearly has good taste

His bank account went up as well... Do not think that these placements are casuals....

Or a nice fat cheque (check) from Microsoft. ;) Edit: as said Above ;)

His opinion on the air is whatever NBC tells him.

No idea who he is but he just reads jokes prepared by writers about the weekly news like all chat hosts do. This is not him publicising, just trying to get a laugh.

He talked about it a few days ago too!

http://www.youtube.com/watch?v=L3iRLaLog8Q

Cool.. Maybe you should share this with WPC??

Cortana has already become a brand name, they would be crazy to change it.

Question is not if MS will change what's its called.. Will it let what we call it? Is the question.

True, however maintaining the trade name of Cortana for media and product details could only help differentiate MS's product from Siri and Google Now right?

If MS will let users choose the name for their assistant then they ll probably stick with cortana. TellMe+ is just crazy lol. I am gonna try Eve for the first month.

I'll keep the cortona name for sure. The reason is that it is very distinct word and if they have a feature, like on the Xbox,where you say "cortona" for the phone to know to listen to you, that would be great. Eve is not a good word for such a feature as it will get triggered sometimes. I don't know if the phone will have this feature, but I can see it being great if it did. Imagine driving in the car and you just say cortana play next song or something without having to touch the phone. note: on the Xbox you say "Xbox" and then some command and it listens to you.

It was rumoured earlier that wp8.1 will have this feature. I m aware of the recognition issue. I ll try it for the first month. If performance is ok i ll keep it

waiting!!
SEEMS it will come FASTER!!

That was awesome! All of his 'Thank you' notes were so funny!

Hahaha, jimmys coming over to the dark side. #wp8Almost8.1

I'm going to go out on a limb and say if the used the name Cortana in a publicity bit that will be the name.

We don't know for sure if Microkia had anything to do with this.. So we can't really call this a publicity bit, or stunt...

I like the joke, I like the positive mention... But come on man. Fallon is a big time Apple guy and MS is dumping loads of cash into product placement. You can give the benefit of the doubt, but lookong back at the last 2 yrs of product placements makes this lean towards more of the same. The only other time I ever seen Fallon mention a non-Apple product was when Sammie paid for Galaxy mentions. And calling it out as product placement in no way at all makes the Thank You Note mention any less awesome.

Early on when he got a talk show, I remember him showing off the Palm Pre for weeks.

The strength of Apples hypnosis really pisses me off.

I totally agree. Product placement or not millions now know Microsoft's Windows Phone has a digital voice assistant named Cortana and that apparently it is good enough to piss Siri off. That is worth its weight in gold.

Like I said the leaks.....greatest thing to happen to windows phone!

No. Its 3 weeks, 3 days before the launch. Leaks haven't caused any media buzz. They have effectively killed the launch excitement. Media buzz is what iPhone 6 leak is creating, not WP8.1 leaks. So this can go either way. We can only know on 3rd April.

Disagree completely. In marketing this is how hype works. You get everyone to hear about something, everyone is talking about it, and you have to maintain the buzz for weeks. The leaks have done this perfectly. The first one showed the circle but we didn't the voice yet...making us need more. And none of us have used it. That's the really exciting part. I do think wp8.1 is going to change WP in a really great way. The fact that jimmy Fallon on the tonight show is talking about a feature on windows phone is good for us and something you would not have seen years ago. WP is hitting its stride.

It has nothing to do with mass media because they have their own agenda, plus its not officially released for a platform they deem sub par. The reason its awesome is if current users and those on the line see about it, they then be swayed. Just like released apps for iPhone and Android means they have users that pay attention meaning, if they see features they thought were severely limiting coming that tips them over.....at this point its not for the massed but those thing about switich to WP or from WP, hype from guys like Jimmy Fallon just extends its reach!

I agree. Being that 8.1 is an upgrade that addresses the user feedback on 8, it's the kind of leak that actually helps WP8. That, coupled with far more bang for the buck vs Android and iPhone.

I hate the name Cortana, but I am only one voice. I hope it isn't called that.

I'm sorry, but what don't you like about the name?

He really wants to talk to Bing

I don't like it much either, though the story behind the name is amazing... but to me it doesn't shine as a brand... the three syllable makes it difficult to say, as much as i hate SIRI, but seriously, which is easier to say, Si-ri, or Cor-ta-na?

Siri is a stupid name as it is unknown how to pronounce it until you hear someone saying it. Where as Cortana needs no explanation, easy to say without explanation. Looking forward to Cortana very much :-)

Personally, I think Cortana rolls off the tongue better than Siri, but then again I intensely dislike Apple and have really enjoyed the Halo franchise. To me, Cortana actually sounds like a name much more so than Siri or Google Now.

Succes of something is totally not dependent on the difficulty of a brand name. Many marketers are seeing that wrong nowadays. Do you really think people are incapable to pronounce a word with 3 syllables? They speak hundreds of them per day, every day in normal language. Also there are tons of brand names with 3 syllables or more that are very very successful. Just look at Microsoft, Coca-Cola, and not to forget the retarded name PricewaterhouseCoopers. Or the popular medicine Oscillococcinum. Almost nobody knows how to pronounce it. It really doesn't matter. Sometimes complicated names create even more buzz and popularity among people. They will discuss hey how do you pronounce that? Also tiny words sometimes don't have enough 'body'/ strength of its own. They get lost in lines of text and nobody notices them. Longer names stand out more.
People should really stop counting syllables in brand names.

That's too much hate... I just expressed a trend that I noticed, I might be wrong.

Cortana is pretty easy to say. It did take me a little bit to remember, but the name I like alot. Its very unique. And if cortana is not something you like you can change the name to whatever u want.

Plus, the odds of a real person having that name is low.

Saying 'Cortana' is not exactly an insurmountable task

If you can't say Cortana, you shouldn't be allowed to own smartphone.

Neither - because it depends on where you are from and what is your mother language. For Chinese and Japanese people they won't be able to say the emphasised "r" sound in Siri, which makes Siri the harder word to say. If your native tongue is English, then that one syllable would make jack all difference unless you have speaking disability.

Shut the fu@% up Ives! Just kidding. Not a big Halo fan, but its an interesting name. Any reason you don't care for it?

I don't know guys, it just sounds weird, I don't know. Just my opinion though, seems to be pretty popular :)

You're not alone. My reason? Simple, it's to long. Shorter the better :p

So Iraq is better than United States of America?

United States of America is too long. That's why you shorten it to USA. Yes, the word Iraq is better than the sentence United States of America ;)

Okay lets do it again. Iraq better than Zimbabwe?

Maybe there will be an option to call it Tana for short

It means something to game heads but they are in a minority in the WP ecosystem.

I wonder if it was sponsored

If so, money well spent seeing as his ratings are doing very well since he took over.

Nothing is not sponsored on American TV.

He doesn't write his own jokes, I hope everyone knows that. Either way its great! :)

Yeah, but he is a well known tech nerd..

He still has to approve them before he will say them on air.

lol when he gets the money, everything is approved

Leno, Conan, Letterman, Stewart, Colbert, they ALL have a team of writers behind them.

I am pretty sure that is the exact point he was making.

LOL! We will know who's the bitch when it is officially released.

Now that Jimmy Fallon's put it out there that it's called "Cortana" it better god damn be called Cortana and not something stuffy like "Bing Personal Assistant for Windows Phone".

Bing personal assistant... Lol!.. I'd rather it be called "Vista PA".... Please don't let them do that..

Microsoft's Marketing Dept is so clueless they'll probably call it "Personal Assistant Me"

Haha PAM that cracked me up good...! :D

I still wonder if Jen Taylor will be the voice.

Cortana is the current pinnacle of names for IAs (intelligent assistants). Siri was unknown before Apple bought it. Cortana has been a household name in the tech/gaming world since the first Halo oh so many years ago. Now Microsoft needs to make it a household name for everyone. Imagine all of the non-gamers that have never heard of Cortana. Now they will become familiar with it. Then they will see someone playing Halo and they hear Cortana and make the connection and then try Halo or decide to buy an Xbox One, etc., etc. Do it Microsoft. Don't ef this up!!!!!

You make it sound like bulk amounts of people actually care about windows phone. Wishful thinking i think.. Once an isheep, always an isheep unfortunately.

Yeah, and it's really only specific to people who spent a lot of time playing Xbox anyway. I'm a big gamer (all genres except rts and sims) and I had never heard of cortana until MS released the details of their digital assistant.

Totally agree! I hope Cortana becomes a cloud synced personality that lives in your Windows computer, Windows Phone, XBOX One, and perhaps someday on your face or wrist?? Do it MS! Make Cortana everything Google Now and Siri have failed to become! Make it personal and pervasive!

This comments makes me remember the movie her, many nerds witll have a relationship with there IA i think lol

Cortana will be Her minus sex talks.

Haha, much as like J.A.R.V.I.S lol

Halo remember me always how Microsoft fucked pc gaming for their shitty xbox...

Don't get me wrong, I have always loved Halo, but Halo 4 was terrible. The only thing that would make me buy an Xbone would be the promise of Halo 2 Anniversary on it.

In year 2015, she will become self aware and take over MS universe :)

It was very funny, nice to see some positive WP news on TV.

Come on Cortana! I can't wait to meet you :D

It won't be the same without wearing a Spartan helmet

Ummm yes I'm single waiting for my true love!!! Lol

Cortana, make me sandwich!

Cortana: Im not your bitch, ask Siri to do such jobs. Would you like me to order a meal deal I have found in local burger shop near you?

Knowing MS, they'll change the name to Bing something or "OneVoice" lol

Cortana should be the name and I want it!

CORTANA search for all the greatest porn this internet has to offer!

Cortana: You need to get a life.

Cortana: Don't speak to me again until you grow up.

Cortana: Okay, please wait, since it needs a while to absorb thw Internet.

They should call it Siri Jr assistant.

I wonder if Microsoft's vision of what TellMe was going to become from over two years ago will finally become reality with Cortana. Microsoft Tellme "Say it. Get it." http://www.youtube.com/watch?v=iB6pWs46GY8

Thanks for the credit! It's pretty awesome seeing Jimmy Fallon report on something that wasn't even officially shown yet.

Cortana isn't official yet because they'll be renaming it to.... clippy!
http://i298.photobucket.com/albums/mm270/blobru/clippy.gif

Hey, I liked Clippy ! He was a little annoying but, he was cool ! That would be funny but, I dont think it fits here...

Maybe Cortana will have an animation that turns her into Clippy

This is getting gooder and gooder.

Cortana: correct word is...I am getting better and better, please try again.

Cortana: Sorry, can you explain the meaning of gooder? I can't find it in the dictionary.

If they don't name it Cortana, I'm buying an iPhone! /sarcasm

As long as I can make it call me "Chief" I'll be happy. Well, that and it needs to work well too, I guess...

I want to see you, fallon and cortana going at it..come on baby!

I thought about Daniel's argument about some people not getting the "Cortana" reference. I, for example, am one of those that only knows that Cortana is from the game Halo because I read it in the articles. Otherwise I've never seen or heard Cortana as I don't play Halo and don't really intend to. So yeah, the reference is lost on me as it will be lost for many consumers. But does it matter? I don't think so. I mean...it's a name. Name the bloody thing Cortana. The name is catchy and easy for the normal consumer and Halo-fans will get that extra happiness because it's based on the game they like. I don't see any problem with letting the name be. And I think Microsoft will leave it be. That said, the Fallon's video was cool, even if I bet he has no idea what a Windows Phone looks like. It's publicity nontheless. And after that Cortana VS Siri reference (ignoring Google Now) the first thing that sprung to my mind was this well known Epic Rap Battle of History http://www.youtube.com/watch?v=njos57IJf-0

Alright, fine DJCBS, you finally did it. After linking that ERB, I like you again (;

it is catchy only for english speaking people, in other langauges it's orrible to pronounce

Http://Fb.com/wploverchoice

Let it come baby..i am all ready..;'..cortana goodmorning..:p

I wonder if Jimmy Fallon has a WP - or if he plans on doing so after 8.1.

Wow he did a joke without just laughing through the whole thing. Am I the only one who doesn't find him funny? Team Coco for me!!!

Lol I wad hoping WPC would do an article about this because I watched that tonight showed episode and cracked up

Wow, I can't believe that I wasted my time watching that video, expecting to hear Cortana and learn someting about "her" features with the Tonight Show!
Based on that Tonight Show video, I have no idea where these comments are coming from? Because Fallon "mentioned" it in one of a string of jokes?

Yes, exactly thats it.... all the comments are built on previous news. the most important part is acutally the name, as its still hasnt been announced and its already known to the public as "cortana"

Lol I would think the most important part will be; how good will it be? Not the name.

yeah, don't expect the same level of thinking here

Well that was just pure awesomeness.. Yaaass!

Love Thank you notes and this one was pretty funny
I'm not big on halo like others but I like the name and why not use it's popularity to get people talking about Windows Phone

I don't like the name, sounds like a dated Ford car to me ( yes, I know that was a Cortina, but even so) and I wonder how many female users think a woman with her boobs mainly on display is a good flagship look for the Windows brand in this day and age.

How about Anya from gears of war? :D

Cortana sounds much more better name than apple's Siri.

Siri is useless...waiting fr windows 8.1 with Cortana...

Brother, we need more bing services in India. We only have bing vision. We need local scout,bing music, email voice dictation in indian accent. Microsoft Should consider India along with USA and other big countries providing good bing facilities.

i like it Cortana is nice in video 'first look at cortana in action on windows phone 8.1 i love my lumia 920 more after that 8.1 mostly Cortana,Action Centre etc.

Guys, please, do tell me whether WP 8.1 will be able to read those files that currently can't be read by WP 7.8/8 or not. Is there going to be an Adobe Flash player? Thanks!

Adobe Flash is dead. Even Adobe doesn't support flash anymore. So no. What files are you unable to open?

Thank you for answering my question! For example, I can't watch online movies directly, and it's my understanding that you need an Adobe Flash player for that. Luckily, I have David Bergamini's Flash Video app on my Lumia 710, which allows me to do that. Also, I can't open and watch some video files on various sites, and don't ask me about video encoding/transcoding, because I am a far cry from being a computer and IT wizard. So, basically, my question is "Will I be able to watch those videos with a WP 8.1 phone?" Thanks again.

Hope for vlc at build. Den wps 30% problem is sorted

I have a feeling, the first thing I do with 8.1 after playing with it a while: Phone -> Settings -> Cortana -> Off. Lets see...

thankfully they name it cortana its a strong name it will stick in your mind even if you don't want too i really love it

I hope they do call it Cortana. Its a win win. Halo fans will love it (me included) non Halo fans or people who have never heard if it will just think its a cool name. Ignore the emotional attachment argument NO ONE had heard of Siri before Apple released it.

Microsoft should buy oracle

Not sure where this comment comes from anyway, but are you kidding? If Microsoft would buy Oracle they would need half of their cash, and their employees count would double instantly. No way they can buy Oracle. Oracle is way too healthy.

If it's not called cortana, then it's gonna be an Epic fail.

I think cortana is da best name

They should make like u can C her....change it before launch I won't a better experience

All I got was Kraft singles!!!!! Lol. What about cortania again?

Jesus news is weak at the weekends

Well I got great windows phone news my Nokia 1520 comes tomorrow to add to 2 920s

I think the name Cortana is a niche thing. People that play Halo don't realize that people who've never played Halo exist and have no idea what Cortana is. I do like that the name will appeal to a lot of people that have androids, (in my head, Halo players don't generally have iPhones). And, as one of the people who had to do some research to find out what a Cortana was, I think Cortana is a MUCH better name than Siri. (I had an iPhone for easily 5 years until last September. I'm an official convert.)

Agreed. I only played halo every once in awhile on a friend's xbox. I had no idea what Cortana was, maybe because I've never played campaign mode?

Must be a colonial thing! Very strange humour.

"Colonial". LOL
I assume that's some British humor?

Change Cortana name in MAL 2014 ;)
For Microsoft Artificial Language.

I can't stand this hack. And why does he have a mac laptop on his , THAT HE NEVER TOUCHES. pure retardedness.

If Microkia has a code name Goldfinger and has released a phone called Icon. I vote for Ms. Moneypenny. :D

Big MS junkie here and cannot wait for the update. Imho, google is just pathetically crying for attention and everyone who thinks apple is better, is stupid. But then, apple IS for people with down-syndrome who cannot figure technology and need simplified things. How did I miss this community for so long?? Go Cortana!
Windows Central Newsletter
Thank you for signing up to Windows Central. You will receive a verification email shortly.
There was a problem. Please refresh the page and try again.