Cortana for Windows Phone 8.1 adds NFL game predictions via Bing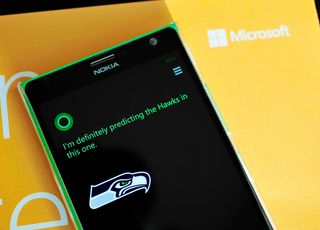 Microsoft has announced that Windows Phone 8.1 device owners will be able to ask Cortana to predict who will win games in the upcoming 2014 National Football League season, with those predictions powered by Bing.
Users of Cortana can simply ask 'Who will win the Seahawks or the Packers?' and Cortana will reply with her prediction.
You may remember that Bing and Cortana teamed up to offer predictions of who would win the games in the 2014 World Cup soccer tournament earlier this summer. Now that ability has been extended to NFL games. Microsoft says:
Naturally, Cortana and Bing are predicting that Microsoft's home team, the Seattle Seahawks, will win the first game of the season against the Green Bay Packers on Thursday, the first official game of the season. What do you think of Microsoft adding NFL game predictions to Cortana and Bing?
Source: Blogging Windows, Bing blogs
Windows Central Newsletter
Get the best of Windows Central in your inbox, every day!
Will be fun. Soothing to make this Samsung and Apple fans wish they had

That's a lot of games to predict.. Imagine if they added mlb or nba

Go hawks! (no band wagon, I'm from Seattle)

I think she's wrong on this one. The Pack seems primed this year.

Ummmm... The packers will be lucky to get over 19 points and the big difference is that the hawks have a better offense this year than last (and they won the superbowl last year). Oh and the packs nose tackle is out against Mebane. Yeah, you keep picking the pack though...

Seahawks lost Golden Tate and Sydney Rice plus Lynch got paid. Whenever a running back gets paid, the next season is usually a drop off. Either way, I'm no soothsayer...just making an opinion. It's not an anti-seahawks or pro-packers opinion...just an opinion. Cortana also has the Falcons beating the Saints. Don't think I can agree with that one either.

Plus, the Packers deserve to win this game solely based on the travesty and farce that was the Fail Mary game. The only thing worse than refs who incorrectly change the outcomes of games is fake refs who do so.

While I don't agree with the call, it was called and stood after review, which was done upstairs by an NFL official, not a replacement ref... Remember, one of them got it right, one wrong... But NFL made the final call not them, so give them a break.

First of all, you and everyone else continue to ignore the fact that Golden Tate committed an egregiously obvious offensive pass interference penalty against Sam Shields on the play, leading the NFL to release an official statement saying that that should've been called which would've immediately ended the game, 12-7 in favor of the Packers. So, the incompetency of the replacement refs on the field right there already is a massive failure that changed the outcome of the game. Regardless, the subsequent call on the field by replacement refs was also wrong: MD Jennings caught the ball first. There was no simultaneous possession. You can watch Sport Science's breakdown of it here for indisputable video evidence and analysis. There's a reason why Twitter blew up afterwards, why nearly 100,000 voicemails were left at the NFL's head office within hours, and why this was the impetus to get the real refs back: because the grand majority of the country saw the same thing--a terrible call. It's no surprise that NFL didn't overturn the bad call and award the win to Green Bay: money. According to ESPN, Vegas paid out up to $250 million in bets on the outcome of the game. There was no way the league was going to mess around with that. The real reason people are still mad about the game, though, isn't because the refs blew it, but rather the response of Seahawks fans, players, and coaches who pretend everything was called right. Tate denied shoving Shields in the back, despite clear video evidence. Pete Carroll vehemently declared that the right call was made, etc. Real men would've admitted they got a break, chalked it up to the human error of the game, and then moved on.

The packers will provide nothing more than a scrimmage for the hawks. Easy win. Sorry, but pack that.

Sweet! This is going to help my Pro Pickem skills!

This is going to help my money making skills! ;)

By the time my 928 gets 8.1 I'll have hours and hours of reading to find out about all of this great, new stuff that is only available on 8.1.

Why not upgrade through the preview for developers program? I have had it since it was released months ago on my 928!

To my point exactly. If x number of 928 owners have been running DP on Verizon's network, what is taking so long to test? Already proven to work. Testing = money grab; nothing more, nothing less.

Yup! I'd rather see Cortana's predictions about when the rest of the Windows Phones will get 8.1... Of course, someone with 8.1 would have to tell us about it. Not everyone wants to bother with Dev. Preview.

I second the developer preview. It is not at all hard to upgrade and it makes the phone a completely different experience in many respects. Just make sure you back up everything first in case the worst case scenario happens. There are a few points I would still like to addressed in the upcoming updates, but overall, it is a good step in the right direction.

Bing has the Jets winning on Sunday. That's what I like to hear!

So if I start making bets from her predictions... I can just blame her when it goes sour, right?

And again, the Lumia 920 is crippled by the lack of the Cyan and Windows Phone 8.1. -920 for AT&T in the US.

Get in the developer preview bro. Most of us on this site with 920s in the US have 8.1 + Update 1.

I downgraded because the last update that added live tile folders was causing serious lag with my home screen on my 920...Runs super smooth again but I miss Cortana and the notification center.

Agreed...This 920 update is getting seriously ridiculous...There has to be a problem with the update and AT&T is saying nothing of course.

As has been said many times, get on the Dev Preview already. I have a 920 and have been getting all of the new, non-hardware-related stuff. If you aren't on Bitlocker, there shouldn't be a problem.

I'm not on bitlocker and my DP sucks eggs.. It lags big time, it's definitely a problem. My home screen super lags making my phone almost useless.

Funky, I haven't run into any of that. Seems to me there were some apps with problematic live tiles like the clock one. Have you done a hard reset at all?

Hi, yes I have done a hard reset and the same thing happens, I think that T-Mobile has been giving me some defective phones, because this is my fourth 925 from them and it was lagging then. I've had some bad Windowsphone experiences. Hopefully it gets better. :)

Yeah, sorry to hear that. You aren't the first one I've heard about having problems with the 925. :-( I hope it gets fixed for you.

Yeah me to :( Thanks for your help though. If you have Xbox Live add me, Montpbm777

How do you ask Cortana about predations? How do you word it?

I'm curious on this as well.

That is what I am wondering as well. I don't see how to word it in this article or even in the soccer article.

Following up on the hysterically funny article "Breaking Madden: Jadeveon Clowney's quest for 201 sacks in a game" I asked her "Who's going to win the Texans Redskins game?" and she figured out what I wanted.

'Who will win the Seahawks or the Packers?'

Added to the article.

Or just say "Who will win the [insert team name here] game?" Example: "Who will win the Philadelphia Eagles game?"

"Who's gonna win the Jets Raiders game?" That format worked for me.

Didn't work for me using that format for Ravens Bengals. Can't seem to find a combo that works.

"Who will win the Ravens or the Bengals?"

She says she is nuetral on this one but if she had to pick it would be the Ravens.

Now I can really rub Cortana into my younger brother's face. He uses everything Microsoft; computer, Xbox and even Microsoft apps but on his iPhone. To top it off, he's a Packers fan.

Not working for me in Rochester, NY unless I'm wording it wrong

Worked for me...and PS said the Bills will lose.

Good thing I'm not a Bills fan :-)

Cortana is not working anymore:(

It's available for India but can't predict cricket match..c'mon microsoft...give us option to have cricket as sport interest...

yeah this will fucking make Cortana famous.

I would rather they add the ability to track college teams as well. #RollTide

Contrary to this article (Breaking Madden: Jadeveon Clowney's quest for 201 sacks in a game) , Cortana thinks the Texans have only a slight advantage over the Redskins this weekend.

How about adding in NHL predictions as well ?

Cool!! Cortana is awesome!

Chicago Bears has the edge over the Buffalo Bills, BTW

Feature of adding soccer teams and leagues to interests list would be great... I really want to add La Liga and EPL to my interest list...

You should be able to... I never tried that team, but you should be able to add any searchable subject to interests, for instance "Seahawks news" or Seahawks Score" or "Seahawks schedule" or "Seahawks trades"... Each has their own interest, with different key words separating them... Pretty cool!

I am talking about teams, not news.. I have added my favorite team's news. But i want to add my favorite football team to my interest. Like you can now add add EPL teams as interest. But no la liga teams :(

She better predict the Seahawks.lol They are seriously a scary team right now and seem not to have lost a step from last year.

So how do your word the question?

This is cool, I hope for real "football" predictions to be added sometime in the future. ;)

What about the English Premier League?

She picked the Falcons over the Saints. She's an idiot!

Lol sure. Falcons retooled their lines and added Hester to an already stacked offense. Oh yeah, and the game is in Atlanta. Bet against the birds if you want, but you will lose.

Nice. Now I wish I was in a suicide pool so Cortana could guide me.

Cortana rocks!!! AND Bing!

I'd say that predicting the reigning super bowl champs to win the first game of the season is a little biased

please add cricket updates to bjng and Cortana

This is a WP promo waiting to happen. Have Cortana pick with the "experts" on the pregame shows.

This would be seriously cool. I would love to see Cortana go against Long, Bradshaw and crew on the Sunday pregam show on Fox.

Whaaat??! She predicted the flacons to beat my Saints. Lol thats hilarious. Back to the drawing board guys.

Better get a paper bag. Your Aints will be leaving the ATL with a L.

Exactly!!! I'm going to need them to work a little harder on how these results are calculated! WHODAT4LIFE!!!!

She's got the Eagles winning this week. Smart girl, although a monkey (or even Siri) could probably get that pick right against the Jaguars.

Picking the Seahawks over the Packers? Cortana, we are no longer friends.

Suhweet!!! 49ers over the Cowboys! Apparently, she thinks we can win from jail! teehee

Grid iron gangs got this... Romo could pass for 600 yards and 6 td's and still manage to lose the game!!!

The really big game is Football. The real football I mean, the one where players actually have a ball in their feet and not I their hands. We need those results! Cortana is being too american

I guess they chose to go with a game that actually scores points, not ends in a 0-0 tie...

Real football is AFL (Aussie Rules) :P

And there is my edge in fantasy football this year. Thanks Cortana

Now if only we can get here to answer me without going to web results.

I had to say the city and name of the team: Who will win the San Francisco 49ers Dallas Cowboys game?

Ya. Looking forward to the day when I can ask the way I want to ask Cortana. Until then it's not very natural. Honestly I don't use her much because of it.

I just tested this and if you don't phrase (and Cortana understand) the query just right, she wont answer. All you get is search hits.

Just gives me a web result

I just asked my 3 year old daughter, she said the Packers.
If she's right in gonna test her for every game.

Nevermind, she just changed her mind. Seahawks for the win now.
She's no help.lol

Awesome unfortunately she is a little off so far. I asked her who will win the Saints vs. Atlanta game and her response was: "It's too early to say for sure,but I'd give the Atlanta Falcons the edge over the Saints." Now I love me some Cortana and all,but we'll have to have a talk! The Saints got this! I'll cut her a little slack,only because she say's it's too early to say for sure. I'll ask her again as the game gets closer.

It'll still be the Falcons. Don't be surprised when you see Steven Jackson running over their defense and Hester running free through their secondary.

Lmao!! Thanks,I needed that laugh!!

Sounds good for US ppl.......... ;)

Fantasy football gold. When will she predict the sleepers? Cortana, the only female without MLA.

I think I will be making some money this year...

Its not working for me. I can get the Seattle response, but then I ask about the panthers v buccaneers and get no response.

There doesn't seem to be a prediction for the Giants-Lions game Monday night. This saddens me greatly. http://imgur.com/KMjWKax

This is a gambler's dream come true... not that I would ever condone such a thing.

This doesn't seem to work in the Australian Alpha Cortana. US Cortana only, perhaps?

Well now Cortana will have covered football and also um football.

Don't work I get Bing with games from years ago

Asked "who will win the jets raiders game" she said "probably the jets but the clock hasn't started yet". Guess you need to say it the right way.

One of my Aussie friends who classes people from the UK as "Posh Poms", and dislikes how British people speak actually finds the voice used for Cortana in the UK attractive and sexy... Oh the irony LOL!.
One HTC start the global roll out of the M8, I'm going push him into the wp bandwagon muhahahahaha.

Stopped working. Worked this morning

Just sends me to web search when ask about colts vs broncos. Does she only know Seahawks & Packers or what

Why wont it show predictions for other games? Dolphins Pats comes up with web results??

Come on MS...Need similar functionality for Formula one!!

It would really be awesome if it could do spreads.

she just was right in her game prediction of the green bay one , well everyone knows how the game ended

Is there a uservoice for Cortana? I'd like to see NHL and CFL predictions in there, as well.