Cortana's big 3.0 update for iOS arrives with major UI overhaul
The new look focuses on creating a new "conversational experience" with Cortana.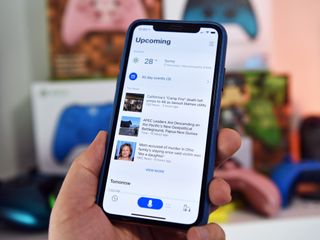 (Image credit: Windows Central)
Following around a month of beta testing, Cortana's big 3.0 update is now rolling out for iPhone. The update not only brings a new, refined look to the table but also adds a new place to manage Cortana devices and much more.
The biggest addition here is the overhauled UI, which Microsoft says has been created to focus on "conversational experiences" when interacting with Cortana. Gone is the bold-colored card-like interface seen in prior versions of Cortana. In its place is simplified look with quick access to news and weather, suggested tasks, and dedicated buttons for managing Cortana devices and interacting with the assistant.
Here's the full official look at what's new in Cortana 3.0 for iOS:
A new conversational experience for answers
A new place to manage and set up your Cortana devices
Listen to music and podcasts on the go
Stay on top of your tasks managing meetings, emails, reminders and To Do on the go
Join your next Skype or Teams meeting by simply asking Cortana
If you're interested in checking out the revamped Cortana on iOS, the update to version 3.0 is available now at the App Store. Presumably, Android won't be far behind, as beta testing for version 3.0 kicked off at around the same time as it did for iOS last month.
See at App Store (opens in new tab)
Windows Central Newsletter
Get the best of Windows Central in your inbox, every day!
Dan Thorp-Lancaster is the former Editor-in-Chief of Windows Central. He began working with Windows Central, Android Central, and iMore as a news writer in 2014 and is obsessed with tech of all sorts. You can follow Dan on Twitter @DthorpL and Instagram @heyitsdtl.
These "Updates" have made Cortana less and less useful on mobile overall though. The 3.0 update on Android doesn't even show calendar events from my connected Microsoft account anymore, only events from a connected Gmail account. It also no longer presents notifications about said upcoming events, or any insights about reminders based on time or proximity.

mine shows calendar events from my ms account. I don't have gmail connected to it though.

Works here for me for my Outlook calendars. I don't even use the Gmail calendar part.

How do I fix this then? I have outlook.com connected an multiple calendars on my Outlook account. I'm not using the main calendar ATM maybe that's the issue?

This is happening to me too. It does work, but only for the default calendar for Outlook and Gmail. All other secondary/shared calendars are ignored. It also seems like she doesn't read from the device calendars anymore, so you can't even work around it.

Uninstall Google services and Gmail, and make Outlook and Microsoft services the default.

Not only that, none of the skills is working right now. Pretty sure the Cortana on my windows phone is much better than this

just for the record, the android cortana also updated to 3.0 last night for me. all i'm going to say is that it needs a dark mode....

Needs dark mode. Should have the ability to have keyboard instead of voice set as the priority. Switched to Bing app instead of Cortana. Granted, this doesn't hurt Microsoft, but unless they can actually make this work like a voice assistant should on a phone, no one is going to use this over Siri or Google assistant.

"Should have the ability to have keyboard instead of voice set as the priority."

Just hit the dots instead of the microphone for typing? For Siri, you have to go to Accessibility to disable voice and make it "typing priority" and then it's locked to it. Not sure how that's greats vs. a choice each time.

Love the new update on Android, hope they bring the same to windows 10

We've been talking conversational UI coming to Windows 10 for months now. Even the new 19H1 update separates Cortana from Search in preparation for this, so not sure why the LOL outside of you not keeping up to speed? A weird thing to fess up to in comments, but that's cool.

Curious to see how much of this makes it's way into the Windows 10 Cortana UI. Things like upcoming, recent news, weather and such were ripped out of Cortana at first and in most cases moved to Action Center. Maybe they'll bring that back. I always liked the one stop shopping of "day at a glance" that the old UI on desktop provided.

Cortana hasn't worked at all since the last update

Is the "Hey Cortana" option gone on Android with Cortana app open?

Don't think reading and replying to SMS over Bluetooth will ever come back like it did with Windows Mobile. They said it was coming in the past... I believe that part of the project was scrapped.

Love the fact they're trying to figure out the future of Cortana on iOS first. Now to move these UI mods to Android... and finally... Windows. Makes sense. Target the most important OS first... then the 2nd most important... and finally... Windows. Hard pill to swallow I know, but will skyrocket the stock price!!!

In the last 4 weeks, I bought a Razor 2 at Microsoft store and loaded in all my accounts, Cortana etc. Then spent a considerable time to Set the phone to work like my 950. I returned the Razor before my 30-day free return expired. Went to Apple Store and bought an Xr and loaded in all the accounts Cortana etc. Then tried to set it up to run like my 950. The Razor (android) allowed me to send texts to and from my Surface Pro. iPhone, no luck. If you look on the Your Phone Application on my Surface, the Razor and iPhone appear. However, the iPhone has no integration with the App. the Razor hows photos and messages. There are a whole bunch of controls on the iPhone and Android for controling Cortana. I bring this all up because I have used COrtana ever sense it arrived and the sad fact is Cortana on W10M was much more powerful than what I see on Android and iOS. Maybe I dont have settings and I am sure Cortana on Android is fast approaching the capability as Cortana on W10M, given that MSFT stopped investing in W10M 2 years ago. I like the feel of the iPhone but I like the capability of the Razor. So I am going to look for a different android phone and return my iPhone early next week unless I can discover how to make more progress on iOS. I would also assume that Cortana on iOS will never have the abilities as Cortana on Android. If Apple was smart they would open up there AI to give Cortana a chance to have deeper integration with iOS. Sort of form a strategic relationship with iOS to have a stronger user value with the superior capabilities of Cortana in the enterprise and keep Google firmly in the Ad business and out of the cloud business.

I got this update on Android last night. I don't understand it. I get two pages, "Discover" that tells me what Cortana can do but doesn't do any of it, just takes me to her skills page. And "Upcoming" that gives me the weather temperature and only the first event in my calendar. If I happen to want to see more details of that event I can't tap it to find out more. And this is on the "full-featured" US region setting. Switching to English Canada all the app does is show me the current temperature. Just awful.