Criterion's upcoming over-the-top extreme sports game gets canceled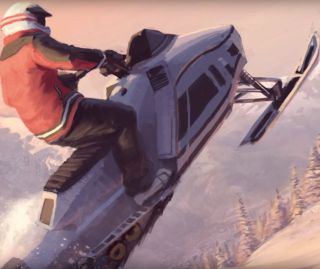 Electronic Arts has officially confirmed that the upcoming, and unnamed, extreme sports game from its Criterion team has been canceled. The game was first revealed at E3 in June 2014.
At the time, this game was supposed to be the next big thing from the UK-based development team behind the Burnout franchise, along with the popular single-player shooter Black. In 2014, a teaser trailer showed an early build of what looked to be a promising new title, with first-person driving of vehicles like helicopters, boats, jetskis, ATVs, wingsuits, parachutes, and snowmobiles.The whole thing looked like it was meant to be filmed with a GoPro-like action camera.
Since that reveal trailer, little to nothing has been mentioned about the game. At E3 2016, EA said Criterion was helping to develop the upcoming Star Wars Battlefront VR title. However, Gamespot got a statement from EA that has finally put the extreme sports game to rest:
Ironically, Ubisoft announced a new game called Steep at E3 2016 that has similarities to Criterion's cancelled title. It is set in an open world where players will be able to pilot, among other things, wingsuits and paragliders in a mountainous environment. That game is due in December 2016.
Windows Central Newsletter
Get the best of Windows Central in your inbox, every day!
Looks fun I miss the old dirt bike open world gsmes

Aww man. Hopefully they'll be able to just do Burnout. I still play Paradise and what I wouldn't give for a remastered Black!

And I still play Burnout Revenge

No wonder we haven't heard about the game since they announced it.

Well, back to playing Extreme Sports on the Sega Dreamcast.

Well that's unfortunate, but if they wanted to make a new Burnout game for the new consoles (or make the previous ones backwards compatible) I'll be all for it!

D**k move lol Posted via the Windows Central App for Android

Alrighty, now focus on a new Burnout incl Crash mode game!!!