Check out the games of the Electronic Arts E3 2014 press conference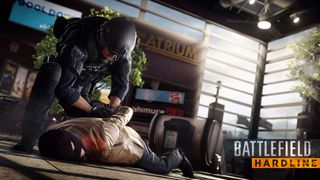 Following Microsoft's great Media Briefing this morning, Electronic Arts put on a press conference of its own. EA did a fine job with their conference last year, the highlight of which for me was the announcement of Plants vs. Zombies: Garden Warfare for Xbox consoles. Could this year's announcements hope to compete with that?
The 2014 presentation was handled by Andrew Wilson, Electronic Arts CEO. Disappointingly we didn't get to hear from fan-favorite Peter Moore this year. But we did learn about a ton of incredible games, including Star Wars Battlefront, Dragon Age Inquisition, a new Mass Effect, The Sims 4, Mirror's Edge 2, Battlefield Hardline, and more. Full Impressions after the break!
Star Wars Battlefront by DICE
EA chose to start strong by teasing the new Star Wars Battlefront game. Battlefront is multiplayer-centric series that was hugely popular during the Playstation 2 and original Xbox era. After LucasArts cancelled Star Wars Battlefront 3 mid-development, it seemed that the series would disappear forever… Until EA acquired the Star Wars license and rescued the series following LucasArts' closure.
The teaser video revealed very little information about the new Battlefront (which will not have a 3 in its title). We saw the staff of DICE visiting the Star Wars archives in order to photograph (and scan?) photos and models from the films. Hoth (the setting of The Empire Strikes Back) will be one of the game's main locations, naturally. The important thing is that DICE has tons of experience with its own Battlefield series of large-scale multiplayer shooters, so the team's skillset transfers perfectly to Star Wars Battlefront.
Dragon Age Inquisition by Bioware
First teased at last year's press conference, we finally got an idea of what the third Dragon Age will play like. But first EA teased us more with a trailer that showed various glimpses of the game's fantasy world. Highlights included a green beam of energy descending from the clouds, a third-person view of a character navigating a city, and a dragon.
Players will create their own main character in Inquisition, one whose past and motivations are shrouded in mystery. Presumably you'll fill in the blanks as you play the game and make choices that affect the story.
The main character will be accompanied by a team as with past games. Some of its members include a bearded Gray Warden, a female elfish archer, a brawny Kunari mercenary who fights with a giant hammer, and a dark-skinned female mage. Each of these teammates will have his or her own unique backstory to discover as the game progresses.
Inquisition's combat debuted via actual gameplay footage. Players can choose between two combat systems: action and tactical. Action looked very exciting, with the team working together to take down a dragon. The behind-the-back camera switched between various party members, seemingly at the player's will. We didn't get much of a look at tactical mode, but it utilizes an overhead perspective and pauses between turns like in traditional RPGs.
More from Bioware: Mass Effect, new IP
Bioware (which includes the proper Montreal studio as well as EA's Austin studio) is also hard at work on two more games: a new Mass Effect, and a brand-new IP. Nothing was revealed about the new Mass Effect other than plans to feature new places, characters, and regions of space.
As for the new IP, we glimpsed a fantasy world with day, night, and weather cycles – and that's it. I'm sure EA will reveal more later this year or at E3 next year.
New IP by Criterion
Criterion is the UK-based studio that created the Burnout series of racing games as well as developing some Need for Speed titles. Although the studio doesn't have a new Burnout in the works, the game it's working on actually looks much more exciting. It doesn't have a name though!
The new game will still feature lots of driving…. Just not so many cars. Instead, players will get to drive or pilot an unrivaled array of vehicles, including helicopters, boats, jetskis, ATVs, wingsuits, parachutes, and snowmobiles! And the whole game will take place in the first-person perspective – possibly without the option to switch to a third-person view.
Presumably we'll get to crash some of those vehicles as well. But the game is still very early in development (as evidenced by the lack of title), so specific details are still scarce. This will be Criterion's largest title ever – let's hope the fun matches the increase in scope!
Mirror's Edge 2 by DICE
Like Dragon Age, our first tease of Mirror's Edge 2 came during last year's press conference. The new video introduction focused on the design of Faith, the same protagonist from the first game. She dresses in black and white and has minimal dabs of color as accents. And she is a runner, someone who uses parkour to deliver information while evading the oppressive governmental authorities.
After talking Faith up a bit, DICE shared some lovely prototype footage from the game. Unlike the Windows Phone game, Mirror's Edge 2 takes place in a first-person perspective. Faith will run, jump, and slide across rooftops, scaffolding, and zip-lines as she crosses levels that feature multiple routes. She also engages in melee combat, punching and kicking the evil police who would thwart her mission.
Being that Mirror's Edge 2 is still in the prototype stage, we shouldn't expect it until 2015.
Battlefield Hardline by Visceral
It looks like EA plans to make Battlefield an annualized series, just like its biggest competitor Call of Duty. Since DICE is busy with Star Wars Battlefront and Mirror's Edge 2, the development duties go to Visceral Games (formerly EA Redwood Shores) – makers of the Dead Space series.
Hardline is a major departure from the traditional military settings of the Battlefield series. The new focus is the war on the streets between cops and criminals. That means new worlds, weapons, and ways to play. Players will be able to play on either side and engage in both a campaign and large-scale multiplayer matches. The campaign will be more cinematic than other FPS titles, playing out like a televised crime drama.
EA showed footage from a 32-player game of Heist, a new multiplayer mode. Despite being multiplayer, the Heist started out with a conversation between cops being news footage of a major heist in progress. It looked cool and seemed to build off of Titanfall's story-based multiplayer concepts.
Once the game starts, the criminal side of the game must collect a package and escape with it while the cops try to stop them. The two sides will fight it out on foot as well as utilizing vehicles, a staple of the series. We saw player-controller police cars, Armored Personnel Carriers, bikes, and helicopters. The destructible environments that featured so heavily in Battlefield 4 return, with a crane or similar structure crashing through a building and causing major havoc on the battlefield.
When the footage focused on the criminals, we caught side of the bad guys fighting off cops with baseball bats, sawed off shotguns, and other appropriate armaments. The crooks escaped from a skyscraper via zipline to another rooftop where their helicopter anxiously awaited. Although the bad team managed to take off in their chopper, the match didn't end there. The cops shot them down and we saw the fall from one of the crooks' perspectives.
Battlefield Hardline is due out on Xbox One, 360, PC, and Playstation systems on October 21. Hopefully it won't suffer from persistent technical issues like Battlefield 4. To that end, EA announced that a closed beta for the game starts today. Bad news for Xbox enthusiasts: the beta is only for PC and Playstation 4! To sign up, head to battlefield.com/hardline/beta.
And more
Electronic Arts also showed The Sims 4 (pictured) and a MOBA called Dawngate for PC, plus several sports games: EA Sports UFC (which looks great), NHL 15, EA Sports PGA Tour, Madden NFL 15, and FIFA 15. Check out our EA Sports write-up for more details!
Overall, the conference was quite impressive despite a woeful lack of plants and zombies. Andrew Wilson repeatedly stressed the corporation's desire to listen to players and react to their feedback. "Tell us what you think. We embrace the honest and open dialogue," he intoned. Hopefully EA makes good on that mantra and continues to deliver player-pleasing titles throughout the next year and beyond.
Paul Acevedo is the Games Editor at Windows Central. A lifelong gamer, he has written about videogames for over 15 years and reviewed over 350 games for our site. Follow him on Twitter @PaulRAcevedo. Don't hate. Appreciate!
Until it releases mirrors edge 2...it's gonna be cold for me hehe

NEW BF, YEY I hate bf4 it's so laggy for my region.

Mirror's Edge and Battlefront 3 is what I most anticipated

Battlefield Hardline, you mean?
Edit: Misread his comment.

Battlefield Hardline, you mean? ;-) I think he means Star Wars Battlefront 3/vNext.

STAR WARS BATTLEFRONTS 3!!!!!! YESSSS. Don't screw it up EA!!

EA taking a break from NFS what a surprise

I really can't wait for Mirror's Edge 2, the first ME was one of the best games ever made imho. One of those few, truly innovative games. And the in game footage really looks awesome, with a lot of particular effects and great Real Time Reflections on floors and walls. I hope the graphics on the PC will fully take advantage of the DX11 and all that great stuff we have :)
I lost all my hope for the Mass Effect franchise after seeing what they managed to do with Mass Effect 3, its DLCs and its terrible, terrible ending.
And Battlefield Hardline... Wow, even the HUD is still the same, that could have been a DLC or a map pack for BF4...

Each one of the Mass Effect games had their own particular problems, from the hideous mining and equipment managing of the first to the problematic writing of the ending of ME3. That said I have far too much affection for the series to write it off without checking it out when it releases. However I do not hold Bioware up to be without error, they can f*ck it up BIG time. We shall see....

i hope it coming soon . i want to try it .. haha

Battlefront is all I am excited for.

SUUUUUUUUUUUUPER unimpressive. 1. There was barely any gameplay outside of Battlefield to show (CG trailers are dumb). 2. Battlefield beta is only on PC and PS4 right now (and no mention of Xbox One date). 3. MVP Baseball should have happened...I need it badly. There's just nothing that EA does to impress me. Dragon Age might be good, but why would I play it and deal with their Origin junk when I could find any number of third-person, action RPGs (Fable Legends, Shadow of Mordor, The Witcher 3, etc.). Criterion's last lead work was the horrid Most Wanted butchering.pseudo-remake, so I don't care to check out their pre-alpha demo footage of something that seems directionless at this stage. Of course, then you have the sports stuff. I don't care about soccer, and I'm only mildly interested in hockey. Madden's been so redundant and bland for so long I wouldn't even sniff this one until it was used and had good reviews. Personally, I think Ubisoft is dominating EA now, between Watch Dogs, The Crew and the upcoming Tom Clancy's The Division.

I am looking forward to Dragon Age, the Witcher and The Division. All of those look like potentially excellent games.

Let me summarize today's Microsoft E3 presentation: KILL, KILL, KILL. And maybe drive a little on your way to KILL. I want Halo, I want my good old shooters. But I wan more than this. I am old enough to remember how innocent and awesome the first Tomb Raider was. Today Lara Croft is 18+. I hate it.

THIS. I hate that almost the only games my 10-year old son can play today is sports games and platform jumpers aimed at little kids. There is almost nothing that isn't KILL, KILL, KILL all the time. I ended up getting him some FPS shooter from a few years ago that was at least rated T and where blood spill is minimal, and had some tactical elements. Today, almost everything that comes out are blood soaked M-rated titles. I guess most people don't care. :( Hoping Mirror's Edge 2 might be fun, as that one seems to break the KILL, KILL, KILL norm.

There really are a lot more games to play than just shooters... Not that platformers are bad for kids at all. If you're not interested in mainstream genres, you just need to be more open to downloadable titles like Max: The Curse of Brotherhood, Peggle 2, etc.

Of course there are more games. But I wish there were some mainstream, adventorous ones without blood all over the screen. You don't need that to make a great game. The developers are getting lazy and the industry is on a bad way.I like violent games but when I go on Amazon too many games for the Xbox are 18+. It doesn't make them better games.

Good thing I own a ps4 as well. :D

Re: Battlefront Hardline, "the criminal side of the game"... you need to be more specific. ;)

After all that BS with Battlefield 4 crap not investing my money in any DICE produced game. And now EA wants to destroy Visceral games by forcing them to clean up Battlefield mess. They did the same with Criterion games to save Need For Speed band. The best thing is to bring back Burnout series again. Evil EA

But but but... Mirror's Edge. :(

Mirrof Edge 2 FTW. Love parkour

but of course Mirrors Edge 2 is FP... Mirrors edge was fp, windows phone game wouldnt be what most people know mirrors edge from

True. It's just a point of reference for our Windows Phone readers.

Agh, wish Mirror's Edge 2 was coming this year. The Windows Phone version remains my favorite mobile Xbox game.

Battlefield 4 looks legit. WPC App via Nexus 5.
Windows Central Newsletter
Get the best of Windows Central in in your inbox, every day!
Thank you for signing up to Windows Central. You will receive a verification email shortly.
There was a problem. Please refresh the page and try again.