Electronic Arts touts EA Sports UFC and FIFA 15 in its E3 sports games lineup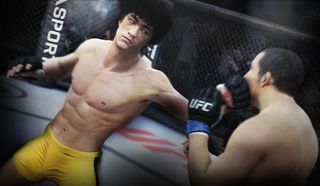 Electronic Arts announced a bevy of core games during its E3 press conference earlier today – check out our full write-up. But EA's sports franchises are just as popular as their core franchises. And EA Sports UFC will have a great deal of crossover appeal thanks to its impressive one-on-one fighting gameplay and amazingly lifelike graphics.
Although EA publishes games based on a variety of sports, the driving theme among all of their sports titles (especially the yearly entries to the core series) was emotion. New-gen consoles like the Xbox One will allow each game's characters to express greater emotion than ever before. These extra-emotive characters will populate FIFA 15, Madden NFL 15, NHL 15, and EA Sports PGA Tour. Full impressions after the break!
EA Sports UFC by EA Canada
With THQ - the former publisher of UFC games having gone out of business, Electronic Arts is now gearing up to release its first UFC title. UFC of course stands for the Ultimate Fighting Championship, the largest mixed-martial arts competitive organization in the world. If you want to see a Judo fighter battling against a Karate practitioner live or on television, it's probably going to be a UFC match.
To launch the new UFC game franchise, EA has made the unusual move of licensing deceased martial arts master Bruce Lee's likeness for the game. This creates a whole new type of uncanny valley – Lee died well before the UFC even existed, and couldn't have consented to appearing in the game. But his family gives the go-ahead, and the rest of us have to make peace with that.
During the press conference, EA showed off an in-game fight between Bruce Lee and Jon Jones, a living UFC light heavyweight champion. You couldn't help noticing the incredible likeness of both fighters. EA Sports UFC is exclusive to Xbox One and Playstation 4, so the character models can feature more detail than ever before. It really is amazing, seeing a virtual Bruce Lee darting about the game's ring. The character models even show the damage they take from round to round.
The combat looked fluid and quite brutal. During one especially cool move, Lee jumped off the wall of the fight cage and jump kicked poor Jones. We also glimpsed Jones knocking Lee to the ground as he attempted a submission. The submission controls will be an interesting and unique aspect of EA UFC – hopefully they're not too hard to master. Of course the Dragon escaped from Jones' hold and won the fight. A cinematic instant replay followed.
We won't have to wait long to find out how EA Sports UFC stacks up to previous UFC games – this oen arrives on Xbox One and Playstation 4 on June 17th.
NHL 15 by EA Canada
What does the new ice hockey game have to offer? Well, every player on the ice now has realistic physics and can display emotions. The first in-game footage of the new NHL looked extremely sharp, although you never know whether early footage of EA's Sports games are genuine or not.
I was surprised that EA didn't discuss modes or new game play features; all we heard about was physics and emotions. We'll have to wait until later this year to find out whether the actual game differs much from last year's iteration.
EA Sports PGA Tour by EA Tiburon
Golfing fans have wondered how EA would handle its golfing franchise after severing ties with Tiger Woods, popular womanizer and sports personality, last year. Well folks, the show must go on! Hence the series returns this year as EA Sports PGA Tour. That's a fitting title, considering the series actually started out as PGA Tour Golf in 1990.
The new PGA Tour utilizes DICE's Frostbite 3 Engine, the same tech that powers Battlefield 4 and Hardline as well as Plants vs. Zombies: Garden Warfare. Not only does it look fantastic, but players will supposedly be able to explore every inch of a course as well. "Golf without limits," EA calls it.
If you're like me and enjoy golf games but find them too aesthetically boring, PGA Tour has you covered. The new game will feature not only real courses but also "Extreme fantasy courses." How extreme are we talking about? We saw a course that takes place on a beach. In the water were battleships from Battlefield 4! Players can even knock balls over the battleships. That's zany and right up my alley.
EA Sports PGA Tour will arrive on Xbox One and Playstation 4 in Spring 2015.
Madden NFL 15
Another year, another Madden football game. The series traditionally evolves via small steps, with a new feature or two coming along in each new sequel.
This year's innovations revolve primarily around the defensive game. New camera angles make reading the offense and attacking them easier. Defenders have more control now; they can push opponents in multiple directions as needed. The tackles have been redesigned for more consistent results, with a tackle cone helping to aim.
Remember EA plans to make its sports characters more touchy feely this year? The players in Madden have hundreds of new emotions and reactions. These reactions will replace old scripted scenes, which seems to imply that the new ones are somehow not scripted. And new reaction cameras that are directed by real NFL director will capture those player emotions for all the world to see and feel.
Madden NFL 15 is playable at E3, which pretty much means the footage we saw at the press conference is the for real deal. And football fans will get to play it when it arrives on Xbox One, 360, and Playstation consoles on August 26.
EA Sports FIFA 15
Of all the sports games highlighted during EA's press conference, FIFA 15 seems to be the most emotional. Well, the players will be crazy emotional. EA promises that we'll "feel the emotion of football like never before." Football/soccer is quite an emotional game outside of the US. That emotion causes hooligans to riot and beat each other up. Awful stuff, but it would be darkly amusing to see captured in a video game. But I don't think EA and FIFA want to go quite that far in their games.
Anyway, FIFA 15's players (not the fans) will have what EA calls emotional intelligence. Each dude on the field has his own memory during the match and will show emotion based on the match's context. So they act happy when things go well and fall down dejectedly when the other side scores a goal. Like Madden, these reactions seem to be less scripted in nature than they were in past games.
The new game also features a "living pitch," meaning that the field itself is less static than before. The turf shows footprints and even tears as soccer dudes run around on it, and things can actually get dirty. Both the ball and the goal frame have realistic physics – the frame will shake when impacted by a ball. Presumably these effects will be more prominent on the newer consoles, if they are even present on older ones.
FIFA 15 comes to Xbox One, 360, and Playstation consoles in both regular and "Ultimate Editions" on September 23.
Windows Central Newsletter
Get the best of Windows Central in your inbox, every day!
Paul Acevedo is the Games Editor at Windows Central. A lifelong gamer, he has written about videogames for over 15 years and reviewed over 350 games for our site. Follow him on Twitter @PaulRAcevedo. Don't hate. Appreciate!
I'm sorry but I don't understand what's the meaning of E3.
English is not my language

Entertainment electronics expo

I Knew some one was gonna say something. lol

I'm definitely picking this up just for that!

I his might buy an Xbox One and this game just for that. He is instantly recognizable. The detail!

I want then to actually make a good NBA Live game. 2k14 needs competition.

At this point, its become comical the ongoing saga in EA trying to put out a decent Live game. I kinda hope the streak continues just to see what inane excuse they give this year

Hate to be that guy, but you put Penn in there where jones shoulda been. Great write up!

What does this have to do with Windows Phone? [serious]

We cover all Microsoft platforms, not just Windows Phone. E3 is mostly about console games, but we'll report on any WP stuff that might be at the show. See our E3 predictions article for more details.

Thanks Paul, just wondering was all.

I agree with rcasey, my visit to 'Windows Phone Central' is now filled with Xbox One news that I have no interest in. If I did, I'd use an Xbox website. Ever thought of having some sort of filter on the page so that users can only see actual Windows Phone news?

You don't have to read every news article...

I never said I did! But having to blast through two full pages of Xbox headlines when I'm looking for WP news just doesn't seem right.

I think we're happy as a general Microsoft fan site with WP as our focus (so it's like 75% WP overall). Yes, it's a lot of Xbox news this week but only because of E3. That said, I wouldn't mind a tab for just WP stuff. But I don't have a say in our site design.

What an insult to Bruce Lee's name. He's probably rolling in his grave right now

Lee's Jeet Kune Do is the original mixed martial art. He's not rolling in his grave. He was right.

What he did and UFC are worlds apart. He created as a philosophy for life as well as fighting. UFC is stripped of anything like that. Closer to WWF. Not that those guys aren't amazing athletes but its just a spectator sport these days

Waiting for FIFA 15. Until then world cup 2014 will hold me over

The UFC Demo on XBox One looks great and plays nicely.

Bruce Lee is said to be the father of mixed martial arts & for his likeness to be in this UFC title makes it well worth it

I've never like this type of fighting, its ugly street brawling for Neanderthals and their admirers. Thugs N Hugs. I've seen these fools try to link Bruce Lee to the sport, saying theirs is a style of fighting based on Lee's and that he was the original UFC and would approve of it, and I've seen his family give endorsement to that notion. Bullshit. Lee spoke of honor, fought with grace and power, but never advocated merciless beatings. I am not surprised that Lee's family would allow this, however...I expected it of them. Shame on them. Next he'll be selling crap on tv with John Wayne...

What about FIFA 15 for WP?? Any news??

I don't like this new ufc, don't like when they grab me :/, it's much simple to play but isn't my kind of game, still waiting for MK X

Maddon 25 to 15? So they give use an older game and call it new?