New app Cyber Dust brings self-destructing messages to Windows Phone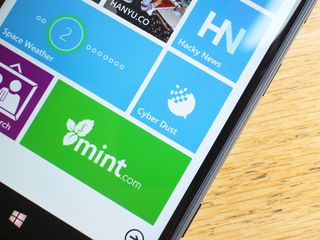 Messaging app Cyber Dust is now available for Windows Phone. Cyber Dust aims to be a security-focused messaging platform with apps already available on Android and iOS, and now Windows Phone. Messages sent over Cyber Dust are fully encrypted and self-destruct. To get Cyber Dust take and mix the best features from apps like Snapchat and WhatsApp.
Here's the full set of features available in the initial release of Cyber Dust for Windows Phone:
Have fun and private conversations without worry
Fully encrypted messages that are deleted forever
Messages never touch a hard drive
Never pay for an SMS text message again
Instantly connect with friends, celebrities, and other influencers
Share photos, videos and other media with friends
Add a profile picture
Share stickers and emojis
Blast content to multiple friends and followers at once
Create custom friend lists to Blast messages to
Add drawings and multi-line text with cool fonts on top of photos
"Sent" and "Read" confirmations
Know if a screenshot has been taken
Group Messaging
The Windows Phone version of Cyber Dust was originally supposed to launch sometime in September. Nonetheless, the app is here today on Windows Phone.
Cyber Dust promises to be secure, have messages self-destruct and remain free. The Cyber Dust website states that the app/service will always be free. We're interested in how it works for bigger celebrities and brands since you can follow people within the app. When you sign up, you'll be prompted to add famous folks across a variety of fields that you might be interested in.
Like Snapchat, you can send photos and videos that self-destruct. Which makes this perfect for those times you send some naughty or top-secret photos to a friend.
We're still playing around with the app and looking for users to chat with. Help me, help you and add me on Cyber Dust (username: samsabri). Let us all know what you think of Cyber Dust after playing around with it.
Thanks for the tip everyone!
Windows Central Newsletter
Get the best of Windows Central in in your inbox, every day!
None of my friends use this. I'm not a pro-oligopoly, but it's useless when all of my friends use Line or Whatsapp.

Biggest challenge for any new messaging app or social network is building up a critical mass of users. We'll see how Cyber Dust fares.

Oh no... The CyberDustening!

Hide your dirty secrets! :-S

Well this automatically makes it better than Snapchat since at least there's a snapchatish app for Windows Phone :P

Everybody worries about their privacy but try to make your friends use a more secure messaging app and suddenly no one cares. Go figure...

Tons of secure messaging options now: Schmoose, Sicher, Threema, Chadder and now Cyber Dust. ...and nobody I know uses them. I can't convince anyone to switch from SMS or Facebook messenger, let alone try one.

This secure messaging apps are good if you cheat your gf/wife or bf/husband, haha. I think cheaters love this messaging apps, they don't need to care about deleting chat history so their wife or husband can't find it, LOL.

I use Sicher with my girlfriend and daughter. What does that mean? I guess we all know why you use one.

That's one way to look at it.

I love the sound of the features for this app, but dude, I still haven't even managed to convince any of my friends to use Telegram, let alone any of the other cool messaging apps I've learnt about from this site.

Don't need this. Single and don't need to hide my messages from anyone haha.

Imagine if this picks up with college recruiting? Right now there's strict limits on texting and calling recruits but this is untraceable...

This app would be pretty useless if you can use the screenshot feature for the pics or chats, right ?

They also have a counter feature for this. Didn't you read the full article.

This will not catch on. Even the secure message app I have from MS is smoother. Big problem though, nobody uses either. This could be a thing MS. Take the lead. What's the difficulty in adding an option under the ellipse in messaging that says "secure this message before delivering"? Done. Most people don't care about the how security wise, just do it. Secure messaging should become a standard. Not something delivered by the latest thing in the Store like your average weather app.

In this age, is anything ever really fully encrypted? :)

Yeh like how people think its super threatening to know your location just cause irs the simplest thing on the planet to search an IP address :p

Dude... This is pretty much snap chat. I noticed that one of the screenshots had Mark from Shark Tank, I havnt seen the episode but maybe this company sent and got a deal with him. I'll get it for moral support!

It's his app in some way. Don't know if it was a shark tank thing but he tweets about this app all the time.

Sam. Thank you for installing Space Weather, that's my app!

Nice, I was eyeballing it too. Is that a UV index on the tile?

Hey! Post on it coming up soon. Email me when you get a chance sam@windowscentral.com

Your mission if you choose to accept....this message will self distruct in 5..4...3...2....ka boom

Haha! That's what I was thinking.
Windows Central Newsletter
Thank you for signing up to Windows Central. You will receive a verification email shortly.
There was a problem. Please refresh the page and try again.