Daily Dashboard, a Windows Phone 8 solution to help you keep up with life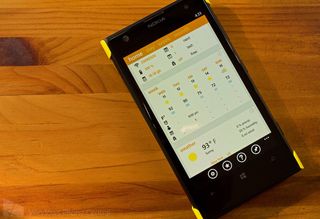 Daily Dashboard is a Windows Phone 8 app that is part calendar and part daily assistant. It offers easy access to your calendar appointments, birthdays, weather forecasts, Windows Phone details (battery level, available memory, etc.) and any alarms you have set. Designed for efficiency to give you a snapshot of what's going on in your life, the app has multiple views with a Home Page that sums up what's going on.
Daily Dashboard may be too busy for some but if you're looking for a one stop solution to keep tabs on your daily life, it is worth a gander.
Integration with your Windows Phone calendars is automatic and seamless. It takes only a few seconds for your appointments, phone details, alarms, and weather forecasts to become populated in the all-in-one app.
Daily Dashboard Home, Month and Week Views
Daily Dashboard is laid out with multiple pages, much like any calendar app. The Home view is the nerve center of the app and contains:
Windows Phone details (battery level, Wi-Fi connection, memory available, appointment summary)
Five day agenda that displays the weather forecast, the number of alarms, the time of your first appointment, the number of appointments and the number of birthdays for those days
A detailed weather forecast with current conditions
A hourly weather forecast for the day
A listing of appointments for the day
A listing of appointments for tomorrow
A summary of your alarms.
You also have Day, Week and Month views to help you plan things out. At the bottom of the page are four control buttons to access the Daily Dashboard's settings, rate the app, view the help page, and pin the app to your Start Screen. Once you navigate away from navigate away from the main pages a Home control button will join the group at the bottom of the screen that will send you...well...to the Home page.
Daily Dashboard button controls and settings
Other menu options up under the three-dot menu includes manually refresh the app, manually refresh the Live Tile, set/view daily alarms, view what's new with the latest app update, and view the about screen.
Settings cover several customization choices for the Home page such as turning on/off the today/tomorrow view. There are also options for the Live Tile display, turning on/off the weather, setting the location for your weather forecasts, and set the number of days notice you need for birthdays. Speaking of Daily Dashboard's Live Tile, it displays your appointments (up to four lines) and a summary of the number of appointments left in the day, your battery status, your WiFi status, birthdays, and your next and last appointment times.
Daily Dashboard Live Tile
While Daily Dashboard has a lot to offer there is some room for improvement. Nothing mission critical but noticeable. First is the font size, it's readable but tiny. I imagine the font size can't get much larger or you wouldn't be able to fit as much on the screen. However, for some it could be hard to read.
Next, to add a new appointment there is a "+" symbol in the upper right corner of the day, week and month views. Tap it to begin adding an appointment. The challenge is that the "+" sign is so close to the navigation bar you can easily transition to another view instead of creating a new appointment. I can't help but think a control button at the bottom of the screen would be a better way to launch the new appointment screen.
Regardless, first impressions of Daily Dashboard are good. It offers a lot of information to help you get through life. There is a trial version available for to let you take it out for a test drive before buying. The full version is currently running $1.99 and you can find Daily Dashboard here in the (opens in new tab) Windows Phone Store. It is available for Windows Phone 8 devices.
George is the Reviews Editor at Windows Central, concentrating on Windows 10 PC and Mobile apps. He's been a supporter of the platform since the days of Windows CE and uses his current Windows 10 Mobile phone daily to keep up with life and enjoy a game during down time.
Kind of a google now for wp8?

Of course not as extensive but that's just the first thought I had when I seen this.

Merrick G.I. Smoked Beefy Jerky Bone 4-6″, 4-Pack By: http://www.bestdogfoods.info/top-brands/merrick/merrick-g-i-smoked-beefy-jerky-bone-4-6-4-pack-by.html

2 bones? I don't think the price fits the app, maybe $0.99.

or maybe free would be nice.

Free is always nice, maybe one day UNICEF will start making Windows Phone apps.

Haha...the "everything should be free" crowd is just unreasonable. I'm surprised that anyone wants to make apps at all, anymore. I wonder if they all work for free.

There is an Free version, but it have som restrictions. But all over it's really an nice app.

We pay hundreds of dollars for our phones...but your $1.99 app is too expensive. Just a little perspective!

Totally Agree. Or Microsoft should implement something like that into WP OS, status tile.

Not bad. I've bought too many calendar apps already looking for "the one". I think I'm going to resist the temptation and give it a trial run before taking the plunge. It looks good but I need it mainly for my calendar... The other extras on this are... Well... Extras... jejeje

I feel you. I've probably spent more money on calendar apps trying to find one that is reasonable than any other type of app. I kind of hope MS has some overhaul plans for the built in calendar.
UPDATE: since my original post yesterday, this app has more than proven itself as capable. I highly recommend giving this app a try. A must buy imo.

+920!
I too installed it to try it out for a couple of days. But I feel this one just might take the throne from Week View.
Nice!

I may get it when it has live integration because week view can change your entries through live. This one still has you go to the main calendar to do it... A little bit of a hasle. If the next update has that I will definitely buy it as I do like this app alot. Nice interface for sure.

Thats the one gripe I have about Simple Calendar as well. cannot change entries in the app, have to go to the main calendar app to make a change.

That's nit the fault if the developer its ab API restriction put in by MS

I understand that. All I was stating is the fact that other calendar apps are able to modify your calendar by adding your live account within the app. This way the changes are done through live and your phone reflects the change. Its a work-around the developers add to the app but it definitely makes a difference. Chronos, Week View and others do this already and it works great (you just can't edit re-occurring events). Either way, if that's added to this app I'd buy it. I'd also like the tile to flip and show some of those extras in the back so the front was dedicated to my calendar.

Would be great if it could integrate a todo list function that would sync with Toodledo.

I'll wait for the eventual $0.99 deal

The bottom line should contain icons for most often needed actions, like mentioned "add" button, not things like rating the app or pinning it to start screen.

Definitely something I'd consider purchasing. The tile needs to flip over and show some more details such as weather forecast, also need to support lockscreen and some to-do would be great too.

Don't see items on my To-Do list in this app. Will not consider buying this until they are part of it.

can i pin the weather in paid version??

Right now its an issue with all 3rd party calendars

aaaaaaaaaaaaaaaaaaaaand the akku is empty

Hi,
My name is Kishore, one of the developers of Daily Dashboard.
We received a lot of great feedback and suggestions from people after this post.
Just want to list some of the upcoming features in the next 1-2 releses ( due out in 2-3 weeks )
- calendar account filter ( choose which accounts calendar events get loaded )
- calendar account color coding
- performance improvements
- todo list feature ( we can not access the built-in todo items in the phone )
- calendar search
- tile enhancements ( multi-tile support - more options )
Thanks!
- Kishore

Used the free trial version and it worked great, including the live tile. I bought the app; now, my live tile doesn't update- it simply shows Daily Dashboard. The live tile info was a huge draw for me. Anyone else have this problem or a solution?


Hi,
Pin the tile from within the app. There is a pin icon at the bottom of the app ( in the applicaiton bar ). That should work. Pinning from application list from the right swipe of home screen just creates a shortcut to the app.
- Kishore
Windows Central Newsletter
Get the best of Windows Central in in your inbox, every day!
Thank you for signing up to Windows Central. You will receive a verification email shortly.
There was a problem. Please refresh the page and try again.