Dead Trigger 2 Review - Zombies, Zombies and more Zombies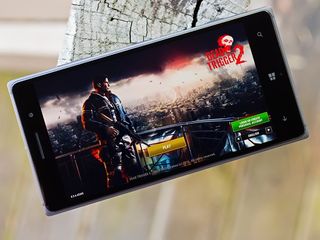 Dead Trigger 2 hit the Windows Phone Store earlier this month and joins the ranks of quality Windows Phone games such as Dead Earth: Trigger Man and Dead Target: Zombie. As you might guess, Dead Trigger 2 is a first person shooter where you roam the world killing the walking dead.
The graphics with Dead Trigger 2 are well drawn up and game play has its fair share of challenges. The game includes over 600 game play scenarios that are staged across 10 global regions. Along with the storyline gaming mode, Dead Trigger 2 also has global tournaments to compete in. If you are looking for a quality Windows Phone game to spend a few minutes with or for longer spurts, Dead Trigger 2 will fit either need rather nicely. Unfortunately for some, Dead Trigger 2 is not available for low-memory Windows Phones.
Dead Trigger 2 does have an account feature where you create a user account that will let you save your account to the cloud. This is a nice feature to allow you to maintain your gaming progress should you switch Windows Phones and should a Windows 8 version become available, switch devices without losing any gaming progress.
Additionally, here is a quick rundown of game play features with Dead Trigger 2. You have:
10 global regions to travel across
33 unique environments to explore
37 kinds of weapons to dispatch Zombies with
600 game play scenarios full of action
A quick note concerning your weapons options is that while you have the traditional handguns, assault rifles and such, Dead Trigger 2 also has a variety of non-traditional weapons to try out. These non-traditional weapons include a big hammer, boat motor, grenade chickens and rocket chickens. These oddball weapons are a nice touch and gives the game a little more flavor.
You begin the game with a helpful tutorial that will walk you through game play mechanics and features. During the tutorial you will meet up with a fellow Zombie Apocalypse survivor, who will eventually lead you to the Hideout that serves as your base camp of operations. Your player progress, cash count, gold count and access to the shop runs across the top of the Hideout screen. Access to challenges and achievements is along the left side of the screen and access to the game's settings and messaging is on the right side.
Settings cover gaming control settings, sound levels and graphics quality. You also have the option to redeem promotional vouchers the developer may hand out, view your gaming stats and customize your player profile from the settings. Shop options include featured items, money and gold packs as well as gear packs. Pricing ranges from $1.99 and up. Currently you can buy a golden AK-47 for $49.99 as the featured item.
From the Hideout, you can resupply yourself with meds, weapons and other items that will help you survive the missions ahead. But first you must help rescue key players in the game who will help you produce these supplies. You've already helped the medic reach the Hideout and the first few missions involve saving the gunsmith, scientist, smuggler and engineer from the deadly grasps of the Zombie hordes.
Missions are launched from the World map and you can set your difficulty level prior to jumping into game play (easy, normal and hard). You will also receive a briefing information on the mission goal and any special items to look for. There is also an oil rig displayed throughout the World map that can be tapped to earn cash.
Each mission will have a cash reward, as well as the opportunities to collect cash, gold and extra ammo as you work your way through the level. Killing Zombies usually results in cash or ammo appearing and there are prizes hidden throughout the mission.
Game play is simple and straightforward with the primary mission being to kill all the Zombies and don't get eaten by them. There are other objectives involved such as rescuing survivors and battling Zombie bosses but for the most part, you are shooting everything in sight.
Along with the main mission path, additional or extra missions will pop-up as opportunities to earn a little extra cash. These "extra jobs" typically include defending a Zombie free zone with a mounted 50-caliber machine gun or eradicating Zombies from a neighborhood.
Game controls cover movement, point of view and weapons selection. The left side of the screen has a virtual joystick to control your directional movement and the right side of the screen controls you point of view (and aim). Your weapon of choice (with ammo count) is in the upper right corner with directional arrows to switch between your equipped weapons.
Weapons fire is automatic when line your target up in the cross-hairs and come within range of the weapon. You begin game play with a monkey wrench so attacking a Zombie is more up close and personal than what you will experience with a handgun or machine gun.
To round out the gaming screen, you have a directional arrow at the top of the screen to help guide you through the mission and your health status is in the upper left corner of the screen. There is also a pain killer button (the + button) to the right of the game screen that will restore a portion of your health.
In addition to the first person shooter view, you will have some missions where you are armed with a sniper's rifle or a 50-caliber machine gun and have to protect an area from Zombies. You have controls to the left to fire the weapon and your aiming view is controlled by sliding your finger around the right side of the screen. When you take your shot, the gaming view will follow the bullet as it travels the distance and hits the target. It does slow game play down a little but effect is worth it.
As you successfully complete missions, you'll earn cash rewards and gaming experience. As you earn experience, your character will advance in levels that will boost his health levels and unlock items. The daily challenges and quests are also opportunities to earn a little extra cash and bonus items. The daily challenge will be displayed in the upper left corner of the Hideout screen and quests are accessible from this screen as well.
While Dead Trigger 2 lacks a help section, the game does a nice job of walking you through game play elements when they first pop up. Still, I wouldn't mind seeing a help section to help as a reference or guidance with gaming features.
Tournaments are held on the weekends and you'll need to work your way up to a Technical Level 5 in the Hideout (which is no cake walk) and offers you the opportunity to take away cash and prizes that will help you survive in the main game.
Overall Impression
Dead Trigger 2 is one of the better first person shooter Windows Phone games with simple controls, quality graphics and challenging game play. It combines the action of an arcade shooter with RPG gaming features to deliver a Windows Phone game that does nicely when you only have a few minutes to spare as well as those times you want to sit down and tackle a marathon gaming session.
The only downside I experienced with Dead Trigger 2 is that it can chew up your Windows Phone battery. That's not necessarily a bad thing but rather something to remember and be near a charger when the itch to tackle several missions in one sitting hits. There were some stability issues present with the original release but recent updates have apparently resolved those issues because game play was smooth and problem free for me.
Some may have grown tired of the Zombie genre of games in the Windows Phone Store but gaming titles such as Dead Trigger 2 seems to breathe new life into the genre. While the in-app purchases may be a little on the steep side, the game itself is free (which makes it one heck of a deal). Plus there is enough variety in game play (defending position, hunt down Zombies, rescue survivors, etc.) to keep the game fresh.
If you are looking for a Windows Phone game that will keep you on your toes and has staying around power, you need to try Dead Trigger 2. The game has had a good amount of success on other platforms and should see similar success here on Windows Phone.
Download Dead Trigger 2 for Windows Phone (Free)
Windows Central Newsletter
Get the best of Windows Central in in your inbox, every day!
George is the Reviews Editor at Windows Central, concentrating on Windows 10 PC and Mobile apps. He's been a supporter of the platform since the days of Windows CE and uses his current Windows 10 Mobile phone daily to keep up with life and enjoy a game during down time.
I'm Enjoying this game on my Mircosoft Lumia 640 XL

damn i want XL, that screen size...that camera....

Wish T-Mobile would carry the XL here in the US

Nice.. But too late to arrive on the platform.. IMO :)

Better late than never, imo.

The late arrival of Dead Trigger on Windows Phone is sort of similar to the late arrival of GTA 5 on Windows. :P But, better late than never. Also if the game gains a significant amount of support on Windows Phone, future titles will be bound to come sooner than this did. Posted via the Windows Central App for Android

Its good that its not supported otherwise it would be laggy on low end devices.

hahahahahahahahahahahahahahahahahaha

I think it's a Windows Phone limitation. I've heard that Windows Phone keeps a specific amount of memory allocated for the system, so that no matter how heavy the app you are in, your main system can still run consistently smoothly. However the allocated RAM for system means less RAM for developers, which is why there weren't too many titles that supported 512MB RAM for quite a while. Some developers have managed to overcome these issues, Subway Surfers being an example. However Dead Trigger 2 is a pretty intensive 3D game, and I don't think it's possible for the game to be playable with the RAM limitations. On Android apps are free to use quite a lot of RAM, which is why the game is playable on 512 MB RAM Android devices, however your homescreen will need to reload each time you press the home button resulting in jank/stutter/lag. Pick your poison. Posted via the Windows Central App for Android

Thanks buddy for such kind of info.

Yah seriously why can't I run new games on my Tandy 286 12mhz with 1 meg of ram. 512meg phones are budget. For old people that don't play games. I have one just for testing windows 10 but bought a lumia 830 because I wanted the extra ram and better screen.

If asphalt 8 is available for low memory devices, means this can too. Hope they do bring it in a future update.

Why should it not run. Can't they make it so it lag free and plus there are hacks to play 1gb games on 512mb such like the whole gameloft games collection on wp, gta, angry birds go, real racing fifa etc. Hahahahahahaha

I seem to have a problem downloading the game, as it keeps saying pending. I've done many restarts and soft reboots with no success. Any advice? I'm using a Lumia 735 by the way

First of all you need to download it over Wi-Fi. Second, try installing any other app then try installing this. Also your data connection should be decent to pull it out from pending to downloading.

I have been trying to download it over wifi, and I had other apps wating to be installed. I cancelled dead trigger and the other apps installed. I started downloading dead trigger again, and it just gets stuck on pending. I've been using my college wifi to try download dead trigger, as well as my own home wifi too. Any further advice?

Had this same problem, only with this game. It finally downloaded one I installed Windows 10. Not sure if that solved it or if it was just a coincidence.

I have a Win10 1520, but the store finds it having less 1GB RAM.

K, try deleting temporary files and start download again.

How do I delete temporary files?

Storage settings> phone or sd card> temporary files> delete

Mine doesn't seem to have delete temporary files...#l730

I own a 730. Go to temp files then delete.

Tried that, still doesn't download

Same here! •_•
After the first update I just can't download it, "Pending" forever.

Same here, reboot, deleted, delete temp files...still nothing.

I had dedicated many hours on this game I'm not downloading it again :P (1 year ago on a beastly Gpad 8.3) [and only 1.5 years late] :P

It never gets old I downloaded it on my nexus 7 and iPod touch 1.5 years ago and still love it on my 830.

DUNGEON HUNTER 5 IS OUT FROM WINDOWS PHONE STORE ? WHY !? T-T

..out from WP store? What do you mean?

Takes a little to get used to the controls-Icon.

I love this game. Only stupid thing is the steep prices for the various IAP, no normal, sane person will pay these prices, as you already noted George. But its fun. I could easy leave this as the only shooter on my phone and be done with it.

Love the game , but consumes a lot of battery and heats the phone!

Doesn't even work on my phone
"Connectivity issues" :'(

It's amazing game but even on my L930 it laggs, well not like all the time but here and there I have lagg spikes once I recieve notification while playing.

I think this a great FPS - autofire basically solves the whole control issue for me - but my 1520 crashes out of the app after one mission with gfx on High Detail. Knocking it down a notch keeps it stable, but the phone still runs the hottest I've ever felt it.

It is 'Unfortunately for many' !

I dont know if you guys have experienced this but my control seems to be stuck sometimes. I drag a lot and the view does not move. Interrupting and returning to the game solve this problem but after a while, it happens again... This prevented me from having the greatest gaming experience ever...

I had the same problem, by the time the controls become fine, the zombies hv killed u! Hopefully it'll b fixed in the next update!

Checked with developer about Moga support. They do not support it on Windows Phone at this time and no guarantee they will in the future either.

About time. I was thinking to download it but wanted a detailed review first, thanks George. Now I've a good idea about the game and surely getting it.

touch is not too sensitive. playing it on my 535. i love the graphics tho.

Give love for 512 RAM. Man i love this game but I have lumia 520 in my hand.

Go to hell , this game...

Okay, the best part is, game is cross platform, you can send requests and accept IOS and android requests, you can even load game save if you have just bought a WP and if you were playing this on android or IOS :)

Yea, the cross platform compatibility is the best! I play with the touchscreen on my L920, and on my nexus player with a controller. It has no problem saving my game instantly.

This is the WP first fps zombie game where the player can actually move, unlike Dead Target and such...

Cant install in 830... Always showing store error.. while I try to install from sd card...

Heats the phone (L930) too much and controls are not that good tbh. Anyways good to see this game on WP. Now waiting for Crossy Road and Plague.

Its been crashing out on me after every level on my L930 since an update to the game a couple of weeks ago.
I can live with that as my progress is saved.

Love the game , but consumes a lot of battery and heats the phone P/s : download game bigkool 2015 for mobile

Issues with download.....keep showing pending....my Wi-Fi is on and connected! >_

About damn time! Hopefully, they'll pull a Gameloft and update the game with Xbox Live in the near future.

Asphalt 8 can run on 512ram with very low graphics 1gb of ram phones can run it like its an xbox
So this might have a good chance of supporting very soon

But the windows 8 apps on my pc don't work :( only Touch!
Windows Central Newsletter
Thank you for signing up to Windows Central. You will receive a verification email shortly.
There was a problem. Please refresh the page and try again.