Dead Trigger 2 Review - Zombies, Zombies and more Zombies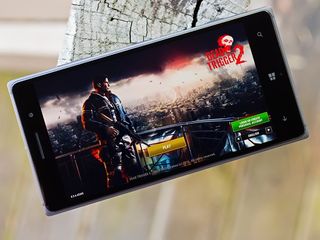 Dead Trigger 2 hit the Windows Phone Store earlier this month and joins the ranks of quality Windows Phone games such as Dead Earth: Trigger Man and Dead Target: Zombie. As you might guess, Dead Trigger 2 is a first person shooter where you roam the world killing the walking dead.
The graphics with Dead Trigger 2 are well drawn up and game play has its fair share of challenges. The game includes over 600 game play scenarios that are staged across 10 global regions. Along with the storyline gaming mode, Dead Trigger 2 also has global tournaments to compete in. If you are looking for a quality Windows Phone game to spend a few minutes with or for longer spurts, Dead Trigger 2 will fit either need rather nicely. Unfortunately for some, Dead Trigger 2 is not available for low-memory Windows Phones.
Dead Trigger 2 does have an account feature where you create a user account that will let you save your account to the cloud. This is a nice feature to allow you to maintain your gaming progress should you switch Windows Phones and should a Windows 8 version become available, switch devices without losing any gaming progress.
Additionally, here is a quick rundown of game play features with Dead Trigger 2. You have:
10 global regions to travel across
33 unique environments to explore
37 kinds of weapons to dispatch Zombies with
600 game play scenarios full of action
A quick note concerning your weapons options is that while you have the traditional handguns, assault rifles and such, Dead Trigger 2 also has a variety of non-traditional weapons to try out. These non-traditional weapons include a big hammer, boat motor, grenade chickens and rocket chickens. These oddball weapons are a nice touch and gives the game a little more flavor.
You begin the game with a helpful tutorial that will walk you through game play mechanics and features. During the tutorial you will meet up with a fellow Zombie Apocalypse survivor, who will eventually lead you to the Hideout that serves as your base camp of operations. Your player progress, cash count, gold count and access to the shop runs across the top of the Hideout screen. Access to challenges and achievements is along the left side of the screen and access to the game's settings and messaging is on the right side.
Settings cover gaming control settings, sound levels and graphics quality. You also have the option to redeem promotional vouchers the developer may hand out, view your gaming stats and customize your player profile from the settings. Shop options include featured items, money and gold packs as well as gear packs. Pricing ranges from $1.99 and up. Currently you can buy a golden AK-47 for $49.99 as the featured item.
From the Hideout, you can resupply yourself with meds, weapons and other items that will help you survive the missions ahead. But first you must help rescue key players in the game who will help you produce these supplies. You've already helped the medic reach the Hideout and the first few missions involve saving the gunsmith, scientist, smuggler and engineer from the deadly grasps of the Zombie hordes.
Missions are launched from the World map and you can set your difficulty level prior to jumping into game play (easy, normal and hard). You will also receive a briefing information on the mission goal and any special items to look for. There is also an oil rig displayed throughout the World map that can be tapped to earn cash.
Each mission will have a cash reward, as well as the opportunities to collect cash, gold and extra ammo as you work your way through the level. Killing Zombies usually results in cash or ammo appearing and there are prizes hidden throughout the mission.
Game play is simple and straightforward with the primary mission being to kill all the Zombies and don't get eaten by them. There are other objectives involved such as rescuing survivors and battling Zombie bosses but for the most part, you are shooting everything in sight.
Along with the main mission path, additional or extra missions will pop-up as opportunities to earn a little extra cash. These "extra jobs" typically include defending a Zombie free zone with a mounted 50-caliber machine gun or eradicating Zombies from a neighborhood.
Game controls cover movement, point of view and weapons selection. The left side of the screen has a virtual joystick to control your directional movement and the right side of the screen controls you point of view (and aim). Your weapon of choice (with ammo count) is in the upper right corner with directional arrows to switch between your equipped weapons.
Weapons fire is automatic when line your target up in the cross-hairs and come within range of the weapon. You begin game play with a monkey wrench so attacking a Zombie is more up close and personal than what you will experience with a handgun or machine gun.
To round out the gaming screen, you have a directional arrow at the top of the screen to help guide you through the mission and your health status is in the upper left corner of the screen. There is also a pain killer button (the + button) to the right of the game screen that will restore a portion of your health.
In addition to the first person shooter view, you will have some missions where you are armed with a sniper's rifle or a 50-caliber machine gun and have to protect an area from Zombies. You have controls to the left to fire the weapon and your aiming view is controlled by sliding your finger around the right side of the screen. When you take your shot, the gaming view will follow the bullet as it travels the distance and hits the target. It does slow game play down a little but effect is worth it.
As you successfully complete missions, you'll earn cash rewards and gaming experience. As you earn experience, your character will advance in levels that will boost his health levels and unlock items. The daily challenges and quests are also opportunities to earn a little extra cash and bonus items. The daily challenge will be displayed in the upper left corner of the Hideout screen and quests are accessible from this screen as well.
While Dead Trigger 2 lacks a help section, the game does a nice job of walking you through game play elements when they first pop up. Still, I wouldn't mind seeing a help section to help as a reference or guidance with gaming features.
Tournaments are held on the weekends and you'll need to work your way up to a Technical Level 5 in the Hideout (which is no cake walk) and offers you the opportunity to take away cash and prizes that will help you survive in the main game.
Overall Impression
Dead Trigger 2 is one of the better first person shooter Windows Phone games with simple controls, quality graphics and challenging game play. It combines the action of an arcade shooter with RPG gaming features to deliver a Windows Phone game that does nicely when you only have a few minutes to spare as well as those times you want to sit down and tackle a marathon gaming session.
The only downside I experienced with Dead Trigger 2 is that it can chew up your Windows Phone battery. That's not necessarily a bad thing but rather something to remember and be near a charger when the itch to tackle several missions in one sitting hits. There were some stability issues present with the original release but recent updates have apparently resolved those issues because game play was smooth and problem free for me.
Some may have grown tired of the Zombie genre of games in the Windows Phone Store but gaming titles such as Dead Trigger 2 seems to breathe new life into the genre. While the in-app purchases may be a little on the steep side, the game itself is free (which makes it one heck of a deal). Plus there is enough variety in game play (defending position, hunt down Zombies, rescue survivors, etc.) to keep the game fresh.
If you are looking for a Windows Phone game that will keep you on your toes and has staying around power, you need to try Dead Trigger 2. The game has had a good amount of success on other platforms and should see similar success here on Windows Phone.
Download Dead Trigger 2 for Windows Phone (Free)
Get the Windows Central Newsletter
All the latest news, reviews, and guides for Windows and Xbox diehards.
George is the Reviews Editor at Windows Central, concentrating on Windows 10 PC and Mobile apps. He's been a supporter of the platform since the days of Windows CE and uses his current Windows 10 Mobile phone daily to keep up with life and enjoy a game during down time.