Death Drop for Windows Phone, skydiving minus the parachute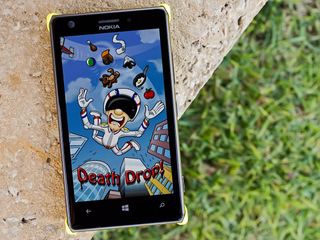 Death Drop isn't your typical Windows Phone game in that you are tasked with jumping your gaming character from a perfectly good airplane and guide him to a target on the ground.
The gaming concept doesn't sound too off-beat until you realize there are no parachutes involved in this game. Each jump destination has multiple targets to strike that range from park benches to garden gnomes to moving vehicles. It's your mission to slam your daredevil into these targets with little regard to safety.
Available for 512MB devices, Death Drop may not hold up to marathon gaming sessions but if you are looking for something off the beaten path, it may be worth a try.
Death Drop's Layout
Death Drop's layout isn't very complicated. You have access to the game's settings and store in the upper left corner along with your coin count (earned during game play). Settings cover turning on or off the game's sound/music and choosing your gaming controls. Game control options include using an on-screen joystick or the Windows Phone tilt sensors.to guide your character through the air as he falls.
Death Drop has eight drop zones that are progressively unlocked. Each drop zone has a collection of targets you will need to land on to win coins. You also have an "X" mark that is hidden somewhere in the jump zone.
The coins in turn can be used in the game's store to buy new jump suits for your character or adrenaline that will make you fall faster and smash into objects harder. You also have in-app purchase opportunities to buy coins ($.99 to $4.99) in case you would like to get a jump on things.
Death Drop's Game Play
When you are ready to jump from the airplane, just tap the "jump" button bar and your daredevil will begin his descent to the ground.
You can steer your daredevil left, right, forwards or backwards to line him up with any of the targets in the landing zone. Tap on the screen and your daredevil will tuck and dive to increase his fall.
At the bottom corner of the gaming screen, you will see a tablet icon. Tap on the icon to pull up a map view of the "X" target. It may show landmarks that can be used as a clue as to where the target is located.
Hit something, anything, and you earn coins. Hit one of the targets and obviously, your coin reward is greater.
Overall Impression
While the gaming concept is a little on the sadistic side, it grows on you just a little the more you play Death Drop. The graphics are nice and the animations aren't bad either with your daredevil character bouncy all over the place once he hits the ground.
The game isn't without challenge in that you have very little free-fall time and the targets can be difficult to identify in enough time to line things up. Death Drop does take a lot of variables into account (high rise buildings, trees, roller coasters, etc.) that may interfere with direct access to your targets. Moving targets are a challenge alone calling on you to time your fall just right to hit the vehicle.
Death Drop may not appeal to everyone but if you are in the mood for a game that strays from the beaten path, the game is worth a try.
Death Drop is available for low-memory devices.
Windows Central Newsletter
Get the best of Windows Central in your inbox, every day!
George is the Reviews Editor at Windows Central, concentrating on Windows 10 PC and Mobile apps. He's been a supporter of the platform since the days of Windows CE and uses his current Windows 10 Mobile phone daily to keep up with life and enjoy a game during down time.
This is what I always wanted.

Looks cool,will try it out tonight

What O_o ! No parachutes! Why would anyone do that!

Please! Stop such headlines.

LOL I was kinda surprised too...

They have found a way to make us click on every single toast notification. They won't be stopping.

My twitter toast notification read "Death drop for windows phone..", and I went, "What the hell happened now!!".

"Death drop for windows phone..." my heart sunk... Phew

Greenpeace training software :P

Let me stay the obvious: Not available here in Brazil. :(

Why are games not available for Brazil, usually see your replies about games not being available.

Different rating approval system, requires extra hoops to jump through for certification.

Not anymore: PEGI and ESRB are now accepted here but many developers don't know.

Something different will download:P

Why don't you try changing your location to US, you could even rock Cortana.

This works, but I already use US as location all the time, don´t mind the phone in english, I don´t like the translation for portugues in some settings, and when you want to read some guide to fix a problem ou discover someting new is allways in english, and of course, BR Store is garbage :( And like you said, Cortana its a nice feature.

There sure are a lot of unnecessary gradients, and ugly design choices. And it sounds like the peanuts theme song in the background. Pretty fun though. Just not pretty.

Its not available in the store

The game is kind of fun but there's a problem that when mission is completed ads pop in between and graphics are a bit low. But overall game is fun

This game is KILLING my productivity! Great find!

Articles about games should have a video about it, for the reader's ease.