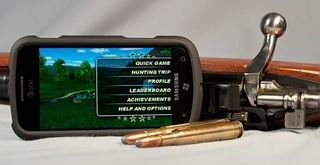 Big game hunting has come to Windows Phone 7. Deer Hunter 3D was released a short time ago that not only brings deer hunting to your Windows Phone but also other big game such as bear, moose, and turkey.
Hunt game from various world wide venues, using a wide range of weapons. From the Russian forests to Mid-western plains you can track game on hunting trips or jump right into the action with a Quick Game mode.
To read more on Deer Hunter 3D, shoot on past the break.
Lay of the land
The Main Menu of Deer Hunter 3D lays things out rather nicely. The Menu includes:
Quick Game: This option launches you directly into the wild. You have the options to choose your hunting grounds, weapon and game type (lightning round or tutorial). The Lightning Round has you hunting under the clock.
Hunting Trip: You choose your hunting venue, weapon and skill level. You track game across a map and complete the trip when you fill your trophy wall (five trophies). As you fill your trophy wall on each trip, you'll earn points. Each Hunting Trip has a point goal. The higher the level and venue, the higher the point goal. When you meet that point goal, additional weapons, equipment, venues and levels become available.
Profile: This is where you find all your hunting stats and skills. Skill points are earned as you hunt and can be applied to various attributes (accuracy, endurance, tracking, etc.) that will improve your overall performance. You will also find your high scores, review your trophy wall and see what equipment you've earned.
Leaderboard and Achievements: The next two areas will display your Xbox Live leaderboard to compare your scores with your Xbox Live friends' scores. Achievements are earned throughout the game and are reflected in your Xbox Live profile. There are twenty achievements with Deer Hunter and as you earn them, a trophy symbol will appear.
Help and Options: The help section for Deer Hunter is fairly comprehensive not only covering game controls but information on the various weapons and pieces of equipment you can use. Options are minimal covering sound and music options as well as firing options.
Your firing controls can either be set either to have a "fire" button or tap the screen to fire your weapon. I found the fire button was more effective in that at times, when I tapped the screen to fire the sighting was knocked off.
Screen Layout
Regardless if you choose Hunting Trip or Quick Game, you get to choose your hunting venue, weapon, skill level (Quick Game let's you choose game type instead).
If you choose the Hunting Trip game, you start out with a map view of the hunting grounds. You're the blue dot and to track game, just tap a position on the map and you will begin moving in that direction. As you move, animal tracks will appear and your job is to move to intercept the animals. When you do run across game, you'll receive a description of what you have found and the option to hunt that animal or continue tracking.
The hunting screen for both the Quick Game and Hunting Trip are the same. At the upper left you'll find a pause button and to the upper right corner you will see your ammunition levels. If you choose the Fire Button, it will appear in the bottom right corner of the screen. A weapons cross hair will float in the center and can be moved about the screen by touch. Just below the cross hairs you'll see a "steady" button that will give you a more steady aim for a few seconds.
When you earn a scope, that control is found midway down the left side of the screen. At the bottom left you will see your weapon type and if chosen, to the right is the "fire" button. My only nit in using the scope is that after each shot, you move away from the scope view to reload. With single shot weapons, this is understandable but with repeaters or even bolt action rifles, you should be able to reload without loosing the scope picture.
When you tap the scope button your view will change to simulate looking through a scope. To increase the magnification, swipe the ring clockwise to zoom into your target. To steady your aim, there is a "steady" button at the bottom of the scope view that will give you a few seconds of steady aim.
Swiping the screen left or right will move your view in either direction. Be careful in swiping to the right. More times than not my swipe extended beyond the screen and I would hit the Back, Home, or Search buttons on my Windows Phone. Luckily, if you abruptly leave Deer Hunter 3D, your progress is saved.
After your first shot, the remaining game on the screen will run for the hills. Once all game is out of sight, a shooting summary will appear noting any game bagged, points earned or to rub it in that you didn't kill anything. If you wound a target, in the Hunting Trip mode, that animal's tracks will appear in red.
Game Play
Deer Hunter ran fairly smooth but I did experience some glitches when the game first loaded. Occasionally, maybe one out of every ten times, the game would fail to load and I'd return to the Gaming Hub. Once loaded, Deer Hunter ran smoothly.
Sight movement or wobble, which is natural, seemed a little pronounced during the early levels. I expected the first few gaming levels to be less challenging, to better orient you to the game.
Deer Hunter also adds realism to the game by making your shot placement count. If you are familiar with hunting, certain target areas are more fatal than others. For example, a shot to the deer's heart is more fatal than shooting the deer in the hind quarter.
I still don't like loosing your scope view after each shot but for the most part, each weapons performance is well reflective of the weapon's real world performance. Deer Hunter 3D does a good job of taking all the variables related to hunting into consideration.
Graphically, Deer Hunter 3D was well represented. Wildlife movement and behavior was realistic. It lacked the "blood and guts" graphics that other games have and it wasn't missed. The games success focuses more on your simulated marksmanship and target choices than graphic violence.
Game progress was challenging but not impossible. As you move to the more difficult levels and venues, you do need to choose your targets more carefully. The larger animals will yield more points and you'll need them to reach your Hunting Trip point goals for the higher levels and venues (especially in Russia and Mexico).
Overall Impression
My first impression of Deer Hunter 3D wasn't too good. I didn't like the weapon sight sensitivity and often missed the shot. However, the more I played Deer Hunter, the more I became accustomed to the sight sensitivity and the game grew on me.
The realistic weapons performance, animal behavior and shot placement made Deer Hunter 3D an entertaining challenge. The environmental variables (e.g. distance shots with open fields, identifying your targets in the cluttered forest, the weather) offered additional challenges to the game.
Granted, not everyone is a fan of hunting but for those who have an interest in this outdoor activity Deer Hunter 3D is worth checking out. There is a trial version available with the full version running $4.99.
You can download your copy of Deer Hunter 3D here (opens Zune) at the Marketplace.
Get the Windows Central Newsletter
All the latest news, reviews, and guides for Windows and Xbox diehards.
George is the Reviews Editor at Windows Central, concentrating on Windows 10 PC and Mobile apps. He's been a supporter of the platform since the days of Windows CE and uses his current Windows 10 Mobile phone daily to keep up with life and enjoy a game during down time.