del.icio.us Plug In for Windows Mobile Pocket IE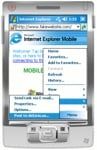 This is super cool - it's a plugin for PocketIE that posts a bookmark to your del.icio.us (opens in new tab) account. I use and love del.icio.us quite a bit, so being able to easily post to it not only from my desktop (I like the Mac-only Pukka (opens in new tab) for that) but also from my Mobile is pretty cool. The linked page goes into a bit of detail about how much work it turned out to be to make the plugin, so let me just say how much appreciate it.
If you're a social bookmarking fiend, this thing looks like a must-have.
Read: A del.icio.us plugin for Windows Mobile via Jason Landridge (opens in new tab)
Update: Dale notes in the comments (click, you know, "Comments" to see it) that the plug in has now been repackaged as a easy-to-install .cab file. Cheers, Dale!
Get the Windows Central Newsletter
All the latest news, reviews, and guides for Windows and Xbox diehards.
If you tried this before now, you might want to know that it is now repackaged as a CAB file - which makes it much easier to install. Just run the CAB file on your PDA (and it puts the files in the right directory and registers the DLL for you.)
As before, you can get it from http://dalelane.co.uk/files/posttodelicious.zip
Hope this helps!
Kind regards
Dale http://dalelane.co.uk/blog/

If you found this useful, you might be interested in "Turn into TinyURL" - a similar plugin for generating TinyURLs.http://dalelane.co.uk/blog/?p=181
Suggestions for any other web services that might be made more helpful with such plugins would be gratefully received.
Kind regards
Dale