Despicable Me: Minion Rush update brings Jelly Lab, new costumes and more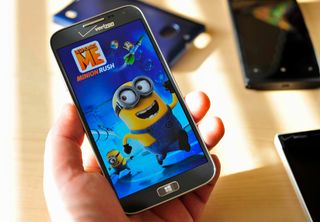 If you're a fan of Minion Rush, we've got good news for you, as Gameloft released an update today that brings the much-awaited Jelly Lab along with new missions and costumes.
Here's all the new features found in the update, according to the changelog:
Two new costumes to help you win more challenges: the Jelly Jar and Lucy disguise!
Experience the game through the Jelly Lab and progress by accomplishing new types of missions.
Play your way through the Jelly Lab and discover all the locations from the previous updates.
If you've played the game before, don't panic! You can use all your previous progress and achievements in this new, even more fun version of the game!
Overall bug fixes and optimizations.
The download size of the game is now at 103MB, owing to all the recent additions. Head on below to download the game, and let us know what you think of the recent update.
Thanks Usama for the tip!
Yay an update! Still a good game I play to this day.

Heard from my sister using Android that this update makes the game very boring and bapples are removed. Feeling doubtful whether to update or not. :/

True , collecting bapples was fun SIGH

I've updated anyway. -_-|| and the game feels so different. Bapples gone.. I was on 73rd day T.T

Someone help me please. I downloaded this game a long time ago but it isn't in my app lists or in the games hub. It's says installed but it's not in my phone. I can't uninstall it cause there isn't a game file.... I opened the Files app and looked all over but c couldn't find it. I went into the store and looked at my apps and noticed that it was despicable me game but it has a name like @C: Something... Someone help? I tried everything, even reset my phone.

I can't even update it without it saying"Attention required"...

Ooh looks like a fun way to waste time on the commute.

Yaay!Tip Credit again! :D I'm really impressed about how you guys never forget to give tip credit.Awesome.I stopped tipping WMPowerUser after they never gave me tip credit(Idk why) You guys are definitely the best :D On a more on-topic note,haven't downloaded the game again but I just might,this update looks cool ;) I hope the lagging on 512mb ram devices has been fixed.Really annoyed me sometimes :(

Wow.. So much gratefulness in one comment.

It still lags, I tried it today.

Oh no.....
I won't download it then,I guess :( Thanks for the heads-up! :)

MINIONS are awesome. Gonna download this game again.

Last time I downloaded few weeks ago it was lagging very much on my 525.

Lagging on a 1 GB RAM Windows Phone device?

haha lag with 1GB device, so much for my 520

Uninstalled due to crashing and lagging in my Lumia 720.. Anyone tell me whether the update fixed that prob.. So only again im going to download..

I downloaded this twice before and it stopped installing at 94%. Hope that's been fixed.

@Harish, just a tip; you have "the Jelly Jar and Lucy disguise!" twice in first bullet point.

Didn't see that one before hitting the green button. Fixed it now. Thanks for catching that!

Good game but meh , its size... After i get wp 8.1 ill sure get it! :))

Great update.. Now the game is not hanging like it was before.
Completed 1st stage now playing second one.. Superb..

After the 103mb installation does it takes extra download to start the game like some games....

Yes it does downloads different locations. But in this update there's a nice thing to download different locations on a selective basis. And one more thing when downloading additional data, now it does not gets stuck at 94%.

How much is the size of the additional download?

Around 178 MB if you will download all the locations.

Crashing badly with my Lumia 720
I can't start the game!!?

Honestly, I won't recommend this game to any 512MB devices. :/

Before last three updates it was working smooth on my Lumia 520 though.

Still d game is huge in size when compared subway surfers and temple run 2......

Due to different locations present in this game whereas in subway and temple there's only 1 location present.

Cause it was messing with his coat and I wanted his neck to breath.

People having problem in updating or installing app.rebooting a device may help you

Please gameloft update six guns Lumia ke on ios and Android

Can't seem to "update" this app. It's basically useless in my phone.. In my Android tablet it runs fine.. I'll try again and if still couldn't make it through I'm afraid I have to uninstall

It takes me back to the start screen when i hit play.

This update made me rage so much..first, it didn't save any of my progress. I've lost everything what I purchased/played for. The Banana Doubler which I bought for 1100 HUF is gone too. And on top of that after I quit the game the whole game restarts from the beginning, and I lost my progress again..

Yeah it does that bro... You have to consistently have wifi or data in order to load your game... Sad :(

No thanks. Uninstalled after it decided to lag after the big update few months back(600mb on disk, which was 300mb before. without lag). On Lumia 520.

Really that's stupidity forget that keep calm and wait for ubisoft to release assasins creed pirates.

No thanks, it slows down my Lumia. Game needs over 650MB. That's insane

Thos game is still a little bit laggy

Hmm... they totally messed with the events system and bapples are gone from what I can tell. Kind of confused.

Fun stiff. Great to see continual updates

Is it just me or you can't play with your saved data when you're offline?... Hope they fix this, not always gonna have wifi or data

I cant even play with my saved profile. And every times i exit game and open again then the game start from the begin again, again and again

I stopped playing. The update only makes it mandatory to buy tokens to play. After Level 100 or so, the level of the missions become increasingly impossible to achieve and you can't progress to the next phase if you don't get at least 2 fruits on each mission. You can't get free tokens anymore and the ones you are supposed to get from the game whenever you're lucky enough to get to the end of a mission are usually located in spots that will make you die when you try to get them. Money-grubbing at its finest.

After updating, the game lags so much making it impossible to play. Unistalled and reinstalled but the problem is still there. I've got a Lumia 920.

Ok with update until I realized all the tokens I earned but didn't redeem because of curious kids are now gone. So now I canr buy any of the other costumes. That is not fair I had over 600 tokens I cant use.
Windows Central Newsletter
Get the best of Windows Central in in your inbox, every day!
Thank you for signing up to Windows Central. You will receive a verification email shortly.
There was a problem. Please refresh the page and try again.