Here are the game developers that Xbox Windows Phone desperately needs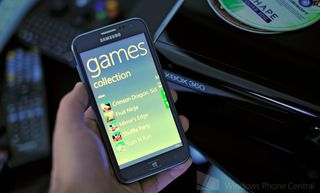 Last week, Gameloft kicked off their much anticipated wave of Xbox releases for Windows Phone 8 with Asphalt 7, a game I call the best racer on the platform in our review. They've followed up this week with the very strong The Amazing Spider-Man and the not-so-strong and highly skippable Real Soccer 2013. With at least 9 more games coming, including first-person shooters, action games, and even an MMORPG, it's safe to say that Gameloft will keep Windows Phone gamers pretty busy this year.
Similarly, Electronics Arts and its subsidiaries Chillingo and PopCap have produced a ton of fine mobile Xbox games as Nokia exclusives within the past few months. All of the Nokia EA games are expected to become available to general Windows Phone audiences six months after release, so they really do benefit the platform as a whole.
However large and prolific they might be, publishers Gameloft and Electronic Arts can't keep the Xbox Windows Phone lineup afloat all by themselves. The world of smartphone gaming is vast indeed. iOS and Android thrive thanks to many game developers and publishers, both great and small. Today we continue our 'How Microsoft can save Xbox Games for Windows Phone' editorial series with a look at the game makers that our platform needs in order to thrive.
Microsoft must work to retain Xbox Windows Phone developers and secure new ones.
While the first Temple Run is due at some point on WIndows Phone 8, iOS users are already enjoying Temple Run 2 (pictured).
I'll admit that Windows Phone is still a niche platform compared to iOS and Android, so expecting a high-volume developer to port all of its games to Microsoft's mobile OS is a bit much – especially when none of the big middleware engines like Unity and Havok are actually ready yet. But Microsoft can't afford to just wait a few years and hope that more developers eventually sign on.
For one, we've seen evidence of Xbox Windows Phone developers of all sizes becoming disillusioned and leaving the platform, including previous supporters like Game House and IronSun Studios. The unpleasant and time consuming Xbox Live certification process, the relatively small user base, and a lack of financial incentives from Microsoft are all at fault. The platform needs to be gaining developers, not losing established ones.
Besides, if Microsoft takes a wait-and-see, low-spending approach towards the Xbox Windows Phone lineup, in a few years' time there simply won't be a Windows Phone gaming scene. Gaming might not be the number one selling point of a smartphone platform, but it's still big business on iOS and Android. Every year that Microsoft neglects to put their might behind growing Xbox Windows Phone is another year that iOS and Android grow and advance further than this underdog platform. If someone doesn't draw a line in the sand and get Windows Phone properly caught up, there will eventually be no catching up.
Key publishers that appeal to gaming enthusiasts must be encouraged to go all-in on Windows Phone.
Alright, so Xbox Windows Phone needs more developers and publishers, but which ones? Look at the existing Windows Phone lineup: it's filled with puzzle games, physics puzzlers, and casual games. Those all have a place, but 'core' games are woefully lacking. The platform needs meatier, more hardcore games such as can be found in ample supply on iOS and Android. Hardcore doesn't mean limited appeal; not only do more serious games sell great on other platforms, but remember that a lot of Xbox Windows Phone gamers actually come from the Xbox 360 and want to play console-like games on the go.
The lineup of Gameloft games that I discussed earlier are a perfect start to providing that deeper, more compelling console-style experience on Windows Phone. Now let's look at a few more high-priority publishers that Microsoft should be wooing.
Square-Enix
Demons' Score sports some impressive mobile graphics.
This Japanese publisher is already onboard with Windows Phone, having published Final Fantasy and KooZac so far. Both are fine titles, but the original Final Fantasy is clearly dated and puzzle games like KooZac aren't what the publisher is known for. Square-Enix is dipping its toes in the Windows Phone waters rather than jumping in head first. But the publisher has some top-tier mobile titles that could be ported to Xbox Windows Phone, if only Microsoft would convince them to do it:
Chaos Rings II
Chrono Trigger
Demons' Score
Final Fantasy Dimensions
Final Fantasy III
Final Fantasy IV
Final Fantasy Tactics
Secret of Mana
The World Ends with You
If left to its own devices, Square-Enix might possibly port Final Fantasy II this year – a 3-year old iOS port of an aged NES game that most RPG fans consider inferior to the original, and still quite dated for an RPG. But imagine if the publisher leapt ahead to their strongest games, and brought those over at a rate of two or more per year. The games listed above would sell like hotcakes, plus before too long Square-Enix could publish Windows Phone ports much closer to its iOS releases.
Capcom
Street Fighter X Tekken is surprisingly playable on touch-screen devices, so why not Windows Phone?
Capcom is another Japanese publisher with a huge presence on both consoles and smartphones. Windows Phone has a single Capcom title so far: KenKen (mysteriously not available on Windows Phone 8). But just like KooZac, it's not exactly a top-tier effort. Here are some Capcom games our platform really needs:
Final Fight
Ghosts n' Goblins Gold Knights II
Ghost Trick
Marvel vs. Capcom 2
Mega Man X
Monster Hunter Dynamic Hunting
Phoenix Wright
Resident Evil 4
Street Fighter IV
Street Fighter X Tekken
Again, that's an extremely solid lineup. If Microsoft and Capcom inked a multigame deal akin to the Gameloft 12 games agreement, Windows Phone could be swimming in stellar Capcom games in no time.
Warner Bros
Batman: Arkham City Lockdown relies on the Unreal Engine that we discussed in a previous editorial.
Another major force in entertainment, Warner Bros. produces smartphone versions of many blockbuster console franchises. Just look at this list:
Bastion
Batman: Arkham City Lockdown
LEGO Harry Potter: Years 1-4
LEGO Harry Potter: Years 5-7
Midway Arcade
Scribblenauts Remix
Tapper World Tour
Ultimate Mortal Kombat 3
Activision
Call of Duty: Black Ops Zombies is a couple of years old, but Windows Phone could still use it.
Activision is one of the largest console publishers in the world, right beside Electronic Arts. While 'The Big A' is less prolific in the mobile arena than the two previous publishers, it still produces some very important iOS games.
Activision Anthology
Call of Duty Zombies
Call of Duty: Black Ops Zombies
Pitfall! (A 3D reimagining of the Atari 2600 already available on Windows Phone)
Skylanders Battlegrounds
Skylanders Cloud Patrol
Skylanders Lost Islands
That's right, Call of Duty – the single bestselling videogame brand in the world – could be ported to Windows Phone. Microsoft already has a great relationship with Activision, often negotiating timed exclusivity of Call of Duty DLC for the Xbox 360. Leveraging that relationship to bring Activision into the Windows Phone stronghold makes perfect sense. Why let Gameloft's upcoming clone Modern Combat 4 have all the fun?
Bethesda
Dishonored: Rat Assassin - This screenshot speaks for itself.
This console publisher hasn't been cranking out mobile games as fast as they used to, with Dishonored: Rat Assassin being their only recent release. Rat Assassin is a Fruit Ninja clone that ties into last year's critically lauded console release Dishonored. Although a small-scale mobile title, Rat Assassin has that rare crossover of casual gameplay with hardcore appeal. Bethesda also owns id Software's back catalog of iOS releases, all of which would be highly welcome on Windows Phone.
Dishonored: Rat Assassin
Doom Classic
Doom II RPG
Doom Resurrection
Rage 3D
Wolfenstein 3D Platinum
Wolfenstein RPG
Two of those games are RPG spin-offs of first-person shooters – both genres that Windows Phone badly needs.
Take-Two Interactive
Can any phone gamer ever be truly happy without Borderlands Legends? I would argue 'no.'
This media giant consists of two gaming brands: Rockstar and 2K Games. The former has yet to touch Windows Phone development, depriving us of their fine Grand Theft Auto ports. 2K Games did produce decent Xbox versions of Civilization Revolution and Sid Meier's Pirates. Still, 2K's biggest mobile title Borderlands Legends is what gamers really want.
Grand Theft Auto III
Grand Theft Auto: Vice City
Grand Theft Auto: Chinatown Wars
Max Payne Mobile
Borderlands Legends
NBA 2K13
NHK 2K11 (This would need to be updated, of course.)
Next installment: The games Microsoft themselves should be making
Now then, how do you feel about the publishers in this article, guys, gals and hybrids? What other mobile game developers and publishers should Microsoft court for Xbox Windows Phone development? Let us know in the comments below.
If you enjoyed these articles, please comment and tweet them to everyone who would benefit from it. The problems Xbox games face on Windows Phone won't change until the right decision-makers realize their importance. Let's do our best to make a difference together!
Windows Central Newsletter
Get the best of Windows Central in in your inbox, every day!
Paul Acevedo is the Games Editor at Windows Central. A lifelong gamer, he has written about videogames for over 15 years and reviewed over 350 games for our site. Follow him on Twitter @PaulRAcevedo. Don't hate. Appreciate!
I need to become a wp dev....is it that hard? Cause all these other devs are annoying

I'd help partner up been learning programming since wp7 but too poor to put up $100 for a subscription I just want the tools first to get a good feel then I'd pay $100

installing and using the emulator is free. You can develop for free and then getting someone to publish it would be easy. If you had a quality working game, heck, I'd publish it.

Find someone with a edu email account and sign up for dreamspark....Free Dev account (and free unlock for your phone to test) it's for students but, if you know someone with or can get access to a edu account, you can get one...

As for learning, I want to learn C# and C+ to start doing Wp7 and 8 programs, Dont think any Noob could do games like the pros do but, you need to start someplace...

I started developing thinking exactly like you are now, try it its fun. I started by trying to build my app by poking around in expression blend, seeing what happens when I do this or that, then I looked at source code, and then combined some elements from that into my app. Although for me it took 4 or 5 months at least so if you really want to start you have to be commited

Even once you make a game you still need to have it marketed. And getting sites like these to market your game unless its popular is pretty tough. Check out Wordemic! Fun scrabble game you play with everyone in the world at the same time.


The WPcentral community should get together and create a collaborative development group.
Skype every other day and learn .NET (WP and W8) development skills from one another.
Before you know it, every member of the group is contributing code for awesome apps and games!
We'll just need one person to be a publisher. Everybody can use the express edition of the SDK.

I've want3ed to get in on some development. What better time tha.n now. :D

I have a thread started similar to this. Look for windows phone app starter. I like the idea.

I'll start up a private Facebook page. I'll put it in the forums and maybe on WMPU, etc. as well.
Look up "Dot net c# Indie Devs"

I would buy a real Scribblenauts game for my 920.

Anything from Square Enix would be amazing. It blows my mind that they havent released FF VII in some form for mobile, as its their best selling franchise iirc.
Either a redone version of the original, or a more 2D approach more like their FF IV version for iOS.

My only problem with Square Enix is that they kinda take anything for mobile and find some way to try and make a ton of money on it. I mean, I have a FF1 black mage tattoo, but ponying up another 7 dollars for the game on wp7...after all the other ports i've owned...no thanks. Priced like other mobile games..I could have gotten it.

"Final Fantasy: All the Bravest" comes to mind, though it is missing from the list above. I'm pretty sure some of their other mobile titles have made the 7 dollar charge for FF on wp7 seem like chump change.

Square doesn't get mobile and until they do, I couldn't care less if they come to WP.

Admittedly I bought Tactics on iPhone. One of my favorite FF titles and it was 15 bucks! One of the best but damn! Still.....played the heck out of it. Agreed completely though. Its like Nintendo (bit of a fan boy here). Love em to death but these premium prices are a killer.

I think their pricing is fine, however I do think companies should make an effort to make their cross-platform products "one purchase, all platforms".
Besides the pricing, squares FF games have been very well ported afaik.

Things are slowly speeding up. I am confident that the next major update will FINALLY be the "one" to put us on the same level and potential.

While I am a big support of WP, thats what we all said with Mango, and then with WP8 :)

Yep completely agree! haha but as you can see WP8 was a major improvement from WP7. I desperately hope BLUE will finally put WP on the same level....

The problem is that as WP evolves to catch up...the rest of the OS's are also advancing....so Microsoft needs to sprint while everyone else is jogging in order for some serious change. Getting these big name publishers is a must...Capcom, Square, Warner Bros, etc.

The other os's aren't advancing by much. As far as I can see the biggest advances in ios was the notification center and making a 3d map software that did a poor job of showing accurate information. The biggest feature in Jelly bean seems to be google now and some usability and performance improvements. WP can be on equal footing with the other platforms but they need to get off their asses. Blue better have many real improvements to showcase or people will start abandoning the platform. Also, everything they announce better be available withing a month of the announcement. The announced many apps with wp8 that are still not here.

There will always be issues like mentioned in the article until ms gets the certification process improved. Once a week I read a developer mentioning the process is horrible and some will be getting their games on ps4 before the next xbox because of this. This is MS's biggest roadblock....themselves

Forget big titles, bring temple run to WP -_-

Yesss!!! Temple Run or die!

I am pretty sure they said Temple Run was comming.

Yep, it says so in this very article.

All I see is the picture, not the name..I am on the WPC mobile app BTW.

Ah, for some reason the captions for screenshots don't show up in the app. Will have to ask our dev about that.

Too bad temple run 2 is already out...

I'll take Gunstringer. It's an exclusive on Windows 8 and pretty much same genre.

I really want com2us and nimblebit to come to wp

Rockstar Games !
If my XOOM can play GTA III & GTA Vice City without any issues , then my 8X should be fine ... I love me some Grand Theft Auto !!!

I knew I forgot somebody. Added them into the article.

Yea I want some GTA here too....

I'll take anything of quality with Windows Phone 8 or Surface RT.

I tried it before ... But never got a reply ...

How about Konami ?
Playing Metal Gear Solid 1 again would be awesome

Konami has actually published a decent number of Windows Phone games, but nothing lately.

+1 this is the only game series I really care about on mobile. We need Chinatown Wars, 3 and Vice City.

YEEEESSSS!! Vice City is still, to date, my favorite of all the GTA games. Most fun, best storyline, strongest main character, and definitely the best easter eggs! (chainsaw and tub full of blood, anyone?)

Great articles but how many readers actually are taking the time to email these companies and tell them that we WP8 owners are interested in their product on our platform? That is what makes the real difference. Emails from customers. How can they know about interest if we don't tell them about it?? We can't spend our time talking about specific games we like and dislike. I say bring them all to WP8. Let the downloads do the talking..

What about Microsoft themselves, shouldn't they be leading the way? Forza, Halo Wars, PGR are all Microsoft IP they could produce themselves. They produced games for Windows 8 eg Adera and had "coming soon" notices for WP but nothing in the end. And didn't they make a big deal about creating a studio for making mobile games? What has come of that? I think if Microsoft themselves can't be bothered to create AAA games for their platform its a bit much to expect 3rd party devs to care.

That's next week's article in a nutshell.

Agree. An exclusive Halo game would get some attention. Gears of War is their other big exclusive. Why not commission Epic Games to make an Infinity Blade version of that? Let's not forget Microsoft owns Rare. They were one of the powerhouse mobile developers of the Game Boy era. Viva Pinata is a brand with some potential. It even has a cartoon series kids can watch on Hulu.

It's an interesting coincidence that when the xbox guys opened up achievements as a teaser on non-Microsoft platforms is right around the same time things really slowed down on Windows Phone. I think getting stabbed in the back like that really took some wind out of their sails. I get why Xbox would do that if they were a separate company, but if Ballmer is really "all in" on Windows Phone like he claims, he needs to work harder to align the empires within Microsoft. It's a huge cultural change for them, and the synergy that has started over the past few years will quickly unravel if he doesn't keep driving the company (really, really hard) in that direction. The Windows Phone guys NEED the full support of the Xbox guys to solve all of these problems; they can't do it on their own. Obviously the Xbox guys have a lot on their plate with the new console coming this year, but to me "all in" means you find the resources to make things happen that need to happen, especially when you are a company as big as Microsoft.

Paul what do you think WP is lacking that many game developers treat it as an option? Is it the development process or lack of support from Microsoft or is it that they don't see a future of this OS.

Just two things: lack of support from Microsoft and a small installed user base. The number of users is slowly growing, so if Microsoft would step up and give it their all, we would get over the hump.

I think windows blue and the nxt xbx have a major role to play in the direction of the WP gaming platform. I think MS is holding something major for a future event. I have a feeling that cross platform gaming (win8/9,WP & Xbox???) is something ms is working hard to implement.

MS need to stop screwing around with their cert process. I've heard from a number of devs for XBLA now that going through all that process is just expensive and time consuming and those same devs praise how amazing the same process on Steam is because you can make a tweak, publish it and have the update out within a number of hours and at no cost to them.


It's not like MS's cert does jack shit anyway. I've had updates on my phone that have completely broken the app and made it unusable so MS aren't really doing anything on their end.

To say they aren't doing anything is far from the truth. I've had so many cert failures from things I didn't even pick up on myself. I do agree that occasionally they pass something that breaks that they shouldn't. Had this happen myself but only on wp8 handsets, so I'm thinking that's more the reason

With the next big WP update (Blue) coming near the end of year, and the next Xbox being released for holiday season as well, I am guessing (or maybe just blindly hoping) that we see a big connection between the Xbox brand and the Windows Phone brand. In the eyes of consumers, the Xbox brand is the strongest of all Microsoft's products; I think the smartest idea would be to tie into that brand as much as possible. Apple did it with the iPod- after the wild success of the iPod (where it was so popular that any mp3 player was loosely referred to as an iPod), Apple put "i" in front of practically every product and it worked.

We've been waiting for WP and Xbox connectivity for awhile. Smartglass is a start, but that's not WP exclusive. I'm getting tired of waiting for the next big update to make everything okay.

How long did it take android to get to where it is today?!?!? Windows phone is the youngest of the top 3 Oses and besides they also have a lot more competition, people need to be more patient

But Microsoft is playing catch-up. That requires them to move faster... otherwise the industry will move on to something else.

One thing that would really set Xbox gaming on WP apart is some sort of docking gamepad peripheral, complete with PS Vita style analog sticks, triggers, bumpers and buttons. Combine that with Xbox Live functionality already available and some of the more powerful flagship devices like the L920, Ativ S and 8X, and you've got the ultimate portable gaming solution with no compromise. Include a 3000mah battery in the peripheral for extended gaming sessions and you've got a system that is relatively inexpensive (sell the peripheral for maybe $60-70+the subsidy for the phone of your choice) and destroys the competition in every regard! Developers will flock to that, and the advanced titles and superior gaming experience will bring the 'core gamers to our platform in DROVES.

O MY GOODNESS THANKYOU! THAT WOULD BE AWESOME AND SMART!

What Microsoft needs to do is the next xbox should support bluetooth wireless controllers. Then make the new xbox 3 controllers connect to a Windows Phone with bluetooth. At that point you have full first party compatibility with Windows 8, Windows RT and Windows Phone with gamigna nd controllers.

What you said x 100. Its such a missed opportunity that Microsoft hasn't capitalized on Xbox for mobile. If they made an official universal micro USB controller that could also dock your phone that would be awesome.... On my Nexus 7 I use a otg cable to connect a wired Xbox 360 controller. Why can't I do that for WP8!? If NOVA 3 and Modern Combat 4 also come out on Windows 8/RT I might opt to get those titles on a platform that has USB support.

On a side note, Bluetooth would work but lag is always a problem. Look up MOGA controller for Android tablets- too much lag. WP8 doesn't support the most recent Bluetooth spec either.

Lots of us have thought about something like that for a long time, even MS apparently: http://www.wpcentral.com/latest-microsoft-patent-suggests-interchangable-accessories

I would have the bottom part like regular Xbox controller and have the adjustable docking part on a hinge like the DS/3DS top screen though. It may seem bulky, but the target is gamers who want a dedicated gaming experience, not people who want super-slim phones and only play Angry Birds or whatever; it's gamers who would carry around a dedicated portable gaming device in addition to their phones, except in this case they'd be the same core device and it'd be WP/Xbox instead of Vita or 3DS.

I'm not sure if a "docking" gamepad peripheral can work with there being several WP8 models out there all with different shapes and sizes. I could see a Bluetooth one (hopefully as little lag as possible) or at least a USB cord pull-out controller.

It seems more developers are taking an interest in Windows 8 than Windows Phone. Microsoft needs to get that Blue out by the end of the year. I just don't think there is much Microsoft can do... unless people leave in droves for WP. Developers are more interested in BlackBerry it seems. I keep hearing from people that they would get a WP8 over a BB if WP had a phone with a physical keyboard.

Kormiko, not only that about the physical keyboard, but BB10 is getting instagram. Something WP users have been asking for!!!!

I still get people asking me what my phone is... so they are curious, and that's good. But I also get, "I didn't even know there was a phone by Windows." This is from non-tech savvy people, but still. I go into BestBuy and they don't have them on display or have the 900 where the 920 should be. They have the Surface by the phones instead of by the other laptops and tablets. What is that? I really hope Microsoft is working on their own Google-like glasses right now. If they aren't, they are going to go through this same process again.

Instagram has stated they have no intention of bringing their app to BB10. At least last I read on it. But you make a valid point, WP needs Instagram, just for the sake of its popularity.

Damn all those games sound amazing! We are missing out hardcore, these games need to come asap! I don't wanna switch platforms to get all this awesome stuff so Microsoft needs to step it up. I need more achievements!

Exactly why I had to get a galaxy tab 2, for gaming and also Instagram. But I'll tell you one thing, using an Android device will make you appreciate Windows Phone that much more! Just need to bridge that gaming and app divide a lot more.

Would it be smart for devs to wait until the store merge or develop games and then spend more money creating an update later?

The irony of it all. Microsoft. . . Creators of the XBOX, just letting the Windows Phone 8 gaming platform slowly rot away into this putrid and on so many levels disappointing empty abyss. The possibilities are endless and the resources are plenty. But the customers please are fruitless. We are left to ponder the fact, well Maybe Microsoft just doesn't care about the gaming on Windows Phone 8. Sad but true.

I agree. This phone does everything else except play great games. Maybe we are looking at the platform wrong. The Lumia 920 is the best phone I have ever owned, hands down. As for games, I am fortunate enough to have the ability to look to other devices to fulfill that need. It doesn't bother me in the least that gaming on WP8 pretty much sucks. I have the SNES and GBA emulators, Spotify, and a great phone. What more could I ask for?

You could ask for the games, Nicky. That's what we're trying for here.

Lol, yep! We NEED those games for the platform.

These devs need to come out with stuff now! Now's the time for shit to pop off on Windows Phone.

Activision's Skylanders is a huge hit. You forgot one of their mobile games though, Skylanders: Lost Islands.

I was just trying to hit the highlights of each publisher's arsenal, but I'll add it in.

Another MSFT failure...they don't show faith in their own platform, why should devs?

Don't show faith? Microsoft approached the company I work for about a year ago willing to pay us to build a windows phone version of our app. It wasn't in the cards at the time but I think it'd be different now.

Nokia puts 10x the effort in...MSFT isn't even half assing it.

It would be great to see Grand theft auto on the Windows Phone but i think its unlikely anytime soon if things carry on the way they are.

I think, personally, if Gameloft sees success from their 12 games on Windows Phone, it won't take long. At all. With or without Microsofts attention. Because the store is SO lacking in content, AAA titles stick out SO much more. I bought Asphalt 7 and also purchased Spectral Souls. Immediately. I believe the success of WP gaming at this point is in Gamelofts hands. The community needs to purchase and make an impact.

Agree, i purchased both. For support as much as the games themselves.

Same here. These guys deserve attention, ESPECIALLY the non-Xbox Live games. Diversity is the name of the game.

I think the main problem with gaming on my phone is the battery drain, really.
If im at home, id rather game on my computer or console than my phone, and on the move i cant lose battery at the rate games require.
On my 920.

Windows Phone doesn't need them...they don't need ANYONE!! Just ME and Windows Phone @_@

I kept waiting for Paul to bring up Microsoft. I was more than pleased to see that the entire article next week will confront this issue. It is one of the things that ticks me off the most. That, and not leveraging SmartGlass when it was an exclusive.

A month ago, there was a real dearth of games. I am not saying my cup is empty. At least it is half full thanks to the regular release of top tier titles. I don't think any of the developers mentioned above will come to our platform. It will have to be mobile only developers like gameloft who can make a difference.

Well, they certainly could come to Windows Phone - if Microsoft provides them incentives. Some of these devs have already supported WP just a bit, but we really want to see them show a proper commitment like Gameloft has done.

I hope so too. I still dream of playing Batman and GTA while on the move. But when I see my beloved windows phone market share go up only a few notches every month, it reenforces my belief that big publishers simply won't come. At least not as quickly as mobile pros like Gameloft.

I'm not particular to get games already on other systems we make Xbox for Christ sake where are those games that make them say oooooh or ahhhh not, I been had that for iOS or Droid, make em drool over the games like they do over the phone.

Don't worry this time next year I'll be certified on top of my degree and I'll be developing non stop on my surface pro

Hahaha :) kudos to you, please do it and let us know here

Well, we wish you the best :) Hope you can make something fun and entertaining like Skulls of Shogun.

This article is so true!!

Asphalt 7 glitches out from time to time, not allowing me to use the back button. This was addressed, but knowing Gameloft...
Either I just let my phone idle, overload the active apps, or reset the phone, JUST to close it. (Fail on MS's part too.)

The most important thing is that people buy the games that exist. We need companies to make money from the games they have invested in otherwise they won't bother making more and it will be harder to get new developers in the platform.

Where is Ms. 'Splosion Man; I thought Twisted Pixel were talking about making that Game last year =(

It's actually coming out pretty soon - within the next 1-2 months, I believe. Iron Galaxy is the dev for the mobile versions though, not Twisted Pixel.

Mortal kombat and street fighter

Most of the games mentioned would be best played on a PS Vita. I personally have no intention of playing anything terribly involved on my phone - at most it's going to occupy idle moments in a commute, waiting room, or silence my kid for a few minuutes.
If you want more games on Windows Phone, then get more people to buy the device and buy the games that exist. It's a chicken & egg problem, sure - but that's what it will take.

I sorta agree about that "psvita" comment. On one hand, I greatly prefer portrait oriented single thumb games I can pick up and put down at a moments notice on my phone. But having emulators for wp8 is a huge success, and I find myself playing the emulators on my phone more than on PC. If the more involved games had SkyDrive backups at the very least, and maybe an 8 app equivalent for exchangeability, then I would greatly encourage more depthy games. There's no need to buy a psvita then: just invest in a portable USB battery :)

Remember that we all have different tastes. Just because you don't play these sorts of games on the phone, that doesn't mean other people don't. Every one of these games is already a hit on other mobile platforms, so we know that they work and have an audience.

I've got a lot of WP7 games that I haven't even started anyways.

God I wish those games were on this platform life would be great lok

Unless Nokia make some kind of arrangements with these Devs, dont expect to see them in a WP8 near you anytime soon... Microsoft don't give a horse crap about WP8.

This has been shown to be false, it is not high on their list but doesn't mean they don't give a horse's crap

Just chiming in my missing company: Cave. Released Dodonpachi, doesn't work on wp8 and now they're completely silent :(

I would love to see Espgaluda 2 or one of their other games come to WP too.

+1. Dodonpachi WP8 port plox

I think one thing that is holding WP8 gaming back is that Unity support isn't complete yet. Once Unity releases full WP8 support you'll see a TON of games suddenly get ported over within 3 to 6 months.

Yeah, I was keen for a Vice City port to WP. Maybe the next one.

again with the games!? Please please write something up about Xbox Music or the Pandora app, or the windows phone app!

Hmmm...you realize he has a running series on what Xbox and Windows Phone need to correct, this is editorial #6, Xbox music needs its own editorial as does Skype

Am I the Games Editor or the music guy here? I understand that those issues are important, but I can't offer the same level of insight to them as I do in my gaming articles.

Lol I had to check the website to make sure that wasn't addressed to me...I know you are the games editor, perhaps Daniel or Rich could take up the task of Xbox Music...I think it is sorely needed

I want to see the Might and Magic puzzle game from XBLA. It would also be great if Microsoft could do some kind of deal with Nintendo to get Pokemon and Mario franchise stuff on WP.

Some of the games listed about would be killer too. The Lego Harry Potter and Borderlands looks particularly awesome, and we need some more good RPGs too.

Wouldn't it be great if EA reanimated the Archon franchise for WP8?

@paul, I have told Microsoft, Xbox, and windowsphone to hire you, is an Xbox music series forthcoming after this?

We've had many requests... I can't make any promises though.

I understand, if not that perhaps things business needs, or apps that are not up to parity, anything to keep the pressure on and ideas fresh to make sure Microsoft knows we are paying attention

To all the naysayers: contact the game platform of your choice by twitter, a small, vocal minority is always more powerful than a large, silent majority...do it! Twitter is free

Hey Paul , aren't You friends with Mr. Belfiore ..so why you don't just bring it all up over a cup of coffee ;))
..
No really , who are exactly the right decision-makers ? like give us names ,,like is it ( Joe belfiore ) , ( Terry Myerson ) or others , who is this right Person !? so we could Launch an Attack on him ...and if so ; is it like if this single VP felt like "Okay lets bring these games , where do I Sign" then it's Christmas ,, or is it far more complicated !?

I think the situation is far more complicated. Joe and the windows phone team are good for handling core WP issues, I have heard terry's name before, I would like to know who heads Skype and Microsoft Studios.

I've learned not to listen to anything Microsoft says about products or plans. Way too many bad instances of disappointment and double speak.

What about Nokia's games? Okay, maybe not made by Nokia itself, but published by Nokia during the days of the N-Gage.
If you don't know what I'm talking about, search for Snakes, Snakes Subsonic or Space Impact: Kappa Base.
Or, maybe you should lump this along with Microsoft's games.

I would throw in Mojango and Minecraft if not already mentioned.

I expect we'll mention that in the next article...

Well, things are getting better. After 2 months without a Windows Phone, since my Lumia 800 broke I finally got myself an 820 and I have some mobile gaming choice now. Actually quite surprised with the amount and quality for someone who didn't use a WP for a while.

Oh you'll be really dissapointed with your 820 when you try to play Asphalt 7 or Spiderman 2013.

Why ?
Edit: while I don't usually do demos, I tried Spiderman just to try to understand what you were saying, and... still don't get it. Anyway, what would be weird was if someone said the opposite. Internet is such a negative place. Everything is amazing and no one's happy.

Because Spider-Man and Asphalt 7 each require about 4 GB of free space, so devices with only 8 GB of memory will have a tough time installing one or especially more than one of those games.

Guys, we have all the games the platform needs. We have angry birds and fruit ninja.
Seriously though, I'm getting tired of MS sitting on their lazy asses. I moved to WP8 because of all the good things promised. My next phone may not be a WP if this keeps up. The only thing keeping me from moving right now is the extreme effort Nokia is putting in. But MS needs to be the powerhours behind the platform, not Nokia.

Give me Forza and I'll be happy... be it Forza 3 or 4 or Horizon... pleaseeeeee Microsoft stop screwing up Xbox games...


It would be so awesome to get even a couple of these developers on board.

What should be taken into consideration, is that high end games must be available in all devices, not only to those with 1gb of ram, like asphalt. I plan to buy a 620, but the 512 megs have put me on hold, until I see some progress in this part.

I'm not sure I agree with you, when one buys a cheaper device it comes with some restrictions, that's just the way it is.

I certainly do agree with you. I am just saying that the market should be open to as many as possible, in order to keep customers happy and increase the sales. If they don't support the lower devices as far as apps are concerned, then why should I expect them to upgrade them to, say, blue...

Everyone was all concerned about Apple post Jobs; I think the bigger void was Gates stepping down. Microsoft is like a rudderless ship, and seems more like it might actually be the Titanic. Ballmer needs to go. With Ballmer at the helm, they'll find a way to let WP8 fail. As an example of keeping up, they should have something like Apple TV so I can stream content from my WP8/W8 tablet. Media Center could have played a role, Extenders like the Echo could have been the $100 set top box, but no. Microsoft is trying to kill that too. Look at all the conflicting messages they send. Need to pay $60/year to have 512mb of 'cloud' storage on the Xbox, but they give everyone 7gb of SkyDrive for free. Why can't I just leverage the same SkyDrive storage since I'm using a live account. Why do I need the Gold account to watch Netflix on the Xbox, but it's free on WP8/W8? This goes on and on, and just when it starts coming together they'll pull the plug on it. They never realize when people are passionate or invested in their products.

Apple TV is not exactly a success, is it ?

I'm talking about the $100 box using AirPlay.

They need to fix that OTHER storage problem first, second to accuratelly calculate the needed space for a game. How is possible a game with 900 Mb requires a 4Gb os left space? Who has 4Gb os space on a 16Gb device? Or, we need affordable devices wih 64Gb or, be able to install stuffs on the SD.

I'm an android game developer and I must say that looking at this article I feel more than a little sad for WP users being deprived of all those awesome games. I use unity so I'll probably get in the WP development scen when unity officially supports windows phone. I also expect a barrage of other titles too if unity adds support for windows phone

The worst thing about having a Windows Phone, with respect to gaming, is that, whenever someone sees the word Xbox, they ask if I can play Halo on my phone.
Of course, I have to look at my feet and sheepishly say no.
Why wasn't that the very first game that Microsoft made available on the platform?
I don't even play the game, but it should just be an obvious choice.

Man I'd love to see some of those games hit WP, specifically the Take-Two games.
Windows Central Newsletter
Thank you for signing up to Windows Central. You will receive a verification email shortly.
There was a problem. Please refresh the page and try again.