Share your Windows Phone screenshots like a pro with Device Shot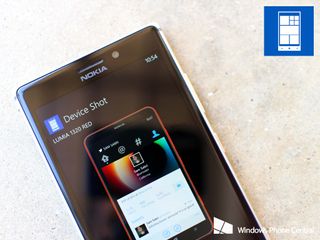 Developing a Windows Phone app is half the battle. It can be argued that it's just as hard to get exposure and market your app to get downloads and users. Which is why we think it's cool when developers make apps that are aimed at helping other developers. We recently covered App Promo. An app that combined your app logo with its Windows Phone Store link in a QR code.
Today we're going to take a look at another cool app that can help you get a few more downloads. Let's check Device Shot. A new app from the developer behind Tile Me!
Device Shot is a great app for creating promotional images on the fly. The app will add a Windows Phone overlay to your app screenshots. You can then quickly share it out to friends or followers.
You'll create screenshots of your app using the built in screenshot functionality in Windows Phone and drop them into rendered Windows Phone devices. How do you take a screenshot? Easy. Just press the power button and Start button simultaneously. Within Device Shot you can navigate to your screenshots folder and select the appropriate image for your app.
Right now Device Shot has nearly every Windows Phone device you can think of. At first you might think you only have the Lumia Icon, Lumia 1520 and Lumia 1320. Nope. Scroll to the right and you'll see Other awesome handsets like the Lumia 1020, Lumia 920, HTC 8X, Samsung ATIV S and more. Tap a phone and you'll be able to select the color you want for that handset.
The images you get from Device Shot are great for promoting your app on social networks like Twitter. You could share screenshots the old fashioned way. Or you could step the game up and show off your new app on a Windows Phone handset. Not a developer? Just use Device Shot to show off your favorite apps to your friends.
Device Shot is brand new, but already has a quick update coming out real soon. Some images might look blurry on output. Don't worry, that's a compression issue and a fix will come out ASAP to address it.
In the meantime give Device Shot a try from the Windows Phone Store. You're limited to saving three images in the trial mode, but can unlock unlimited saves for just $0.99.
Get the Windows Central Newsletter
All the latest news, reviews, and guides for Windows and Xbox diehards.