Diptic is currently free at the Windows Phone Store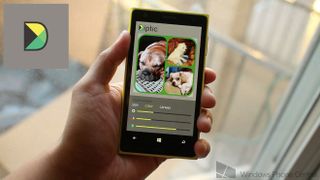 A few people complain whenever we talk about apps that aren't free or apps that don't include free trials. One of those apps is Diptic, a collage creator that has been available on Android and iOS devices, and just made its way to the Windows Phone Store. If you haven't already downloaded it, now is a good time to check it out because it just turned free!
Normally available for 99 cents without a trial at the Windows Phone Store, Diptic lets you easily create photo collages and share them with friends. It has up to 75 layouts for you to choose from. Those who want to do more with their collages can edit their photos or play around with the frame borders. You can watch our video walkthrough below for more details.
This is Diptic's first version of their app for Windows Phone 8. Grab it now for free at the Windows Phone Store.
Is this going to be your preferred collage creator app for Windows Phone or do you have something else in mind? Let us know in the comments!
Windows Central Newsletter
Get the best of Windows Central in your inbox, every day!
3mb app requires 1gb ram asphalt 8 is laughing...lmao:)

Why not, it makes higher resolution images than phototastic.

Really??/!! Apps using 1 gb ram !!!!

Downloading on my 920. But why 1GB requirement for an app? Seriously developers need to get their act right.

Why manufacture phones with 512 ram in the first place, how much would it cost to add an extra 512?
Why do app programmers limit apps to ram? Why not make it open to all phones and let the client decide whether to keep it if its slow or not? Why? Please someone answer.

because the client will piss about it in the review

I call on client to suck a peacock then.

1GB RAM for a collage maker. Its bad :(

Imagine 3mb app needs 1GB ram or more oh my God... They should work on that..so that the app can run on all windows phone

Can't download. Requires 1 GB but Lumia 1020 has 2 gigs. :(

Hahaha lol Microsoft really? either this bad programming from developers or Windows phone store really sucks ass :/

If you are serious dude ..... That's what we call shitty programmers

Downloaded and installed fine on my 822. Maybe it your carrier with the issue. If it is on AT&T, that would make sense!

Installed just fine on my AT&T L920.

That is messed up. Try PhotoMash; similar idea, but less awesome.

I swear I keep seeing dicpic. Anyway.. I'm gonna give this app a try.

Lol @1gb ram
@ developers: stop smoking crack lol xD

They must have been joking when they put it up there for 1gb phones ..... WTF ......!!!!!! .......

Just 1GB of ram?...Man up, it should use 2!!!!!!!111one

HAHAHA (Evil laugh) I have 1gb of Ram

YELL: Wipe that smirk off your face !! :-<

All heavy size applications and games which runs on 512mb ram will be in coma due to uncontrollable laughing. Lamo :):D

Is this better than pic stitch?

Really like this app! Bought it when it first came out, no regrets.

Downloaded succesfully for free on my Samsung ATIV S. Love it. Greetings from Lithuania.

I have no problem paying for apps, but I feel like the dev has no confidence in what he has made if he wont offer a trial. For that reason, I often dont look at apps or games that are buy outright.

"A few people complain whenever we talk about apps that aren't free or apps that don't include free trials." I knew the 512 posse wouldn't take this lying down. lol.

compared to iOS and Android, lack of great free apps is a legitimate issue. Sure developers want to get paid but it doesn't help for people who switched platforms. For me personally I've bought a few, but understand the complaints.

This is exactly the same case that Temple Run and others; port first optimize later...

Developers need to start making apps compatible with 512 RAM mobiles also :(

I don't understand why this app needs a gig of RAM.

Seems just as good as picstitch but free

Dear people asking why a 3 MB program needs 1 GB of RAM to run, the program's size has NOTHING to do with the resources needed to perform functions within the program itself. learn some programming basics before questioning the programmers, please. that is all.

1 GB RAM for a collage app ? Wtf..I would say this is a fail app !!