Diptic makes it to Windows Phone 8 - collage maker with advanced editing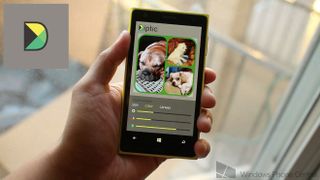 An app that's already on Android and iOS devices just made its way to the Windows Phone Store. Diptic lets you easily create photo collages and share them with friends. It's a simple app, but with extra features for those who want to do more with their collages. We put the app in front of our camera to show you how it looks on our device.
Head past the break to watch our walkthrough video.
With Diptic, you can choose to up to nine photos in a layout. There are two sections: classic and jumbo. Classic has layouts for up to four photos. Jumbo has layouts for five to nine photos. There are 75 layouts in total.
If you feel adventurous, you can tinker with the frame. You can adjust the borders' size, color, and roundness. Play with the sliders to get the effect you want.
That's not all. You can also edit the photos in the collage. You can adjust brightness, contrast, color saturation, or choose one of the filters. You also have the option to rotate, flip, zoom and mirror individual photos.
When you're happy with the final image, click the share button. Diptic gives you three size options to save: 1632x1632, 2448x2448, or 3264x3264. You can then choose from the built-in Windows Phone sharing option to send the collage to Email, Facebook, Twitter, or Instagram.
Diptic's first version of their app for Windows Phone 8 looks great and we think you'll like it. In the future, we'd like to be able to slide the interior frame lines or move the joints along the borders.
Diptic is compatible with Windows Phone 8 devices with at least 1GB memory and is available worldwide at the Windows Phone Store. It costs 99 cents. An option for a free trial would have been nice, but it's not there.
Think you'll be using Diptic? Let us know in the comments!
Via: Diptic blog
You lost me at no free trial. I'm sorry but WP spoiled me. I don't have money to throw on software that may not work. I can't even afford fancy Starbucks :) (I go to Dunkin donuts)

Dunkin Donuts coffee > Starbucks coffee

Indeed. I love Dunkin donuts way more than Starbucks but you have to admit that their caramel macciato is terrific even though it's filled with calories :P

I'll admit the Holiday drinks at Starbucks taste good!

They taste even better if you order a large with flavor for a small. Same at Caribou.

Compairing Dunkin to Starbucks makes no sense. One sells Doghnuts, the other selss Coffee, whats your point? Dunkin > Krispy Starbucks > Costa My openion :P

Yeah but get in mind that developers can't eat with free trials so don't buy it if you don't want to. We already have fotor for free.

Yes dunkin donuts in NE is better.... Than Starbucks.

Looks like I will not be having coffee tomorrow morning, just spent my coffee money on this and it's better then yuban..

Phototastic still has my vote personally.

Yes❕ That is exactly the app I use to make my scat porn collages.

the store is still missing a photo/vid collage maker though for photos 6tag is more tha enough

I have that free Microsoft gift card from nokia so I don't mind paying for apps without free trials

Yes, I too refuse to use this app because there is no trial.

no support lumia 521 device

1GB of RAM? Come on, this app launched years and years ago and worked fine with 512MB on iOS.

I remember using this app on my iPhone 3gs before I picked up my Lumia 920.

@Mark Guim, doesn't work on 512 mb RAM devices. So, not all Windows Phone Devices.

Thanks for the heads up! Edited the post.

Nice to have several different options for every thing but I think I'm gonna pass on this one. I'm not a big fan of pimped photos anyway.

Seems fantastic. Will wait for special promotion.

Not compatible with every windowsphone bro require 1gb of ram or more.

Waiting on a collage app for Windows Phone that let's you include a video in one of the frames. You can really do some cool creative things with that.

Don't you mean wait for Microsoft to provide developer access to the video files?? Could be a while

I remember using this app on my old iPhone 3g and enjoying it. I went ahead and got it, mostly out of thanks that they made a WP version.

Me too. I had been using it on my 4s and figure since they made it for WP, I should buy it. Maybe more developers will see this kind of response and migrate more apps over..

Seems nice so far though I'm not sure it beats Artile or Phototastic. I'll have to spend a bit more time with it.

I'm using Artile. Pretty much the same features, but a lot more polished!

Already got all that in 6tag, and more. If able to create your own layout it would've been a buy.

It doesn't even work on RAMS lower then 1GB

Phototastic even does more....even includes a camera app that let's you take up to 25 photos in one shot and in secs

I tried almost all of the collage apps and Phototastic beats them all. Artile would be my second choice.

No support for 512MB, stupid.

I got this app and I really love the great quality of the produced images! On my Lumia 920 I can combine several full quality photos and get a collage that looks great on my desktop monitor.
Windows Central Newsletter
Thank you for signing up to Windows Central. You will receive a verification email shortly.
There was a problem. Please refresh the page and try again.