DiRT Rally officially released for PC, Xbox One version due on April 5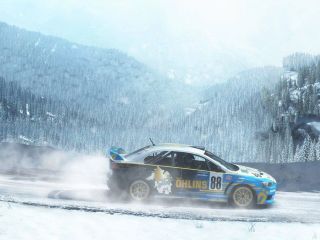 Developer Codemasters is known best for their racing sim games, and today their newest title, DiRT Rally, is officially available for PC owners via Steam. In addition, the game is coming to Xbox One and PlayStation 4 consoles on April 5, 2016.
Codemasters decided to do something different, for them at least, with DiRT Rally on the PC; it released an version of the game on Steam via its Early Access feature back in April and has been adding and improving the game ever since. Here's just some of its features:
ICONIC RALLY CARS - Rally is about having the right tools, the right strategy and the right team. DiRT Rally has all of those. It boasts 39 of the most iconic and relevant cars from yesteryear through to modern day, representing the cars that the players want, and the ones that make the most sense for the surfaces they race on.
SIX MASSIVE RALLIES WITH OVER 70 STAGES - Winding paths through forests, death defying drops off hillsides and narrow mountain paths are what this is all about, it's you and your car versus the road ahead. Head to the muddy paths of Wales, the dusty trails of Greece and the icy tarmac of Monte Carlo. Take on the legendary hillclimb of Pikes Peak, the snowy thrills of Sweden, and the epic scenery of Finland. DiRT Rally has the iconic locations to test your nerve and delight your senses.
OFFICIAL FIA WORLD RALLYCROSS CONTENT – Race at the Lydden Hill, Holjes and Hell tracks in six of the fastest off-road cars and take on your friends in high intensity, bumper-to-bumper multiplayer racing.
UPGRADES, REPAIRS, SETUP AND TUNING - DiRT Rally delivers depth in areas beyond driving – elements such as repairs, upgrades, and setup & tuning add a rich and strategic dimension to your rally experience.
CHALLENGING, UNCOMPROMISING HANDLING MODEL - To take off-road racing to a level of realism not reached before, Codemasters has completely rebuilt the physical simulation for DIRT Rally. To adequately capture how it feels to race across changing surfaces, the Codemasters team has created brand new models for differential, suspension, engine mapping and turbo modelling. Codemasters has also modelled the way in which loose surfaces collect under the wheels during lateral sliding, creating a completely new feel to sliding around corners. This new physical simulation conveys the character of the compelling selection of cars as well as conveying the nuances of the game's high fidelity racing surfaces.
TEAM MANAGEMENT - Hire and fire your crew members each of whom which will have different skills, improving repair times for different parts of the car. Teach them new skills as they gain experience and work together as a team to improve your performance in events.
RACENET LEAGUE SUPPORT - Get together with friends and run your very own racing league. Join or create unlimited leagues and run them how and when you want.
DAILY, WEEKLY AND MONTHLY RACENET CHALLENGES - It's you versus the entire DiRT community in a series of one-day, week-long and month-long challenges to earn in-game credits to improve your car and team.
Today is the official launch of DiRT Rally for the PC but now the focus will shift to the console versions. In an interview with Redbull.com Codemasters stated that the Xbox One and PlayStation 4 versions will have all the features of the PC version and are aiming to support 60fps for all platforms.
Source: Codemasters (Facebook)
Get the Windows Central Newsletter
All the latest news, reviews, and guides for Windows and Xbox diehards.