What phone are you using nowadays?
In a post-Windows Phone, there's really not a lot of choices out there. Which camp did you (or will you) join? Android or iOS?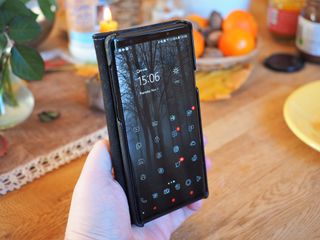 With WhatsApp putting the (very, very) final nail in the coffin for many who still remain on Microsoft's zombie phone operating system, we have to wonder: what phones are you using now, or in the future?
With Windows Phone on the ropes as a viable option for even the most reluctant app users, there's really not much OS choice out there. Unless you're considering a feature phone, most of us leapt either to Android, or iOS. For a Windows Phone fan, I'd argue that neither OS really has the same magic as Windows Phone 8.1 or even Windows 10 Mobile, either heavy on restrictions (iOS) or, a little messy and fragmented (Android).
For me, Windows Phone struck that perfect balance between full OS customization, great hardware, and at least workable app support, although Windows 10 Mobile's incredibly buggy launch really soured me to the platform. My Lumia 950XL crashed at least a few times a week until several OS updates later, with UWP apps like Twitter spontaneously closing themselves every few minutes. I shifted to a HP Elite x3 in hopes of a better OS experience, but the worst camera I've ever used, period, forced me off it pretty quickly. Microsoft's apparent ambivalence to Windows 10 Mobile became the writing on the wall for me, and I eventually jumped ship to an Android-based BlackBerry KEYone (opens in new tab). Apple's needlessly unintuitive design choices like dropping 3.5mm audio, and the inability to set some software defaults without aggressive workarounds just make iOS completely unattractive to me.
I enjoyed the KEYone for a time, it was a breath of fresh air having a full suite of supported apps with truly ridiculous battery life, and Android ties in very well to Microsoft's services, upon which I have come to depend. I still found myself frustrated by the disjointed OS experience, though. The ability to use a custom launcher just created a relatively poor UX, when the rest of the OS can't be skinned without some hackery. I was also pretty disappointed in the camera, having been spoiled by years of Nokia Lumia devices.
The BlackBerry KEY2 (opens in new tab) was a notable jump in quality across the board, with a superior QWERTY keyboard experience and a zippier OS. Yet still, I longed for something a little more premium in the camera department and discovered that Samsung Galaxy phones offer (almost) the same OS-level visual customization that Windows Phone did.
I now use a Samsung Galaxy Note 9 (opens in new tab), and have come to truly love the form factor. The gorgeous display, monstrous battery life, full-blown system themes, stellar camera, and S-Pen for OneNote inking, really makes it a winner. I am eagerly anticipating the Samsung Galaxy Note 10, too, and may eventually trade up if the upgrades are worthwhile.
So then, humble Windows Central community, I ask the following: What phone are you using now, or plan to use in the near future? Are you still rocking Windows Phone? Why did you choose iOS or Android over the alternatives? Hit us up either in our forum in the comments below, and let's beat Monday with some epic procrastination together.
Windows Central Newsletter
Get the best of Windows Central in your inbox, every day!
Jez Corden a Managing Editor at Windows Central, focusing primarily on all things Xbox and gaming. Jez is known for breaking exclusive news and analysis as relates to the Microsoft ecosystem while being powered by caffeine. Follow on Twitter @JezCorden and listen to his Xbox Two podcast, all about, you guessed it, Xbox!
Jez, I'm using a Samsung Galaxy Note 9 for the same reasons you listed and I am looking forward to the Note 10 as well.

Awesome. I'm kinda sad that Galaxy Fold didn't seem to work out... I think foldables are the future, but looks like it might be a while before we get there.

Yeah, I think it did work for what it did for foldables, and will come back better.

Agreed. The folding screen tech is still in its infancy. New and more durable materials will be the key. Sticking with my Note 8, for now.

I for one am not a big fan of foldables. The screen just looks like two parts stuck together. Once you see the crease in the middle you CANNOT unsee it. The phone works great as a tablet slab for media consumption, which is its primary selling point, but looks medicore in folded mode. Unless you can get a REALLY tight bend to make it look natural, you can't help but notice the buldge from the fold. Additionally, Some of the UI elements spill over to the folded display which makes it just look bad. Durability is another concern. I'm trying to figure out what real world practical problems do foldable phones really solve? The only foldable device that even makes remote sense is the Surface Phone which is not even really a phone, but more or less a mini PC with telephony capabilities.

I also updated to a Galaxy Note 9 from my Oneplus 5. I really loved windows phones, but got fed up with the same things that everyone else did. Too bad, but on to bigger and better things!

I'm currently rocking a Huawei P30 Pro. Had to do a little work to get the software to behave the way I want... But completely worth it for the camera and battery life.

Nice, what sort of modifications did you make?

Still using my OnePlus 3, looking forward to the upcoming OnePlus 7 Pro.

I got my girlfriend a OnePlus 5T a while back, really really impressed with those phones.

I ordered the OnePlus 6T when it was released in November 2018. It is my first OnePlus phone. All I can say is "Wow!" I haven't used WP for a couple years now. I went from WM 6 to Android, then to WP, then back to Android. Until the OP 6T, my Android devices were mostly Nexus and Samsung S series. I liked them well enough, but the 6T is on another level for the way I use a smartphone.

I've been using an iPhone, since they were introduced. The 2G, then an iPhone 4, then a iPhone 5, and then a iPhone SE. I tried a Galaxy when they first came out. I tried the HTC One S when it was first introduced. I really want Microsoft to make another phone though because I use a Windows Desktop computer and would love a mobile counterpart. I thought they were on the right track with the Lumia 950. I wish they'd go back to making mobile phones.

Same... so bad. Hopefully, PWA and Windows Core OS will help them move back in that direction.

I'm now using a Nokia 7 Plus. I moved to Android 2 years ago, sporting a Nexus 5, then ZTE axon 7, and now the Nokia. I'm happy with the phone, which looks and feels like a big Lumia 930, but Google is slow to catch up with the integration that was possible in Windows Mobile. Can't argue with the access to apps, which leaves us pondering what might have been possible...

I finally threw the towel in last June and went from the 950XL to the OnePlus6. Thinking of getting the OnePlus 7 Pro. Depends on what type of deal OP offers on a trade-in. I'm super happy with the phone. Does anyone want to buy a 950XL? I have it on the fast ring for the updates.

Great experience past year with Nokia 6.1 after moving from HD7->800->1520->950XL. Just took a brand new 5-camera Nokia 9 (dual-sim) with me on a business trip in northern Italy. Solid feel, great pics, in-screen fingerprint and the androidOne monthly updates.

I got a Nokia 9 and I have to say that I gives me some nostalgia using it. Fully customizable software and a great camera with Allrounder specs make it a great choice for me. It surely has it's drawbacks but I am really enjoying it.

Nice one, what drawbacks are you experiencing?

I'm using the Nokia 9 as well.. My issues with it are the android one OS is so basic and fragmented, I think q will fix some of the problems but Samsung one ui is way better (my wife switched to the s10e). The lack of camera stabilization causes some issues with the otherwise amazing camera. And the phone shape/size and lack of any edge rejection causes a lot of annoying accidental clicks.

Had the Nokia 9 as well. HATED IT. The camera was very disappointing for most shots, including low light which the most disappointing. Traded it for OnePlus 6T, although I later gave OnePlus 6T to mother and went back to my Elite X3 cause she needed a phone.

My Lumia 950 has been suffering from short battery life and i sadly have to migrate to Galaxy J2 Pro for the moment. Worse i brick my Lumia 950 to bootloop when I attempt to migrate my whatsapp to Android.
Fortunately there is good launcher in Android called Launcher 10, this is the closest i found can imitate W10M start screen. It allow you to pin apps widget to start screen tiles. Been busy for a while customizing my start screen now. Windows Central apps widget work very well with Launcher 10. And add Microsoft news widget to get latest news at glance. At least this will make my Galaxy feel like Home. Looking forward for Nokia 9.

Launcher 10 is really nice indeed!

Just saw this, thought I can help. I also got my L950 stuck in bootloop just last weekend trying to unlock the bootloader. eventually I reflashed using thor2 command found in WDRT with an FFU file found in lumiafirmware.com. then I was able to get my L950 back to normal mode. It got reset but thanks to the ever reliable Windows mobile backup restore functionality, all settings got restored to what it was perfectly.

Limping along on an Alcatel Idols 4S Windows version. Rather disappointing after the Nokias, but was about the only affordable Windows phone when my last one gave out. I'll probably be one if the first to order some version of the OnePlus 7 in a few days.
Loved the Windows OS, not looking forward to Android, but a bad speaker and battery are forcing me to move on.

The transition will be be slightly difficult but you can do it. It will be easier when you realise you have every app at your disposal and better support from software and hardware developers. To help my transition, I got a cheap android tablet to et familiar with the OS and establish a presence that I could transfer to an android phone. Then I went to Pixel XL which had the purest form of the OS at the time, so I could mould it to my taste, thus reducing the transition pain.
I slapped on Microsoft Launcher and used all MS apps and ecosystem that exists on android.
It worked well. Oneplus is a good choice. You can do it.

Thank you! I've tagged some previous articles on making the switch. Your ideas and encouragement are helpful.

I'm still using my Alcatel Idol 4S. Agree with the battery - I have to charge it at least twice a day. I've just been advised that the Facebook app will be discontinued shortly. It's frustrating because I have a 2nd (brand new) Idol 4S standing by - if this one crashes. Then again they were purchased as trailing edge and didn't spend even half as much as a Samsung 8s New - so I've got my moneys worth out of them.

I'm using Nokia 8 Sirocco now.

Using the LG G7 which has been an utter delight. The boombox speaker, the HiFi Quad Dac, a good camera with ultra wide lens, a great screen, seamless integration with Google (including a dedicated Google Assistant button) makes it an excellent choice. However, I STILL use my Lumia 950 as a secondary device as I just cannot get over the Windows phone ecosystem.

I HIGHLY considered an LG phone instead of the Note 9, but the theme stuff on the Galaxy Android OS has been really fun. I also struggle to get over the Windows phone ecosystem, I think it's pretty lame how Microsoft built up a community around it and then just abandoned us.

Sticking with my 950XL until the bitter end. No interest in the other two. Live Tile home screen still the best thus could never get use to boring static icon home screens.

I finally had to give it up, my 950xl died do to screen breakage. I went back to the 1520, but it was on it's way out. It did give me a good place to be until I could find a phone that suits my needs.

Hi John, I had a similar problem - but back in January 2017... my screen broke and it was cheaper to buy a new phone. Found a new screen on Aliexpress for 75US$ and decided to try it out. Took me approx 1 hr. by watching videos on Youtube on how to replace it and it was easier than I thought it would be.
I am now back with my good ol' Lumia 950XL - though just for fun. Can't use it fully as my daily driver but man, nothing beats the beauty of Windows 10 Mobile OS.

Wait until you see actual, full features widgets! Imagine actually being able to interact with a Live Tile like pausing music, scrolling through messages, or directly accessing content. You quickly realize Live Tiles are almost useless in comparison.

Yeah, but Live Tiles totally blow Widgets out of the water in the aesthetics department. They can be properly resized, arranged, have color consistency, as opposed to Widgets, which look horrible.

If aesthetics are more important than function, why aren't you using Apple?

You seem to have an issue with the concept of "balance". Stop pretending like people here don't know what widgets are. We know what they are, and they suck. They don't have the necessary uniformity in visuals, and they also have unpredictable performance. What Windows Phone did was set boundaries so you could be sure a Live Tile won't make you regret pinning it to Start.

Troll... You're supposed to be telling us about your low end crap device. Didn't you read the title of the article? SMDH pathetic!

still rocking the 950XL and I'm stuck with it 'til the bitter end, 10/12/2019, but for after I'm looking at either the LG G8, the Xperia XZ3 or the Nokia 9, it's hard to choose.

Lumia 950 XL 🙂
Just got a new battery, and have no plans yet to switch to plague or cholera

from where did you get a new battery.. please provide the link

I did the same, I get two (one extra in case). and have no plans to switch to plague or cholera 🤣🤣🤣 I get them from eBay:
https://rover.ebay.com/rover/1/711-53200-19255-0/1?ff3=4&pub=5575095911&...

950 XL to Pixel XL 2 years ago, and now a Huawei Mate 20 Pro with fantastic battery life. Still miss the WinPhone OS.

I've just made a switch last month to Huawei P30 Pro from 950XL. I got to a point where I could not even rely on calling as the phone would lose network and no one could reach me neither via text or call. WhatsApp notifications stopped working and the battery issues couldn't be rectified with dozens of batteries I've tried. Now I'm using Microsoft Launcher and pretty happy with the smooth experience. Plus camera and battery life 2-3 days is awesome!

I am currently using a Nokia 6.1, I would upgrade to a Pixel 3a if it was available here in the Netherlands.
Unfortunately, it isn't.

I've tried Nokia 8, but did not find what I needed. I finally settled for OnePlus 6t,which I am currently using. Such an awesome phone. The customization is incredible and the speed is stupendous. Eagerly waiting the lunching of OnePlus 7,mighty upgrade if the price is right.

I started WP career with 920 8.0, updated it to 8.1. Then W10M came out, and I just wanted to check it out and took 550 for fun. But then I broke 920 and got stucked with this low end phone. After a while I got fed up waiting for apps to launch, and of course W10M was killed, too. Heavy heartedly I got Honor 9 last year, and it's quite good phone, with Windows Launcher of course. I suppose I'll check on Galaxy series in not so distant future. Sorry MS, but not my fault...

Lol, I'm using an lg g3. It replaced my Lumia 920. I really need a new phone, but they all have such annoying compromises.

I'm rocking the Huawei P20 Pro and updated my wife to the P30 Pro yesterday and i will update to the Mate 30 Pro when it comes. We'll that is if I can resist the P30 Pro after watching my wife gush about hers.

Still using HP elite x3 wife went from icon to Nokia 6.1
I will probably got Nokia 7.1 really miss Cortana reading texts over Bluetooth headset or headphones

I had to switch when my HP Elite X3 died. I too really miss the reading of text over Bluetooth. That is my #1 biggest gripe about android phones.

So, after years of using Windows Phone, I've changed the last couple weeks to a Xiaomi Mi 9 and...well...although I don't really like Google, it's a new world of apps and services for me... :)

Still rocking the 1320 I bought after the 520. I have 3 different 1320's, one of which is brand new.
I was never an Instagram person, and Telegram messenger is huge where I live so I use that.
I am sitting half way through a feature phone and a smart phone this way. I just wish there was a usable version of Windows Phone with a modern browser (W10M doesn't count), seeing as everything is moving towards the web and App Stores are likely to become obsolete (WebAssembly being the main reason). Most of these apps would work quite well in the browser if they had close to native performance.

I'm using the Honor 9 now. I tried using a couple of launchers that mimic Windows Phone, but they're not as intuitive and I ended up just giving up on them. I was just thinking yesterday, actually, that since switching to Android I no longer care about my phone as much as I used to. I can see myself sticking with this one for a good number of years and then just upgrade to another low-mid range phone without caring about all the fancy bells and whistles

This... I find I've lost the excitement of the Lumia days. All phones now are like... meh...

Lumia 820 .... i still miss you!
After this i had a Honor 9 ... i really hated it. luckly i managed to break it after only 8 month, so now i am on a Xiaomi Mi Mix 2.
Combined with Microsoft Launcher it's almost ok. And it runs without any google service without hacking / rooting or so.

Still using my Lumia 950 even if it has broken screen. Same for my wife and her 550. We don't want to spend huge amount of money for an iPhone (even from refurb) and really don't like Android UI/UX. We'll stay in the phone's third world as long as possible 😄

You can find a new screen online, price has dropped dramatically (got mine for 950XL for 75US$) and it is not so difficult to replace it.

I know it looks simple to replace it, maybe I don't feel confident enough to do it :p

Galaxy S9+ and believe or not I still use a Lumia 950 it still serves it main purpose, talking on the phone. Most likely getting the P30 pro after I can compare it to the Note 10 when it comes out

I used Lumia 735 and I loved it before it got very laggy and slow then I moved to Oneplus 3T two years back although it is an excellent phone but really miss the WP experience and OS simplicity

Got myself a Nokia 6.1. It's alright, though the camera is downright crap, especially for something branded Zeiss optics. Oh well, at least I have an OS that isn't getting dropped at the end of the year, I guess. I've had it for almost a year now, and if I take good care of it, I think it should last me another 2-3. Of course SquareHome2 was the first thing I installed, then SwiftKey, then Firefox with ublock and noscript. It sure isn't perfect. Android does indeed slow down with use, and there are life's little annoyances that worked fine on WM, but seem to be completely impossible on Android for no reason. System-wide dark mode (well ok, that's coming later this year), permanently downloading offline maps, to name some. But then again, you get a store with actual apps, and checking for updates takes 2 seconds instead of almost a minute. You can get Firefox and enjoy that sweet, sweet noscript and ublock. The web is such a better place with these two. And in general, the web browsers are actually useful, unlike the Edge WM had, which couldn't even block popups.

I've owned iOS, Android and WP phones, stuck to the latter because of the beautiful marriage of flexibility and consistency. Sad to see it go, I went with Android (LG V30) and kept it clean for the first six months, in order to force myself to really try living without live tiles. Then tried several launchers, including Google Pixel emulation, but none of them proved complete or mature enough. Then tried to go back to WP and settled for Square Launcher. I have it configured it as a tablet, so I can group tiles horizontally per category. I'm really happy to be able to combine app tiles, group tiles and live tiles (widgets) in an aesthetic touch friendly way again, and have the ability to quickly change appearance (tile colors and background) without changing usability. It really still is the most complete, best looking UI around. Much respect!

Got myself P30 Pro, after my 950XL died. Downloaded the Microsoft launcher, it's meh. Deeply miss my Windows phone. If and when MS brings out something I will go back. But even getting a second hand windows phone made no sense, all my family keep in touch via WhatsApp. Which will be killed later in the year. Not a fan of Droid or IOS. But I settled for Android as it weighed in better than the closed IOS ecosystem. Setting up wasn't hard, signed into my outlook account. All my MS subscriptions migrated across. The swiftkey keyboard is great. I try not to use many Google services, such as, for maps, I use Here maps, not Google maps. Even configured my Outlook to linked inbox for Gmail, as was on my 950XL. The UI is okish. I have configured my phone as much as I can to give me a windows phone feel, it's OK but it's not the same.

I'm using a Lumia 950XL since december 2017. But will go to Android this month since the app of my bank company stopped working since thus month...
Have real bad feelings I have to leave Windows Phone (using it since 2012).

Pin the bank website to your start screen. Problem solved.

That's what I did. Satisfactory for me.

Thanx for your tip, I already tried. Unfortunaly it's not possible. The site works only on PC's and tablets 😕. Think they detect I'm using a Windows Mobile...

I'm using the Nokia 9 Pureview (I have a Samsung J5 as a spare, too). I had planned to jump ship from my 950xl once Nokia started making decent camera phones again. I'm actually really pleased with Android One, I'm using Launcher 10 which means I still have the Windows start screen look and live tiles, it works really well, better than the original really.

Using Nokia 7 Plus DS and have almost forgotten the WP time, even didn't try to microsoftize it.

Note 8 currently. Awaiting delivery of my Pixel 3a. Mainly due to the superior camera. Note 8 camera isn't that great.

Reposting from Twitter:
After I ditched my L930 and my L950XL, I used a LG G6 for about a year, before I switched to the iPhone Xs a few weeks ago. Mostly because it's the best phone I've never paid for as my employer does so.

Hey, I'm still using my HP Elite X3, and my Microsoft 950xl and 950! Just ordered a Samsung Galaxy 10S Plus 😀

HP Elite x3, which they will have to pry from my cold dead hand before I give it up or it stops working whichever occurs first. I don't Twitter, Facebook or Whatsapp so whether they are supported or continued to be support doesn't matter to me. Further, there isn't a phone camera yet that matches the quality and versatility of standalone camera.

Totally agree. I'm not giving up my Lumia 650 until it dies or I do, or Microsoft kills W10M completely.

Essential Phone PH-1 - Pure Android, no bloat, wicked fast, free and fast Android updates on a great SnapDragon processor.

Let's see... April 2018: Original Lumia 950 got wet in rainstorm, water under the lcd.
Insurance offers Galaxy S5, I laugh and tell them no. They offer Galaxy S8 instead. Accepted.
Buy refurbished Lumia 950 on Ebay for daily driver, use the Galaxy S8 for mobile VR and learning Android. October 2018: Microsoft cancels Andromeda, switch to Galaxy S8/Android full time. Purchase Gear S3 Frontier to replace MS Band 2 and IconX earbuds (2018 version). March 2019: Pre Ordered Galaxy S10+ for modern daily driver. Loving it!

I have been using an Android phone since 2015. Nokia Lumia 710 on Windows Phone 7.8 was the only Windows Phone I ever used. I loved it but I had to switch because it became useless by 2015. My dad gave me his old Lenovo K900 and since then I have been using Android. I'm using Redmi Note 5 Pro right now. It's a really good phone for what I paid. I have used many phone between these two but all Android.

Lenovo p2. Bought it because of the monstrous battery,after the battery of my beloved lumia 925 showed signs of decline (and of course the app issue was a big issue by then).
Unfortunately though, Android is the same mess as always. Things start well, then after a few months the phone needs restarts once or twice a day, some apps keep crushing or even cause restarts. I had the same experiences with every android phone I had used previously. But, for me, it's the least worst of the only two available choices (android or iPhone).

P20 Pro, mainly for the camera, but I have grown to appreciate the OS and the quality of the Huawei hardware since then. I still miss some aspects of Windows mobile (the live tiles particularly), but the OS is so much ahead of Windows and iOS in so many aspects that I am very happy I chose it. And I automate whatever you can imagine with Tasker. That couldn't happen neither on Windows nor on iOS.

After my 950xl died and 1520 backup went flakey I went with the Razor Phone 2. I really like it. The boxy form factor and Pie operating system remind me of me Windows phone and OS. I still think there's some things the Windows OS did better like how it handles notifications, but I really like the Pie OS and Love my Razor Phone 2. Now if the camera was just a bit better....

I use an HP Elite x3 and will continue to do so for years to come. I already have a backup one just in case.

Ditto. I have 4 Elite X3s as backups. I'm a bit paranoid :P

Myself, I had to change to Galaxy S7. With launcher 10 of course. My wife and children (lo and behold) still use lumias

So about this time last year, I went from my Lumia 950 to a Samsung Galaxy S9+ with 256gb storage. I'm happy I did, it is my daily driver. But I still have the Lumia 950, with a sim card, on my account and I use the Lumia 950 as a wifi hotspot because the Windows 10 Mobile hotspot seems more reliable than the android hotspot software. When using the android hotspot, my laptop seems to disconnect from it now and then, while the Lumia hotspot is ever reliable.

Lumia 920 was my last outing with Windows Phone, which I had for about 3 years before the screen started playing up. Moved to S6 Edge, and now S9 Plus. No regrets. The hardware is just amazing, and dark theme which WP pushed is becoming the norm now.

I'm still using my Windows 10 phone. I don't follow popularity and I've tried Android and iPhone and I cant stand either OS. I'll be using this thing until it dies.

I have an iPhone XS Max and its been alright. I normally stick with iPhones but I have a work-issued Note9 that I enjoy though I'm not a fan of Samsung's software. I'm thinking about getting a Pixel 4 when it launches later this year only if either Google comes out with a Pixel watch or Fossil updates their watches to a 5th generation (their 4th gen. watches are almost perfect but they need a newer processor and a speaker). The Apple Watch is really the only thing keeping me with my iPhone. Samsung's watches require that you install too many of their apps onto non-Samsung devices, I absolutely hate their texting app on my Note9 (and that's the only way to use their voice assistant on the watch to read and respond to texts), I hate Bixby, and I hate Spotify (Samsung's music partner).

From Lumia 950 to HTC U11 life and it's horrible. Looking forward to Pixel 3a.

Two and a half weeks ago I switched from a Lumia 950 to a Mi 9 Transparent edition. It didn't take long before I had to install Launcher 10 on it to feel comfortable.

Lumia 950. I'm having a hard time being a Microsoft fan being forced onto someone elses platform. Its like a Yankee fan being told "its OK, you can just be a Red Sox fan now". Well its not ok. And it would be nice to know if Mr. "Cloud first Mobile first" has any plans for a Mobile device. I'll probably go Android even though my dislike for Google far outweighs my distaste for Apple. But I will probably wait until ATT no longer supports the hardware, I'm sure that announcement is next, waiting for the deathblow.

When I first switched from my Lumia Icon (to date, still best phone I ever had) I went to the Motorola Z2 force edition. I liked that it was neigh indestructible without a case on. And it was, until the internal battery decided to destruct itself prematurely. This probably seems to be widespread with moto devices. So with that, I have switched to the Galaxy S8+. When you switch out the standard shell with Microsoft Launcher (required on any android device) it really shines. Experience wise I recommend the samsungs, though they are brittle devices and break easily so you will definetly need to ruin its good looks and feel with a case and tempered glass cover.

After any number of Windows phones I left the fold and turned in my beloved L930 three years ago. I was never going to pay Apple's rip off prices, so since that point I've scoured the Android world for bargains and I've had a Nexus 6P, ZTE Axon 7, Oneplus 5, Pixel XL and now a Xiaomi Mi 8. All great phones. The Xiaomi in particular is one hell of a bargain at the moment. £280.00 gets you a Snapdragon 845 with a great camera and an AMOLED screen. Love it. I'm over Windows Mobile now and I've stopped being bothered about whether or not Microsoft will ever release another such device. In fact I'm not even sure I'd be that bothered if they did. Forgot to mention - I'm running MS Launcher on the Mi 8.

Got a Pixel 3 when the Lumia 950 died after a fall onto tile. :( (And got it about 2 weeks before their 50% birthday sale, but could have done worse.) I wanted to try using my x3, but lost the Sim/SD tray and you can't seem to get a replacement easily for that. It had also been giving me fits with random periods where it flat out wouldn't respond until it had sat powered off for some indeterminate amount of time. Overall, I'm relatively content with it, though I do miss the headphone jack at times. The build quality is reasonable. I haven't hit a space issue yet, though do try to keep the videos and such uploaded and free up device space. I decided to start investigating Project Fi for cell offerings and that's worked reasonably well so far. I would appreciate the ability to use an SD card, if only to load up on media for on the go, but I'll deal without that for now. I also appreciate that the slightly smaller Pixel 3 is notchless. I just don't care for that design choice.

My problem with a Pixel 3 is that it is nothing I would be willing to pay. My Lumia 950 cost less than a third of the Pixel 3 when I bought it. And it is about the maximum amount I am willing to pay for a mobile. And I am not very impressed of what I am able to get for that amount. :/

Using a Lumia 950XL. Every couple of days, I find myself saying, "Well, that app doesn't work anymore." Also spend more time accessing everything through the browser. Ideally, would prefer that beautiful, Metro, hub experience from Windows Phone 7 & early 8, but I know that's not happening. Thinking by years end, a Samsung Galaxy Note 8 or 9 will be the way to go (guessing 8, on a budget) because I appreciate the writing notes via pen.

I'm using a Lumia 950 DS still as my primary phone. I was forced to start using an iPhone 5 SE in conjunction for debugging reasons and then I kept using it admitting to have some advantages of using an iPhone besides my Lumia. When I want to take care of something quickly, I use my iPhone instead. It's nice to have a phone that does not require to fire up a complete iPhone emulator when launching Facebook or Messenger. Ironically the iOS platform fails to deliver in 80% of my use-cases, so it is nowhere near what I would gladly use to replace my Lumia when the time finally comes. Maybe an Android based phone in the future hence. And just by this experience I still think the time has not yet become. And I also see the disadvantages of an Android phone in my life already. So won't be a flawless switch either. It simply sucks having had Pandora's box opened for you as a former Windows Phone user. I consider anybody not having used it very lucky not knowing better.

My 1st smartphone was an Android (Sony Xperia X10), then I got several Samsung Galaxy ones until I tried Note 3 which to me was (and still is actually) a fantastic phone, one of the best I've ever had.
I've always been more of a PC guy than Mac and never liked the Mac OS so iPhone never really was an option for me. I don't like that I cannot customize the PC/tablet/phone to my liking and Apple doesn't want you to "mess up" with their system.
I was always on the way to get an Windows phone but lack of app support in my country made it a difficult choice so I got stuck with Android. When Nokia switched to Windows Mobile I had high hopes of getting apps for my country due to the popularity of Nokia but that didn't happen... :( When Windows 10 Mobile was released and UWP introduced I decided to try Lumia 950XL and damn... that was one fantastic phone!
Yet I couldn't let go of my Android due to lack of app support (mainly my banking app) with Windows.
When my bank published it Win10Mobile app I was so thrilled that I stopped using my Android. But the "festivities" just lasted for like 2-3 months because of problems with the screen. Got it replaced (under warranty) and was a happy camper again for 2 months when I dropped the phone and broke the screen in beginning of 2017. Replacement was an option if I would pay 390US$ which I definately didn't fancy...
So I got Galaxy S8+ which is a great Android phone. Samsung does a fantastic job with their phones.
But it doesn't have Windows 10 Mobile with live tiles etc. Am using Microsoft Launcher now, though it is flawed it is still better (more intuitive) than the launcher that Samsung provides. Did try Launcher 10 for a while, some time ago but as I am using Microsoft family Microsoft Launcher is a better option for me.
I do though think Microsoft should simply jump on the "Launcher 10 bandwagon" and offer us their users the same launcher experience that we had on W10Mobile. I'd even happily pay for that ;)
I never got rid of my Lumia 950XL and the Continuum display dock. Actually I have used the display dock as my Samsung Dex connection (which works flawlessly...). Just recently I found that the price for the 950XL screen has dropped dramatically (down to 75US$) and decide to try to change it by myself (after watching videos on Youtube ;) ). It was actually not that difficult and now I have my Lumia 950XL back :D I am not sure what I will use it for but definately will test it, perhaps as a daily driver again though I will need to have my Android on the side as Windows 10 Mobile is now lacking more apps than ever...

Still rocking my 640. I'm going down with the ship no matter what.

Switched from iPhone to Samsung S10+. Works well with my Surface Pro 6. Using One UI instead of Microsoft Launcher

Got a new battery for the Lumia 950 and will use to the bitter end. Holding out for something in the future that's better. iPhone is a paperweight and android well we will see. Keep in mind the 950 is older and still better until it's not.

OnePlus 5T here since it came out. I've found nothing else really compelling out there. This phone isn't the best at anything but it's very good at everything. At this point for me, cameras are good enough, battery good enough, displays are great, speakers good enough, speed good enough. All phones are nearly the same and we really need an injection of a software user experience revolution along with some useful new form factors... no one is sure what those are quite yet though.

I switched to a Samsung Note 8 and am happy with it. My Wife got the Samsung 8+. She notices a difference in quality of Pictures that we take between us. She certainly hasn't missed the app gap that we once dealt with daily.

Not a WhatsApp user, so my Lumia 950 still does the job brilliantly for me.

I'm still rocking my Lumia 950, because at this time I can't afford to move on. I really am not looking forward to it. My wife and one of our daughters have moved onto iPhones. It makes sense, since they have music in iTunes. I don't, so when I can afford to move on, I'll go to some Android device. I'm thinking of Android, because Microsoft seems to produce software first for Android, before they release the same thing for iOS. I like what I've seen with Samsung phones, but WOW those Note 9's are insanely expensive. I'm depressed by it all. When I got my Lumia years ago, I was getting what was, at the time, a signature phone. When I eventually leave the Windows Phone/10 Mobile, I know I'll have to settle for second best, at best.

Thats why OnePlus exists. Flagship specs for half Flagship prices. The OnePlus 6T which was phone of the year by Android Police is only $549 right now.

Switched to moto g5 plus... Rooted it, so I'm on pie. Best thing about moto phones is the unlockable boltloader.

Since it can't be a proper follow up to the Lumia 950XL, I've pretty much given up on flagships. Just using some LG Stylo 4 I got for $68. ...it's alright, but it doesn't run Windows so I'll never really love it.

still using my Lumia 650, but after trips to Poland and NYC I really need to move on. Obviously my needs are simple so I don't want a $1k phone, and I don't want a big phone. Which has led me to looking at the Moto Z2 Force. It is actually a great spec'd phone, the only thing holding me back is that AT&T has not published the upgrade to 9.0/Pie. I am also looking at the Android One versions, they seem like just what I am looking for (but all huge, 6"+)

I had a 1020 and 950XL, but with dwindling app support, I was looking to Android, but didn't really like much in 2017. Then I saw the LGV30 as the perfect replacement, mostly because of the camera, but also because it fit smoothly into the setup I had for the 950XL. It was as smooth as an upgrade as I could have hoped for:
- wireless charging and USB C support (fit in with what I had with the 950XL)
- Microsoft Launcher and Microsoft apps were quite mature, so app transition was not as difficult as it might have been Those reasons made that LGV30 almost like a natural next gen version of the 950XL. The next gen stuff included IP68 ratings and more rugged design (which made the device safer to take out for photography in lots of situations). These are among the features I would have expected a successor to the 950XL to have. In the last month I made the leap to the Huawei P30 Pro, which meant a return to a 40 megapixel camera (and a large increase in camera functions that are the next leap up from the LGV30, like zoom lenses, night mode, and more AI, along with lots of manual controls and long exposure (sorry Samsung Galaxy S10 -- lost me on that point)). The next gen stuff with the P30 Pro include the reverse charging (wireless and wired -- so it's like a battery pack always with you). The massive battery means a whole new level of comfort in daily usage.
I find the cell and wifi connections on the Huawei to be much better than the LG.
Only negatives I've found are in getting headphone USB-C dongles. Managing the interface has been about the same as the LG variation -- lots of custom settings, and a bit of fiddling. Indications are that the P30 will get timely updates, including Android Q. And as good as the cameras are, I can see them pushed even more with some software tweaks and updates -- a good investment for at least the next 2 years.

I just switched to a LG G7+, with Microsoft Launcher for personalizing the phone just like a windows phone, it works great... And it's all set like a lumia phone 😇 so get a good specs phone and install Microsoft Launcher if you like your windows phone...

I switched to iPhone couple years ago when AT&T turned off their 2G network. That made my Lumia 950 XL a single SIM phone in practice. I am now using the iPhone XR with two SIM. I generally like iPhone, but there are a few big items I'd like to see fixed. 1. I want USB-C. Lightning connectors are not great with babies in the house. Since the contacts are exposed on the outside of the connector, most of my cables have been chewed to death. Thank goodness for wireless charging! 2. Default apps. I would love for e-mail address links to open in Outlook. Or addresses open in another mapping app. Or web pages open in Edge. 3. Keyboard improvements. While I get where they are coming from, not being able to use SwiftKey in password fields is really annoying. Also, third party keyboards simply crash all the time. Needs a lot of work in this area.

I'm still rocking a note 8, using the microsoft launcher. Anticipating an upgrade to a note 10 later this year!

I'm happily still using my bright yellow Lumia 1520 I purchased off the W.C. Marketplace. I really don't use any apps, and all the built-in apps are enough for my purposes. I just don't use my phone as my main computer, so using it as an actual phone, a few texts, checking the weather forecast, and browsing the web is good enough for me. Oh, and taking LOTS of photos and videos of my two goofy cats, too. :-)

I'm in the minority here, but … when my poor lil L950 stopped taking a charge about 6mo ago, I went with iPhone XS Max. Dont love it; dont hate it either. Wish I could customize more; but whole family uses iOS (imessage, facetime, iTunes, etc), so it seemed the easy choice.

I still love my 950XL, people still think my photos look great. I use it more than my Nikon, so easy and with raw and Lightroom….
Recently fitted a new battery but it started random reboots so I went back to the original.
My friend uses my old 635 which I managed to get to W10 but it is very slow, but still good for telephone and sms.
It really is sad MS have pulled the Windows phone, it was so easy to set up and use and looks wonderful with live tiles. Helped a friend buy a new Andoid phone last year but what a nightmare getting it all working as so she could use it fairly simply.

I made the change to Android 3 months ago and, although I have enjoyed my experience with the OS, I still miss my Lumia 640. I was really looking forward to keep using Windows based smartphones. Still, I'm happy with my Xiaomi Redmi Note 6

Currently using a Blackberry Key1 Hope to get my hands on the Moto RAZR4 in the future. Miss the Windows devices for sure though.

I still have my old lumia 1520 that I turn on from time to time. Kinda miss it and still runs well even with its age. My main phone is an iphone 8 plus that I enjoy because everything works.

I'm using a small cheap Android phone that cost me $39. The question you should be asking yourself now are we going to have smartphones in 10 years.

Ironically the timing of this article is bang on for me. I just ordered a Motorola G7 Power (for the battery life & the price). I am retiring my still running 640XL (LTE) with it's removable battery (I have 2 spares) & given from what I see in Android OS, even in Pie (9.0), I suspect I will miss many features but have no choice but to move on. It may be for the better, I suspect I will use the mobile device for the bare minimum I need to get from it, perhaps it's a healthy choice to use less of a mobile device. I have very low expectations for Android, it is the lesser evil of iOS.

Mate 20 Pro with the Microsoft launcher. It perfectly integrates with all my MS services, and has a great look and feel.

Still using a Microsoft branded 640XL that I purchased new from ebay ($60). I upgraded to Win10, but I may need to drop it back to it's default 8.2 load. Apps are starting to crash back to the main screen even after reboot. And by Apps, I mean basic stuff like maps and camera. I have a sneaky suspicion MS has sabotaged the last updates of Win10 mobile. I have a spare 640 in my vehicle that runs a first gen Win10 load and it runs without issue. Meanwhile my wife and mother-in-law are still using their Nokia 635's. Actually, I'm mistaken, my mother-in-law has a 640 now. She ran over her old phone (dang thing still worked even though the screen was toast) and there were no 635 left in stock. I guess the only thing that can kill a Nokia is Microsoft.

I'm surprised how annoyed I get at some iPhone features. Like photo organization and photo swipe features in Windows Phone were much more sensible. Why in iPhone am i cussing out that every time I use a camera timer it does it use a ten burst photo? Ugh. There's a few things in the iPhone native music player that are head scratching and way better in Windows Music Player too. I thought the iPhone would be super-intuitive...turns out it was Windows Mobile that was.

I hang with my 950 as long as I can. I love my WP. The live tiles, Cortana and the quick write mode and it was recommended to me by my late brother.
I think about getting a Nokia phone (never used something else). Not sure which one it will be.
Apple will never be a choice for me, but Google/Android isn't better.

I`m using the HP Elite X3 as my daily driver and absolutely love it, still turns heads as a looker! I particularly like the gorgeous docking station. Performance is fine for me and battery life is fine, I even use continuum from time to time. I`ve still got a 950 XL which I am currently running Windows 10 Pro ARM for fun :-) I really do not want an iPhone or Android phone as I've toyed around with them in the past and didn't like the experiences one bit.

Ditto. The dockingstation is sleek and I love just how simple it is to dock in the morning when I get into work and BAM my phone desktop is up and running on my 4th monitor. I was lucky enough to snag 4 of the official HP Elite X3 folio cases from an Ebay seller for backups. I see them going online now for MORE than the price of the phone xD

All three of the smartphones I've owned have been Android units (HTC Incredible 2, Samsung Galaxy S4 and my current Samsung Galaxy S7 Edge. I wanted to purchase a Lumia 950XL, but, Microsoft's decision to forgo CDMA certification for the last four Lumia models...coupled with my being a Verizon Wireless customer...put that plan to rest fairly quickly. Will be considering the Samsung Galaxy S10...or...S11 next year. I downloaded the Square Home app and I use it to give the S7's home screen a Windows Mobile touch.

I'm glad you're bringing this up for discussion.
I really like my Lumia 735 and Idol 4s.
It's a shame that Microsoft is abandoning what I believe to be the best OS & platform of all.
That said, I moved on to a Motorola E4.
I can't find much to complain about the Android. All the stuff works. Obviously a lot of quality work went into the OS, the phone and the ecosystem.
I installed Microsoft Launcher & MS apps on the E4.
And I like it.
One Note and Outlook look and work good on my lower end to mid range priced phone.
I'm not going to spend a thousand bucks for a phone......at least, not for what's currently available.
Most Smart Phones really don't excite me.
A foldable device like the rumored Andromeda would have been great.
The Kyocera Duraforce Sapphire Shield is a good phone....tough, durable and waterproof.
All phones should be that tough. I don't understand why cell companies don't push them. I can't buy a thousand dollar phone that flies to heck if you drop it.
I'd like to have a phone with a 5-6" screen that folds like an old flip phone running some version of Windows 10 and is as tough as the Kyocera Duraforce and is scalable and upgradeable.
More choice and innovation should be offered. You shouldn't need to buy a new phone every two years.
Microsoft made a mistake dropping its mobile OS until it had something better to replace it.
I prefer the Windows Phone experience by far.
But if we have to choose.....which we do.....I'm ok with Android.

Still using my original Lumia 1020. It meets 99% of my needs. Pictures and video are still rocking as compared to family photos from much newer cell phone cameras. Next phone 'must' have 'the best' camera out there. Considering/researching Android phones such as Pixel 3/3a, Huawei P30, Galaxy S10, One Plus 7 and Nokia 9. All have superior cameras.

Made the jump from Lumia 1020 to Pixel 3a XL.
I am happy to confirm the 3a's camera is superior to the 1020's by a fair margin. Pretty amazing considering it's 12MP vs 40MP/downsized to 34MP.
Outlook, OneNote work perfect on Android. I'm happy.

My last Windows Phone was a Lumia 950, before switching to the s8. It wasn't nearly as difficult a transition as I thought it would be; obviously the UI was the biggest adjustment, but access to standard apps and obvious superiority of app quality/functionality softened the blow. I'm on an s10e now, and it's easily my favorite phone I've ever owned. Now that we've nixed bezels I hope we can get some more palm sized phones. Are we still holding out for a pocket Surface device?

Nokia 8. But still use the 950xl for pictures

After trying a few, I've recently got a Pixel 3XL and this is the first one that really feels as satisfying as my old 950XL was. The camera is as good, the screen is perfectly flat (so I can actually fit a tempered glass protector that won't just immediately rip off due to the curved corners), it has wireless charging, and I can customize everything to my liking. I do use the SquareHome launcher that acts more like WP and which I like better than Microsoft launcher or pixel launcher.

Lumia 1020/Windows Phone 8.1. Wife uses Lumia 950, mom uses Lumia 8xx, mother-in-law uses Lumia 550. Anybody notice a pattern? :-)

Hello post Windows Phone World,
Shopping around. Samsung Note 9 looks tempting but would be hard on my finances, as I'm still working on bringing down my accumulating debt used to finance my Windows Phone habits. Had all the best Lumias and some Blu's, the recent Alcatel Idol 4S, and currently on my Elite. Still I enjoy my elitist HP Elite XP3 experience even though occasionally some things annoy me, yet I still manage to get things done with it, and I'm afraid I am gonna miss my tiles and how easily I get to what I need. Both iOS and Android look pretty boring and hard to organize with icons all gridded and aligned like ducks. I have an Android tablet and get annoyed at how hard it is to find the app I want in garden of apps.

This is kind of a therapy thread! I miss WP and was with it from day one to the bitter end. I think I liked my Lumia 920 best although the 950 was a great phone. I'm not a fan of Apple so the switch (which I reluctantly made about 2 years ago) had to be to Android. I bought an LG V20 on Amazon because it was cheap and I was still holding out hope for a Surface phone or something similar. After the switch to Android, I was "app drunk". I was so happy to finally have access to a full app ecosystem! I installed everything and loved it all. I've now pared down to just the things I use but would find it hard to give them up now. I still am using that LG but it's starting to lag. I'm looking at the OnePlus phones and may make a purchase later this year.

I'm still rockin an HP Elite x3 and looking for a back-up until Microsoft gets their act together to make a real windows 10 device with the phone app. I'm not going anywhere, I have multiple phones through my carrier and all are windows phones from the Lumia 520 to the HP.
This was the best platform that I found when I was looking for a smartphone in 2010 (WP7) and have never looked back.I have a feeling that if Microsoft doesn't get its act together on the phone side of what we as consumers are asking for I might have to go back to a pager! lol
But seriously guys please get on the same page with us. YOUR LOYAL CUSTOMERS

Not happening. Microsoft will never release a phone as we currently define them. That ship sailed several years ago.

wow now think they might actually do a phone now

Mine.... Still Lumia 950. :)

Picked up the Huawei P30 Pro. Loving the camera for night shots, zoom. Haven't switched to the full 40 megapixel. Regular shots are not as colour crisp or true compared to Nokia 950. Have Microsoft launcher installed so I don't pay much attention to the Emui 9 system. Love the battery life getting close to 2 days of use on it. Not a perfect phone and I still have a lot of 'kicking the tires' to get the most out of the camera and system but I'm liking it!

March of 2019 I switched to an iPhone 8. I picked iOS simply because of reliable updates for many years to come. If you set aside better app selection on iOS, Windows 10 Mobile is way better than iOS. iOS notification system is clucky, and not having an end user file system is limiting on iOS. As a piece of hardware, the iPhone 8 is a piece of garbage. The iPhone 8 has the worst RF rejection for GPS reception I have ever experienced. The GPS reception is so bad, there are locations on my car dash where I cannot use navigation. I have never had problem with GPS reception with much cheaper phones; like the Lumia 650 for $150 worked fine in locations the $599 iPhone 8 cannot receive GPS signal. Extremely disappointing.

I'm using a dual sim Galaxy Note 8. I tried a Cat S60 which was good but relatively slow and the camera was pretty rubbish. Previously I used a Note 4 alongside my Windows phones for the two sims (work and personal) and was very happy to move to a single phone. Didn't see the Note 9 as enough of an upgrade to be worthwhile. The Note 8 is the best phone I've used.

I've always been a big Android fan, so coming from that perspective, I'm thrilled that Windows and Android seem to be integrating nicely.

OnePlus 5T. Love it. No problems whats so ever.

Pixel 2 with the Microsoft launcher

Still rocking a Microsoft 950.
Looks like I'm going to have to jump ship soon with no announcement of Andromeda and all apps leaving (Instagram, WhatsApp...….).
Looks like I'll have to go to Android, real shame as I don't see them properly supporting the Windows ecosystem., more so Google's.

I switched from my 950 to an S8.
Now rocking a Note 9 using the square home 3 launcher,
So I feel like back on W10M. But I get all the awesome Apps on Android, I just got my Note 9 in March I should have held out till Aug to get the Note 10, but the Note 9 is working awesome. My S8 was having some major issues phones calls were breaking up no matter what I did speaker phone was doing the same, it was very frustrating.
Square Home 3 gives me live tiles almost like W10M did.
Very happy now, but still miss W10M best OS EVER!

I'm using Launcher 10 on my S8+, and most of the Live Tiles work (not the weather apps). The only Google apps I use are the Play Store, and Maps. Everything else is Samsung or Microsoft, so my phone feels very much like my ATIV S and ATIV SE windows phones...

Samsung S8+. My first Windows phone was the Samsung ATIV S. Loved that phone!! So I'm sticking with Samsung handsets. Great cameras and screens!

Still using a 950, have 4 batteries for it. Will never use google spyware. I'll go to a feature phone after the lumia dies.

Almost pulled the trigger on a Lumia 950 in 2016, then realized the writing was on the wall and switched to a Oneplus 3T, which I still use today. Frankly, there's been little to no reason to upgrade since. The frustrating thing with no Windows Phone anymore, is that you can only 'Microsoft' your Android phone so much. The fact that Redmond don't also do a Contacts App, Dialer, SMS app, Maps, Photos App etc means you're still left in this 50/50 world of some MS stuff, and having to fill in the gaps in their Android apps offerings. The somewhat usual Microsoft thing of getting into something, but only to a degree.

I like the Samsung Note 9, but in my country it's very expensive, so I bought the LG V40 for half the price on ebay than the Samsung device, and I would to say that the LG is a very good piece of technology, I'm very glad with my new phone.

Was using a 950XL until a week ago, on its 3rd battery and 3rd case. I bought a Xiaomi Mi Max 3. The hardware is great, the OS is unbelievably frustrating. Been messing around with it so much to try to get it to a state that I feel comfortable with that my family are complaining about being neglected. Windows Mobile had so many niceties out of the box, Android just feels like something thrown together and then depended on app writers to fill in the gaps. And weirdly I can't find a media player as good as CC Player. Using Mx Player but the naviagtion of the files isn't as nice. Using MS Launcher but the app launches are laggy, seems I have to push the icons rather than just tap them. I really miss live tiles, been using Glance Plus to replicate the glance screen but it got glitches. The whole OS feels heavy and glitchy. Messing around with security settings to get apps to work properly and persist settings is driving me mad.

As of right now, I am still using my Nokia Lumia Icon, but Verizon is forcing me out by dropping CDMA by years end. Probably won't wait that long to switch, though. To what? Leaning heavily toward Android instead of iOS, and particularly a Oneplus 7. But all of this is reluctantly, as I still think the WP experience just does some very key things right.

I finally got rid of my Alcatel Idol 4s Windows edition just two weeks ago and opted for A Galaxy s10+. I miss my Windows phone but so far I'm impressed by the Samsung device. Was hoping to hold out until Andromeda but alas...

I had a Lumia 630 with Windows Phone 8.1, and it was good, until I put Windows 10 Mobile on it. Since then, it was just a buggy mess (I've never had a good experience with Windows 10 in general). Now I have a Pixel 2, and I'm really happy with it.

I'm going to stay on my Lumia 950 until end of December. I have been eyeing the Nokia phones, mainly the Nokia 9. Hoping that by then there may be an update for a 9.1.

I had the Microsoft 950 XL now I'm using a Xiaomi Redmi S2 it's a shame what happened to Microsoft mobile i was a big fan of that platform now it's android from now on with the windows apps.

My last Windows phone was in 2014, but the poor app selection forced me to ditch it. I am using a Pixel 2 XL with the Launcher 10 skin, so it looks very similar to a Windows phone. I like Android because I have flexibility in how I can customize it, and I like having a choice of manufacturers. The Pixel is nice because it's a "pure" version of Android. I am interested in the Pixel 3 XL because of its wireless charging, but the camera notch is keeping me from buying one. The Samsung S10 look really nice, but I've had issues with GPS on my previous S8 and S9 phones, so I am hesitant to go back to Samsung. The OnePlus 7 looks very nice, but the company hasn't been clear on its level of water and dust resistance, so I am hesitant.

I'm using an iPhone X, which is excellent. I am curious about the Huawei P30 Pro, which is being released in my country this Friday. The problem is that I am somewhat uncomfortable with the amount of data Google would take from me. I am much more willing to thrust a company I actually pay for the provided service, such as Apple or Microsoft.

"For me, Windows Phone struck that perfect balance between full OS customization, great hardware, and at least workable app support", I totally agree with you the best ui I ever used easy to find apps arranging apps the way you like the metro icons are the best concept for a phone interface but the lake of app support killed the dream unfortunately 😔

Still rocking my Lumia 830. Microsoft is trying their best to make my phone difficult to use by stopping support of their apps with WP8.1 but I just can't see myself having a google phone or iPhone at this time.

I go back to Windows phone 6. I did use Android for a short time during the journey. I was using an Alcatel Idol 4s when Microsoft announced that they were going to scuttle their own ship. Bought a LG Stylo 3 the next day. I am currently on a unlocked Stylo 4. I tried to stay with as many MS apps as possible when I first moved to Android. I also started using Launcher 10 with the paid add on features. I am so over MS and have removed all MS apps. However, I will use Launcher10 as long as it is available. It makes Android so much better to use. I highly recommend it to all former Windows phone users. I rarely even boot my Windows laptop. Chromebook works great. Microsoft wants out of consumer arena? Careful what you wish for. You may get it.

Have a Sony xperia xz2, but since I installed dual boot windows on arm on my 950 XL, I am back to it as my daily driver.

I didn't join any camp but Microsoft and went with a Surface Go LTE instead. I don't even have a SIM card in my smartphone anymore since I don't see the need when Windows 10 deliver everything I am looking for including excellent inking (the Surface Pen and the screen size is just great) and it has everything I demand (headphone jack, proper aspect ratio - 18:9-21:9 is a complete dealbreaker, proper updates, no feature restrictions like iOS or Android Pie, microSD card slot for expansion - looking forward to 1TB cards and so on). Google just killed my desire to own a smartphone with Android Pie (Q with "scoped storage" is just too much) together with all those decisions by OEMs during last year (notches, no headphone jacks, lack of storage expansion, price hikes, carrier lock-in, locked bootloaders et al). I am not a fan of "multiple cameras" either. Another thing that make me very anti-smartphone is all the discussion about "image processing" - i.e. camera drivers. When people discuss which device that offer the best driver to Sony IMX something I just realize that smartphones aren't for me and just skip the whole product category even if I still read some news about them. I just prefer full Linux and Windows - pocket computers are interesting but Android and iOS are a complete no-go. My decision to ditch the smartphone and go with the Surface Go was an easy one and I couldn't be happier. When people take out their little narrow smartphone I read on my Go... Love it.

E90, are you using a flip phone now or just making Skype calls on your suface go LTE?

Xiaomi - Mi Mix 2s good replacement for my lumia 950. Good price and good hardware and the Android fork MIUI it's very complete.

using a p9 lite as a temporary since my lumia930 decided to die but as i use it more, i miss windows even more. i get frustrated with android. unfortunately since microsoft decided to let it die will stick with android and hoping to get a better model within the next months. Although prices are getting out of control every time ill either get a "last years" phone or something around 400-450 euro max. my main concern are updates and security patches as most companies dont follow and delay them for months

I'm still on Windows 10 Mobile. Using a Lumia 640 LTE, and I have no plans on getting another smartphone anytime soon.
If I need though, I'd get an iPhone, but for now, I'm waiting to see what Microsoft is working on. 😆

I've been using Windows Mobile since 2003 (first Windows phone was a Samsung SCH-i600.) We finally downgraded to Android back in December 2018 and absolutely HATE it. Things just don't work as well as Windows Mobile. Yes, the hardware (picked up a cheap LG V20) is newer and faster, but the OS absolutely sucks, and Microsoft Apps on the Android aren't as good as on Windows.

The hardware is irrelevant. What counts is the seamless connection between hardware and software. Android and ios both leave MS in the shade. I have changed to Android across the board and left MS completely. They broke too many promises and the compromises required with Android are worth the change. No more MS for this little black duck.

Had Nokia Lumia phones since 2012 and called it a day last year. Im not tied up in the Microsoft ecosystem so it wasn't a hardship to go to Android. Just preferred windows more. Am now using a Pixel 3a from T-Mobile and the camera on this thing is Nokia Lumia quality. Polycarbonate body that feels like the quality of a Nokia Lumia. Solid and well made . Stock Android with 3 years of updates and the first to get them . Im not even using Microsoft launcher anymore. Just some of windows services like outlook, Edge and OneDrive. What I liked most about the windows OS was it's seamless integration, the UI and it's fluidity no matter if it was on a cheap or expensive phone. Shame Microsoft never really stood behind it's own system.

Couldn't agree more. Windows OS was a fresh breath of air. Such a promising OS died. :(

I'm still using 640 XL. Business phone. My other phone is asus zenfone 2. But I'm going to pass the redmi note 7 this month.

Have ny Lumia 950 XL still but my backup Samsung Galaxy S8 is steadily becoming my main phone since the world is moving towards a pay with apps society. I would have loved to se more Windows phones and apps for them. Alas, that is now just a dream. I kind of like my Samsung Galaxy S8 now.

Still using my Lumia 950 XL Dual-sim for personal and work and will continue to do so probably until the end of the year. I started looking at how I might fully migrate to Android beginning with my SMS messages going back almost 10 years. Haven't even begun narrowing down what device to go for yet, I'm in no rush.

I'm currently going back and forth between and Elite x3 and a hacked 950xl with Woa. I will upgrade to new hardware as soon as Woa finds it's way to some.

LG G7 ThinQ has been one of the best devices I've used so far. The camera setup with different functionalities and audio quality either through speakers or the audio jack had me rolled up. Another aspect was a lighter build and great screen aspect ratio. I've used even iPhone XS max and could say I liked G7 better than all, even better than Galaxy Note 9 (sue me for saying this).

I'm currently using Lumia 1520 and can't afford a new phone even cheapest phones 😂
Thats real.

I have been happily on Android since leaving Windows Mobile in June 2017. First with a Sony Xperia XZs, then a Blackberry KeyOne, and currently a Sony Xperia XZ3. Tried out several launchers and used Microsoft Launcher for the longest time, but discovered and really like using AIO Launcher on my XZ3.

Note 9. Not upgrading this year, and probably not next year, either. Especially with platform updates being as iterative as ever, these days.

Currently using a Microsoft Lumia 950XL as my daily driver. I left Android for Windows Phone, and I find it difficult to go back again. Next on my list is the legendary Nokia Lumia 1020 and the Microsoft Lumia 950, since I want to use my existing XL for the LumiaWoA project. P.S If I was forced to own an Android, it would be a Motorola Moto Z2 Play or Moto Z4, purely for mobile entertainment purpose(s). I would never use Android when it comes to daily communication.

I went from lumia 950xl to Nokia 8.But,I'm now using OnePlus 6t.
I combined it with square Home Launcher to mimic the windows mobile interface. Wow, what a combination.

Switched to Android over a year ago and am currently using a Google Pixel 3a. Probably the best cash i ever spent on an Android device. Thankfully Pixel is on 3 of the 4 major carriers in the US now. Solid polycarbonate body with a headphone jack and dual speakers. The best camera on an android. Just like it's more expensive siblings. The camera takes excellent night shots. Pixel is the new Nokia Lumia. Funny thing is though I just ordered a Lumia 650. Haven't used one in a couple of years and just want a basic device as I'm tired of all the Google ads and the fact that windows 10 mobile is plenty for my needs. Can't really totally ditch windows. I'm using Microsoft launcher on my Pixel now. Why not just have the real thing again ? Never had a problem pinning web pages to the start screen and they have always worked well. Might as well take advantage before they pull the plug later this year completely. Got the 650 new for cheap also. That phone had a great oled screen. Even better to me than the 950 I used to have.