Disney Bola Soccer brings the popular world of football to Windows Phone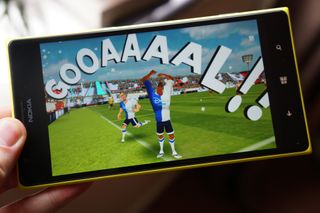 Do you enjoy soccer (football for everyone outside the borders of the US)? If so, you'll want to check out Disney's latest hit for Windows Phone – Bola Soccer. The game, just like its counterpart already available for Windows 8, enables players to compete against the computer or real players and show off some skill behind the ball (or virtual controls in this case).
Here are some highlights noted on the Windows Phone Store listing:
Quick game sessions for the enjoyment of novice to experienced players
Play tournaments in "solo mode" – progress through the map, beat other teams and earn cups
Play against other players' teams to earn team XP and climb in the leaderboards
Intuitive controls with simple swipe and tap gestures
Choose your sponsor to obtain "Bollars" and gain access to the toughest tournaments
Visit Facebook.com/BOLA for cool game tips, news and more!
Disney Bola Soccer is a fun title with easy controls. Players need to tap to pass, hold to shoot and swipe to run, as well as utilizing other gestures to overcome the opposition. It's available for free but has in-app purchases (up to $14.99). It does not support hardware with 512 MB RAM, unfortunately. (Update: We've just learned that support for 512MB devices is coming soon!)
via: Keith Patton (Twitter)
Get the Windows Central Newsletter
All the latest news, reviews, and guides for Windows and Xbox diehards.
Rich Edmonds was formerly a Senior Editor of PC hardware at Windows Central, covering everything related to PC components and NAS. He's been involved in technology for more than a decade and knows a thing or two about the magic inside a PC chassis. You can follow him on Twitter at @RichEdmonds.
Is it too hard for making support for low end devices?

And is Microsoft stupid or insane that still make 512 RAM phones?

I'm going to bomb Microsoft company now...

i think for the 630, 512mb ram is not bad considering how fast it is even with 512mb. However if they make the 730 or 830 with 512mb ram THEN you should bomb their company.

Have you ever thought of it that way: If there are 512 Mb RAM phones, developers will always look closer at their memory consumption, compared to only 1Gb+ phones. As a result I would keep on producing 512mb Ram low-end devices (for now) to challenge developers into being more ressource-efficient with their apps. The other thing MS could do, is to just stuff 1337GB RAM into every phone, like Android companies tend to do and live with a horrible inefficient OS and Apps.

So how about iphone 3Gs with only 256 MB ram can even play Subway Surfer too?

iOS is simply more efficient with ressources, since there are so few devices and OS devs and phone engineers can work together mroe closely. But of course, it can be possible to make most games to run on 512Mb RAM. Just don't complain here in the comment section of a news article, but complain directly at developer forums or directly via mail. That has the biggest effect.

Nah, Microsoft should make devices with 1MHz CPUs and 1MB of RAM so developers are more resource efficient. Terrible justification.

Don't bullshit me. 512 Mb RAM is perfectly okay for a low end mobile device in 2014, whereas 256Mb RAM is not enough, nowadays. In 2015 I would say that 1GB is the lower border. I bet my ass that Windows Phones that will come in 2015 will have that 1GB at least.

What is the dramatic technological change between this year and next that suddenly requires a doubling of RAM? The only reason you're going with that narrative is because Microsoft will finally ditch 512MB, as it should have two years ago. "512MB is absolutely pathetic for a $150 mobile device in 2014." See, I can make arbitrary statements too.

1 year in tech, especially in the smartphone market is a huuuge step. I remember getting my Galaxy S2 in 2011, the former Android flagship with a 1.2 GHZ CPU and 826MB Ram, and only one year later the S3 came with groundbreaking improvements in every department. They way it normally goes is that the mid-tier phones of this year are the low-end phones of next year. Since 1Gb can be seen as average in 2014, I would say that it is about low end in 2015. Yeah I absolutely agree that 512 MB is too less for a 150$ phone. Since the 6XX-class should be low-to-mid-tier I would have chosen that 1Gb and/or a frontcamera. I surely would not buy a phone without a front facing camera, but that is just my opinion. I would only give a 2013/2014 5XX-device those 512 MB, because every dollar counts in the low-end market. I find the 630 to be somewhat awkward placed. A really mid-tier device, together with the 930 would have been the best choice in my opinion. With 720p screen, capacitive buttons, camera button, 1gb ram, front facing camera. Some months later I would release a 530, a true follower to the 520 with a really nice price for the low-end-market and WP8.1 out of the box.

Now what would be the benefit of of a high end phone between $500-600 and the budget phone that cost $100-150 if they could both run all the same games and apps? It's a cheap 512mb phone for a reason. This is my last rant for all the "why can't we get it" complaints.

I know but to compare the cheap Android phone , it's much worse! Think about for example, Samsung galaxy ace 2 have the same ram as L520 but they can play most games like this.

There are other ways to differentiate a high end from low end phone, e.g. hardware. Denying their largest proportion of users access to the full spectrum of software is the kind of lunacy only Microsoft would embrace.

RAM costs a few dollars. It is not worth $400. You differentiate by adding features to the high end, not by restricting features on the low end.

Actually for mobile processors RAM is stacked on top of the ARM processor. You don't simply add more RAM. You basically buy a different part from the processor manufacture. If you are the only manufacture that uses that part then the price of 512MB more RAM could be alot more than a few dollars and price you out of your target price range.

Given that a clear majority of phones have 512 MB RAM (e.g., http://m.winsupersite.com/windows-phone/windows-phone-device-stats-augus...) it does seem like a fair question. That said, I would love it if all Windows Phones had a minimum of 1 GB.

low end support is coming shortly ;)

No 512ram support!? Tsk tsk

Still making devices like Lumia 630 and fanboys supporting it

Why no 512 ram support.???

Even this crap requires 1GB of ram! Arrr!!!

Didn't you guys write about this on the weekend?

Was only for windows 8 not our phones

And Canada. And South Africa. And... you get the idea. It's soccer in the majority of the English speaking world, and was originally soccer in the UK too in the 1800s. Soccer is the original and correct term, and causes the least confusion (versus rugby football, gridiron football, Australian Rules football, etc.).

Soccer is just an abbreviation for Association Football. I've no idea why people in England (and I'm English) have taken against it. Misinformed football snobbery I think :)

Bhenchuk -_- No 512MB Ram support.

All football games for 1GB ram..... What the f###....

That is exactly why I chose L525 over 520... Couple of thousand extra for better performance ..

Couple of thousand? What?

Different values for currency in different countries. For instance 100 USD is around 6,000 indian rupees.

Yeah.. My bad.. Should have put ₹ in there..

Why releasing game, during the end of World cup?

Fedup of seeing 1gb requirement for each every game. Now even 8.1dp is not run smoothly with 512mb ram. I need android now.

Nahh bro.. Even 1 Gb ram android phones lag very much.. All that octacore shit is useless..

My nexus 7 lags almost all the time !

What ? So now you will get android with 512 ? And how is the 8.1 not working smoothly ? I've it on 3 devices it's working perfectly all of them with 512

Dont make the mistake to get a crapdroid

People here do not want to spend money on phones and buy budget phones. Then cry for paid apps and games and hardware restrictions. Nobody wants to shell out a dime then whine on forums and articles here. Also, its only because of *free* games people keep comparing android to WP. But they do not complain when certain games aren't available for their androids. Because, hey, I got Fruit Ninja and Angry Birds for free!! $_$

How did you get Fruit Ninja for free?

No, you need to get a real phone that's not limited. Ok, my last rant.lol

Yup Microsoft need to make games for 512 mb ram

microsoft needs to realise that ram wise we dont live in 2002 anymore

How much space does this game need?

275 Mb.. 58 Mb download..

Utterly disappointed!! :'( That its not available for phones with 512MB RAM.

Why does it seem like there are almost no games that support cloud syncing of progress across platforms? I've already played quite a few matches on my Surface. I really don't want to start over on my phone. The same was true with Star Wars: Assault Team, and so much more.

Played it for a while on L920... No need to whine about 512 ram support here. This game has utterly dull mechanics, animation glitches (despite being fluid on fps) and it's totally not fun to play - feels like "FIFA14 touch controls done wrong" Old Real Football 2010 is way better than this.

I don't want to hear anything about football for quite a while...

Disney shows WP alot of support . Thanks to them :) Also, for the people saying games run on 512mb android and 256mb 3GS... Ya, it runs.. But have you actually ever sat down and played one of these games on a budget android device. The performance is terrible.

Bola soccer ? More like boring soccer. When does Disney starts to like football, they are more like making puzzle games or whatever. Fifa 13 and 14 are way better than this. And it lags on 1gb device.

I think Microsoft should stop making 512 MB RAM devices...