Disneyland Adventures review: Skip the long lines and visit Disneyland on Xbox and Windows
Finally, everyone can visit Disneyland.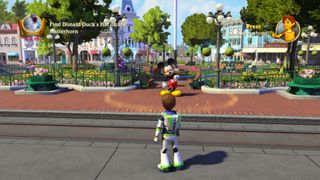 One of the best Kinect games ever, Disneyland Adventures, is now back on Xbox One and Windows 10 with Xbox Play Anywhere support. Players of all ages will love the chance to explore an authentic virtual Disneyland using either a controller or Kinect.
Welcome to Disneyland
Disneyland Adventures is a simulation of the California Disneyland theme park. The park is gigantic and filled to the brim with the sights and sounds you would experience in the actual theme park. People like me who've never been to the real park will love the chance to explore it from the comfort of home.
Walking around a virtual theme park would get old quickly without stuff to do. Thankfully Disneyland Adventures has three main ways to keep busy: interacting with Disney characters, hunting down collectibles, and of course, the rides.
Meet your favorite Disney characters
One of the joys of visiting a real theme park is posing for photographs with people dressed as popular characters. Disneyland Adventures takes that concept to a whole new level as you're not just meeting suited characters, but the characters themselves.
From classic toons like Mickey and Donald to newer creations such as Buzz Lightyear and Stitch, you'll encounter practically every Disney character worth caring about in this game. They look (and usually sound) just like the real things. Using the d-pad you can hug, high five, dance, and ask for autographs, as well as taking pictures with every character. Kids will really love the sense of affection the Disney characters exhibit towards them with these interactions.
The toons often give you fetch quests and other tasks to complete, such as finding Donald's lost hat or food for Stitch. Fetch quests aren't normally very engaging, but the authentic characters and delightful and endearing atmosphere here make these tasks a pleasure. Similarly, the game is overflowing with collectibles – not unlike collectathon platformers Banjo Kazooie and Yooka-Laylee. Hunting everything down will take hours and hours, exposing you to the park's many nooks and crannies.
Minigames and rides
Of course, a theme park simulator would be nothing without rides to go on. Disneyland Adventures does not disappoint, with multiple rides presented as full multi-stage minigames. These include rides based on Alice in Wonderland, Peter Pan, Toy Story, Finding Nemo, and more. You'll also find minigames based on real-life rides like The Haunted Mansion, It's a Small World, and Splash Mountain.
Most of these minigames have transitioned smoothly from Kinect controls to physical ones. Some involve pressing a sequence of face buttons in quick succession though (as pictured above), which is much harder than it should be. The timing and presentation on those bits could use some tweaking.
Exploring the park with a friend
Disneyland Adventures would be a fine single-player game, but two-player local co-op makes it even better. The entire game supports drop-in, drop-out play. As you explore the park, the main player controls movement while the second player tags along on autopilot.
Once you start talking to a Disney character, the toon greets each player and then you both have a chance to interact with him or her. I love this aspect of the game because a parent can handle the relatively complex park navigation but their young child still has a chance to hug Mickey and the gang.
The real fun of co-op is taking on the attractions together. Pretty much every ride is made easier with a partner since they can collect coins and attack enemies alongside you. All of the attractions can be instantly selected from the Fast pass menu - a great feature when you and your partner want to enjoy the attractions without running around the park.
Kinect support
Disneyland Adventures supports both physical controllers and Kinect. While the minigames play great with Kinect, park navigation is ill-suited to motion controls. Putting out your left or right arm turns you in that direction, while moving your arms forward (as if you were running or power walking) makes your character walk.
Those movement controls are far too clunky and imprecise. Navigating the park and hunting for thousands of collectibles becomes a chore when you have to flap your arms the whole time. Unlocking the minigames through normal controller play and then accessing them with Kinect through the Fast Pass menu is an option, though.
Xbox One and Xbox One X enhanced
The original Xbox 360 game was developed by Frontier Developments (of Planet Coaster and Jurassic World Evolution fame). The Xbox One and Windows ports, however, come from Asobo Studio, makers of the enjoyable Rush: A Disney-Pixar Adventure, which has also just jumped to Xbox One and Windows.
Playing on Xbox One, the game sports mild graphical enhancements, including new lighting and colors. Some of the textures appear to be enhanced as well, though there are still low-resolution textures here and there. The frame rate hovers at around 30 frames per second, but it dips more than often than it should. Loading times into and out of minigames are also excessively long, unfortunately.
Disneyland Adventures is enhanced for Xbox One X, with native 4K resolution and HDR. If the frame rate and loading are also improved, the Xbox One X will easily be the best way to visit this virtual Disneyland.
Overall impression
When I spoke to the original developers at E3 a few years ago, I remarked that motion controls were the only holding Disneyland Adventures back. Now the game is back on Xbox One and Windows – and we can finally play it with a controller. With a vast virtual park to explore, loads of beloved characters, and plenty of minigames, Disneyland Adventures is one of the best Disney games out there.
Pros:
Explore a vast and largely authentic Disneyland from the comfort of home.
Meet and interact with your favorite Disney characters.
Two-player co-op makes this a perfect family game.
Cons:
Loading times are excessive on Xbox One.
The frame rate could be smoother.
The in-game map is slow to load and difficult to use for navigation.
Disneyland Adventures costs $29.99 on Xbox One and Windows 10. It's an Xbox Play Anywhere title, so progress and purchases on the downloadable Xbox and Windows 10 versions carry over between those two platforms.
Xbox One review copy provided by the publisher.
Get the Windows Central Newsletter
All the latest news, reviews, and guides for Windows and Xbox diehards.
Paul Acevedo is the Games Editor at Windows Central. A lifelong gamer, he has written about videogames for over 15 years and reviewed over 350 games for our site. Follow him on Twitter @PaulRAcevedo. Don't hate. Appreciate!