You Need a Budget comes to Windows Phone with Divvy for YNAB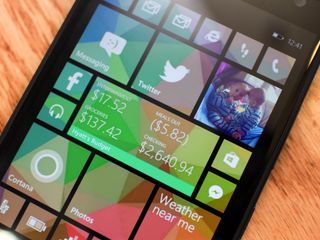 You need a budget. No seriously, you really do. There's no faster way to end up in the poor house than mismanaging your finances. Don't worry though, you're never too young or old to learn how to properly budget. There are a variety of books, services and guides to help you master your budget.
You Need a Budget (YNAB) is a personal budgeting platform that's been very popular since its inception in 2004. There are official apps on iOS and Android, but none for Windows Phone. That's fine since we now have Divvy for YNAB, a new third-party client for YNAB that looks and performs beautifully. Let's check it out.
You Need a Budget (YNAB)
Before we get into the app, it's worth taking some time to talk about YNAB (youneedabudget.com). It's a budgeting platform that hopes to break the paycheck-to-paycheck trap a lot of people fall into. YNAB has four simple rules that help you escape debt and save money. Here are those rules:
Rule 1: Give every dollar a job
Rule 2: Save for a rainy day
Rule 3: Roll with the punches
Rule 4: Live on last month's income
Want to learn more about the YNAB method? Then hit up their website for all the info you could want.
It seems simple enough and has helped tens of thousands of people get back on track for financial success. YNAB isn't free, but you can trial the service for a full 34 days before deciding if it's for you. If you like it, be prepared to spend $60 for a license (P.S. College students get YNAB for free!). With that license you get YNAB version 4 on all your computers. There are desktop apps for PC and Mac users, plus mobile apps for iPhone and Android users. We on Windows Phone will probably want to check out Divvy for YNAB. So let's check it out.
Divvy for YNAB
You'll need an active license to use Divvy for YNAB on Windows Phone. That could be either a trial or purchased license, which is great if you're just finding out about YNAB today and actually do want to take it for a spin. Here's what the version 1.0 of the app gives you:
Access to your Cloud-Sync enabled budgets stored within Dropbox
Read only view of budgets, categories, accounts, payees, etc.
Favorite categories & accounts for fast access
Live Tiles for each Budget (transparent for Windows Phone 8.1 users!)
Offline Transactions
Globalization support for differing Currency & Date cultures
Password protected
Attractive, fast, and fluent modern UI
YNAB uses Dropbox to sync your budgets from app to app. You'll need to set up your account through the YNAB desktop app if you're brand new to the service. That's also where you can start the free trial to YNAB.
The app itself is really nice. The developer worked with Arturo Toledo (@arturot) on the logo and design, which is why it has such a clean, 'Metro' look to it. Functionality is great too. If you're already a YNAB user there's little to no reason not to pick this up. You get access to all your budgets when you're away from your PC.
Divvy for YNAB comes to us from Windows Phone developer Tim Gabhrel (@timgabrhel). And even though it's just version 1.0, it's very good. Seriously, go thank him for the hard work! Plus give him feedback on what you'd like to see next with Divvy for YNAB.
The app is free, but will require a few in-app purchases to remove ads and enable extra features. $1.49 drops the ads or you can pay $3.99 to go 'pro' to drop the ads, gain Live tiles, offline transactions and more. We went pro with Divvy for YNAB on Windows Phone.
Download Divvy for YNAB from the Windows Phone Store!
I've been using YNAB for some time and it's really helped. Glad to see this app finally make it out, been waiting for a while.

+920 Been waiting for something like this for ages. YNAB has really helped me get my finances in order!

Is it better? What's currently the best money management app for wp/W8 free or paid?

If you are going serious, http://mobudget.jdbpocketware.com

Thanks, I'll check it out!

A budget is only as good as the person who keeps it. Same goes for whatever method you use. One system works for one person while it fails for another. I have used Mint extensively, and it is nice enough, but it wasn't for me. It didn't fit how I used, managed, and balanced my money. I've gone the excel route, the envelope route, and the no budget route. YNAB has been the only one that has actually kept me fairly accountable. Yes, it takes a bit more work than Mint, but that also requires you to pay more attention to your money. This goes for just about anything in life, but if you want to get better at budgeting and managing your money, than you need to pay some attention to it. A program that 'does everything for you' requires very little attention. For some people, they can get by with this, for me that did not work. It let me get lazy about my money and very disconnected. You can take some direction from various people on what the best money management software is, but in the end, you need to find out what works for you. An accountant will give you a very different answer than the average person. There is a YNAB trial, try it out. I got mine on a Steam sale for $15 and there are often discounts putting it around $30 if you end up liking the trial. There are many options!

Very well said, thanks. I'll give it a try and see how it goes.

You can get a live tile of your budgets when you pin the budgets section to start. It doesn't allow you to go back to the main screen of the app though, so you'll have to restart Mint to get back home and check balances and whatnot.
Also the live tile doesn't get updated frequently but it still kind of works...

I cant believe i havent noticed that, just pinned it to my start screen and shall wait to see how this goes

i'm too paranoid to use mint

But not available outside USA.

Mint vs YNAB or Mvelopes are very different use cases. Mint is more budget and reporting. YNAB and Mvelopes are more based around envelope systems that are real time day to day money management.

I like that background wallpaper

I just setup an excel spreadsheet to manage my budget...do I need more?

I don't think so. There really is nothing much better than a spreadsheet. I get paid twice a month, and I plan my entire month of income and spending out in advance and track it on a spreadsheet. I can custom chart things like groceries, savings, utilities, gasoline however I want. Whatever graphs and trends I want. Password protect and available on OneDrive from any device I like. When you actively manage your money, you get a lot more out of it.

Although I personally dont do this... what do you expect Teenager LOL. I have seen my Dad do this and once I got a chance to look at it and BOY was it Impressive. Every .50 spent was recorded and organized using only an Excel Spreadsheet. And I thought I was good at Excel LOL

I did this for the longest time but then my wife wanted to use it and I said you know what, we will use Mint and can login anywhere and can get email or text alerts if something goes wrong. Excel file obviously is as good as you keep it.

I've used that for years, works fine for me. Mainly because I just track my income and expenses, I don't do an actual budget except for mortgage, utilities etc that are pretty much fixed every month. I draw up these expenses annually for the coming year, so right now I already know how much money I have to have in checking at minimum in December, for example. It definitely helps me connect my current spending to future expenses. I tried doing a real itemized budget, but it became much more of an obstacle than a help - it became stressful to try and figure out in advance how much entertainment money i wanted to spend, clothing, groceries, dining, etc, and also to categorize. I ended up just putting in a field in the spreadsheet called "Estimated spending", one for each pay period, instead. It is MUCH easier - I don't know how much in each category I want to spend, but I know how much I have left overall. I think a lot of people stop doing budgets for this reason, it becomes stressful and complicated. An app like this (IMO) won't help me with that. YMMV. Maybe this app and the YNAB model works better than just a regular budget. I'm almost willing to try it just to support their decision to be on WP. :)

Well, my grocery, gasoline, etc is an estimated budget at the beginning of each month, but I usually get into it every few days to tune it. But I have to decide that this month I am spending $x on dining out and then stick to it. Before when I was married, I one day looked at the bank statement and tallied up what we spent on dining out in a month and it was nearly $1000. That was a wake up call. I cook at home a lot more now and plan for special nights out.

Does your spreadsheet have a live tile?

A live tile was amazing low on the must-have feature set for my budget. Just below random cookie recipes and just above a dancing cartoon bunny animation.

I've never heard of this service. I was all ready to sign up until I saw the $60. I can make do with mint and excel.

If you're a college student, it's free :)

Thanks for this Tim! I have been following and posting some on your YNAB thread. Great to see it finally official! Downloading and paying for pro for all of your great work!

Thanks for sticking with it (patience) and the support. Means a lot!

I know this is like 10 days late, but thanks! I am in college, so I'm definitely going to try it out. I do ok with Mint, but I find myself not using it as much as I should since it automates so much.

If you use Steam, it goes on sale sometimes. I know I bought it for $15 during a summer sale

Nice!! Free service for college students too!

Mint still is my preference. As for paranoia? It actually HELPS that because it immediately alerts you on a high-dollar purchase to your email. Just choose a ridiculously-difficult password, and you're good to go! That being said, this app option sounds pretty cool! I may have to trial it. :)

Give Budget Buddy a try - its easy free and awesome! http://www.windowsphone.com/da-dk/store/app/budget-buddy/baa325fc-9b09-4...

Checking this out now thanks

Ya know, Sam...If you're gonna have cute pix of kids rotate through your Pictures Live Tile, you really should dedicate a full tile to it ;) just sayin' ;)~

They are my kids (developer of Divvy)! It was my wifes tile pinned so it was showing her facebook profile picture.

I'm an excel spreadsheet kind of guy..

I'm still waiting for mvelopes. YNAB is good but they want you to manually enter every transaction which is a waste of time (although they claim it helps you with your budgeting). Mvelopes claimed when I last emailed them that they were working on a Windows Phone app but i haven't heard/seen anything since.

I'm pretty solid with Mint, so I'll pass.

I use Toshl, it is $20 a year and I find it very useful. You also have different types of live tiles to choose from.

This is great news. I've been waiting for a YNAB client for WP. Mint is nice, but it only tells you what you did. YNAB helps you plan what to do. It's for a completely different purpose.

I'll continue to use MINT... but I'd like to have that phones background.

This grew out of Ynabber, right? Sorry to see there's still no OneDrive support. I'm a long-time YNAB user, but I'm not going to install Dropbox just for this. No OneDrive = no thanks.

I'm assuming it has to do with YNAB using dropbox and not giving any options, not the app.

Yeah, YNAB itself uses Dropbox for syncing. But there's nothing stopping you from putting your YNAB files on OneDrive (in fact, I'm doing that myself to sync them between my desktop and laptop). So it's a bit frustrating that a mobile app (on Windows Phone, no less) can't just open them from my OneDrive.

The majority of users are on Dropbox, because that's where YNAB is. I'm planning to look at supporting OneDrive as well.

I use Bill Minder to help me remember when to pay bills and debts that are not on automatic payments. Has helped me no end to avoid late payments now my husband has changed jobs and has a different pay cycle.
Windows Central Newsletter
Get the best of Windows Central in in your inbox, every day!
Thank you for signing up to Windows Central. You will receive a verification email shortly.
There was a problem. Please refresh the page and try again.