Documents to Go now on touchscreen devices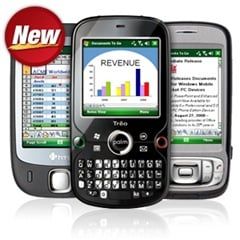 Documents to Go, the popular alternative to Microsoft Office Mobile, is now available on Windows Mobile Professional Devices.
With the app you get:
Create, view and edit native Microsoft Word, Excel and PowerPoint files, including in the Office 2007 format.
View native Adobe PDF files.
Decompress zipped files.
"Zip and send" files.
Create, view and edit Excel charts.
Access password-protected Word and Excel files (in 97-2004 formats).
And a slew of other goodies.
You can get Documents to Go Version 3.0031 in the WM Experts software store for $29.99.
Windows Central Newsletter
Get the best of Windows Central in your inbox, every day!
I downloaded/installed and purchased it yesterday. It does have a few issues that can be worked around. I am interested only in the spread sheet function - Sheets To Go. The forumla line (lack of another term) does not display the entire character and selecting specific characters on that line is haphazard. Bunches of us are use to the big "E" for entering simple forumlas. With this one, you gotta tap the "fx" symbol to start the forumla routine. As with the POS release, you cannot set a user specified zoom level (you can with the Microsoft spread sheet). The menu selection took a few moments to get use to, the use of the left button for page scroll and no other fuction is a waste of resources. There is no "select all" option, which I really like with the Microsoft spread sheet. It does do the num-lock stay locked thing, which the Microsoft spread sheet does not do - lock it and it stays locked. You cannot select sideways travel, just downward - meaning if you do not want to use the stylus, you gotta press the center button, the cursor goes down one line, then you gotta go to the right and back up. Time consuming, but at least one does not have to work real hard to continue entering numbers. I really hate the number entry routine that Microsoft uses.