Don't have $3,000? You can use the Microsoft HoloLens emulator for testing apps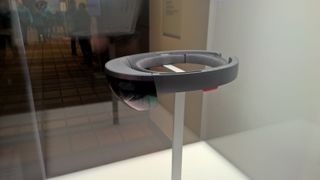 Developers are being invited to spend $3,000 on the Microsoft HoloLens Developer Edition. However, developers who don't get invited, or who don't want to spend the money, can still make apps for the augmented reality headset with the HoloLens development tools and its PC emulator.
Microsoft states:
The HoloLens itself doesn't have its own SDK toolset; instead developers make apps with the Visual Studio 2015 Update 1 combined with the Windows 10 SDK and the HoloLens emulator. Microsoft also recommends that app makers install the Unity game engine as a fast way to begin making their first HoloLens apps.
Download the HoloLens development toolset (opens in new tab)
Source: Microsoft (opens in new tab)
If your into developing content for it,yes, yes it is good news. Feels like there is a limt or how far one can go with just the emulator but that should help encorage you to buy the device.

awesome it's possible to develop for someting no one will ever buy..

Why can't Ms keep units at the Microsoft stores? This way after compiling the devs can test the apps easily thus making it a win win situation for all. Edit 1 : If not all the stores then at least some of them would be nice.

Development usually requires constant testing. I often compile and retest every few changes. That is especially true when trying to troubleshoot a problem. Your idea would allow devs to see their work in action without buying the hardware dev kit, but an emulator is still a better solution for constant code testing.

I wonder how many apps hololens can multitask? I.e. Have visually active at the same time... Ooh and I wonder if it's possible to drag and drop stuff between them? In the future it may be a substitute for multi monitor setups if you could pin file explorer at 0 degrees, Photoshop at 45, after effects at 90, premiere at 135 etc...

As long as we can get custom build devices maybe. It might hang trying to run so much apps on that amount of ram.

Yeah I hadn't thought it through... I guess stuff like that would need a companion PC which uses hololens as a display device...

Remember that everything running on HoloLens has to be a Universal App. So classic Win32-style desktop apps are a no-go for now (until and unless Project Centennial allows those apps to be repackaged as a UAP and they add the appropriate contracts support to allow for interactions with other UAP apps with appropriate contracts in place, which would effectively provide the foundation for drag and drop-like interaction). But I have to agree, being able to extend my normal workspace all around me would be like gold (albeit still more expensive that buying a whole bunch of touch-enabled screens... it would just be far more mobile because I could take my mega-workspace with me just about anywhere). Posted from Windows Central for Windows 10

The UWP supports drag-and-drop, although it may not currently be as feature-rich as in Win32 apps. Sent from my Toaster Oven (Lumia Icon)

I would say it needs to be up at the hp elitex3 level plus the HGPU( for what you want). Centennial is nice so far yet until the devs do the full conversion it stays on PC. A far better delivery and user experience, but it is a transitional bridge for those that dont have the resources to rewrite/port all at once. Get it on the store and update the bits you want or leave as-is for PC. There is no guaranty initially for arm though.

Another option for those more machine-hungry applications is RDP or RemoteApp. Posted from Windows Central for Windows 10

Nice now add in an xbox emulator amd we are all set

They already allow Xbox streaming to any Windows 10 device, and that *includes* HoloLens. I realize this isn't the same thing, but it does mean you can have the experience you're looking for. Posted from Windows Central for Windows 10

Greatest news ever!! I am so excited to bring my apps to the HoloLens Zachary Bowling - ZAD Apps

So a virtualization of augmented reality. I feel like we're going to be traversing dimensions soon. On a more serious note: Nice.

It'll be dead by the time it hit consumers. Why? VR will be cheap, plentiful, and many will have invested too much in it. Also probably cheaper for Devs too. Hololens be just like Kinect and the Lumia 950s, a product made for fanboys at wc.

$3k, I gues not a lot of people are going to own one....No matter how cool it looks and might be, at $3K, lots of devs are not going to make games for it, others software so you will be limited to specialty things. So if you got the money to buy one, you'll get a few months of neat stuff to play with and it will sit on a shelf for a long time. It needs to be under $500 for mass acceptance...meaning software, games will be geared for it...

"The download is coming soon. The Microsoft tools for HoloLens will be available on March 30th." Not in the article. At all. c:

make it available for phones and tablets or better make it like google cardboard experience!
Windows Central Newsletter
Get the best of Windows Central in in your inbox, every day!
Thank you for signing up to Windows Central. You will receive a verification email shortly.
There was a problem. Please refresh the page and try again.