Duckie Deck Sandwich Chef is a fun and creative Windows Phone game for preschool kids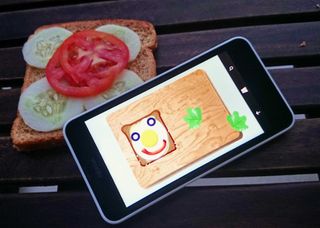 Duckie Deck is a Polish game developer focused on creative development in toddlers and preschoolers and their educational games have been played by over eight million kids.
The company's new game, Sandwich Chef, enables kids to transform their sandwiches into works of art, using healthy ingredients stacked on top of slices of bread. The final effect is a wholesome, balanced meal that delights the eye and builds an appetite.
While Sandwich Chef is geared towards kids as young as 3 years old, it can be enjoyed at any age and even played collaboratively with a family member. It's awkward, but even I ended up spending quite some time with the game creating sandwiches and ended up heading to the kitchen to fix a real one for myself.
The game encourages kids to play with their food, composing fun shapes using healthy ingredients. They need to decorate their sandwich with funny faces and playful shapes unleashing their culinary creativity or fascinating the picky eater in him or her. Once the sandwich is made, devour the snack and start all over again.
The game features colorful graphics, dynamic elements, and playful sound effects making the app easy to use and engaging for young minds. The game is completely safe, ad-free with no in-app purchases, so you can leave your Windows Phone device with your kid without a worry.
Download the Duckie Deck Sandwich Chef game for free for Windows Phone 8 devices from the Windows Phone Store. It's a fun game for kids helping them to learn and develop their motor skills and coordination. Give it a whirl, and let us know if your kids like it.
Ok, if someone comments on my comment, am I notified via email? I never get any emails and I post lots of comments. So either no one comments on my post or I don't receive notifications. Posted via Windows Phone Central App

I didnt receive email Posted via Windows Phone Central App

What pre-school? Holy duck!

Hey wait a minute! Am i seeing a steel/silver colored Lumia 630 in the picture? :/

Lol no I'm serious guys :P I thot Lumia 630 wasnt available in that color thats why im asking :P

Its available here in India..dude

Completely off topic- What about that lockscreen API announced at BUILD. When will it be available?

After official windows 8.1

Good lord...can you imagine there was Xbox live on WP?

@Jaskys its not an iphone 5c its a windows phone device look carefuly it have 3 buttons whereas iphone has only and only one button.... Posted via nokia lumia 635

Finally reviewing a game that I can let my grandchildren play. With all the adult games you where reviewing I was thinking we should call the site adult central. ;-)
Windows Central Newsletter
Get the best of Windows Central in in your inbox, every day!
Thank you for signing up to Windows Central. You will receive a verification email shortly.
There was a problem. Please refresh the page and try again.