Windows Phone runs on Dunkin' with DunkinWP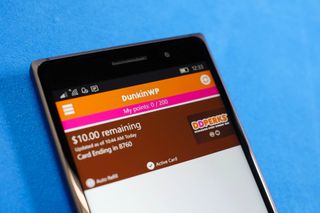 One of the first things I noticed when moving to Massachusetts was that there were a lot of Dunkin Donuts (dunkindonuts.com) around. I eventually found out that the company was founded in the state. There are now Dunkin Donuts stores around the world, and while Android and iOS have official apps for the company, there isn't one for Windows Phone. Fortunately, we can rely on third-party apps. Let's take a look at DunkinWP, which is a free download from the Windows Store.
DunkinWP lets you access the DDPerks loyalty program on Windows Phone. Just log in, and it will automatically sync your registered DD Cards, show your DDPerks points progress, even load your free beverage coupon. It also generates a QR code for your cards and coupon you can show to the cashier.
DunkinWP is a simple app that does what it promises. While we don't have an official Dunkin Donuts app yet, DunkinWP offers everything you need to pay for your donuts, earn rewards, or use coupons. One feature that is missing is a store locator.
Overall, I think you'll be happy with the DunkinWP app if you're looking for a Dunkin Donuts app. It isn't official, but it's the closest experience right now. My only complaint is that that user interface has a lot of white space. I'd like to see some gray or some padding in other colors.
DunkinWP is a free download from the Windows Store. Check it out and let us know what you think in the comments!
Download DunkinWP from Windows Store (Free) (opens in new tab)
Of course, this pops up AFTER I moved out of the New England area... We don't have any Dunkins up in Alaska, I definitely miss it!

Krispy Kreme or nothing. That hot light comes on I'm like a moth to the flame.

"They don't have an official app", anything new to be told ?

That's exactly why I love Windows phone. 3rd party apps, which enables developers or basic users to create their own, and not have to wait for the company to debate for or against a Windows phone app.

I find some of the best app experience is on WP because of third party apps. For example YouTube on WP is soooo much better than on iPhone and Android because of the third party apps. Posted via the Windows Central App for Android

Do they got Tim Horton's up there? they have an app... =P

I haven't seen any and a search on their website says that they don't have any locations within 50 miles from Anchorage. Thanks for the suggestion though! Didn't realize they had an app too!

There are a few. I lived near one in CT, but that closed. They are mostly in the Canada neighboring US states.

Really? ........third3 world problems.... SMDH

Pity no first party support. I really hope this changes.

On this dead OS? Happy daydreaming.

Maybe an app for windows 10 if not mobile...?? Isn't 110+ million users isn't enough..?? :/

Why would you need a Dunkin Donuts rewards app for Windows 10 desktop?
You're gonna hold up your laptop screen for the clerk to scan the barcode?
Many mobile apps dont make any sense as desktop apps.

W10m is alive and kicking asses. may be you are dead and so everything looks dead to you.

You can feasibly be using W10M if you think that

It's one thing being optimistic and another, being delusional. We're not kicking anyone's ass.

Well, the donkey sanctuary would be grateful for that I guess :P.

W10M has great new features,it is able to run universal apps and continuum which is massive and no other mobile OS can do right now(it is kick-ass). and W10M is more promising than ever and it has a great future(it is Optimistic). But you second W10M is dead (it is delusional).You are being delusional not me.

I'm afraid he's right. You're delusional. However I like your spirit. Keep it up.

WTF. you are saying W10M is dead? then why the fuck are you reading a news about dead windows phone here? you guys are totally delusional. I am saying WP is alive till to-date which is true. but you half-heads saying it is dead and yet reading every windows phone news. who is deluding?.W10M will be alive as long as windows 10 is alive. MS knows mobile will be the future. They will never kill windows phone. just take your ass somewhere and crap like this.

Oh I don't think windows 10 mobile is dead at all. I'm just agreeing that your statement of windows 10m is kicking ass is delusional thinking. I'm a fan but I'm realistic in that it is NOT kicking ass. I hope it does and I will continue to root for it but facts are facts. It has negligible market share at the moment. I was at the Microsoft party in NY and the lease interesting thing there were the phones.

Yea you are actually delusional.
Windows 10 Mobile is kicking no one's asses. It is relatively dead sorry to break it to you. All of Windows Mobile is Posted via the Windows Central App for Android using my Lumia 640 LTE

And some of you are being pessimistic. How can you determine an OS being dead before it is even released? I remember alot of people saying bad things about the Surface line not long after its release.

No, he's right.. It's relatively dead.

I agree. I think it is more alive than people know, especially after the devices event. I know it's anecdotal, but I've had several co-workers tell me they are seriously considering giving the 950/XL a try after the stage demo. And these are guys that used to give me a hard time about having a Windows phone :)

Where's the pun in the article title? Otherwise I don't get it

I think it refers to their slogan "America runs on Dunkin".

Same slogan here. "Karachi runs on Dunkin"

Karachi runs on "London Phone calls". ;)
A Karachi guy would understand. LOL

I'm from South Carolina and now live in Maryland. I never saw so many Dunkin Donuts until moving up here. I miss Krispy Kreme but DD has been pretty good. The sausage egg and cheese croissant is really tasty too.

World HQ is only like 10 mins from the Windows Central home office ;)

You guys get all the luck.lol Posted via the Windows Central App for Android

You haven't seen Krispy Kreme around? I know they have a presence, even tho it's limited...

Yes there were two Krispy Kremes that I knew of that closed months after I moved here. I heard there was still yet another one left. Posted via the Windows Central App for Android

There are two in Mohegan Sun. ;)

I thought Dunkin started making phones lol

Great, now I want donuts.

yummm... donuts. I'll go get some chocolate frosted.

You've got the wrong avatar from the Simpsons.

Love the app! Use it every day!

the same situation with Starbucks...no official app for WP. what's worse is that Starbucks has an app running on the Band and Band 2, which has a much much smaller userbase than WP, yet it's not on WP. I really dont' understand what companies have against WP really.

I'm also waiting for the official Starbucks app. Problem with 3rd party apps is that sometimes the official brands make changes which permanently breaks some functionality: http://www.windowscentral.com/third-party-starbucks-app-buckstar-drops-r...

They had released official Starbucks apps for other countries. But, not for the US. Never understood the reason behind it. It seriously feels like someone is paying them to prevent from releasing an official app.

Sad part is people will point ot things like lack of dunkin donuts app or any useless social media app as the reason they won't give the platform a choice. Remember when smartphones were for people who needed them for productivity and not to let all their friends know they just ate a slice of pizza and are in dunkin donuts?

Yeah, well welcome to 2015, old man, lol.

@Jonnie LasVegas. Were everyone is glued to a screen and oblivious to the world around them. Even if they did look up from time to time, due to moronically low attention span most people don't even remember what just happened lol.

It is kind of funny/sad how people get this kind of mental lock-up where they think they NEED apps A, B, and C without really thinking about how those apps didn't even exist some number of months ago (and how they'll likely stop using them in a few months in favor of something else that comes along). When I switched from iOS to WP a few years ago I had a bunch of apps and games that I used regularly; some of them weren't on WP. Guess what? I found new and different things to do on my phone. Don't have Snapchat? Do something else with that time- read, play a game, use a different messaging service. Maybe I'm odd because I enjoy poking around these different devices and OS's as a hobby in and of itself. I mean, just experiencing a different OS and learning it's little quirks and pluses and minuses can be it's own kind of fun. I can't imagine being paralyzed by the thought of changing OS's.

Um because that's actually a really good reason and a important one to boot. This platform is missing the applications especially first party support. Third party are great no doubt but that's not the point Posted via the Windows Central App for Android using my Lumia 640 LTE jailbroken and running 6.0 Marshmallow with Windows 11 and something smart that chucky

as a former non-sworn police IT support employee.... DD was almost a daily thing...... to relieve pre work stress and plan out the day... to bad i moved, the closest DD is 57 miles away :(

Amazing article. Thank you for taking the time to spot this.

Sad to see there isn't an official but it's great to see there are some talented people filling the gaps.

I found this app about a week or two ago. Been using it almost daily. Glad to have it.

Finally something to use at DD! I've routinely provided feedback to Dunkin Donuts via the receipt survey they needed an official app and all I get is crickets. Thank you for this! Very useful!

Starbucks has way better coffee. I live in Maine right now, and DD are everywhere, which is odd because their coffee is disgusting. Give us a Starbucks App.

You should get out more. The only reason I go to Starbucks is because they're everywhere. My favorite is a small coffeeshop that's out of the way. I can pull better shots at home but only when I have time.

I've had this app for several months, now that it's gotten exposure it's just a matter of time until the author gets the cease-and-desist order. Companies hate third party apps even when they are too lazy to make their own.

Guess they're not using public APIs? It would be a shame if they got shut down. I really don't understand why companies aren't more permissive about these things. Just say "you're free to keep doing this, but we reserve the right to swoop in if it looks like it makes sense for us."

Doughnuts not donuts, you 'Murican nuts. Insult intended, I has ant i ballistic nuclear Putin. Ha!

Cry a lil harder. I like it.

Thank you, Dunkin' Donuts!!!!! We appreciate you thinking of WP users! Posted via the Windows Central App for Android

Thank the third party dev. It's not really Dunkin that's offering this app.

Used to love Dunks but now that I've moved back to RI, I'm addicted to Cumberland Farms. Only $1 for any size hot or iced coffee. Dunks is overpriced and overrated!

I love this app. Use it everyday

Am I the most stupid person around?
Aren't apps inferior than browsers?
Aren't mini pc way most useful than apple tv/chrome and many others except play station and Xbox.
Aren't iPads and Tablets not more useless than pc and smart phone? Why on earth would you need an app for Starbucks or others. I don't like apps, too less functions for me.

Apparently yes you are the most stupid person around. Your examples are extremely poor and assume that every one has the same needs and technical ability. You also forget the fact that inferior doesn't necessarily mean less features. Sure I can bring up a dunkin donuts website and navigate to a screen where my loyalty card lives (not even sure if you can to that to be honest) or you can launch an app and get the bar code scanned. Tell me which is the superior experience when the goal is to get customers in and out as fast as possible? You might want to consider simplifying some aspects of your life. You only have so much time on this planet, don't waste it with over complicated steps you don't need.

The official Starbucks app for Android and iOS allows one to order from the nearest location and pick up the order as soon as one walks in. No waiting in line. It's only been out for about 2 weeks, and I've used it 4 times already. It's so convenient. Posted via the Windows Central App for Android

Look no further than the Ally banking app and the mobile site. You lose some functionalities like making a deposit, pay bills and sending people $$. Sure you can use the desktopsite on your phone but that's too cumbersome. Although there are some mobile sites that work pretty darn well.

On mobile devices, apps *are* superior to websites.

I work at one, and I've refused to join their perks until they get a windows phone app. Maybe this app will change that

Thank You! I've been using StoCard just to have the card on my phone.

Let's hope it doesn't screwed over the way Buckstar did. Anecdotally, looking at the comments it's weird that people live in areas without Dunkins. I saw an article awhile ago that mapped what areas of the country were dominated by Dunkin and Starbucks. East coast was mostly orange and west was green but here in Chicago we get both of them in huge numbers. Unfortunately we don't get Tim Hortons at all.

Looking at it now I'm quite surprised as well, I always used to think, why don't we have this or why we don't have that, but currently we have Starbucks, DD and KK, maybe if its because I Live in London, but still, I'm glad we have at least the choice now, only thing missing is Tim Hortons, but I can live without that!!!! :p

I just buy my Dunkin coffee at Walmart. Love the Vanilla Cupcake, Blueberry Muffin and Old Fashioned donut flavors! The only thing bad about them is that it's almost as if there isn't ANY caffeine in them. I have to drink 3 large cups of Dunkin just to get the same kick of one venti Starbucks.

Yeah my choice for coffee is Starbucks!!!! Doughnuts used to be KK, but I find DD has a lot more choice plus they make food and ice cream plus breakfast foods!!! DD in the US is a lot better with choice, but I take what I can get, little expensive also, but then that's London!!!! :p

People still eat this rubbish?

Oh, this is not an OFFICAL app ? I'll skip it for now, If Dunkin Donuts cant support WP, I wont do their loyaly program...

Maybe he can put the Dunkin app on the new band

Already been pulled. http://www.daihuaxin.com/dunkinwp/ ***UPDATE 10/16/2015*** As of yesterday, due to a complaint from Dunkin' Brands, I'm forced to remove this app from listing. I have not decided what to do with it. For existing users, this means you'll likely not see any update in some time before I sort this out. I'm sorry, but this is out of my control.

Whats Dunkin's problem? This is annoying as hell! Back to Stocard I go!

So Stocard works with DD Perks?

God dammit, lookin for the app in the store and find out its been pulled! Wtf! If DD have a problem, why don't they just make one for Windows! Y the hate for Windows phone???
Windows Central Newsletter
Thank you for signing up to Windows Central. You will receive a verification email shortly.
There was a problem. Please refresh the page and try again.