EA will let you try Titanfall 2's multiplayer for free this weekend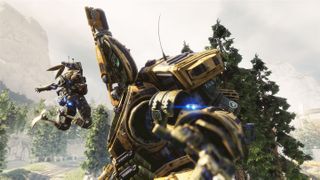 If you're eager to see what all the hubbub is about with Titanfall 2, EA is giving you a chance to check out the game's multiplayer for free. Gamers on Xbox One, PC and PlayStation 4 will all get a chance to try the full Titanfall 2 multiplayer experience this weekend, including the game's new Angel City multiplayer map.
To kick things off, EA Access and Origin Access members will get to dive in first starting today, November 30. The free trial will then open up to everyone starting on December 2, and the whole thing will end on December 4. Do note that, if you're playing on Xbox One, you will need an active Xbox Live Gold subscription to participate.
All of this coincides with the release of the Angel City's Most Wanted DLC, which brings the revamped Angel City multiplayer map from the first Titanfall, along with new titan kits and more. That DLC is available now for those who pre-ordered Titanfall 2, and it will make its way to everyone else on December 3.
Are you going to give Titanfall 2's multiplayer a shot during this free trial? Let us know what you're looking forward to most in the comments!
See at the Xbox Store (opens in new tab)
Get the Windows Central Newsletter
All the latest news, reviews, and guides for Windows and Xbox diehards.
Dan Thorp-Lancaster is the former Editor-in-Chief of Windows Central. He began working with Windows Central, Android Central, and iMore as a news writer in 2014 and is obsessed with tech of all sorts. You can follow Dan on Twitter @DthorpL and Instagram @heyitsdtl.
A week too early for my son... Ok for me though!

It's unfortunate they released this game between two of the largest gaming IPs out there (BF and CoD). If this had a Mar - Aug release i think it would have been a smash hit within no other titles drowning out it's noise. Managed to pick it up for $35 AUD, new, because of the crcumstances.

The multiplayer is awesomely fast. For anyone coming from BF or CoD, you might need to adjust your play style. If you camp in a window or door, you're gonna get flanked. My advice is to always keep moving, especially after a kill. When I get killed, I definitely watch the kill cam to figure out where you were, and I'm coming for you! Game on, Pilots!!!!

I've got Titanfall 2 but not really played it yet - Got it whilst it was cheap on Black Friday deals. I liked the multiplayer in the first one and it's true you need to keep moving. I enjoy Battlefield 1 as well (and have loved Battlefield games for a long long time) and can vouch for the fact that although very different BF players can definitely have a really fun time with Titanfall. I love the strategies you can employ, especially if you get used to commanding the Titan remotely as well as manually and switching between the two you can really do some damage

Agreed but I guess they wanted to see if they can cash in on Xmas day shopping for most

Nothing to do with it. The original fans don't like the other 2 games that much. Poor sales are because its no longer anything like Titanfall. It is now titancod.

This will probably be the same revelation for many others as it was for me to play this game! After years of cod and only really trying Battlefield.. And some CS:GO, this is the only multiplayer I have ever tried that mix all of the mentioned, with extra (TITANS, duh) it has a perfectly modified Valve engine, that aims like nothing before, seriously! And personally this is better than the tf1 multiplayer, also no lag to mention on closest server. Get this game!

Hype! Great game!!! See you on the Frontier, Pilot!

And yes im desperate to endorse this game because I get panic attacks when I think about servers closing early because of lacking players... I really wish they called this game , Titans Fall, Titan fall Evolution.. Just not titanfall2, would sound cooler if or when the game hit timeless status. Edit: And don't worry about the tickrate etc, its all hyped bullshit.

The game has received top scores from nearly every review. It's outstanding. And the campaign is amazing too. I'm a die-hard from Titanfall 1. I think these free-to-play weekends will definitely help the overall community. All other FPS's feel slow and confining after playing Titanfall. It's a must buy for me. The way Respawn is handling DLC is fair and refreshing too.

Agreed, I did not even really know about respawn before titanfall :P

I couldn't agree more, this game has been really fun to play and the Titans all have unique abilities that balance one another, it is awesome to see the different game play from other players and how they are able to make the most of a Titan that I lack skill with.
The ability to slide and the grapple, have enhanced and sped up play as well.
I like the server randomizing the teams game to game, it makes for an excellent balance.

Aghhh.. Too many free game trials on weekends I cant play!! Want to try this series one day.

Awesome game. I should of bought it day one. Got it for $28 on Black Friday, however, this is a FPS that I would not of regretted paying full price like others. Can't wait for my schedule to lighten up so I can play for a ridiculous amount of hours.

Call it liberal usage of a Tinfoil Hat but the last time I played Titan Fall 2 Multiplayer on my XBO my entire team got reckt the entirety of the Match by a single player who, judging my observation of the Kill Cam and somewhat comparing it to other kills, must have been playing with a KB/Mouse combo enabling Hub for the Console. You just can't compete against that.

Sorry Respawn I played the the beta. And free 10 hours at launch. Not buying it because you have completely destroyed what Titanfall was. TF2 is pathetic next to the first game.

I agree...i can't believe the did TF2 so bad..

There's gonna be more playing after Xmas it was on sale black Thursday at WalMart and I'm other places to.
I picked it up but can't play till xmas